Dong Van Vietnam is a border highland district of Ha Giang province - about 150 km from Ha Giang city to the North. With an area of more than 447km², the whole district is classified into 2 main terrain types: soil mountain and karst mountain.
According to 2019 statistics, the population of the district is 81,880 people with 17 ethnic groups of ethnic minorities, including Mong, Tay, Dao, Kinh, Nung, Giay, La Chi, Hoa, Pa Then, Co Lao, Lo Lo, Bo Y, Phu La, Pu Peo, Muong, San Chay and Thai.
I - What is the Dong Van weather like?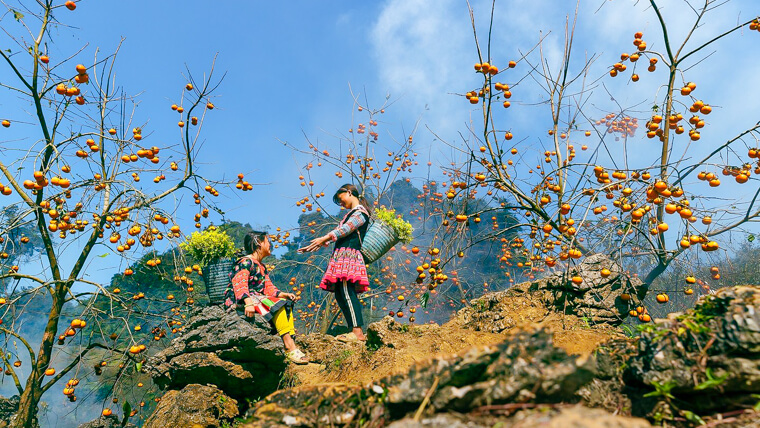 Source: nguyen ngoc tuan
Like Ha Giang weather, this district has a monsoon climate but features sharp continental characteristics. Its annual average rainfall is quite high, about 1,750 - 2,000 mm, concentrated from May to October. The dry season is from November to April next year. The annual average temperature is about 23℃. Because of its high location, this area is frequently covered with fog. This is one of very few locales in Vietnam where snowfall may occasionally occur.
The best time to travel to Dong Van Ha Giang is from September to May. September to October is said to be harvest season. The mountain and forest here at this time is coated with a sheer yellow of rice terraces. The whole district turns to pink in two last months of the year because of the buckwheat flower blooming. You may witness white snowdrops when visiting here.
The spring months (January to April) coincide with peach flower season, plum flower season, cauliflower season and also festivals celebrations. Coming up next is the "pouring water" season in May, when the scenery is incredibly sparkling.
II - Top 10 destinations in Dong Van Vietnam
1 - Tham Ma slope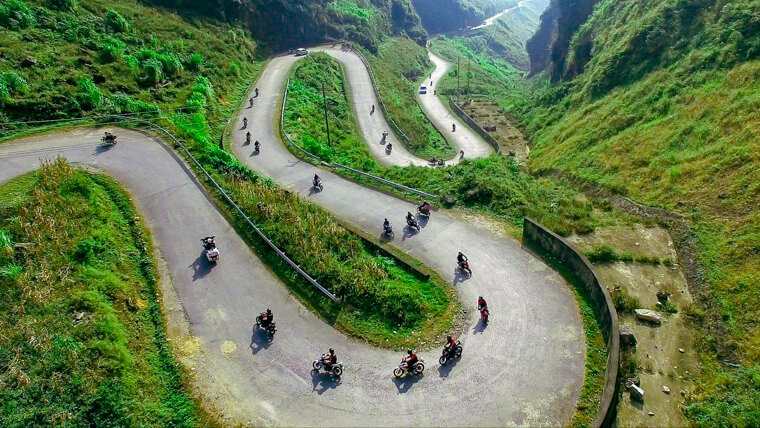 Source: myhagiang
Tham Ma slope is a part of National Highway 4C connecting Ha Giang city with Meo Vac district. The slope consists of 9 breathtaking turns. The slope is not too steep, the turns and roads are relatively narrow enough to make you get goose bumps. Tham Ma is literally understood as the slope to estimate horsepower. Legend has it that, in the past, the folks often walked loaded horses from the foot to the top to see which animal was strong enough for service.
Today, Tham Ma slope in Dong Van district is not used to judge the horses any more but to challenge the drivers' skill. Once passing through this road, you will comprehend how high the stone highland of Ha Giang is. One side of the thin slope is towering mountains while the other is deep abyss. However, there are still unobstructed view points where you can admire the local rice paddy fields. Sighted from above, Tham Ma slope is no less than a soft silk in the middle of a rocky background. It is not tô much to say its existence enhances the poetry of nature here.
2 - Dong Van karst plateau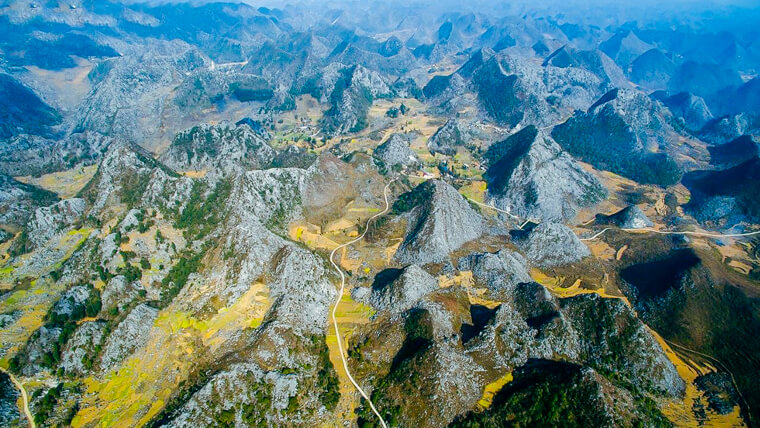 Source: culturemagazin
The Ha Giang karst plateau stretches in the territories of four districts of Ha Giang provinces in which the majority of its area is in this district. It is a rough mountainous area composed by a myriad of cat-shaped mountains clustered together into a mysterious landscape. These limestone mountains have an average height of more than 1,000m above sea level. This Ha Giang karst plateau is said to be a special karst zone which contains typical imprints of the development of the earth cell.
Besides, the natural landscape, high biodiversity and long term culture and tradition of the indigenous residences are dramatically appreciated. Dong Van karst plateau in Ha Giang was officially recognized by UNESCO as a Global Geopark. Do not perceive that this area has nothing else but gray rocks. In fact, if you stand on one of the mountaintops, you will find a vast space of mountains wrapping around little houses like a firm natural defense. The people take advantage of every single blank space no matter big or small to plant corn or vegetables. In addition, from the plain stones, local men with their skillful hands form secure fences for their family without any binder. These are strong testimony for the never-give-up spirit of human beings.
3 - Pho Cao or Cao street - 20km from Dong Van karst plateau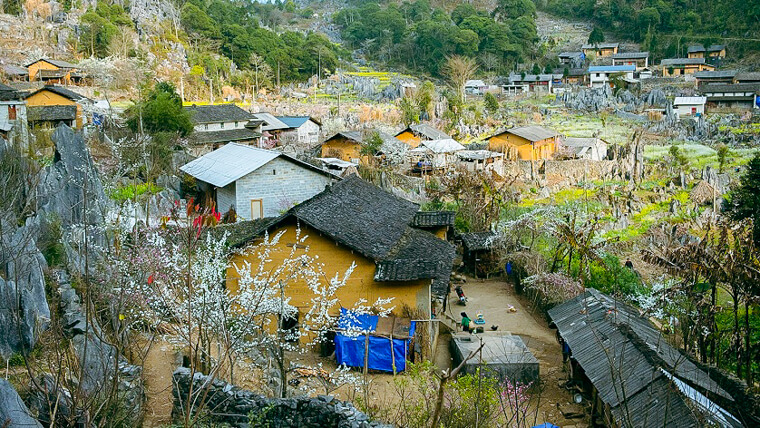 Source: bestprice
Pho Cao is a valley street that has had a lot of tourists visiting. It is an ideal destination to watch the buckwheat flowers. Every October, numerous fields in this valley put on a pink coat. Field after field of buckwheat blossoms may cause you to think as if it reaches the end of the earth. And in the heart of that dreamy valley of Pho Cao are small, yellow special houses called Trinh Tuong houses.
The unique architecture makes them outstanding and unmistakable to all tourists visiting Pho Cao in Dong Van district. The shelters have a rectangle shape with only one large door at the center of the front. There is no window in these houses at all but the internal atmosphere is amazingly warm in winter and cool in summer thanks to an arcuate door. Despite severe weather conditions of the northern area of Vietnam as well as ups and downs of history, these constructions still braverily stand there overtime. The trinh tuong house, therefore, is the pride of the Pho Cao people and is preserved and passed down on for generations.
4 - Pao's house - an iconic place to visit in Dong Van Ha Giang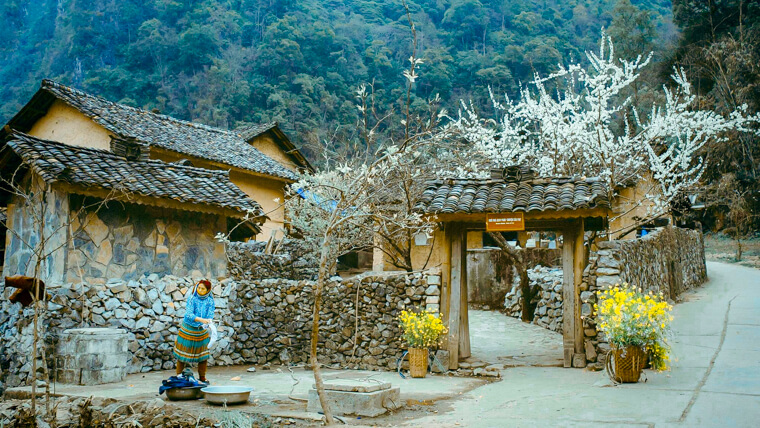 Source: pystravel
Who is Pao? This is probably the first question you have in mind when hearing the name of this destination. There is a Vietnamese movie named "the story of Pao" telling about the journey to finding mom and unearthing the untold facts about her family of a H'Mong girl. Pao's house is the very main setting of the film. Since it was on air, there have been many people mesmerized by the poetic appearance of the building that they didn't mind the long distance to reach here to contemplate it with their own eyes. The house is located in Sung La commune, Dong Van district, owned by Mr. Mua Sua Pao, an ancient noble of Mong people. His property is totally by hand with materials 100% made of precious woods. It has an U shaped architecture featuring 3 parts. The main construction has 2 floors divided into guest rooms and living rooms. The wings are kitchen, warehouse and barns. In front of the house is a large yard meticulously paved with stone. In general, the construction has impressive design, suitable for the luxury and opulence of the wealthy.
Entrance fee: 10,000 VND/person
5 - Pho Bang town
Pho Bang is just about 5km from the Yen Minh - Dong Van route connecting famous destinations in Ha Giang, also known as "the road of happiness". However, it seems that tourists are too eager to approach these attractions to drop by this tranquil town; therefore, it still well preserves an idyllic and unique beauty that no one else has. Looking from afar, you may notice a number of tiny houses like shelters of tiny people. Once seeing that scene, if you imagine a wonderland in the fairy tales, it will be nothing surprising.
The local houses in Pho Bang town of Dong Van with the imprint of time are manifested on old walls covered with green moss, some interlaced with wavy cracks, obsolete wooden doors and the yin and yang tile roofs. Everything combines to make this place tinged with gloominess. Coming here, you will get to know what a high mountainous area and north Vietnam travel truly like.
6 - Sung La valley
Sung La valley is situated on the National Highway 4C, about 127 km from Ha Giang city. Sung La in the ethnic language means "oasis". This is one of the most ideal positions to watch the buckwheat flower in Dong Van district. Looked at from the height, the valley peacefully lies among ranges of cat-eared, dark-colored mountains. Visitors are recommended to travel here in spring and the last days of autumn. When the spring comes, this land heaves with life thanks to blooming flower-bed stretching endlessly, chasing away the cold and dry of the rocks. The stunning Sung La valley in the white of plum flowers, pear flowers, the light pink of wild peach flowers, or the purple of buckwheat flowers in October to November will offer you a wonderful chance to get immersed in the dreamy and rustic nature.
7 - H'Mong King's Palace - a famous architectural work in Dong Van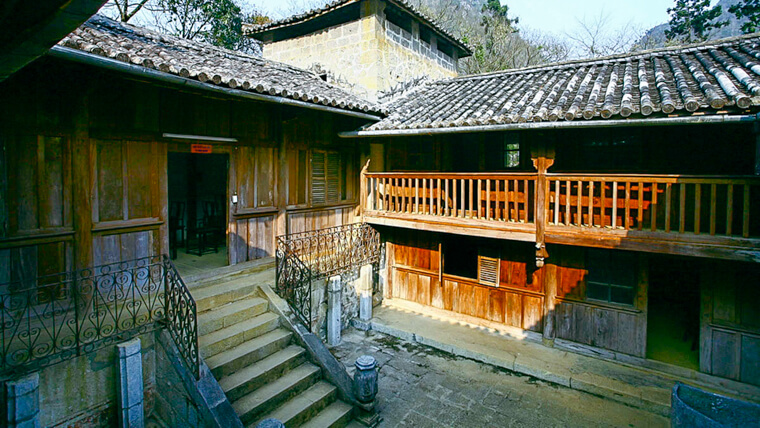 Source: mia
The real name of H'Mong King is Vuong Chinh Duc (1865 - 1947). He is the only person proclaimed by the folks as the King managing 4 districts of Ha Giang. The palace of the king has an area of 3,000 m2 located on a hill shaped like a turtle. The whole construction was conducted for 9 year (1919 - 1928), costing 15 ten thousand French Indochina white coins, equivalent to 150 billion VND now.
The architecture, influenced by 3 cultures of China, H'Mong and French, make the palace one of the best attractions to visit in Dong Van Ha Giang. There are 4 horizontal blocks and 6 vertical blocks divided into 64 rooms with the capacity of 100 people. Right from the beginning of the building, the king calculated to turn it into a fortress, having the capacity to defend and fight, durable under harsh weather. Therefore, in the campus of this palace, you may notice a food depot, opium depot and an arsenal.
Entrance fee: 25,000 VND/person
8 - Lung Cu Flag tower
Lung Cu flag tower, located on Dragon mountain at an altitude of 1,470m in Lung Cu commune, Dong Van district. The tower is known as the mark of the Northernmost of Vietnam. In the subconscious of Vietnamese people, it is a sacred symbol of the country. With a height of 33.15m, the Lung Cu flag tower has an octagon shape. Surrounding its body are 8 Dong Son drumheads. Under its foot are 8 reliefs representing 8 eras of Vietnamese history. Looking upward is the red flag centered by a yellow star of 54 m2 symbolizing 54 ethnic groups of Vietnam. Ascending 839 stone steps to reach the tower, you can take a panoramic view of nature.
Entrance fee: 20,000 VND/person
9 - Lo Lo Chai cultural village - a truly beautiful village in Dong Van Vietnam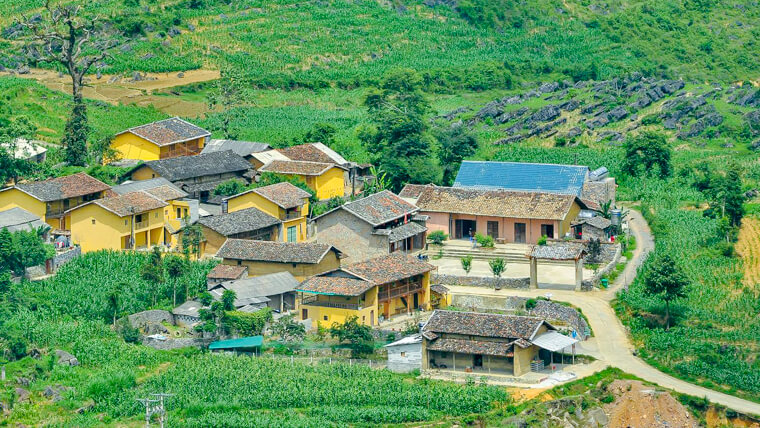 Source: @Nhacololohomestay
Among 54 ethnic groups of Vietnam, the Lo Lo people are inferior in quantity but outstanding in culture. Lo Lo Chai is the only place where the material and spiritual life of the people are comprehensively, vividly preserved. From the architecture of the soil wall house, traditional handicrafts such as embroidery, carpentry,... to traditional festivals and especially folk dances, everything about the Lo Lo ethnic community culture & traditions can be found here in Dong Van Ha Giang.
The road to the village is paved with orange daisies on both sides. Scrolling along the way and looking at the fairy tale village, you will realize the brown houses hidden behind stone fences with peach trees or a garden of green Brassica in front. Setting foot in the village, you are offered by the villagers green tea, tobacco or cups of corn wine as well as Ha Giang delicacies. The serenity of the objects together with the hospitality of the human forms special magnetism of this place.
10 - Dong Van town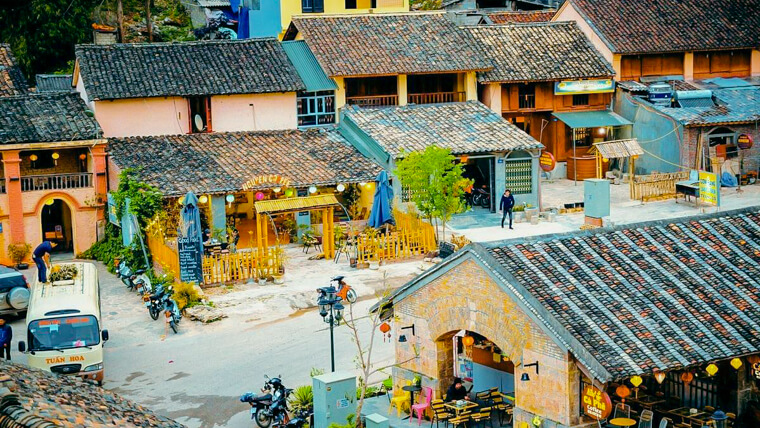 Source: hagiangsensetravel
This old town is a try-worthy stopover. Once visiting here, do not skip the ancient street, a street of nearly 1km long formed approximately a century ago. At first glance, you will be impressed by the bustling atmosphere, in sharp contrast to other tourist sites in Ha Giang. The ancient street consists of more than 40 houses with a date from 100 to 300 years. Their outlook is imbued with the color of time with a yin and yang tilted roof and red lanterns hung before the door.
Dong Van market is also an amazing place to explore. Not only a location for exchanging goods, the market is also a place for highland girls and boys to meet and make friends. If you arrive here from 14th to 16th of every lunar month, you can enjoy art performances. At this time, brocades and specialties are sold popularly, you can buy some home as gifts for the beloved ones.
Entrance fee: 50,000 VND/person
III - Best places to stay in Dong Van Vietnam
1 - Dong Van Hmong homestay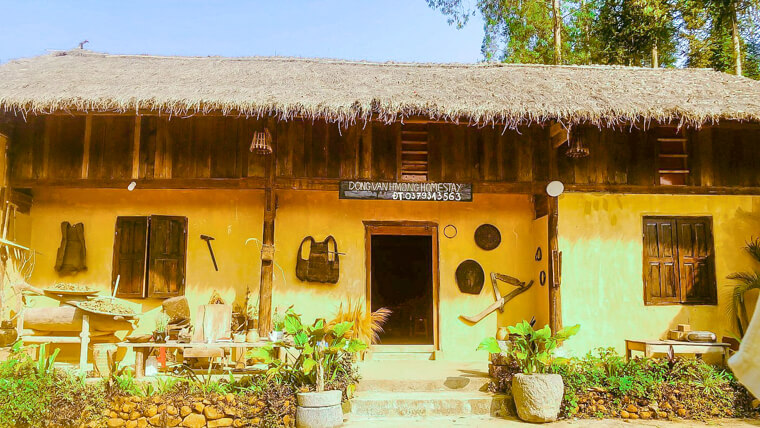 Source: tripadvisor
This homestay is reconstructed in the base of an old house of 1000 years old, maintaining all the traditional characteristics of the indigenous people. In the campus of the homestay, customers can leave their soul in the refreshing nature of the mountainous area. The homestay offers free wifi, parking, Asian style breakfast. Moreover, you can experience the life of the native H'Mong people in Vietnam as well as their unique customs such as wearing their costume, grilling sweet potato and corn in charcoal burners every cold night.
- Address: Dong Van district, Ha Giang province
- Room rate: 100,000 - 200,000 VND/night
- Contact: 0379 313 563
2 - Bui homestay
Bui homestay is one of the favorite accommodations for travelers. Like its name (Bui means dust), the homestay exudes a dustiness with a mountain and forest view. Because the host of the homestay is also the president of Bui Xuyen Viet club, there is no wonder why the property is imbued with bounty. The yellow of doors and windows combined with the red of the roof defines the highlight for the building. Guest rooms are adorned in a wild style dotted with cute dream catchers that have enchanted quite a number of visitors.
- Address: Dong Van district, Ha Giang province
- Room rate: 155,000 - 500,000 VND/night
- Contact: 096 889 0690
3 - Ma Le homestay
Nestled in Ma Le village, mingled with other ancient stilt houses, Ma Le homestay amazes people with its obsolete imbued with the style of Giay people. The accommodation is surrounded by stone mountains, therefore, the atmosphere is cool and fresh all year round. Residing here, you have a chance to live the life of an ethnic person. Moreover, there are a variety of fancy corners for tourists to take selfies. Because it is near a stream, whenever there is strong wind, cold weather, an ocean of clouds appears, which promises to be a breath-taking view.
- Address: Ma Le commune, Dong Van district, Ha Giang province
- Room rate: 295,000 - 385,000 VND/night
- Contact: 0166 282 9946
IV - Other tourist information
1 - How to get from Hanoi to Dong Van?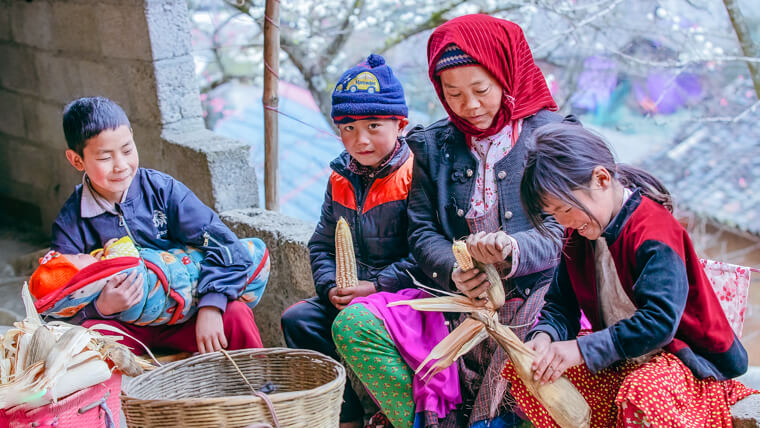 Source: Lưu Thành Đạt
Distance: 410 km
Travel time: 6-9 hours
Transport instruction:
Step 1: From Hanoi to Ha Giang city
Means of transport: Limousine
Step 2: From Ha Giang city to Dong Van district
Means of transport: motorbike is convenient and experience-rich. If you are finding a motorbike for rent in Ha Giang, you can approach some reliable addresses listed below:
Ha Giang motorbike rental
- Address: No.63 Le Hong Phong street, Minh Khai ward, Ha Giang city
- Price: $7.5 - 24/day
- Website: https://hagiangmotorbikerental.com/
QT motorbike & tours
- Address: Lam Dong hamlet, Phuong Thien commune, Ha Giang city
- Price: 180,000 - 550,000 VND/day
- Website: https://qtmotorbikesandtours.com.vn/motorbike-rental-ha-giang-cao-bang/
Explore Ha Giang
- Address: No.01 Cau Me village, Phuong Thien ward, Ha Giang city,
- Price: 150,000 - 600,000 VND/day
- Website: https://explorehagiang.com/motorcycle-rental/
2 - Dong Van cuisine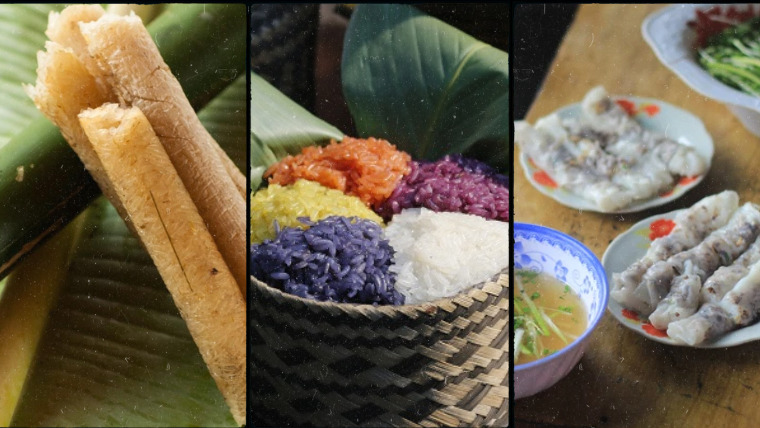 Source: @localtravelidea
- Five colored steamed sticky rice
The name 5-colored sticky rice takes root in its vivid look. The dish has 5 colors including red, blue, white, purple and yellow equal to 5 basic elements. The rice is dyed with natural colors extracted from herbs available in this area. According to the local's perception, the more vivid the color, the more prosperous their life will be. Therefore, this food is never vacant in every big and small event of the Tay peoples.
- Sausage
Amongst specialties of Dong Van district, sausage is one of very few which can be edible for a long time. Unlike the types popularly sold in supermarkets and groceries, sausage has a characteristic flavor of sun, kitchen smoke and the taste of wine, ginger and clausena indica leaf. A bite of sausage featuring toughness of pork offal, sweetness of lean meat and greasiness of fat is perfectly delicious if combined with a sip of corn wine.
- Bac Me bamboo-tube rice
Bac Me bamboo-tube rice has long been a must-try dish of the tourists to Dong Van. Its recipe is not complicated at all. The main ingredients are fine sticky rice, bamboo pipes and banana leaf or phrynium leaf. The rice is soaked in cold water overnight and then put into bamboo pipes. The pipes after that are added with water, capped with banana or phrynium leaf and grilled on coal fire. The rice, once well cooked, has the fragrance of bamboo and banana leaf. People often serve it with dry pork or sesame salt.
- Dong Van Banh Cuon
Banh cuon (steamed rice rolls) is not a strange dish to Vietnamese people especially the Northern. However, Banh cuon in this district is so distinct. It is thinner, smoother, softer and more aromatic. The dipping sauce is another special thing about this delicacy. It is made from pork bone broth, scattered with onion. A spoon of pepper, chili, vinegar will make the dish fulfilling.
- Thang co (Stewed horse's meat & offals)
Thang co is often included in the list of the most bizarre foods in Vietnam. However, it is also the most famous specialty of Dong Van district, Ha Giang province. What makes people reluctant is that this food takes advantage of every part of the horse, even the colon. When processing, the cook separates the horse into small pieces to make it more convenient for marinating. Then, all the meat is poured into a large pot to cook with the broth of bones and organs of the horse. The final food gives out a strong and typical scent produced by 12 spices which can easily be found in this mountainous area.
3 - Map of Dong Van
This amazing district contains an incredible number of amazing tourist sites that surely bring you memorable moments. Not only can you contemplate the picturesque scenery but you can also widen your knowledge about the history and the art of housing of the locals. What a meaningful trip to Dong Van Vietnam, right?