Halong Bay is considered the leading attractive destination in Northern Vietnam. Visiting this place without going on a cruise is a big regret. In this writing, Vietnamtrips is pleased to present to you a number of quality cruises in Halong bay and their services.
I - What is special about the cruises in Halong bay Vietnam?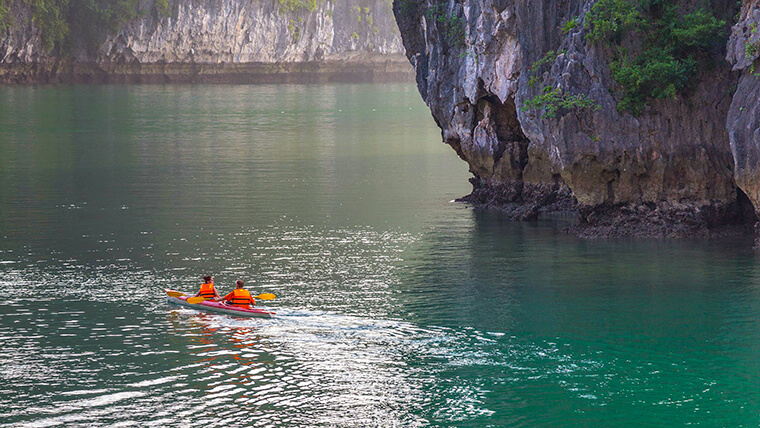 Kayaking in Halong - Source: Natalie Andersson
Halong bay, one of the new seven wonders of the world, recognized by UNESCO as a natural world heritage twice, is the most famous destination for visitors when traveling to Vietnam. Covering an area of about 1,533 km2, Halong bay is home to 1,600 big and small karst islands, and countless weathered caves.
The best way to discover this natural masterpiece is to take Halong bay cruises from Hanoi. You can expect a voyage with lots of exciting activities & luxurious experiences from relaxing on a sundeck, joining sunset party or cooking class, kayaking & bamboo boat riding, visiting the hidden caves, hiking, squid fishing at night,... when joining on cruises in Halong bay.
There are numerous cruise companies that offer budget & luxurious cruises to Halong bay Vietnam. You can hunt for good deals on a cruise ship tour to explore the bay and enjoy high-class services on boats. There are currently 2 major kinds of cruise tours in Halong bay: day trip and overnight trip (2 day 1 night and 3 days 2 nights). Common services of cruise packages: pickup from Hanoi, entrance ticket to caves and tourist attractions, foods and drinks and chilling activities on the cruise and the bay. Most cruises offer the same itinerary, kind of services, pick-up & drop-off point.
Halong bay cruise prices range from $60 for one day tour to at least $110 for 2 days 1 night deluxe cruise tour, 3 days 2 nights are pleasurably offered at a price range from $180 to $300. There are a wide range of exotic & customized tours for couples, family, or private cruise tours for groups.
II - Top-rated cruises in Halong bay Vietnam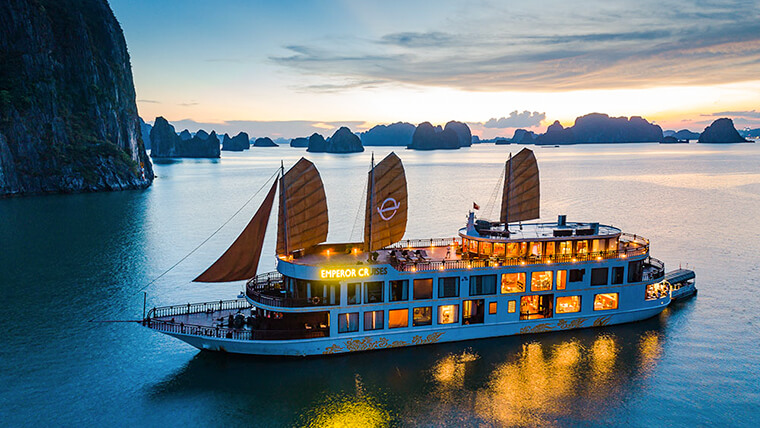 Overnight Halong bay cruise tour - Source: dulichhalong
1 - Luxury cruises on Halong bay
Emperor cruise
With the slogan "luxury doesn't mean there is no adventure", Emperor Cruise guarantees to bring tourists the most wonderful experiences in Halong bay. The cruise fleet is designed in traditional style but with high-quality materials such as an exquisite gold-plated motif, fine silk, velvet, brass, crystal and gemstones. Works of art by well-known Vietnamese artistics are used to adorn the walls.
There are in total 10 rooms on a ship, all en-suites with spacious area and private balcony affording spectacular ocean views. Aspired by the King Bao Dai, the last emperor of Vietnamese history, they named the suites after palaces of the King in areas across the country and interesting stories about his life.
Being recommended as one of the best cruises in Halong bay, Emperor with a small size is highly recommended for those who love the calm and quiet atmosphere. And thanks to its size, this famous Halong bay overnight cruise can slip into exotic and remote places in the bay. Moreover, guests can take part in interesting sea activities such as swimming, snorkeling, boating, kayaking, visiting floating farms & villages, exploring the pristine beaches & caves in Halong bay,...
Along with personalized services and outstanding facilities, the cruise tour cost you no extra fee regardless of the type of the tours.
- Operation office in Hanoi: No.456 Lac Long Quan street, Tay Ho district, Hanoi
- Contact: 083 666 8879 - 024 3927 3475
- Website: emperorcruises.com
Paradise cruise - one of top luxury cruises in Halong bay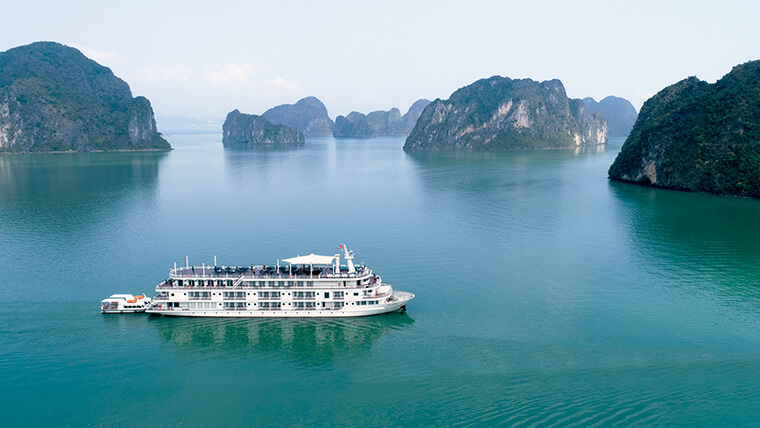 Paradise cruise tour in Halong - Source: fantase
Being so popular among top Halong bay overnight cruises, Paradise cruise gives you a lot of options to choose from, from made-for-a-postcard traditional wooden junk boats to modern, spacious but no less elegant and charming steel boats. Despite various types, there are a few things that all of them have in common. The first and foremost one is the strive to bring authentic experiences to their clients. The itineraries cross almost every corner of the bay, skipping almost nowhere, to narrow places, passengers are changed into smaller boats to continue their excursion. In addition, the crew can provide you a kayak to sail through anywhere, especially Cua Van fishing village to get up close with locals.
On the other hand, as the best Halong bay overnight cruise, there is no shortage of sumptuous facilities such as spas, piano bars, butler services, even the most economical one features carbins with a full size bed and bath, with plenty of private space for up to 3 people.
Laying trust on Paradise cruise - one of the best cruises in Halong bay, you are not going to be disappointed at all because everything of your concerns is catered by the staff, especially the meal. Menus at restaurants here are claimed to be totally customisable to satisfy the most picky mouth. Paradise Cruise promises to bring heaven down on board for you.
- Operation office in Hanoi: Unit 903, 9th floor, Gelex Tower, No.52 Le Dai Hanh Street, Hai Ba Trung District, Hanoi
- Contact: 024 3941 6666
- Website: paradisecruise.com
Stellar of the Seas cruise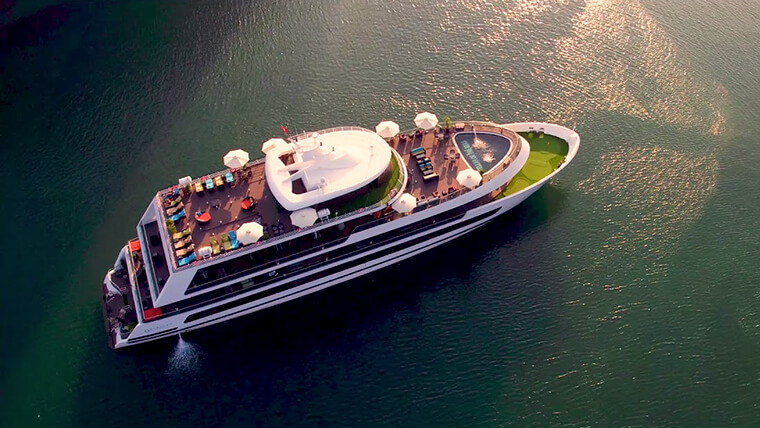 Crusing in Halong bay - Source: Internet
As a 5-star cruise, Stellar of the Seas Cruise has been voted as the best luxury cruises in Halong bay. Stepping foot on board, you are going to comprehensively understand the new definition of contemporary luxury. The tour offers you not only the experience of being on a lavish with the highest safety standard ship but also a completely enjoyable time thanks to meticulously planned itinerary, attentive service, authentic decoration and gourmet foods.
This Halong bay cruise boasts 22 delicate and spacious rooms and several expensive facilities including fine dining, a panoramic bar, wine and cigars cellar, golf club, seasonal swimming pool, beauty spa and massage, kid playground,... What makes the name Stellar of the Seas Cruise of the Seas Cruise is their personalized service which can be tailored to the client's needs.
- Operation office in Hanoi: No.39c Hang Hanh Street, Hoan Kiem district, Hanoi
- Contact: 0243 938 5666
- Website: stellaroftheseashalongcruise.com
2 - High-class cruises in Halong bay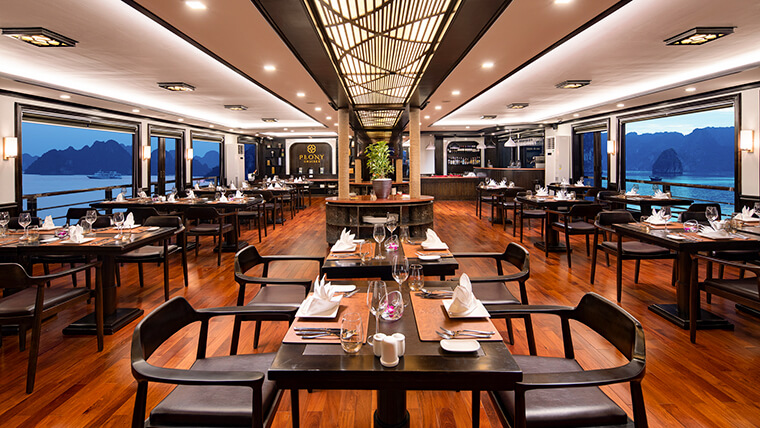 Peony cruise in Halong - Source: halongbaycruisehunters
Peony Cruises
Peony Cruises is honorably one of few 5-stars luxury Halong bay cruises. As an experienced in the field, the agency exploits off-the-beaten-track itineraries which is a distinction from others. Therefore, you are taken to places with stunning scenery and pristine beaches that no one else can bring you to. The Peony Cruises consists of two ships: Peony Cruise 1 and Peony Cruise 2, both of which combine to offer you 40 stylish cabins with professional and highly skilled crews. This is the first and also the only cruise in Halong to handle all special food diets: Kosher, Halal, vegetarian, gluten free with strict standards.
Choosing service of the Peony Cruise is also a way to donate for vulnerable childrens in Vietnam since the company is a partner of Blue Dragon Children's foundation, an organization having been working for the street kids and childrens trapped in slavery and forced labor for over 14 years.
- Operating office in Hanoi: F.5, No.16 Thi Sach street, Hai Ba Trung district, Hanoi
- Contact: 02439335728
- Operating office in Hai Phong city: Got Pier, Cat Hai district, Hai Phong city
- Contact: 024 3933 5728
- Website: peonycruises.com
Paloma cruise
Paloma Cruise is a different shade amongst top best cruises in Halong bay. Its design is inspired by traditional boats with rustic touch of classical style and wooden details, making it a charming space for the guest to watch the spectacular views of karst towers and the emerald waters. Approaching Paloma, you can enjoy the most professional and considerate services. Everything about the excursion, from beautiful seascapes to activities are carefully planned by expert staff.
As compared to others, the duration is 2 hours longer than the average, which means your Halong bay cruise itinerary is extended to more places like Vung Vieng fishing village at an attractive rate. The considerateness of the company is also manifested by the arrangement of tourist visas to Vietnam, airport transfers and hotel in Hanoi for international tourists. All of these things give you no excuse not to contact its office right away.
- Operating office in Hanoi: 3th floor, No.37 Le Van Huu street, Hai Ba Trung district, Hanoi
- Contact: 093 762 7666 - 093 594 66 88
- Website: palomacruise.com
Margaret cruise - one of the top deluxe cruises in Halong bay
Margaret cruise - Source: Agoda
With the subtle design which is a combination between classic and modern style, Margaret Cruise is a guarantee for a fancy journey to Halong bay. The ship is 45.4 m wide and 10m long, featuring 25 cabins and 4 decks with a capacity of 48 adults. Being on one of the top luxury Halong bay cruises like Margaret, not only can you fully and closely observe the exceptional appearance of the wonder but you can take part in a series of interesting activities, for example kayaking, swimming, cave visiting, squid fishing, cooking class and practicing Tai Chi.
- Operating office in Hanoi: No.110 Ba Trieu street, Hai Ba Trung district, Hanoi
- Contact: 024 3644 9988 - 0243 220 2209
- Website: margaretcruises.com/
3 - Mainstream cruises in Halong bay
Seasun cruise
Being recommended as one of top most popular Halong bay party cruises, Seasun offers overnight tours on bay with lots of entertainment activities, especially for young & budget-minded travelers. Designed with wooden decor in traditional Asian style, Seasun Cruise is 38m in length, 8.5m in width, and 12m in height, featuring 3 decks.
The balance between classics and modernity of a cruise with 9 rooms forms its attractiveness. Along with spacious rooms, the cruise is also integrated with an elegant diner, large pool, bar and an enthusiastic crew. This deluxe Halong bay cruise is large enough to make its customers comfortable at the same time small enough to have them feel at home. The size is an advantage of the Season because it can slither into unfamiliar destinations in the bay, which is sparsely-populated, untouched and uncrowded.
- Operating office in Hanoi: No.16 Hang Chinh street, Hoan Kiem district, Hanoi
- Contact: 08582 0331
- Website: seasuncruise.com/
Aclass Legend cruise - top boutique cruises in Halong bay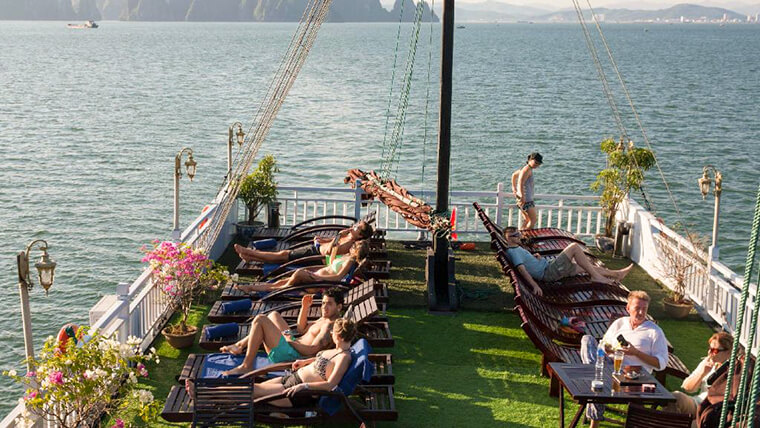 Top Halong bay cheap cruises - Source: Agoda
Aclass Legend Cruise has 14 cabins which are characterized by graceful wooden furnishing and beautiful amenities. Rooms are all well-equipped, possessing very large windows helping you capture an unobstructed bay view in a tranquil and private space. There are 3 room types including deluxe cabin, premium cabin and connectings suite cabin which is suitable for basic needs of the tourists. Known as a Halong bay cheap cruise tour, the Aclass still offers customers all activities associated with the local folk's life namely sailing local rowing boat, swimming, squid fishing, Tai Chi class,...
- Head office in Hanoi: Suite 803, ACB Building No.10 Phan Chu Trinh street, Hoan Kiem district, Hanoi
- Contact: 024 3933 5419 - 0904 466 690
- Website: aclasscruises.com/
Stellar cruise - one of the best cruises in Halong bay Vietnam
As the newest in the collection of the Aclass Cruises, Stellar is also the largest in the three quality cruises of the brand. Characterized with the simple but luxurious outlook, the ship has 21 large cabins installed with full amenities. Each cabin has a modern bedroom, wooden floor, king-size bed, safe, air-conditioner, bathroom,... and especially an airy balcony where passengers can relax and admire the great landscape of the bay. The ideal Halong bay itinerary well planned by the Stellar introduces you to the most famous tourist attractions on this water.
- Head office in Hanoi: Suite 803, ACB Building No.10 Phan Chu Trinh street, Hoan Kiem district, Hanoi
- Contact: 024 39335419 - 0904466690
- Website: aclasscruises.com/
4 - Top best day cruises in Halong bay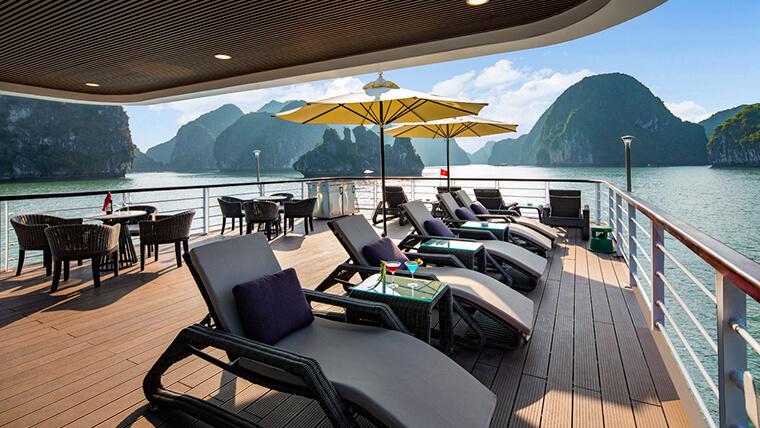 Looking to the view of Halong bay from the sundeck - Source: Internet
Jade sails cruise - one of the most luxurious Halong bay day cruises
Spending one day on Jade Sails Cruise is one of the best decisions you make. It is to say that, after booking the tour, the only thing you must do is to let the crew and the ship take you to the most magnetic stopovers in Halong bay. At the set time, the driver shows up in front of your hotel door and takes you to Quang Ninh province and supports you to board. Then the rest of the day, you get immersed yourself in an array of relaxing activities such as kayaking, visiting a floating village, swimming in Lan Ha Bay, attending a cooking demonstration, mingling in a sunset party. Each and every moment on Jade Sails is meaningful and precious that you can never forget afterward.
- Operation office in Hanoi: No.39c Hang Hanh Street, Hoan Kiem district, Hanoi
- Contact: 0243 938 5666
- Website: stellaroftheseashalongcruise.com/
L'Azalee - cruises in Halong bay for an ideal day tour
Among top Halong bay day cruises, L'Azalee is one of the most worth-booking cruise ships to tourists who just have a day to look around the most beautiful bay of Vietnam. Its fancy name takes root in the azalea flowers, the flowers with vivid colors, which is also expressed in the design and decor of the cruise. Joining in a day cruise trip with L'azalee, within a few hours, tourists can have an overview of the major highlights of the bay or the "Landing Dragon" with the journey crossing Dao Tung Lam bay, Paradise Cave, and an excursion around nearly 1,600 limestone islands in Halong.
The good service is also a plus point. The staff fluent in English speaking are right there to welcome you with great beverages and food. There is no exaggeration to say that Halong bay and L'Azalee will be bright lines in your travel diary.
- Operation office in Hanoi: The 3nd floor, No.46 Nguyen Truong To street, Hanoi
- Contact: +84 (0) 24 3 935 1888
- Website: lazaleecruises.vn/
On lavish cruises in Halong bay, you can take in the whole beauty of the bay at all periods, all positions. Moreover, services and activities provided on board promise to make you feel like staying in villas floating in the middle of a splendid sea. Don't be reluctant to travel in this way because you are going to get more than what you pay.