If you are planning to travel to Hoi An, please refer to this Hoi An shopping guide for great things & nice places to take something home. The top things to buy such as silk-made clothes, scarves, ties & fabrics, shoes, conical hats, and lanterns… Tourists can find tons of interesting things at long-standing shops, markets, and unique antiques in the Hoi An old quarter.
I - What to shop in Hoi An Vietnam?
1 - Bags
Source: Thenysmile
When it comes to popular bags in Hoi An, fabric bags are worth mentioning. The bags are hand-painted by talented artists with beautiful landscapes of Hoi An.
The wicker bags woven with soft and durable slices & decorated with delicate patterns with natural colors are great things to buy.
2 - Conical Hat - one of the best things to buy in Hoi An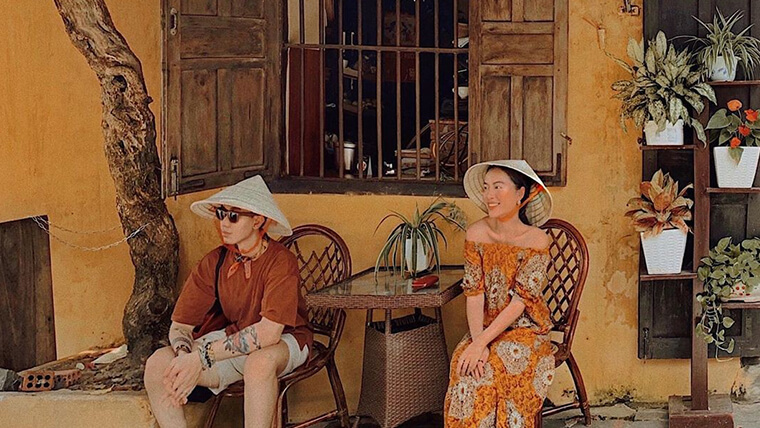 Source: Le Ha Truc
The conical hat is a traditional fashion item of Vietnamese people. And in Hoi An - a cultural destination of Vietnam, the conical hats are values-added under the hands of skilled artisans, becoming one of the most beautiful and unique in the list of best things to buy in Hoi An.
On those hats, the charming scenery of Vietnam, as well as the people, appear vividly and harmoniously. The Vietnamese conical hat is a gift, a souvenir that you should definitely buy when traveling in Hoi An & Vietnam.
3 - Clothes
There are quite a lot of apparel shops in Hoi An as well as clothing stores for men, women, and children. Clothes shopping in Hoi An is definitely a top thing to do. The ready-made clothes are made from high-quality fabric & textile, amazing tailoring skills at reasonable prices. Silk-made items. clothing and dressing are must-buys when you visit Hoi An silk village.
Moreover, you should not miss out on getting some beautiful tailor-made suits or dresses from the "speedy tailoring service" in Hoi An within 3 hours.
4 - Tò He (Toy figurine) - one of the cutest Hoi An things to buy for kids
Tò He or toy figurine is a typical souvenir for visitors when they come to Hoi An. Tò He is a traditional Vietnamese clay-made toy, which is made in clay in different shapes of animals with a horn at the back. Making To He is one of the most long-standing crafts in Hoi An, in which Thanh Ha pottery village is the most famous To He making village. This little cute thing is a nice gift for kids.
5 - Shoes
You can find the best shoe shops Hoi An on Hoang Dieu Street, which display hundreds of shoes and sandals with unique designs and different colors. Just walking around the street for about 1 hour, you can own your favorite shoes at affordable prices.
6 - Artworks
Hoi An is a fertile land of artworks; from sculpture, woodwork, pottery to paintings, etc, most of them are handmade and in a really creative way. Hoi An people make artworks from many materials, mainly based on the topic of the country.
7 - Lanterns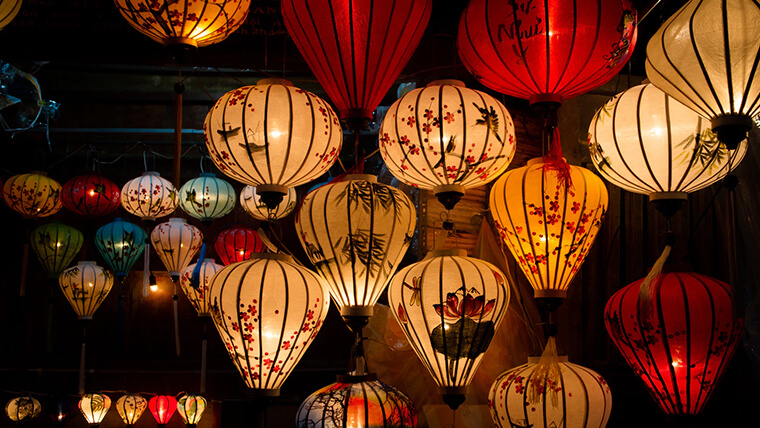 The colorful lanterns in Hoi An - Source: Thanh Soledas
It can be said that the sparkling lantern street has become a well-known symbol of Hoi An. Every night, the town of Hoi An is brightened up by the fanciful, magical light of colorful lanterns. The lantern shops Hoi An are places to have some as souvenirs or gifts to take home.
8 - Accessories
Hoi An is also famous for various types of accessories in terms of materials and designs. The types of accessories are usually made from gold, silver, gemstones, pearls, etc designed in a trendy fashion. Your best shopping in Hoi An list is not to miss the bracelets, the rings, the necklaces, etc with new and unique designs when coming to Hoi An.
9 - Scarves and ties
The silk scarves and ties are available at all shopping centers and clothes shops in Hoi An ancient town. These little cute things are highly recommended to take home as nice gifts.
10 - Food
In any shopping in Hoi An blog, tourists are all suggested come to Hoi An for an impressive food tour. Hoi An food & cuisine is famous with hundred of tasty dishes such as Cao Lau, Chicken Rice, Quang Noodles, Rice Crackers, Vietnamese sizzling crepes, Fried Girdle Cakes with Scallops On Top, Fried Snails, etc or snacks like sweet soups, herbal teas, milk tea, etc.
II - Where to shop in Hoi An?
As listed above, there are many things to buy in Hoi An and if you are wondering where to buy, let's find out about some shopping places.
1 - Markets in Hoi An
Whatever you would like to buy, you can find it at the markets. There are quite a few markets in Hoi An so you definitely should go for a visit there.
Nguyen Hoang Night Market:
This is a nice Hoi An shopping place at night which is located in Minh An Ward, Hoi An City, a bustling market of the old town at night. There are various specialties, delicious dishes or souvenirs, handicrafts, clothes, etc.
The central market of Hoi An:
This market is like a "culinary paradise" in the heart of the old town. The market contains hundreds of shops selling gifts, specialties and dishes at affordable prices.
This market also gathers the best lantern shops Hoi An with many types of colorful and brilliant lanterns at night. You can not only admire the mysterious beauty of thousands of lanterns, but you can also choose to buy yourself one to drop on the river or take home as a gift.
2 - Art Galleries
In Hoi An there are quite a lot of art galleries which are considered boutique shopping malls in Hoi An where you can get many unique things about Hoi An and Vietnam culture & art.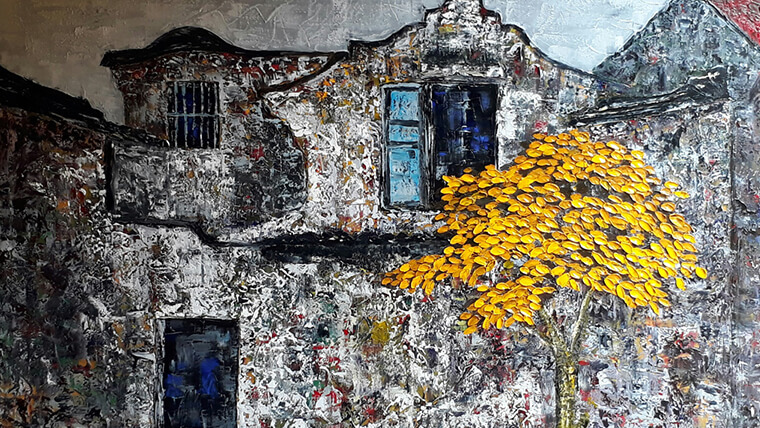 Arthouse Vietnam Gallery - Source: Hoianart
- Art House Vietnam Gallery:
Art House Gallery exhibits numerous art paintings created by many modern Vietnamese authors. You can also buy a few pictures at affordable prices at this Hoi An antiques.
Address: No.692 Hai Ba Trung street, Hoi An city
Opening hours: 9am - 5pm
Contact: +84 989 391 486
- T&G Art Gallery:
The gallery exhibits and sells artworks ranging from imagery to abstract ones, made of various materials such as silk, lacquer to oil, sculpture, and acrylic.
Address: No.46 Nguyen Thai Hoc street, Hoi An city
Opening hours: 9am - 6pm
Contact: +84 905 292 282
3 - Famous Hoi An shops
- Quốc Huy Silk – Apparel shop:
Quoc Huy Silk is a fashion apparel shop, specializing in kinds of dresses, vest tops, costumes, etc.
Address: No.39 Tran Phu street, Cam Chau ward, Hoi An city
Opening hours: 9am - 9pm
Contact: 091 654 5067
- Ngoc Van Shop:
One of the best shops in Hoi An specializes in the retail business of souvenirs, handmade materials, fashion clothes, etc.
Address: K47/8A Tran Hung Dao street, Minh An, Hoi An City
Opening hours: 7am - 9pm
Contact: 093 591 1011
- CocoBox – Coffee shop:
CocoBox sells drinks whose ingredients are locally grown fresh fruits. In addition, Cocobox also has organic foods that are good for health.
Address: No.94 Le Loi street, Minh An Ward, Hoi An City
Opening hours: 7am - 10pm
Contact: 0235 3862 0000
III - Hoi An shopping tips
If you are coming to Hoi An for the first time, you should get some shopping tips: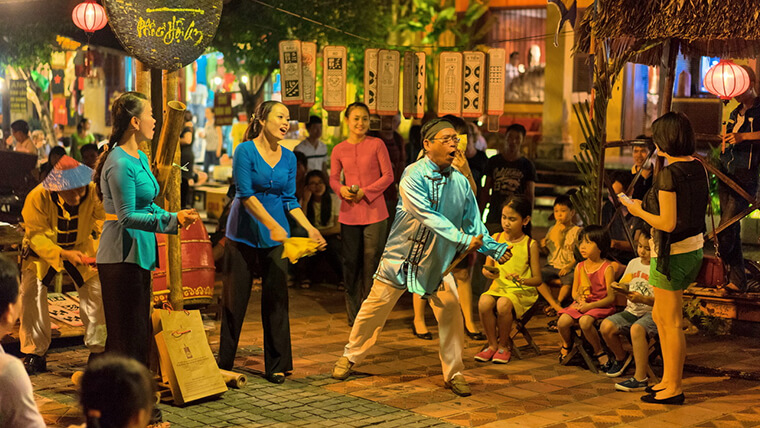 Source: OneDanang
1 - Check out the materials and research before buying
For some items such as fabrics or silk items, checking out the material and getting more information and notes before buying is very important to pay for true values.
2 - Bargaining
Bargaining while buying is the essential thing you need to do when you go shopping in Hoi An. However, please be assured that the friendly Hoi An people will not overly enforce tourists. Smile when you bargain, you will be able to buy the item at better prices. Bargaining is quite effective at the markets where the prices are not public and fixed, but in the price-fixed shops, you no need to try to bargain.
3 - Other things to do
Hoi An ancient town is well-known as a center of tourism at which travelers can find tons of interesting things to experience:
- Visiting the most popular cultural tourist attractions in Hoi An: Hoi An Old Quater, Tan Ky or Phung Hung Old house, Cau pagoda, My Son sanctuary,...
- Have a sea vacation at gorgeous Hoi An beaches: An Bang beach, Cua Dai beach, Cham island beach,...
- Experiencing the local vibes at the long-standing craft villages such as Tra Que vegetable-planting village, Thanh Ha pottery village...
Above are all the best things to buy in Hoi An, famous places you can go for shopping.