Crab noodle soup (or Bun Rieu Cua in Vietnam) was once in the top dishes made from rice noodles in Asia introduced by CNN Tourism. When compared to other similar dishes such as Pad Thai in Thailand, Char kway teow in Malaysia, Bun Rieu Cua is a popular Vietnamese noodle dish that is made with a broth made from crab & tomato, served over rice vermicelli noodles, and topped with a variety of ingredients such as beef, tofu, and herbs. It is a great option for those who enjoy seafood and want to try something a little different. It is often served at Vietnamese restaurants and street food stalls, and it is a must-try dish for foodaholic travelers.
I - The origin of Bun rieu cua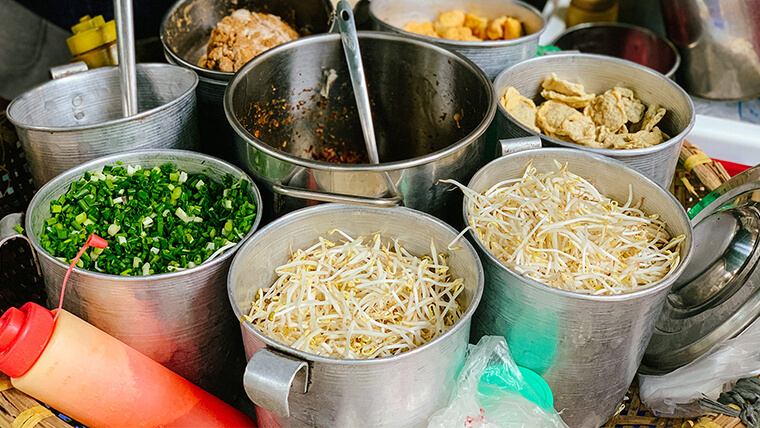 Source Kenh14
Vietnamese crab noodle soup is one of the most famous noodle dishes in Vietnam, originating from the North. One bowl is a delicate combination of fresh vermicelli, sweet broth from crab meat and trotter, along with some other ingredients such as tomatoes, fried tofu… and shrimp paste for flavor enhancement. White, soft vermicelli is the most important ingredient in this dish, which has created a variety of noodle dishes that confuse many newcomers to Vietnamese cuisine.
When Bun rieu cua appeared in Central and Southern cuisine, there has been a slight change in the combination of regional ingredients to suit the taste of locals. Besides the sweetness of crabs, there is also dried shrimp, sentinel crab and rib broth to create a rich flavor.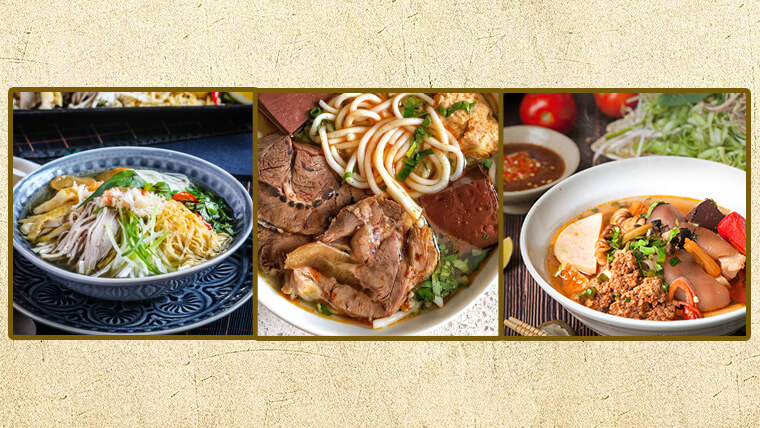 Source: Internet
To conveniently cook a bowl of crab noodle soup yet still maintain its delicious taste, you first simmer the filtered crab water to make the roe float, then filter the water to separate the roe. Next, to cook Bun rieu cua noodle broth, you add the wedged tomatoes to the crab water pot, then add some vinegar when you are about to eat to increase the sour taste. Finally, put everything including vermicelli, crab roe, fried tofu, green onions, broth, as well as some shrimp paste and herbs into a bowl, and then you will have a mouth-watering dish. Various types of fresh vegetables are served with.
The amount of calories in one bowl of Bun Rieu is about 450 kcal. If you love this dish, you can look for packaged crab paste flour, which is easier to bring on the plane and can be given as a gift, to bring home the perfect Vietnamese crab noodle soup recipe.
II - Different versions of Bun rieu cua
1 - The traditional crab noodle soup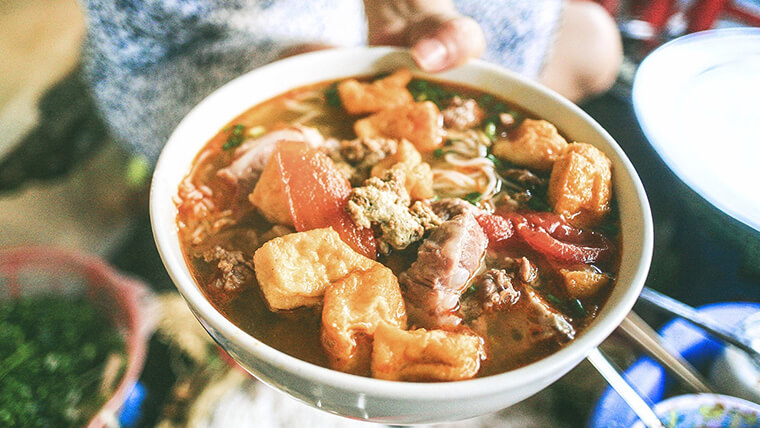 Source Kenh14
Vietnamese crab noodle is known as a rustic dish recommended for everyone to experience. It has a rich taste from the crab paste, but the aftertaste is still harmonious thanks to the sweetness of the crab water. Moreover, the combination between the hot-served broth and noodles, fried tofu and spices also brings a feeling of surprise. A standard delicious bowl of crab noodle soup must have clear broth, red crab paste, a good smell without fishyness, the sweetness, a little sour, and firm crab meat.
Ingredients: rice-field crabs, crab roe, dried shrimp, tomatoes, fried tofu, onion, shrimp paste, vinegar, fresh rice noodles, herbs & spices.
2 - Bun rieu cua topped with pig's trotter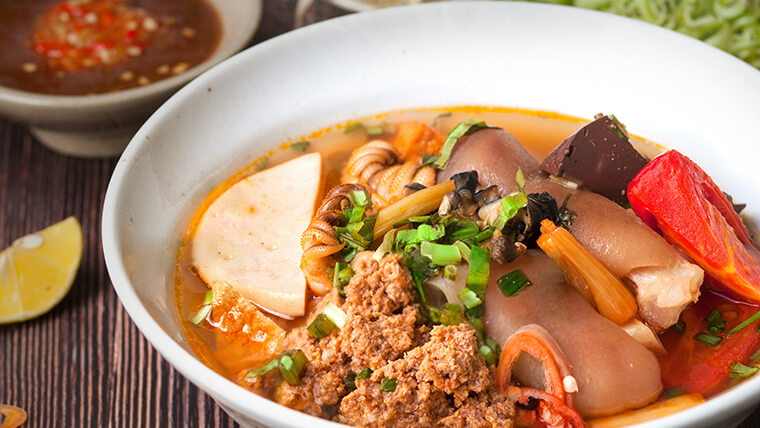 Source: Tri Tran
This is the combination between the original crab noodle in the North of Vietnam and the fresh ingredients in the Western part of the country. This dish is associated with the daily life of the Southern people. When visiting the Southern provinces of Vietnam, especially Saigon, you can see this food sold in street food stalls and in big restaurants, which have hot crab paste, tofu, pig blood, pig's trotters,... By changing common shrimp paste to the western version of it, adding crunchy pig's trotter and a little tamarind juice, the bowl of Bun rieu cua has a sweet and sour taste which is completely different from the northern version.
Ingredients: rice-field crabs, pig's trotter, ground pork, duck eggs, tomatoes, tofu, fresh rice noodles, boiled pig blood, tamarind juice, spices.
3 - Vietnamese pork crab noodle soup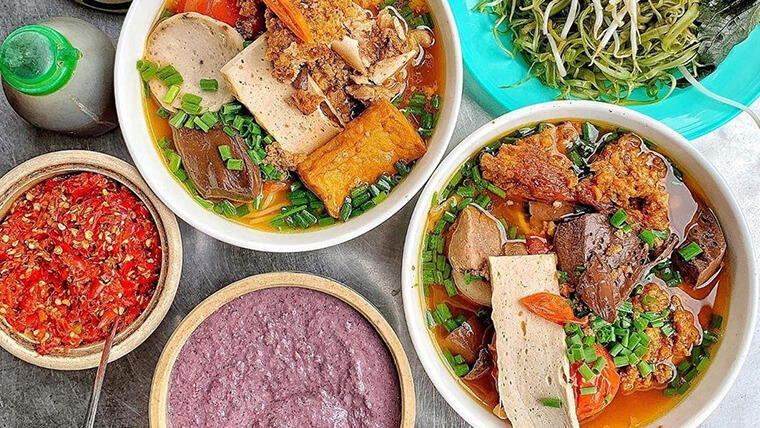 Source: Internet
Based on the original type, this dish is made with ground pork to increase the richness of the flavor. Tubular bones are carefully simmered to make broth. Crab is replaced with dried shrimp. After all, adding meat mixed with eggs and cashew oil to increase fat and sweetness to broth.
Ingredients: ground meat, tubular bones, dried shrimp, fried tofu, white radishes, tomatoes, bulbs of garlic, chicken eggs, onions, fresh rice noodles, spices.
4 - Vegetarian Vietnamese crab noodle soup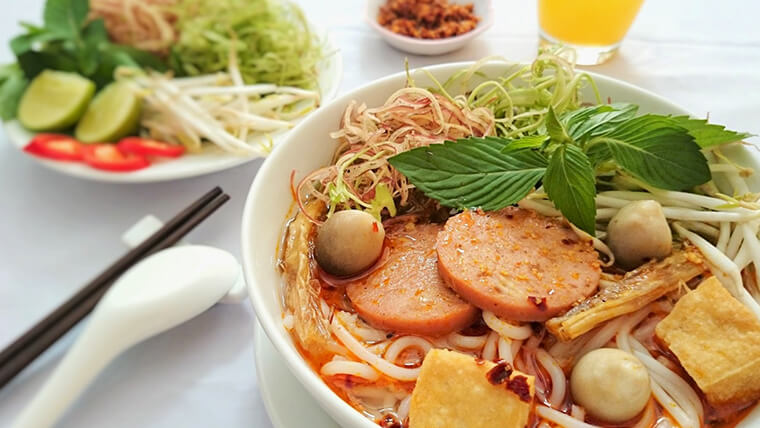 Source: Jamja
Preparing this vegetarian bowl of Bun rieu cua is not just using vegetables, but also requires careful selection and preparation of ingredients. In this dish, soy milk is the main ingredient making it a nutritious food. Besides, the addition of tomatoes, tamarind juice, fried tofu and herbs brings a new taste to vegetarian enthusiasts.
Ingredients: tomatoes, soy milk, tofu, fermented tofu, mushroom, tamarind juice, shallots (replace for green onions), split water spinach, perilla leaves, rice noodle, vegetables including kohlrabi, white radish, chayote, carrot.
In addition, there are also very unique variations that are crab noodle soup with eggs, with balut, with beef and mushroom:
Bun rieu cua with balut
It is simply made by adding balut to the common type to increase the fat and richness in the food. You should have this dish when it rains slightly. You can easy find this kind of food in street food stalls in Hanoi; this recipe is unpopular in Ho Chi Minh city.
With beef and mushroom
This kind of food is similar to the balut version. Beef and mushroom are put into the bowl of crab noodles. They add more ingredients to avoid boredom and bring another way to enjoy it.
III - Best places to enjoy best bun rieu cua
1 - Best crab noodle soup in Hanoi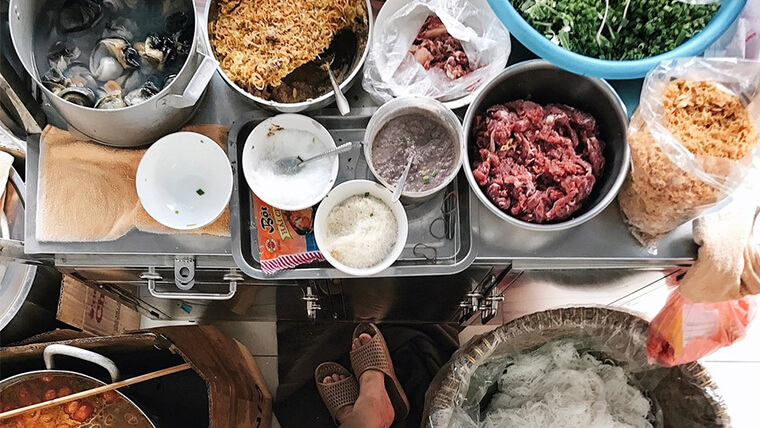 Source: Ninh Tito
Bun rieu Huyen Thu:
The restaurant has been opening for 30 years on Quang Trung Street. It is highly appreciated by its longevity as well as the quality of the dishes. Therefore Bun rieu Huyen Thu is a familiar address of local people as well as tourists.
- Address: No.2F Quang Trung Street, Tran Hung Dao Ward, Hoan Kiem District
- Opening time: 6am - 2pm
- Price: 25,000 - 70,000 VND / bowl ($1.1 - 3.08)
Bun rieu cua Thanh Hong:
Bun rieu Thanh Hong, 20 years old, still retains the old origin taste, which is the core point for the restaurant to retain customers when coming here. Besides Vietnamese crab noodle soup, the restaurant also serves crab paste hotpot, mixed noodles,...
- Address: No.B27 Nguyen Thi Dinh Street, Nhan Chinh Ward, Thanh Xuan District
- Opening time: 6:30am - 10pm
- Price: 35,000 - 55,000 VND / bowl ($1.54 - 2.42)
Bun rieu cua Hong Phuc alley:
With a rich, sweet, sour, and spicy broth, the crab noodle restaurant located in the middle of Hong Phuc alley has attracted crowds of visitors over time to enjoy a delicious taste that is rare anywhere.
- Address: Alley 23, Hong Phuc Street, Nguyen Trung Truc Ward, Ba Dinh District (shop on the left hand side)
- Opening time: 5:30am - 3pm
- Price: 20,000 - 50,000 VND / bowl ($0.88 - 2.2)
2 - Best Vietnamese crab noodle soup in Saigon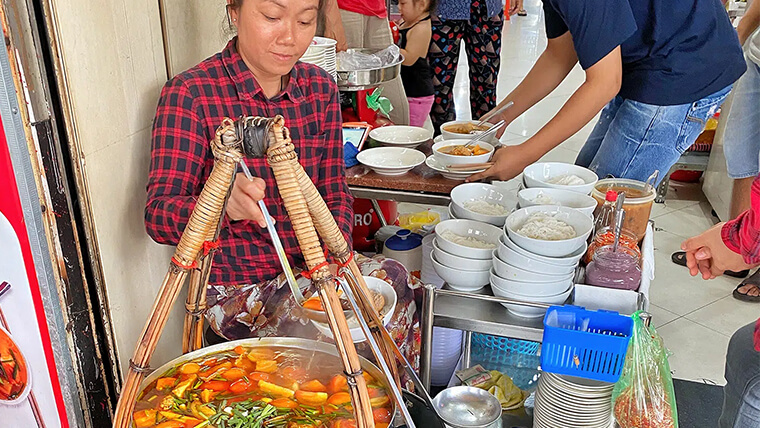 Source: Afamily
Bun rieu cua ganh (near Ben Thanh market):
Located on Phan Boi Chau street, this restaurant has been open for 40 years. The good smell of food spreads so that the passers-by could not help eating it. The bun rieu soup here has a not salty, not light taste and the clear delicious sweetness broth. According to the owner, the sauce here is the soul of their dishes.
- Address: No.4 Phan Boi Chau Street, Ben Thanh ward, District 1
- Opening time: 8am - 7pm
- Price: 50,000 VND / bowl ($2.2)
Bun rieu cua hem Ong Tien (in Ong Tien alley):
Operated by a friendly and enthusiastic owner, this place serves attractive food with a variety of ingredients. That is a plus point that makes many diners consider the restaurant a familiar place to visit when wanting to enjoy Saigon's cuisine.
- Address: Alley 96, Phan Dinh Phung Street, Ward 2, Phu Nhuan District
- Opening time: 9am - 5pm
- Price: 30,000 - 40,000 VND / bowl ($1.32 - 1.76)
Bun rieu cua Miss Nga:
Opened in 1988, Miss Nga's bun rieu noodle restaurant is the number one place in district 4 to enjoy a good bowl of crab noodles. The delicious taste of broth, crab paste, and pig's trotter creates unforgettable highlights.
- Address: No.64 Nguyen Huu Hao street, Ward 6, District 4
- Opening time: 0pm - 7pm
- Price: 20,000 - 35,000 VND / bowl ($0.88 - 1.54)
Bun rieu cua or crab noodle soup is a popular choice for both tourists and locals in Vietnam, and it is a great way to experience the diverse and flavorful cuisine of Vietnam. Whether you are a fan of seafood or just looking for something new and delicious to try, this dish is definitely worth a try when traveling to Vietnam.