Danang - a stunning coastal city, is the gateway to Central Vietnam. There is one airport in Danang city, namely Da Nang international airport.
- Location: Duy Tan street, Hoa Thuan Tay ward, Hai Chau district, Danang city
- IATA code: DAD
- E-visa is acceptable here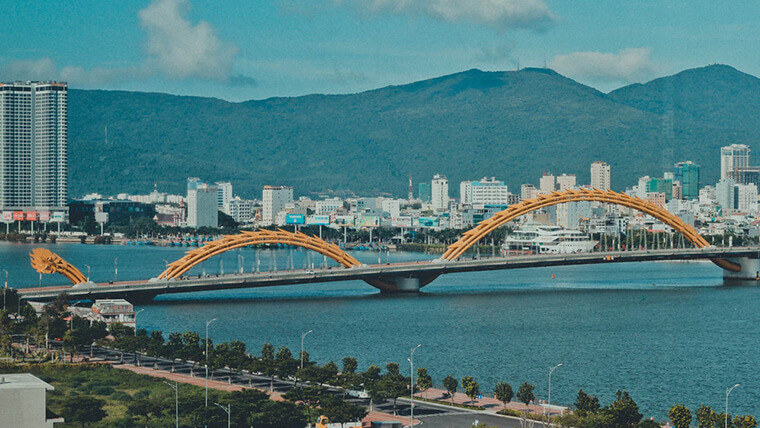 Dragon Bridge in Danang City - Source: Huong Ho
I - How many direct flights to Danang Vietnam?
It is recorded that there are more than 250 domestic & international flights to Da Nang International Airport daily. At the end of 2019, there are 35 international flight routes to Da Nang International Airport with a frequency of more than 490 flights per day.
1 - Domestic flights
- Domestic flights from: Ho Chi Minh city, Hanoi, Hai Phong city, Quang Ninh province, Vinh city, Can Tho province, Phu Quoc island, Nha Trang city, Buon Me Thuot city,...
- Top airlines in Vietnam: Vietnam Airlines, Bamboo Airways, Vietjet Air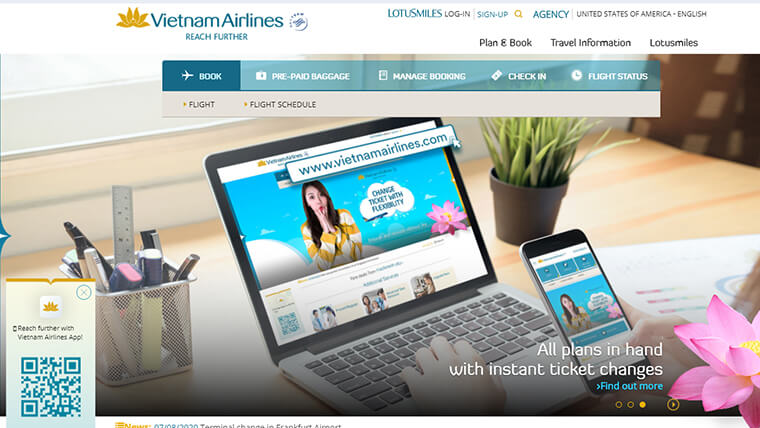 Source: Internet
2 - International flights to Danang Vietnam
- International flights from: Singapore, Macau, Thailand - Chiang Mai & Bangkok, Australia - Melbourne, Hongkong, Philippines - Manila, Malaysia - Kuala Lumpur, The US - Washington, New York, Los Angeles, Boston, The UK - London, Manchester, Myanmar - Yangon, Canada - Toronto
- Airlines: Asiana Airlines, Cathay Pacific, Cathay Dragon, Hahn Air Systems, Thai AirAsia, Singapore Airlines, AirAsia, HK Express, Korean Air, Cebu Pacific, EVA Air, All Nippon Airways.
II - How to get from the airport to the city center?
The distance from Da Nang International Airport to the city center is about 5km. After a flight to Danang, it is the most ideal to take a taxi from the airport to the city center.
Traditional taxi
It takes about 15 minutes to travel by taxi and costs from 150,000 VND / way ($6.5). Some taxi brands in Da Nang:
- Mai Linh Taxi Da Nang - 0236.3.56.56.56
- Tien Sa Da Nang Taxi - 0236.3.79.79.79
- VinaSun Green Da Nang - 0236.3.68.68.68
- Danang Air Taxi (Airport Taxi) - 0236.3.27.27.27
- Datranco Taxi (Dana Taxi) Da Nang - 0236.3.815.815
- Huong Lua Taxi Da Nang - 0236.3.82.82.82
Ride-hailing taxi
Popular ride-hailing taxi apps in Danang include Grab, Be, VATO and Go-Jek. The price is the same as the traditional taxi.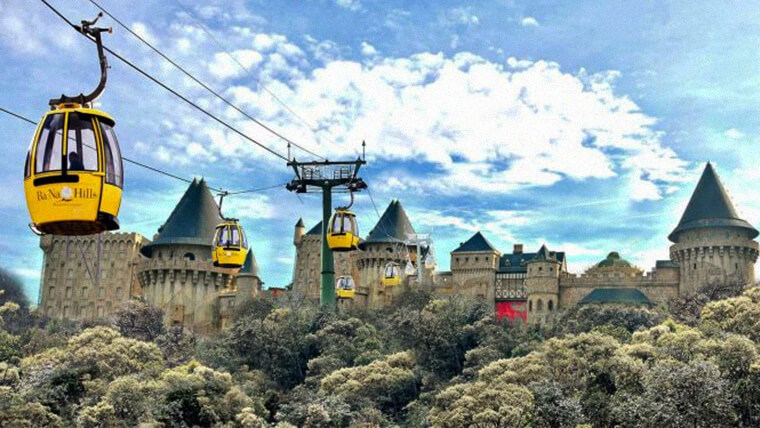 Ba Na Hill - Source: Divui
III - Good to know before taking flights to Danang Vietnam
1 - The best time to visit Danang City
Danang's climate is intertwined with the northern subtropical climate and the southern savanna tropical climate. There are 2 distinct seasons in Danang:
- Rainy season: From September to December
- Dry season: From January to August
The best time to fly to Danang is in the dry season. The weather is quite dry and airy with low rainfall. The temperature is around 27°C.
2 - Booking cheap flights to Danang Vietnam
In Vietnam, Vietjet Air is an ideal airline at which you can hunt for more cheap flights.
3 - Best places to visit in Danang City
Danang is an amazing destination in Vietnam. The long sandy beaches are great spots to visit in summer escape. The best beaches in Danang City are My Khe beach, Non Nuoc beach, Bac My An beach, Nam O beach. Other points of interest: Ba Na Hills & Golden hand bridge, Marble mountains, Son Tra peninsula, Linh Ung pagoda,...
Danang is one of the most beautiful coastal cities in Central Vietnam which has lots of things to do and see. Taking flights to Danang Vietnam from abroad or from other cities in Vietnam is a bit easy.