Belonging to the island district of the same name, consisting of 3 islands: Lon (Big), Be (Small), and Cu Mu, Ly Son Island Vietnam is one of the best places for traveling in the central region. The Lon Island concentrates more attractions and large volcanic clusters, with two magnificent volcanoes - Thoi Loi and Gieng Tien. In general, the island attracts thousands of visitors every year with its unspoiled beauty of white sand, clear water, high mountains, and immense garlic fields.
I - How to get to Ly Son Island?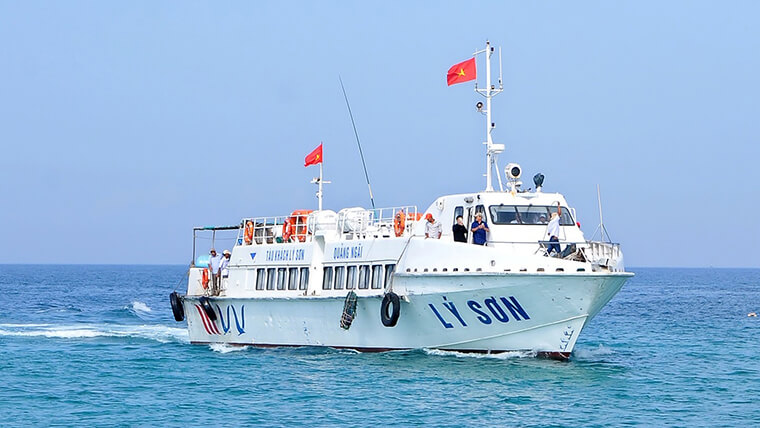 Boat to Ly Son - Source: Internet
Located about 30km from the shore, the island district of Ly Son has a population of more than 22,000 people as of 2019. It covers an area of 10.39km2, not divided into commune-level administrative units but fully and directly managed by the district-level government.
1 - From the mainland of Quang Ngai Province
First, you need to approach Sa Ky Port (Binh Chau Commune, Binh Son District, Quang Ngai Province) at which there are 4 transport companies with 6 ships including Super Bien Dong, Super 2 Bien Dong, An Vinh Express, ST Hoa Binh, Chin Nghia 09 and ST Hoa Binh 2 providing 6 - 7 express trips (on weekdays) and 10 - 11 express trips (at weekend) to Ly Son Island from 7:30am - 3:30pm. The ship tickets listed in 2022 are:
- From the mainland to the island: 213,000 VND/person ($9.1) (including entrance ticket to Ly Son Vietnam)
- From the island to the mainland: 195,000 VND/person ($8.4)
You can either access Sa Ky harbor to ask the receptionist in person about the upcoming trips or contact one of 4 companies above to book a ticket in advance:
- Super Bien Dong and Super 2 Bien Dong: 0977761879
- An Vinh Express: 0966762369
- Chin Nghia 09: 0944507676
- ST Hoa Binh and ST Hoa Binh 2: 0868688789
2 - From Danang City to Ly Son Island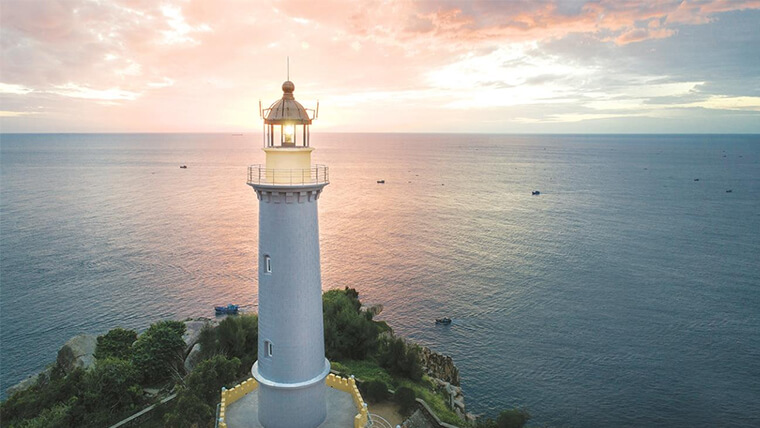 Source: Vietravel
Phu Quoc Express offers high-speed boats to the island of Ly Son with the departure in Han river harbor. The ticket price:
- Child under 5 years old: free
- Adult: 590,000 VND/ticket ($25.5) (Monday - Thursday) & 720,000 VND/ticket ($31.03) (Friday - Sunday)
- Child at 6-11 year-old & the elder person above 60 year-old: 470,000 VND/ticket ($20.25) (Monday - Thursday) & 570,000 VND/ticket ($24.65) (Friday - Sunday)
- Handicapped person: 410,000 VND/ticket ($17.73) (Monday - Thursday) & 500,000 VND/ticket ($21.62) (Friday - Sunday)
- Hotline: 0989797651
- Website: https://phuquocexpressboat.com
II - Top 7 best attractions on Ly Son Island Vietnam
1 - Thoi Loi Peak
Formed 2.5 million years ago, Thoi Loi is the largest volcano here with a height of more than 149m, a bottom diameter of 1.4 km and a mouth diameter of 0.35 km. The inner wall of this inactive crater has a steep slope, forming a very deep lake in the middle, which was built to become a source of fresh water for domestic use, irrigation, and agricultural production. Going through the most beautiful road on Ly Son and reaching the top, you will have the opportunity to see the wonderful space with rolling mountains, an immense sea, and stretching garlic fields.
2 - Cau Cave - the most beautiful cave to visit on Ly Son Island
The eruption process of the Thoi Loi Volcano has created spectacular landscapes, especially Cau Cave with its vertical cliffs next to the fine white sand. Under the influence of wind, sea waves, and thousands of years of weathering lava, it takes on different unique shapes like a painting created by nature. Coming here, you will have a chance to feel a fresh and airy atmosphere, admire the wild and mysterious landscape, dive to see colorful corals, go kayaking, and so on.
3 - Hang Pagoda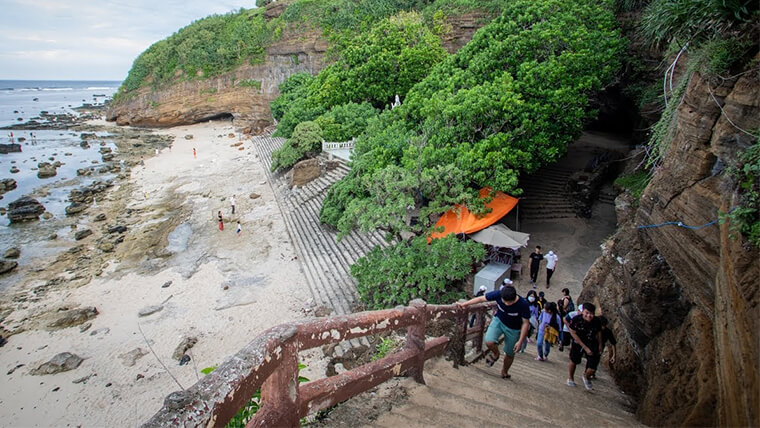 Hang Pagoda - Source: Internet
The eruption process of the volcano on Ly Son Island Vietnam creates many lava cliffs, which have been eroded by the sea waves over time to create many unique caves. The largest one is located at the foot of Thoi Loi Peak, with a height of 3.2m, a width of 30m, and a depth of 25m, forming a place for the Hang Pagoda (Cave Pagoda). This work is more than 400-year-old, worshiping Buddha and those who founded the island, filled with Champa relics, altars, and beds beautifully carved on natural stalactites. The pagoda's large yard is surrounded by rows of ancient Terminalia catappa trees, preceded by a statue of Avalokiteśvara Bodhisattva facing the sea.
Right below Hang Pagoda is the To Vo Gate - another outstanding attraction on Ly Son Island. This is a type of interesting stone arch made of volcanic lava that solidifies when it meets sea water. This is a favorite tourist spot to admire the scenery and take check-in photos of Ly Son Vietnam, with a height of more than 2m, located by the sea and surrounded by black lava rocks. The best time to visit To Vo Gate is around sunset, when the sun gradually disappears behind the horizon and its rays glimmer through the rocky crevices, creating a very romantic scene.
4 - Duc Pagoda
Gieng Tien is one of the extinct volcanoes of Ly Son Island, with a height of 86m and fertile red soil, covered with trees all year round. Climbing 100 steps along the mountainside, you will come to the Duc Pagoda built in 2008, including 3 shrines deep into the cliff. In front of the cave is a statue of Avalokiteśvara Bodhisattva, 27m high looking towards the sea, extremely sacred and trusted by the people to always protect the fishermen's ships. Standing in the courtyard, you can see the immense sea with a glimpse of Little Island among the waves.
5 - Am Linh Temple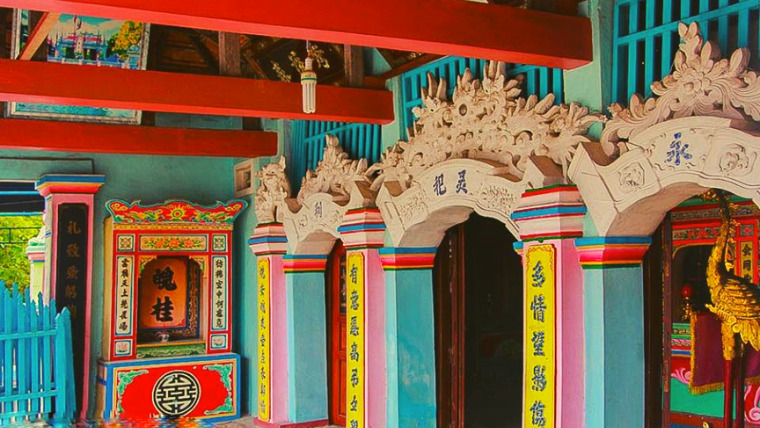 Am Linh temple - Source: Internet
About 500m from Ly Son Port to the west, Am Linh Temple is an important historical-cultural relic on Ly Son Island with profound humanistic beauty, built in the mid-17th century. This is a place of worship for those who founded the island, and soldiers who sacrificed while on duty to protect sovereignty over Truong Sa and Hoang Sa islands. Many documents related to the marines, and relics about the history of the island formation are also solemnly kept here. Every year, the temple organizes many important ceremonies, especially the one to honor Hoang Sa soldiers in the third lunar month.
6 - Mu Cu Islet
Located about 3km east of Ly Son Island and connected by a concrete road, Mu Cu Islet is extremely small and uninhabited, just a place for ships to temporarily anchor. But maybe that's why this place keeps almost all the beauty that nature has given - the landscape is still very pristine and the air is fresh, known as the most beautiful sunrise viewing spot on the archipelago. On the island, there is also a very prominent red and white lighthouse, not too high but because of its eye-catching appearance, many people have come to take check-in pictures and admire the scenery.
7 - Small Island - a part of Ly Son Island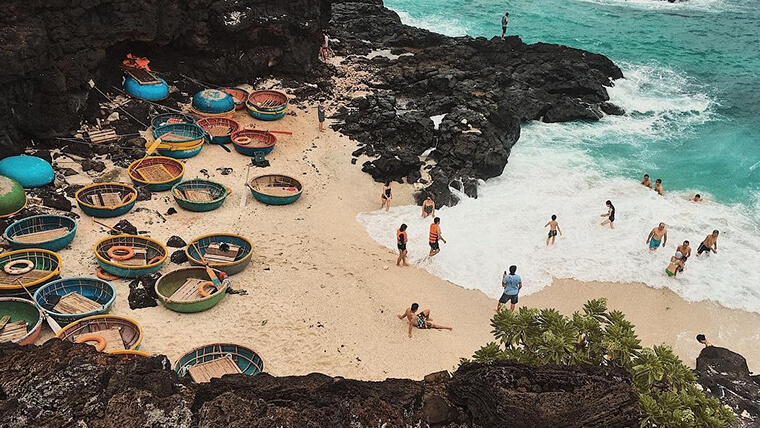 A beach on Small Island - Source: Daolyson
Small Island (or An Binh Island) has an area of about 0.7km2, located about 3 nautical miles from Big Island to the west. This is currently the home of about 100 households that specialize in garlic farming and fishing. Coming here, you can immerse yourself in the cool, clear blue water and wonderful white sand beaches, or participate in diving or boating activities to see the colorful coral reefs. This is also an opportunity for you to learn about the idyllic life of the fishermen here, or enjoy a cup of savory sweet soup that is typical of the Central region.
III - Good to know before visiting Ly Son Island
1 - What is the weather in Ly Son Vietnam like?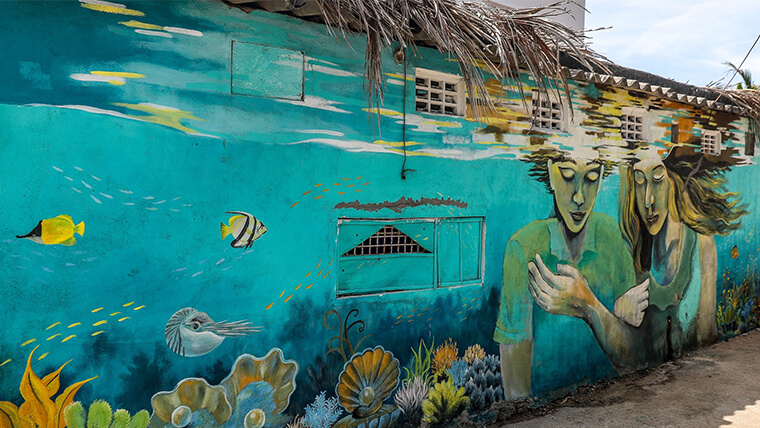 Bich Hoa Village - Source: Minh Khanh
The island of Ly Son belongs to the tropical monsoon climate, with a dry season (March-August) and a rainy season (September-February). The annual average temperature ranges from 25 - 30°C, with monthly rainfall fluctuating sharply from 0.1 - 1244,2mm, relative humidity from 76 to 94%, and monthly sunshine hours from 38 - 334.5 hours. It also has a special storm season which takes place annually from September to November of the lunar calendar, often causing high winds, storms, and tornadoes.
The most ideal time to visit Ly Son Island Vietnam is in the dry season when the blue sea water is clear enough so that you can easily see the seabed. Besides that, you also can participate in garlic harvesting activities with local people if you choose garlic harvest time, which usually falls in February - March. You can also come to this island on the occasion of the Hoang Sa Soldier Feast and Commemoration Festival (March 18 - 20 of the lunar calendar). This is an annual festival to honor those who have contributed to building and protecting Ly Son Island and Vietnam's sovereignty.
In the rainy season, traveling by boat to the island is a bit more inconvenient because the boat only departs when the waves are not too strong. You should check the weather forecast and maybe reconsider the time to visit to avoid having to wait too long, or being stuck on Ly Son for a few days because of rough seas, monsoon… In particular, on stormy days, all ships and boats will not be in service.
2 - How to get around on Ly Son Island?
Taxi
There are not many taxi companies operating on the island and the price is also higher than on the mainland at about 14,000 - 19,500 VND / km ($0.61 - 0.84).
- Mai Linh Taxi: 02553 838 383
- Tien Sa Taxi: 0553 867 867
Motorbike
The best way to visit and explore this beautiful island is by motorbike, which can be rented at many motorbike rental shops with a fee from 100,000 - 150,000 VND / day ($4.32 - 6.5) such as:
- Vo Gia motorbike rental shop: 0914244269 - 0553867888
- Kim Phuong motorbike rental shop: 0553867399
When you rent a motorbike to travel around Ly Son Island Vietnam, make sure that your personal documents such as passport, and driver's license are still valid.
Ship
To travel between Big Island and Small Island, you have to use a wooden boat that takes more than 30 minutes, or a speedboat that takes about 10 minutes, with trips every 20 minutes departing from 7am - 11:20am. The current ticket price is 35,000 VND / turn ($1.5), or 80,000 - 100,000 VND / person ($3.46 - 4.32) for round trip, each person can only buy a maximum of 2 tickets. If you go in a large group, you can choose to rent a private boat for 800,000 VND ($34.6) or a whole canoe for 2,500,000 VND ($108.11).
3 - Ly Son Island accommodation
Some of the best places to stay on the island that you can refer to are:
Muong Thanh Holiday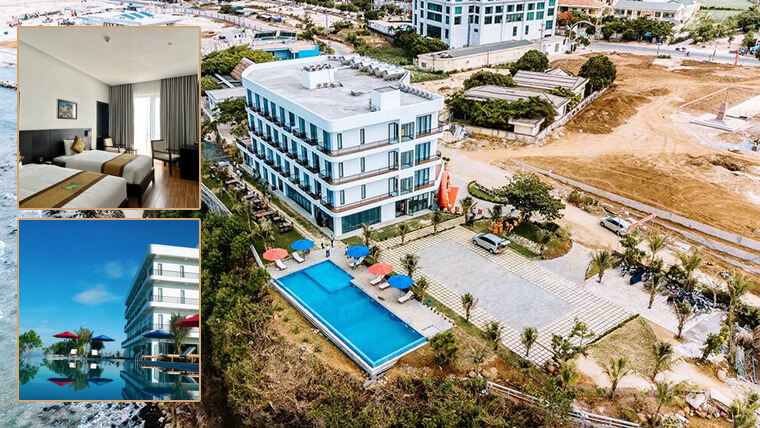 Muong Thanh Holiday - Source: Booking
- Price: 2,096,000 - 2,123,000 VND / room / night ($90.6 - 91.8)
- Website: http://holidaylyson.muongthanh.com
Binh Tam Ly Son Hostel
- Price: 200,000 - 300,000 VND / room / night ($87 - 13)
- Contact: 0977698681
Bep's House Homestay
- Price: 150,000 - 1,800,000 VND / room / night ($6.5 - 77.8)
- Contact: 0975811117
- Facebook: facebook.com/nhatro.chothuelyson
Gio Bien Homestay
- Address: Small Island
- Price: from 50,000 VND / room / night ($2.16)
- Contact: 0888920107 - 0372239290
Ly Son Pearl Island Hotel & Resort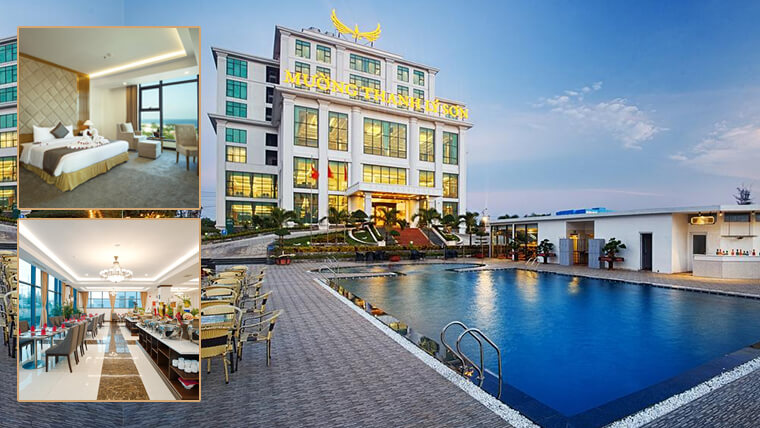 This is one of the best Ly Son Island hotels - Source: Booking
- Price: 975,000 - 1,320,000 VND / room / night ($42.16 - 57.08)
- Contact: 02553879888
- Website: https://lysonpearlhotel.com
4 - Specialties and restaurants in Ly Son Vietnam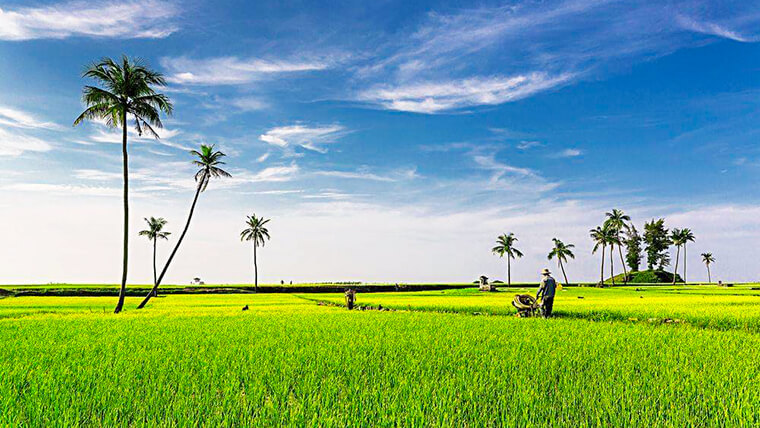 Black garlic - Source: impresstravel
Specialties on the island are mainly seafood, particularly king crab, lobster, or evil fish, which are processed into salad, grilled, steamed dishes,… This island is also famous for garlic with a uniquely delicious taste created by volcanic ash, earning the title of "garlic kingdom". You will be hard-pressed to resist the attractive dishes on Ly Son Island such as seaweed salad, garlic salad, jellyfish salad, flat crab, grilled sea urchin with onion fat, fried oysters, etc. There are many restaurants and rustic eateries, often concentrated along the port with some addresses you can refer to such as:
Ut Ngoc Seafood Rice
- Address: Tay Hamlet
- Price: 30,000 - 1,100,000 VND / dish ($1.3 - 47.6)
- Contact: 0903578538
Son Thuy Restaurant
- Address: Near Cave Pagoda
- Price: 30,000 - 150,000 VND / person ($1.3 - 6.5)
- Contact: 0977896632
Phat Hai Seafood Restaurant
- Address: Near New Passenger Port, Tay Hamlet
- Price: 50,000 - 200,000 VND / person ($2.2 - 8.7)
- Contact: 0944050501
5 - Ly Son Island map
Ly Son Island Vietnam is an ideal tourist destination not only in Quang Ngai Province but also in the Central region, especially attractive with its beautiful nature and attractive cuisine. Coming here, you will be able to immerse yourself in the cool water and see diverse corals, and take a walk on the beach to admire a romantic sunset or sunrise,...