Located in the central part of Vietnam, this sanctuary is a must-see place for those who are interested in ancient sites. My Son sanctuary is a religious complex where kings or priests of a disappeared country, Champa, did rituals to the deities. The sanctuary exemplifies cultural interchange, with the introduction of the Hindu architecture of India into South-East Asia. What makes it extraordinary is there is no mortar between bricks but the structures remain extremely firm even though centuries have passed by.
I - Where is My Son Sanctuary?
Surrounded by mountains and deep forests, the once-religious-center appears mysterious and magnificent, and may appeal to anyone to explore the history and culture of Champa country.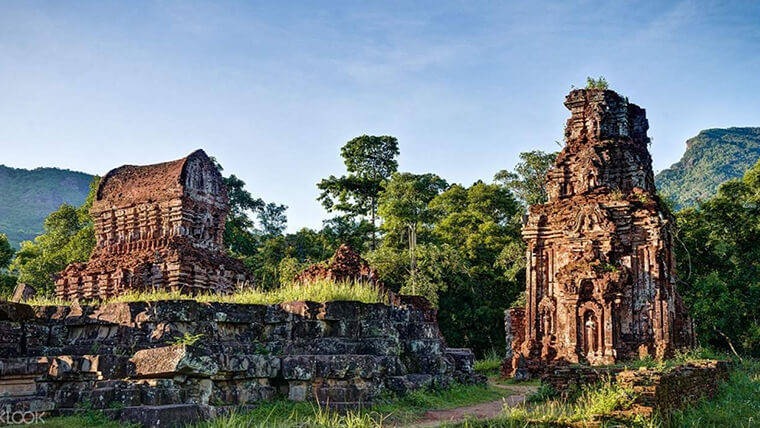 Source: Klook
The sanctuary is located in Quang Nam, a province in Central Vietnam, about 69km to the Southwest of Danang. It was first constructed in the 4th century, but then destroyed and renovated multiple times until the 13th century when Champa moved its capital Southward and it was neglected until found by the French. In the late 19th and early 20th century, some French archaeologists including Henri Parmentier found the sanctuary and researched it. The French then attempted to preserve and restore the historical site. Unfortunately, during a 7-day carpet bombing in the Vietnam war, the site was severely destroyed and nowadays, only 18 out of 70 structures of My Son ruins remain and are preserved for tourists all over the world.
Henri found out numerous structures and divided them into 10 groups namely A, A', B, C, D, E, F, G, H, K. In each group, he used numbers to divide into smaller groups. For example, "E1" shows work 1 in group E at the sanctuary. Groups A, A ', B, C, D, E, F, G have interconnected walkways and are easily accessible. Other groups have yet to be restored and hardly accessible.
In terms of architecture, the above groups can also be divided into six styles chronologically:
- The 8th century style: group E1 and F1
- The early 9th century style: the style of Hoa Lai architecture, exemplified by A2, C7 and F3 in My Son Temple
- The late 9th century style: the Dong Duong style, reflected in A10, A11-13, B4, B12
- The 10th century style or A1 style, exemplified by B5, B6, B7, B9, C1, C2, C5, D1, D2, and D4
- Groups E4, F2 and K show architectural styles from the beginning of 11th century to mid 12th century.
- The end of 11th century style or the style of Binh Dinh, represented by B1 and groups G and H.
II - How to get there?
1 - From Hoi An to My Son Sanctuary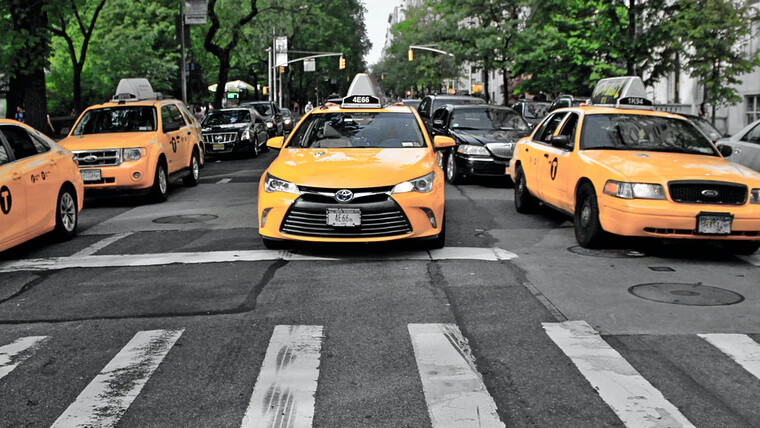 Taxi (Source: Patricia Jekki)
By taxi: travelling by taxi from Hoi An costs about 750.000VND (~32USD) for a 4 seater car and about 850.000VND a taxi per round trip.
By motorbike: A round-trip on a motorbike taxi from the center of Hoi An should cost about 250.000VND. You can also rent a motorbike from Hoi An for 350.000-500.000VND/day. Please note that the bike should be returned within Hoi An city. Bikes returned outside of the city will be charged additionally.
By tour: The best way to visit the Sanctuary is to follow a tour from Hoi An. There are two basic types of tours:
- My Son sunrise tour: the tour starts very early so you can watch the sunrise at the Sanctuary as soon as the tourist site opens at 6:30 (Note that there may be days when the sun rises before the park is open). This type of tour departs from Hoi An at 5:30, arrives at the sanctuary at 6:30 and usually has fewer people than regular tours that start at 9:00 am.
- Popular tour: Depart at 8:30 am. The tour usually includes over 30 people, and a tour guide. Tour will end before 14:00
Some tour operators allow tourists to choose to return by boat. If you choose this option, you will be taken by bus to the ferry terminal on Road 1, about 40km from the sanctuary and about 10km from Hoi An. After that, tourists will travel by boat to Hoi An. This option is usually more expensive and takes more time.
2 - From Da Nang to My Son Sanctuary
By taxi: The cost of taking a taxi from Da Nang is about 800.000VND/one way (~34USD)
By bus: Traveling by bus is the cheapest way. However, you need to be quite patient because waiting for the bus can take some time. You can catch a bus number 06 to travel from Da Nang to the sanctuary according to the specific route below:
- Depart time: daily 5:30 – 17:00 with a schedule of 30 minutes/trip
- Route: Da Nang Central Bus Station – Dien Bien Phu – Le Duan – Hoang Hoa Tham – Ham Nghi – Le Dinh Ly – Nguyen Tri Phuong – Trung Nuong – Duy Tan – Nui Thanh – Cach Mang Thang Tam – Hoa Cam – National Highway 1A – Provincial Highway 610 – My Son ruins.
- Ticket price: VND 8,000 – VND 30,000/passenger
By motorbike: as the distance between Danang and the sanctuary is quite far (69km), traveling by motorbike is not recommended.
III - A guide to explore
1 - Opening hours
The park is open from 06:30 to 17:00
2 - My Son Sanctuary entrance fee
The entrance fee is 150.000VND (~6,5USD) to foreigners (as of December 2019), cash only. You can park your bikes inside the tourist area, the parking fee is 5000VND (~0,2USD).
3 - Weather and dress code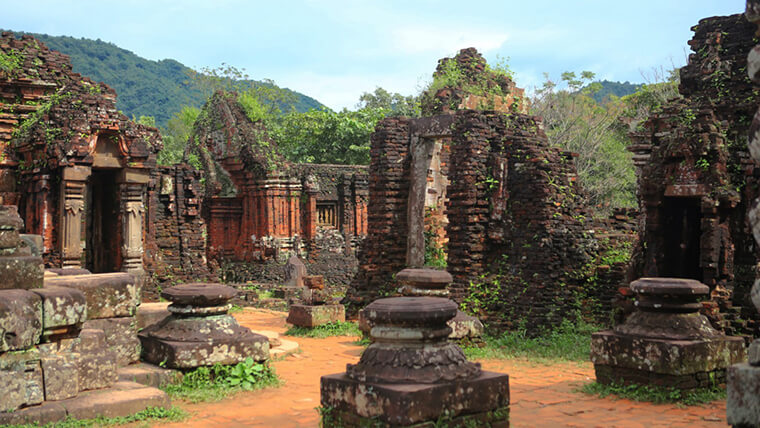 Check in at My Son (Source: VnExpress)
The weather is normally hot, so it's better to wear comfortable clothes and shoes, even bring a hat/umbrella to protect yourself better from the sun. Since this is a small place and there may be hundreds of people, it's best to visit in the late afternoon when there are no tour groups around. Most tours depart by 12:00.
4 - Things to do when visiting My Son Sanctuary Vietnam
Champa museum
There is a Champa museum near the ticket office. The museum contains historical artifacts of the site. There is another museum near group A. Both of the museums contain well-preserved sculptures from the surrounding ruins. You should visit the museums before visiting the site itself, as it closes half an hour earlier than the site, and you may miss it on the way out.
Watch the sunrise
If you come here in the early morning, you can have a chance to see the sunrise, enjoy the morning fresh air and stay away from the crowd and the head during the day.
Enjoy the local performance in My Son Temple Complex
Besides admiring the beauty of the spectacular structure, it would be a pity if you come here and miss the mysterious Siva dance which derived from Hindu mythology. According to Hinduism, Siva is one of the 3 most powerful gods: The god of destruction (Siva), the god of reservation (Visnu) and the god of creativity (Brahma). And the Siva dance praises the power of Siva for destroying dark forces such as tigers, snakes and dwarf Muyalaca, keeping a peaceful life for people. The dance is a religious and mystical art, which is extremely attractive for visitors. The space where the dance takes place is dim and foggy, creating a mysterious charming feeling for visitors.
5 - Notes to visit My Son Sanctuary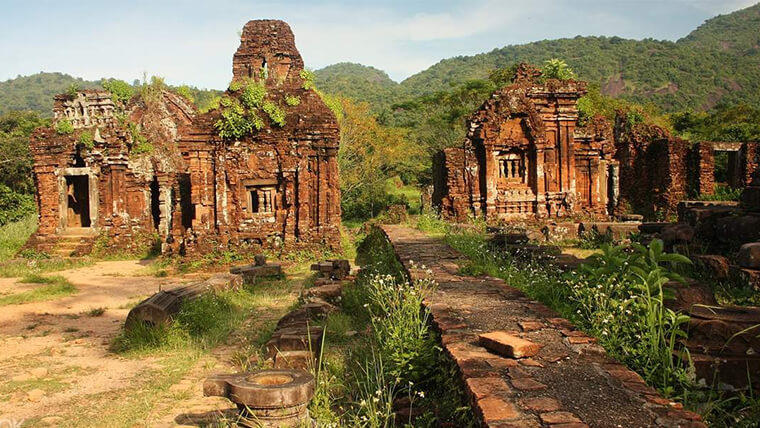 (Source: Klook)
- Although the Vietnamese authorities have been demining unexploded ordnance at four main monuments since 1975, there might be work remaining to be carried out. Therefore, You should walk only through the marked path, and do not detour into the lush forest by yourself as there is still a demining process going on in the area of the sanctuary.
- You should watch the weather forecast to bring necessary items such as a hat, umbrella, raincoat. Do not forget to bring drinking water and wear sports shoes you feel comfortable with.
- You should visit the site in the afternoon or in the very early morning to stay away from all tours. But if you come in the morning, there will be more and more tourists coming from Hoi An for sunrise tours.
- There's no accommodation available in My Son. The nearest hotel is about 2 km down the road from the ticket office
- Make sure you enter the museum before entering the site itself, as the museum will close earlier than the site closing time and you might not get back on time to visit it. On the other hand, seeing wall posters in the museum will help you understand more about the history of the ruins, especially if you don't want to explore the site with a professional tour guide.
- The electric shuttles inside the site are free and leave every 15 or 25 minutes. You can be picked up at the station located behind a bridge when you get out from the museum. The ride takes you about 10 minutes. You can also walk, but keep in mind that you will have to share the road with shuttles which sometimes can be quite fast and dangerous for pedestrians.
6 - Recommended tours are as below
Here are a few travel agencies that organize My Son tours from Hoi An and Da Nang that you might consider. (Note: the cost is for reference only)
Tuan Nguyen Travel
- Route: Da Nang – My Son Sanctuary
- Price: 730.000VND (~31,5USD)
- Contact: (+84) 972 595 693 – (+84) 967 822 051
VietSense Travel
- Route: Da Nang – My Son Sanctuary
- Price: 750.000VND (~32,3USD)
- Contact: (+84) 949 148 228
Da Nang Xanh (Green Travel)
- Route: Da Nang – My Son – Da Nang
- Price: 680.000 VND (~29,3USD)
- Contact: (+84) 974 818 106 – (+84) 988 159 152 – (+84) 913 818 107
Dulichvietnam
- Route: Da Nang – My Son – Hoi An
- Price: 920.000VND (~39,6USD)
- Contact: (+84) 906 237 355 – (+84) 906 298 355
Dana Travel
- Route: Da Nang – My Son Sanctuary – Hoi An – Da Nang
- Price: 690.000VND (29,7USD)
- Contact: (+84) 966 767 588
My Son map

With it's cultural, historical and aesthetic values preserved to these days, the world cultural heritage - My Son Sanctuary in Vietnam is really a destination that should not be missed. Go there once to admire the beautiful dawn, watch the graceful Siva dances or visit the unique architectures dating back centuries.