Asia Park or Sunworld Da Nang wonders is located at No.1 Phan Dang Luu street, Hai Chau District, Da Nang City. The park inaugurated in 2015 is a top point of interest in Da Nang attracting lots of people, mainly youngsters and families with kids.
It has a total area of nearly 900 hectares, divided into three main zones, each giving visitors different interesting experiences with dozens of exciting games.
The Sunworld Da Nang tickets are 100,000 VND/ ticket (~ $4.3) for children and 150,000 VND/ ticket (~ $6.4) for adults.
Asia Park opens from 3pm to 10pm daily.
I - Amusement parks in Asia Park
1 - Outdoor Amusement Park
This Outdoor Amusement Park is the best choice for those who love thrills. This place has a variety of adventurous games. Besides, it also provides tourists with many gentle and relaxing entertaining games for the faint hearted and for children. Outstanding games at Sun World Da Nang wonders:
Source: Divui
Singapore Sling
This is the famous adventurous game for players who want to experience a 2-min free fall from 30m high. This game is not for people who have acrophobia, pregnant women and children under 115cm tall.
Queen Cobra
This is a suspended roller coaster that carries players to the peak of 34m and falls hard at the speed of 80kph after flashing over 5 continual 360-degree twists of the rail. This game is definitely not for the faint hearted and children under 130cm tall.
Paradise Fall
This is the first air roller coaster train model in Vietnam. Players are thrusted into different sensations from within with the "midair race" that stretches 377m and features various 180-degree twists.
Journey to the West
This is a swing ride and it is unsuitable for the children under 115cm tall. But it will be great experience for those who want to participate in it at Asia park Da Nang
Master Chi's Garden
This game can be played by 30 people at the same time so it is suitable for families. Players will feel like they are transforming into a kung fu master as they have to walk on rope ladders at a height of 10m through 4 challenging stages to reach the finish line.
Fairy Tea House
This game is very suitable for children over 115cm tall. Children from 100 to 115 cm tall should be accompanied by parents. Fairy Tea House is a carousel with 6 rotating chambers designed as fairy cups in the movie "Beauty and the Beast". Experiencing these activities of Sun world Da Nang wonders, children will have the feeling of being lost in a dreamy fairy world when participating in the game.
Kabuki Trucks
This is also a gentle swing for kids. The game simulates a crane with passenger cabins that swing around clockwise and counterclockwise and is lifted to the height of 5m from the ground. Kabuki Trucks are not suitable for children under 115cm tall.
Amusement park on water
Opened in June 2019, the amusement park on water provides tourists with many relaxing games such as duck riding, boat trips on the lake. Visitors will be able to not only enjoy fresh air when doing activities around the lake, but also admire the view.
2 - The Sun Wheel Ferris at the Sun world asia park Da Nang
The center area includes Monorail, the City gate, FEC play zone and stands out with the Sun Wheel.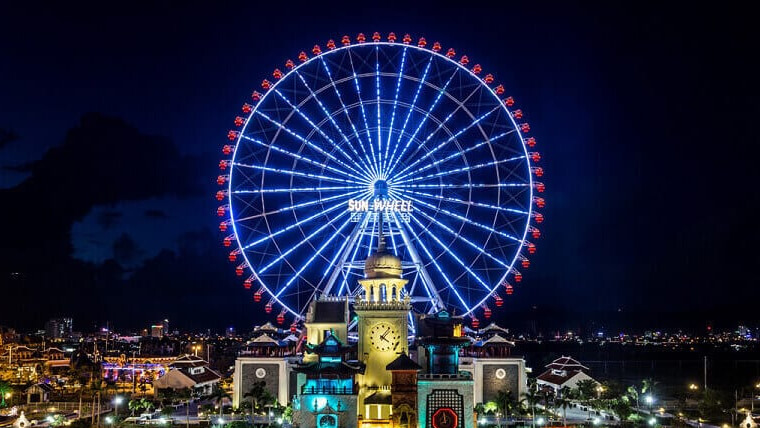 Sun Wheel - Source: Asiapark.sunworld
The Sun Wheel Ferris
At the height of 115m, sun wheel asia park is the biggest Ferris wheel in Vietnam and is one of the top 10 highest ones in the world. The wheel features 64 cabins that can carry 6 people in each. It will give visitors a memorable experience when reaching the top for taking a panoramic view of Da Nang City.
Monorail
It is an electric train that runs around the park, allowing visitors to enjoy a panoramic view of Da Nang Asia Park.
The City gate
The gate is the park's entrance and has the appearance of the Meridian Gate in the Imperial City of Hue.
The FEC play zone
This is an electronic play area with over 20 slots games, giving visitors the most fun experience with family and friends.
3 - The Cultural Park
The cultural park is constructed based on famous cultural destinations of 10 Asian countries, namely Nepal, Japan, Korea, China, Vietnam, India, Indonesia, Thailand and Cambodia. Can you believe that you can explore the cultures of 10 Asian countries on the same day?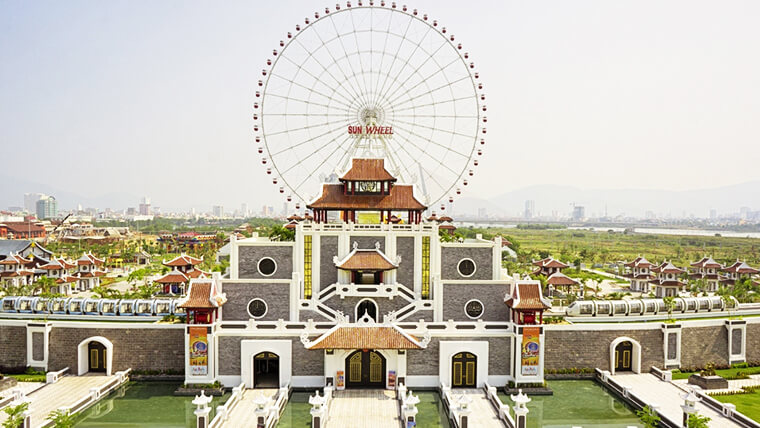 Source: Internet
Each country in the Cultural Park at the sun world Da Nang wonders (Asia park) is represented by its own characteristics:
Singapore - Merlion area
This area displays the Merlion - the symbol of Singapore.
Nepal
This area reflects the multi-religious culture of Nepal, along with Nepal Station with the typical architecture and the Nepalese lifestyle.
Cambodia
The mysterious Dark Ride is modelled in accordance with the architecture of Angkor Wat - the most unique relic in Cambodia.
Thailand
The country of golden pagodas is recreated on the idea of a golden tower and the mythical mascot, Kinnara from Himmapan Forest (belonging to the legendary Himalayas).
India
This area in Asia park - sun world Da Nang wonders recreates the typical Namaste cultural stage, where unique art performances take place.
China
This is essentially a Chinese architecture restaurant and coffee shop area.
Korea
The traditional culture of Korea is recreated by the meticulous carving in the architecture of Korean pagodas, observatory shelter, etc.
Japan
Dragon Lake, the area was inspired by the famous manga "7 dragon balls" created to bring Japanese culture closer to visitors.
Indonesia
Constructed in the architectural style of Jakarta, this area recreates the Islamic culture mixing with the typical Western culture of Indo.
Vietnam
This area includes many works with Vietnamese culture and architecture: Dragon boat, Maitreya Buddha statue, observatory shelter, clock tower.
II - Asia park Da Nang cuisine zone
You can have food at the cuisine zone. The cuisine zone is located inside the Indonesia zone. It opens from 5pm to 10pm daily from Monday to Sunday.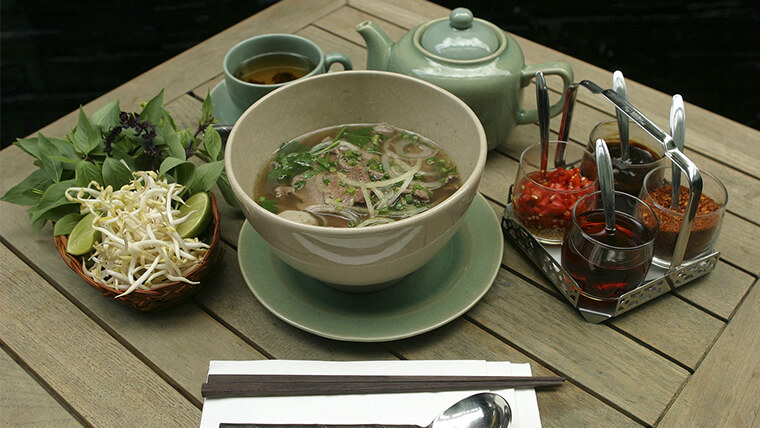 Source: Lightscape
Buffet price:
- Adult (over 1.4m tall): 269,000 VND/person (11.5 USD)
- Children from 1m to 1.4m tall: 169,000 VND/person (7.2 USD)
- Children under 1m tall: Free
You are free to have fun at the Asia Park when buying Buffet tickets.
The restaurant in Asia park sun world Da Nang wonders can serve 700 guests at the same time. Its entire space is decorated in Asian style, from brick walls, to carps, decorative lanterns, or traditional paintings on the walls. They use yellow lights to create a cozy atmosphere for visitors when eating here.
The restaurant has a diverse menu with over 100 typical dishes of these Asian countries: Korean, Japan, China, Hong Kong, Thailand, Vietnam, etc. It has a total of 11 food stalls, ranging from vegetables, appetizers to main courses, soups, seafood, etc. If you wonder what to eat after spending time playing in Asia Park, this Buffet restaurant is the top choice for you.
The Asia Park Da Nang Vietnam is the top dining and entertainment complex in Da Nang. It will certainly bring the most fun and relaxing experiences to visitors, making their trip more complete and memorable.