Vinh city Vietnam is the economic and political center of Nghe An province, about 295km to the north of Hanoi and 1,424km from Ho Chi Minh city. With an area of 104.96km2, the city comprises 25 wards and communes: Le Mao, Le Loi, Ha Huy Tap, Doi Cung, Quang Trung, Cua Nam, Truong Thi, Hong Son, Trung Do, Ben Thuy, Dong Vinh, Hung Binh, Hung Phuc, Hung Dung, Vinh Tan, Quan Bau, Hung Dong, Hung Loc, Hung Hoa, Hung Chinh, Nghi Phu, Nghi An, Nghi Kim, Nghi Lien, and Nghi Duc.
- Postal code: 450000
- Airport: Vinh International Airport in Nghi Lien commune
I - What is Vinh weather like?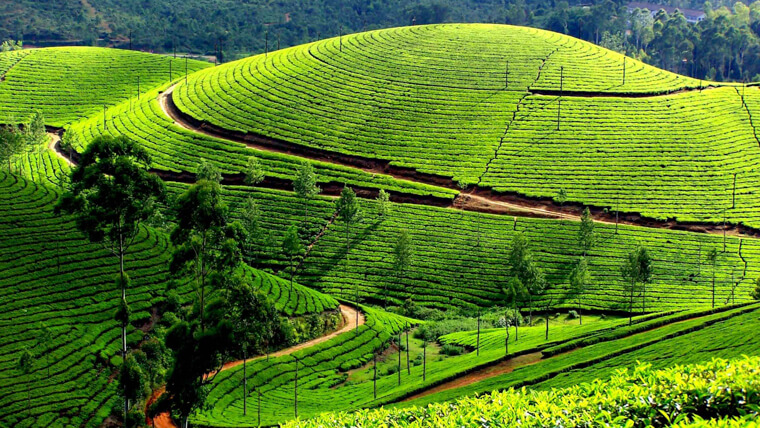 Source: baotintuc
The city is influenced by the tropical monsoon with two distinct seasons: the dry season (May - September) & the rainy season (October - April) with an average temperature of 24°C, an average humidity of 85-90%, an average rainfall of 2,000mm annually and 1,696 hours of sunshine per year. In the rainy season, also the winter, the weather in Vinh City is affected by the cold Northeast's wind and the dry season or summer, it is hot with the highest temperature of about 41°C.
Depending on your interest to choose the most suitable time to travel to this city; howere, if you would like enjoyable beach activities such as swimming or snorkeling, it is advisable to get here from June to August, otherwise you can pay a visit to the city from March to April fro sightseeing and check-in, or November to December for admiring glorious blooming flowers.
II - What are the best places to visit in Vinh city Vietnam?
This city is not only the busiest and most bustling place in Nghe An province but also famous for many scenic spots that appeal to a wealth of visitors. Here is the list of top most impressive tourist magnets in Vinh Vietnam to add more interesting experiences in your journey!
1 - Lam River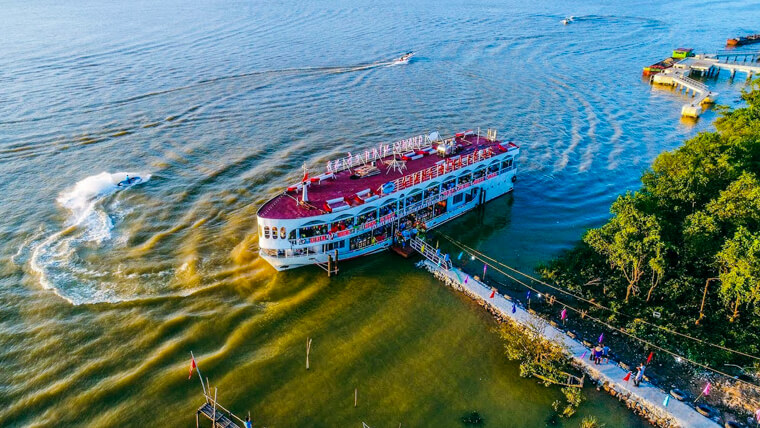 Cruise on Lam river - Source: youtube
Lam river, also known as Ngan Ca, Ca river or Nam Khan, is one of two largest rivers in North Central Vietnam. The river originates from Xieng Khouang, Laos with the mainstream flowing through Nghe An province. It has a total length of 512km, in which more than 360km stretches along the interior of our country. Lam river in Vinh city is the lifeblood of the province, contributing to the formation and cultivation of historical and cultural traditions imbued with local identity. This river has witnessed the ups and downs of the locality along the course of heroic history. The last segment of the Lam river winds around the foot of 30km-long Hong Linh mountain range, which creates a majestic but poetic natural picture.
One of the best things to do in Vinh Vietnam is taking a cruise on Lam river is going on a cruise to admire the breath-taking scenery of the Lam river and listen to the local chanty typical of the province that has existed for thousands of years. In addition, you can enjoy delectable indegenous cuisine right on the cruise.
You can take a look at the cruising tour below:
Du Lich Mien Dat Viet company
- Price: 50,000 - 200,000 VND/ pax (depending on the number of guests)
- Website: https://dulichmiendatviet.com
2 - Lam Vien - Nui Quyet tourist site in Vinh city
Located at the top of Quyet mountain or Dung Quyet mountain in Trung Do ward, Lam Vien - Nui Quyet tourist area is a highlight of Nghe An tourism. The mountain and the temple dedicated to Quang Trung emperor forms an ecological, cultural - spiritual tourist area. The mountain, used to be home of ancient Vietnamese people, is now surrounded by pine trees and has become a verdant park and a new tourist destination of Vinh city Nghe An province. The complex of Lam Vien - Nui Quyet has a total area of 160 ha, including many areas: in the Southwest is the cluster of villas and ethnic cultural village, in the South area are swimming pool, aquarium park, water puppet house, tourist cable car crossing Lam river to Hong Linh mountain, in the North are supermarket and parking pot, and in the spiritual area features temples, ancient citadel relics, and tombstones, etc.
3 - Can Linh pagoda in Vinh city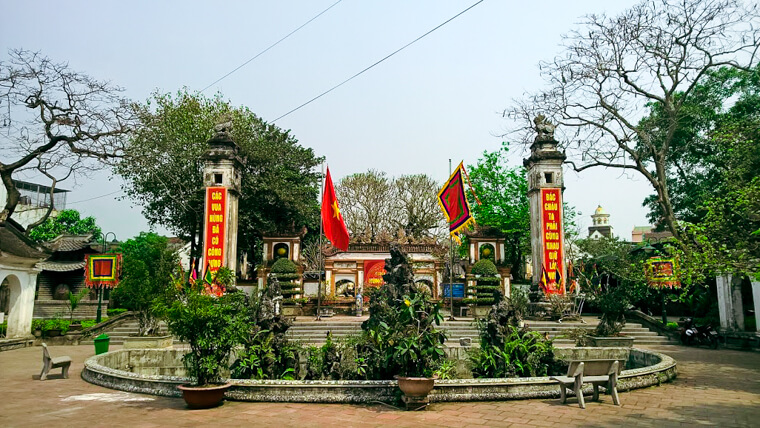 Can Link pagoda - Source: googlemap
Situated in Cua Nam ward, Can Linh pagoda is a sacred ancient temple closely associated with the cultural activities and beliefs of the locals. The pagoda has an area of up to 5,208m2, surrounded by majestic mountains. The campus of the pagoda includes the three-arched entrance gate, the worshiping hall, the main hall, tả vu (the building for the martial mandarins) and hữu vu (the building for the military mandarins). After many times of restoration and embellishment, Can Linh pagoda in Vinh Vietnam still preserves a large number of ancient Buddha statues that have high artistic and aesthetic value. There are approximately 100 ancient and precious Buddha statues that are engraved sophisticatedly, typically the statue of Buddha Shakyamuni, which is 1.2m high, coated by gold, placed in the center of the upper hall. One of the most impressive features of this ancient pagoda in Vinh city is hundreds-year-old sutras, many of which were written in Chinese from the Tang Dynasty, which are valuable documents of the Buddhism of the country.
4 - Hong Son temple
Hong Son temple or Vo Mieu Linh Tu, is located in Hong Son ward, facing the Cua Tien river. In 1984, the temple was recognized as a national historical - cultural relic. Hong Son temple in Vinh city Vietnam consists of 19 ancient yet magnificent architectural works, of which includes very well-preserved ones such as the sculpting gate, three-arched-entrance gate, Gong tower, the middle hall and lower hall dated from the Nguyen Dynasty (19th and 20th century).
In the campus of the temple remains 383 ancient artifacts such as statues, bells, stele, and parallel sentences, etc. The upper hall has 4-layers curved roofs embossed with dragons and phoenixes. The middle hall of Hong Son temple in Vinh Vietnam impresses tourists with the unique architectural and vivid images such as birds, fish, and lotus. The lower part of the temple is the widest area with a total area of 274m2, inside which is an altar with gilded lacquer, couplets, characters and many objects like wooden drums, gongs, swords, and spears. This is the place where ceremonies take place.
Taking the execiting festivals in Hong Son temple is one of the best things to do in Vinh city. Every year in the temple, there are three largest festivals, including the death anniversary of the Holy Mother Lieu Hanh on 3rd of lunar March, Hung King Commemoration on the 10th of lunar March and Hung Dao Emperor Tran Quoc Tuan Commemoration on the 20th of lunar August with many amusing folk games, sports, and musical performances.
5 - Ong Hoang Muoi temple in Vinh city
Ong Hoang Muoi temple - Source: thanglongdaoquan
Ong Hoang Muoi temple is located in Xuan Am village, Hung Thinh commune, Hung Nguyen district, about 7km from the city center. The temple was constructed in 1634, and was destroyed along the long course of history. It was rebuilt in 1995 and now has become the famous cultural, religious and spiritual center of Nghe An province. With an area of about 1ha, the main area of Ong Hoang Muoi temple in Vinh Vietnam consists of three halls, namely the upper hall, the middle hall and the lower hall, all of which bear the typical architectural features of the Nguyen Dynasty. The temple was restored according to the traditional scale with three continuous gates, the "tac mon" (a spiritual stone "book/ screen" used to banish evil spirits and bad forces), etc. with many valuable documents as well as high-aesthetic value statues. Ong Hoang Muoi temple in Vinh city is made totally of wood, elaborately carved with motifs of dragons, unicorns, turtles, and phoenixes. On the way from the upper hall to the lower hall, you can see the image of a tiled roof with a dragon shape at the top of these halls, typical of the architecture of pagodas and temples in Vietnam. The locals usually pay a visit to the temple every new year to wish for good luck, prosperity and health.
III - Cua Lo beach - a tourist spot near Vinh city
1 - What is attractive about Cua Lo beach?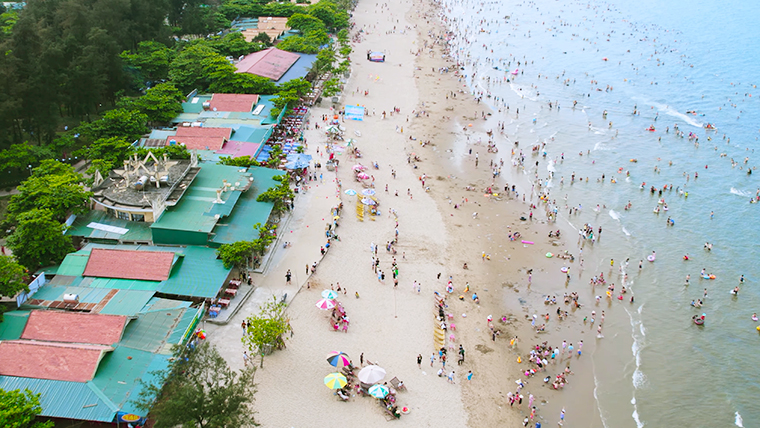 Cua Lo beach - Source: Youtube Hoàng Trung Hậu
Cua Lo is one of the most beautiful beaches in the North Central of Vietnam, which is an ideal destination for immersing in the stunning landscape and enjoying the lavish services for your vacation. With the long stretch of flat smooth sand, casuarina groves whispering in the wind and the sound of waves crashing the shore all day and night, this Vinh Vietnam beach has "stolen" the heart of many visitors for its peaceful space and magnificent beauty, especially at dawn or at sunset. The seawater here is not as turquoise as that in Phu Quoc, Nha Trang or Danang, but it is extremely cool, which dispels hot and dry westerly wind from Laos. Combined with stretching smooth sand, the beach is perfect for outdoor activities such as swimming, squid fishing, etc. or organizing events on the beach. Traveling to Vinh city, you can also explore Cua Lo fish market in the early morning to immerse in the hustling and bustling atmosphere of the crowd among the fish and fresh seafood stalls, then purchase some at a very reasonable price. Besides, you can enjoy processed seafood right in the stall, typically Cua Lo grilled fish - a delicious speciality of the locality.
2 - Traveling to Cua Lo beach from Vinh Vietnam
Cua Lo beach is about 17km away from Vinh. The best way to get to the beach from Vinh city is by taxi. Here are several taxi brands and their contacts for reference:
- Mai Linh taxi: +84 238 357 5757
- Vinaxu taxi: +84 238 369 9699
- Mekong taxi: +84 238 393 9393
- Vinh taxi: +84 238 384 8484
Another way to get to the beach is by boat. From the foot of Quyet mountain in Vinh city, you can take a boat down the Lam river to Hung Hoa melaleuca forest to Cua Hoi and then Cua Lo beach, or go upstream the Lam river to other scenic spots that are rich in the culture of the province.
3 - Accommodation
Near the beach are a wealth of hotels and other types of accommodation. Below are the hotels that are highly recommended for you when traveling to Vinh city Vietnam as well as Cua Lo beach:
Vinpearl Discovery Cua Hoi
- Address: Binh Minh street, Nghi Thuy ward, Cua Lo district-level town
- Contact: +84 238 876 4888
- Website: https://vinpearl.com/vi/hotels/vinpearl-discovery-cua-hoi
Saigon Kim Lien resort
- Address: Binh Minh street, Nghi Thuy ward, Cua Lo district-level town
- Contact: +84 238 395 2899
- Website: http://www.saigonkimlien.com.vn
Muong Thanh Grand Cua Lo Hotel
- Address: No.232 Binh Minh street, Nghi Thuy ward, Cua Lo district-level town
- Contact: +84 238 394 8666
- Website: http://grandcualo.muongthanh.com
IV - Good to know before traveling to Vinh city
1 - What to eat in Vinh Vietnam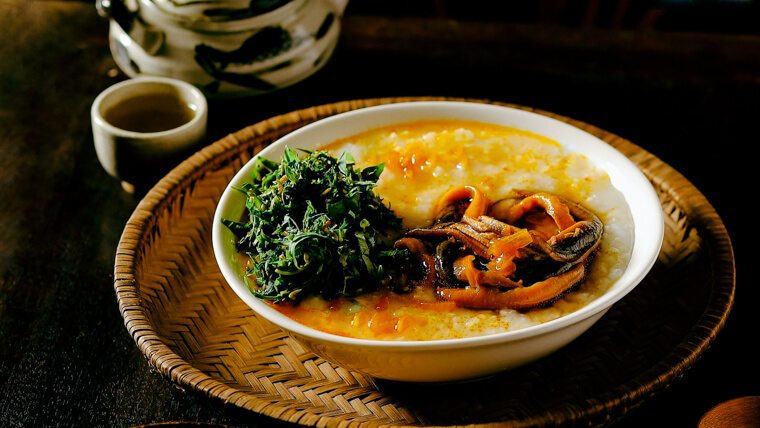 Source: nhahanglangnghe
The local specialities are rustic yet unique dishes whose flavors are only found in this locality. Many of these dishes are perfect choices for presents once you go back home after the trip to this city, especially Xa Doai oranges. Featuring thin bright yellow skin with a succulent and sweet taste, this fruit is a favorite gift for many visitors when coming to Nghe An. Besides, Vinh city is also prominent for eel dishes such as eel porridge or eel vermicelli, which are not only delectable but also nutritious.Other scrumptious dishes that should not be missed can be named as: bánh mướt, bánh bèo, bún riêu (crab paste vermicelli soup), bánh đa (sesame dry pancake), etc.
2 - The best hotels in Vinh city Vietnam
Muong Thanh Grand Cua Dong Hotel
Located right in the heart of the city, Muong Thanh Grand Cua Dong Hotel is an ideal accommodation featuring 104 grand and luxurious rooms, meeting the standard of a 4-star hotel.
- Address: No.167 Nguyen Phong Sac street, Hung Dung ward
- Contact: +84 238 396 5666
- Website: http://cuadong.muongthanh.com
Saigon Kim Lien Hotel
The 4-star hotel includes 80 bedrooms and VIP, 3 restaurants, 2 auditoriums, gardens, bars along with a wide range of entertainment services.
- Address: No.25 Quang Trung street, Quang Trung ward, Vinh city
- Contact: +84 238 383 8899
- Website: http://saigonkimlien.com.vn
Thong Do Hotel
Thong Do hotel features a restaurant, outdoor swimming pool, gyms and bar. Each bedroom has a pool and garden view.
- Address: Group 2, Vinh Tan ward
- Contact: +84 238 397 9999
- Website: http://thongdohotel.com/
3 - Vinh Vietnam map
The gorgeous city, outstanding with a system of valuable ancient spiritual and religious architectural works together with charming natural scenery, has attracted a considerably increasing number of visitors to come. Hopefully, after this article from Vietnamtrips, you will get more insight into the unique characteristics of Vinh city Vietnam and have the most memorable trip to "the Red city" that was associated with patriotic and revolutionary traditions.