Located between Quang Binh province and Thu Thien Hue province, Quang Tri Vietnam is well known for its spiritual and historical tourism, with many ancient relics of special importance. Not only that, this land is also known for having many charming landscapes, honest people, unique culture and cuisine. Traveling here will be an interesting journey, giving you the opportunity to understand the rustic life of the locals, as well as admiring the unspoiled beauty of the mountains and the sea.
I - How is Quang Tri weather all year round?
1 - Temperature and precipitation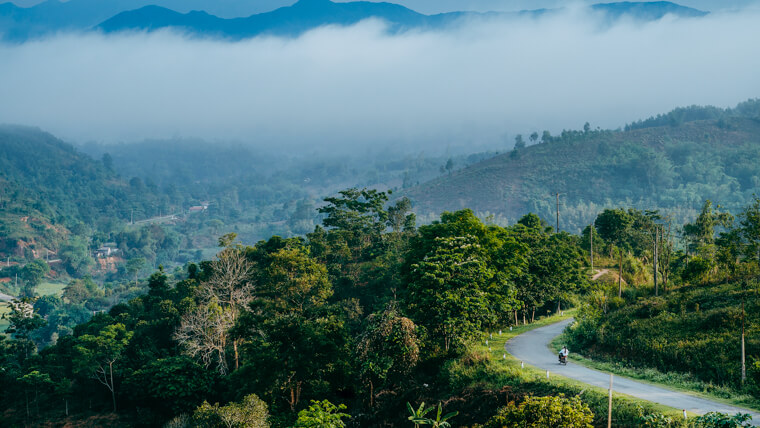 Nature of Quang Tri - Source: VnExpress
This province is located in the humid tropical monsoon region, which is a transitional zone between subtropical and tropical monsoons. Heavily affected by the southwest wind, this area has a harsh climate with unusual changes. The dry season in Quang Tri Vietnam lasts from March to the beginning of September, influenced by the dry Foehn wind from Laos, often bringing drought and extreme heat in June and July. Influenced by the northeast monsoon, the rainy season lasts from September to February, with heavy rain, floods and storms.
The average temperature is from 24.5 to 26°C, with a big difference between in the plains and in the mountains. The maximum temperature of the year in hot months can reach over 40°C in the plains, while the lowest temperature can drop to 3 - 5°C in the high mountains. Total annual rainfall fluctuates around 2,000 - 2,700mm, with an average relative humidity of about 80 - 85%. Quang Tri Vietnam is affected by two main wind directions, namely the northeast monsoon and the southwest monsoon, which is considered the most intense in Vietnam.
2 - Natural disasters in Quang Tri Province
The typhoon season here is concentrated from August to November, in which September - October has the most storms, with an average of 0.8 storms per year. According to the statistics gathered in 98 years, 75 storms have landed directly affecting the province, among them there are years with no storms, but there are years with 2 - 3 storms. The most damaging effect is the storm causing whirlwind winds accompanied by heavy rain lasting 2 - 5 days, causing severe flooding in Quang Tri Vietnam.
3 - When is the best time to visit?
With forms of tourism such as cultural, historical or spiritual tourism, you can come here at any time that suits your schedule, just check the weather forecast in advance to prepare.
However, according to many travel experiences, you should come here in the dry season or the occasion of festivals, with the most suitable being January - April. At this time, the weather is dry, with beautiful sunshine and little rain, you can freely go to the beach, climb mountains, visit caves, admire the scenery and enjoy the festivals.
II - Top 10 attractions in Quang Tri Vietnam
1 - Vinh Moc Tunnels
Vinh Moc Tunnels - Source: Hoàng Quỳnh
Hidden under lush bamboo bushes, Vinh Moc Tunnels were symbolic works during wartime, now one of the striking destinations on the DMZ tourist route in Quang Ngai Province. The tunnel's structure still exists almost intact to this day, with 13 camouflaged entrances ensuring ventilation and easy-draining interior space.
Under the dimming lights, the red earth color of the legendary land is clearly visible, as well as the precise and scientific layout for each activity in the tunnels. As it was a place to gather troops, weapons, and goods, you can also find here other above-ground facilities such as medical stations, schools, wells... To help visitors to Quang Tri Vietnam better visualize the hardships and the ability to overcome the difficulties of the locals in the past, many statues representing daily life at that time are also placed here. There is also the Vinh Moc Tunnels Museum, which displays many war remnants.
- Location: Vinh Moc Village, Vinh Thach Commune, Vinh Linh District
- Ticket price: 40,000 VND / person ($1.74)
- Opening hours: 7am - 5pm
Located 2km away from Vinh Moc Tunnels is the 15-ha Ru Dung Ecological Site. This is a famous eco-tourism destination with rich and diverse flora, including 9ha of primeval forest and 4ha of a fish pond. You will have the full experience of returning to the most pristine nature and enjoying delicious food.
- Contact: 0905 559 395
- Opening hours: 9am - 5pm
2 - Quang Tri Citadel - an outstanding spot in Quang Tri Vietnam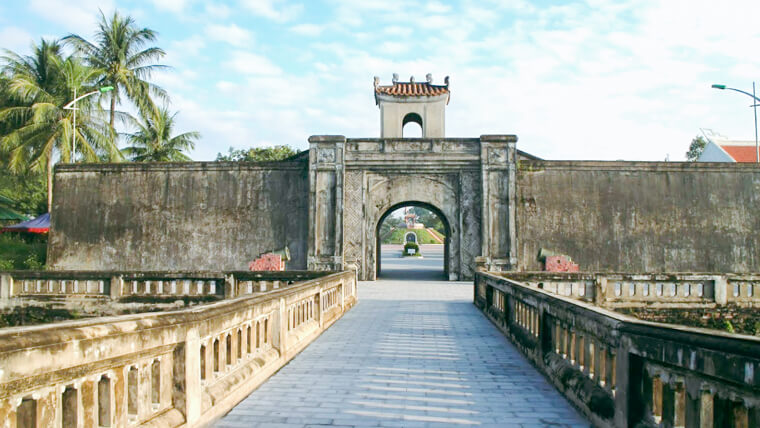 This citadel is a historic relic in Quang Tri Province - Source: Tuyengiao
According to historical documents, Quang Tri Citadel was built in the early 19th century. It has a square shape with a circumference of more than 2,000m, originally made by earth, then rebuilt with bricks in 1837. This is a destination of great historical value in Vietnam, once turned into a prison for Vietnamese revolutionaries and heavily damaged by bombs.
Only the East gate remained relatively intact, as well as a few wall sections, outer trenches, and the nearby Bo De School covered with traces of bombs and bullets. Later, a memorial marking the Spring - Summer 1972 campaign was built in the center of the citadel, and a museum in the southwest corner.
If you visit Quang Tri Vietnam and this ancient citadel on the 14th day of every lunar month, you can participate in the lantern-releasing night festival on the banks of the Thach Han river. This is an activity to commemorate the heroes and martyrs who died in the 81-day war in 1972 in Quang Tri Ancient Citadel.
- Location: Nguyen Tri Phuong Street, Ward 2, Quang Tri Town
- Ticket price: 350,000 VND / group ($15.24), including offering incense and flowers.
- Opening hours: 7am - 5pm
3 - Lao Bao Prison
Recognized as a national historical and cultural relic in 1991, Lao Bao is one of the largest prisons in Indochina. It was built in 1908 with an area of ​​​​about 10ha to imprison patriotic communists, considered hell on earth with extremely barbaric torture areas. In the 1960s, Lao Bao Prison in Quang Tri Vietnam became a revolutionary base of the Vietnamese army, then was almost completely destroyed under the attacks of the US air force.
After more than a hundred years of existence, only a few works still exist such as galleries, monuments, stele houses, and so on, but they have also deteriorated quite seriously. Visiting this place, you will clearly feel the brutality of the war, the indomitable spirit, and the indomitable struggle of the Vietnamese revolutionary soldiers.
- Location: at the end of Le The Tiet Street, Lao Bao Town, Huong Hoa District, Quang Tri Province
- Opening hours: 7am - 5pm
4 - Cua Tung Beach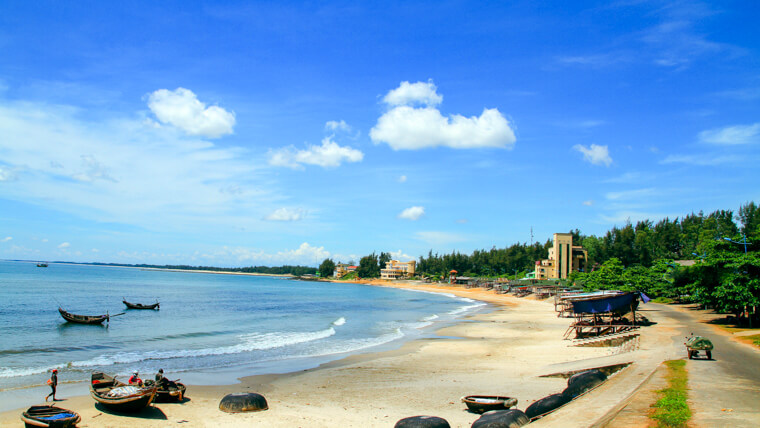 The glorious Cua Tung Beach - Source: Jawge Rafael
Once dubbed the "Queen of beaches" by the French, Cua Tung Beach is considered the most beautiful beach in Quang Tri Vietnam. It is charming with a fine sand beach stretching, and beautiful cliffs protruding into the blue sea, which is extremely calm and cool. In addition to swimming, you can also enjoy delicious seaweed in fishing villages, covered with the cool green color of tea hills and casuarina forests whispering in the wind.
- Location: Vinh Quang Commune, Vinh Linh District - just some kms from Vinh Moc Tunnels
5 - Cua Viet Beach
Cua Viet Beach is famous for its smooth sand beaches, dotted with rows of lush casuarinas. Not yet known by many people, Cua Viet still has a wild look, giving you the opportunity to walk barefoot to watch the sunrise or sunset with your loved one.
- Location: Tan Loi Village, Gio Viet Commune, Gio Linh District
6 - Con Co Island - a pristine island in Quang Tri Vietnam
Located to the west of Tung seagate, Con Co is a beautiful island less than 30km from the mainland, associated with many historical events during the Vietnam war. Favored by nature, this place has beautiful space, and diverse ecosystems, along with unique coral reefs, especially red coral.
Because there are no high-class facilities such as hotels or restaurants, you will have to sleep in tents, guest houses of the provincial military command, or homestays. To travel, you will have to take a boat from Cua Viet Port in Cua Viet Town, Gio Linh District, Quang Tri Province.
- Speedboat ticket: 200,000 VND / person ($8.7)
- Departure time: 7:30am on Mondays, Tuesdays, Thursdays, and Saturdays
- Return to the mainland: Wednesday, Friday, and Sunday.
7 - Tan Hop Agricultural Cooperative
In Quang Tri Vietnam, community-based tourism associated with ecological environment protection and cultural preservation has strongly developed, notably the Tan Hop Agricultural Cooperative in Huong Hoa District. Coming into operation in 2021, this site is planned with an area of ​​7ha, located at the foot of Dong Tri Hill, with beautiful scenery and convenient traffic.
Coming here, you will be able to freely roam among flower gardens, fruit trees, and clean vegetables such as buckwheat, rose, chrysanthemum, passion fruit, longan, mango, banana, avocado… If you love to take check-in photos, there are also many aquariums and miniatures with bold regional identities, connected by concrete routes. If you are looking for accommodation in Quang Tri Vietnam, you can also stay at the cooperative's homestays, and participate in a cultural exchange space with folk games and cuisine of ethnic minorities like Van Kieu, Pa Co, etc.
- Ticket price: 20,000 VND / person ($0.87)
8 - Dakrong Nature Reserve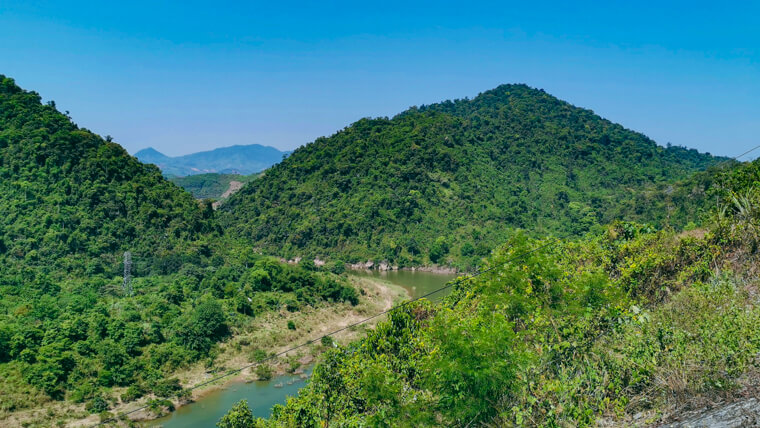 Dakrong Nature Reserve in Quang Tri Province - Source: Nam Trần
Dakrong Nature Reserve is known as a priority area for biodiversity conservation. Covering a total natural area of ​​37,841ha, this place has become an ideal destination for tourists who want to experience adventure travel activities and picnics, with spectacular views of rivers, waterfalls, and mountains. The ecotourism route Doi Cave, Nuoc Cave located next to the headquarters of Dakrong Nature Reserve will also bring you interesting and memorable experiences.
Traveling to Dakrong Nature Reserve in Quang Tri Vietnam, you can also admire the scenery of Do Quyen Waterfall, camp overnight in the forest, visit Cup Trong village, and learn about the local lives. Don't forget to participate in festivals such as praying for rain, stabbing buffalo, and enjoying the unique specialties of the Van Kieu, Pa Co, etc.
- Location: on the Truong Son Mountain Range to the southeast of Dakrong District
9 - Klu Hot Springs Tourist area
Located at the foot of Ngai Cave, Klu is one of the valuable hot springs to develop the local resort and community tourism. Located in Dakrong Commune, Dakrong Commune, Quang Tri Vietnam, Klu's source is the waterfalls that flow strongly day and night, with rocky cliffs of many fancy shapes. This place gives you the opportunity to immerse yourself in the wild and poetic nature, clear your mind and relax after tiring travel times.
Besides visiting and bathing here, you can also enjoy the food of the Bru Van Kieu people in Quang Tri Province, learn about and exchange cultures, have fun with stall dances, etc. There are 15 still-preserved-rustic stilt houses with thatched roofs, which are often used as places to sell traditional products, or being left empty and can be rented out on not crowded days. This place does not charge an entrance fee, it's better that you buy something as a gift, helping out the local people.
10 - Basilica of La Vang - top attractions in Quang Tri Vietnam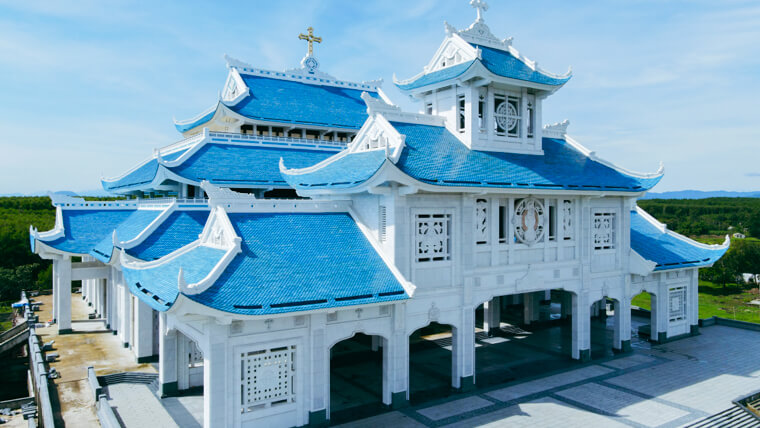 Basilica of La Vang - Source: @Vũ Vớ Vẩn
Built from 1924 - 1929, the 21-ha La Vang Basilica is the Marian center of the Vietnamese Catholic Church, the place where local Catholics make pilgrimages on important occasions. It was consecrated as a Basilica by Pope John XXIII in 1961 and is one of only four in Vietnam. In 1972 during the Quang Tri war campaign, La Vang Church was destroyed, leaving only the bell tower bearing traces of bullets and bombs as evidence.
On August 15, 2012, the new church was built on an area of 13,464 m2, with a length of 132m and a width of 102m. La Vang Basilica in Quang Tri Province has an architectural style imbued with Vietnamese traditional features, designed like a communal village house with rustic tiled roofs. In the vast natural scene, the highlights of La Vang Basilica in Quang Tri Vietnam are the statue of Our Lady wearing Ao Dai holding a child, and other works such as the sacred well, 15 stone holy statues, etc. If you happen to visit La Vang basilica on the occasion of the Congress of Our Lady (August 15th), you can also participate in many interesting religious activities.
- Opening hours: 5am - 7pm, except on Sunday (7am - 3pm)
- Holy Mass time: 5am & 7pm (Weekdays) & 7am, 3pm & 7pm (Sunday)
- Daily Eucharistic Adoration (except Sunday)
+ Place the Blessed Sacrament: 9am
+ Closing Blessing: 3pm
11 - Dien Tho Hai Lang Pagoda
Through time and war, the entire original Cham architecture was destroyed, and it was not until the 18th century that it was repaired as it is today. Here, you can admire the unique architecture of the pagoda, which is considered the most beautiful one in Quang Tri Vietnam. Dien Tho Hai Lang Pagoda not only has a unique architecture and cultural significance, but it is also a place to store precious treasures such as the Nguyen Dynasty ordination and many Champa antiquities, Buddha statues, altars, etc.
- Location: Dien Sanh Village, Hai Tho Commune, Hai Lang District
12 - Khe Sanh Combat Base in Quang Tri Province
This is not a military base built by the Vietnamese, but a product of the combination of the US and South Vietnamese armies in 1965 - 1966. It has witnessed many big and fierce battles such as the Road 9 campaign in 1968, the Southern Laos campaign in 1971,... Currently, Khe Sanh is used as a place to display historical artifacts, showing victories and demonstrating the fierceness and cruelty of war. These include tunnels, barbed wire fences, airstrips, aircraft, artillery, tanks and many other war infrastructure items.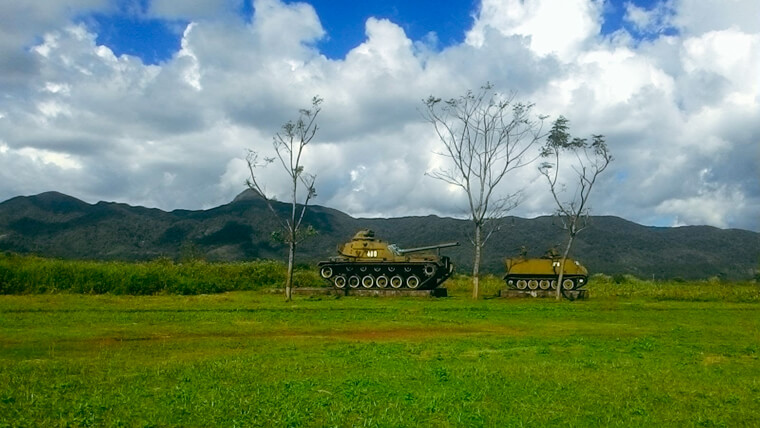 Khe Sanh in Quang Tri Vietnam used to be a fierce battlefield - Source: danviet
In particular, Ta Con field airport in Tan Hop commune is storing many historical items, related to the victory of the campaign in 1968. On an area of 10,000m2 there are command headquarters, a command post, a communication tower, as well as many dense and well-positioned defense systems. You can also find here a museum displaying pictures and weapons of soldiers from different sides, and a stone stele with historical victories built in 1965 - 1972. Ta Con airport was ranked as a National Monument in 1986, currently a highlight in the DMZ tourist route of Quang Tri Province.
- Location: Highway 9, Huong Hoa District
- Ticket price:
+ Khe Sanh: 20,000 VND / person ($0.87)
+ Ta Con airport: 50,000 VND / person ($2.18)
- Opening hours: 7am - 5pm
13 - Tra Loc Ecological Tourist Site - a green space in Quang Tri Vietnam
Tra Loc Ecological Tourist Site - Source: thegioicombo
Prominent in Tra Loc Tourist Area is a 10ha lake covered in a lush green color of duckweed, mixed with the brilliant pink-purple of lotuses and water lilies in the blooming season. It is also surrounded by more than 100ha of primeval forest, with interlaced mangroves and vines, which is also the home to hundreds of birds and monkeys. In the middle of the forest are small concrete roads, connecting with rows of cottages and fishing huts.
Here, you can return to the most pristine nature, organize a small camping trip, fish together, and process into rustic dishes,... Fond of participating in interesting and rustic experiences? Don't miss the Pha Tram catching fish festival at Tram Tra, which takes place only once a year. Being one of the most famous festivals in Quang Tri Vietnam, this is a unique and attractive folk occasion, taking place in the middle of the 7th lunar month, attracting a large number of people to participate.
- Location: Tra Loc Village, Hai Xuan Commune, Hai Lang District, Quang Tri Province
14 - Quang Tri Provincial Museum
The 10,000m² museum currently keeps and preserves 30,100 documents and artifacts that have been inventoried and registered scientifically, and displayed according to modern design with diverse forms. You will be able to see with your own eyes the artifacts of the resistance revolution such as planes, tanks, rockets, artillery guns, bomb combinations; or artifacts belonging to Champa culture, and so on.
- Location: no.8 Nguyen Hue Street, Ward 1, Dong Ha City
- Opening hours: 7:30am - 11:30am & 1:30pm - 4:30pm
15 - Nhi Ha Golden Sand Dune - a breathtaking spot in Quang Tri Vietnam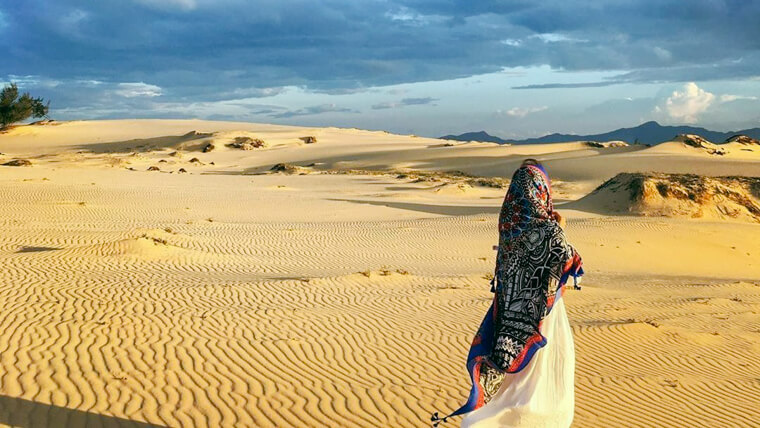 Nhi Ha Golden Sand Dune is dubbed the "small desert" - Source: triptrip
Nhi Ha Golden Sand Dune is located in the village of the same name in Gio Linh District. The sand dunes have a height of about 30m, possess a beautiful golden color, and are a particularly popular place for young people to check-in. The best time to enjoy the scenery here is at dawn and dusk, when the sun hides behind the undulating sand dunes and dyes the sky in different colors, creating a fanciful space. If you want, you can even camp and spend the night here, watching the moon and admiring the beautiful quiet night scene.
III - Other information about Quang Tri Vietnam tourism
1 - Where is Quang Tri Province?
This is a province located in the central part of Vietnam, adjacent to Quang Binh and Thua Thien Hue provinces - 2 famous tourist destinations. The west of the province borders Laos and the East borders the East Sea, convenient for trade activities with countries in Southeast Asia. Currently, Quang Tri does not have an airport, so you can land at Phu Bai international airport in Hue city - about more than 100km away. Covering a total area of 4,739.8km², the province is divided into Dong Ha City, Quang Tri Town and 8 districts, with a population of 632,375 people.
- Postal code: 480000
2 - The battle of Quang Tri Vietnam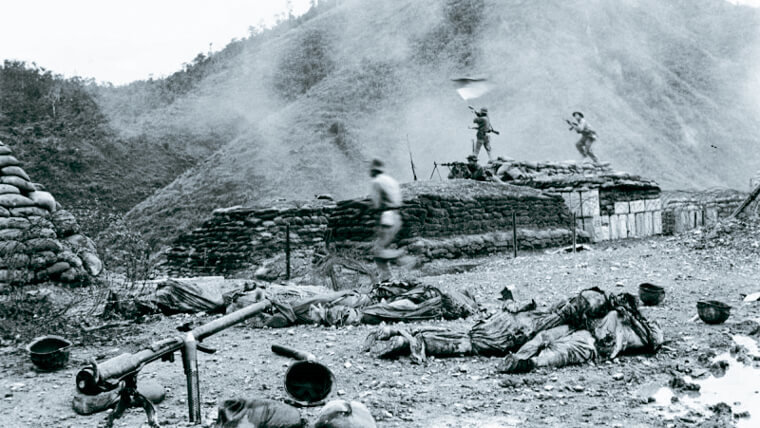 Source: nhandan
During the French colonial period, Quang Tri Town was established and made the provincial capital by Governor-General Paul Beau on February 17, 1906. After the 1954 Geneva Agreement, the province was temporarily divided into two regions, with Ben Hai River being the mark. During the 20 years after that, Hien Luong bridge has become a witness to the tenacious and heroic struggle of the locals, as well as the aspiration to unify the country.
Quang Tri Vietnam is considered a heroic land, having experienced many special events of historical significance and extremely intense battles, including the Road 9 - Khe Sanh campaign spring - summer 1968 lasting more than 170 days. Another outstanding one was the Spring - Summer 1972 campaign, with the 81-day-and-night battle at the ancient citadel of Quang Tri, holding off more than 35,000 troops with only about 14,000 Vietnamese soldiers. Not only that, the US air force and Republic of Vietnam army also used modern weapons with great destructive power, while the South Vietnamese Liberation Army had a few tanks and anti-aircraft artillery units.
3 - Quang Tri Vietnam map
As a central province of Vietnam, Quang Tri Province is known as a heroic land, with many revolutionary landmarks and historical sites that are well worth a visit. But not only that, but this place also possesses many charming poetic landscapes, unique cultural features, many interesting entertainment spots, and special dishes. Therefore, Quang Tri Vietnam is a perfect destination if you want to explore, experience, and learn about culture - history when traveling to Vietnam.