Belongs to the Vietnam Central Highlands region, Dak Lak province is known as the land of red basaltic soil and coffee. In addition, visitors are always impressed by its majestic natural scenery, bustling and cozy villages. Coming here, you will have a chance to explore the alluring natural scenery and the unique culture of indigenous people as well as enjoy Buon Me coffee.
I - Overview about Dak Lak
1 - Location
This province is located in the heart of the Central Highlands, bordering Gia Lai to the north, Lam Dong to the south, Dak Nong to the west, Phu Yen and Khanh Hoa to the east. Because of the convenient position, you can visit this destination on a trip combined with visiting other neighboring provinces such as Da Lat in Lam Dong Province and Nha Trang in Khanh Hoa Province.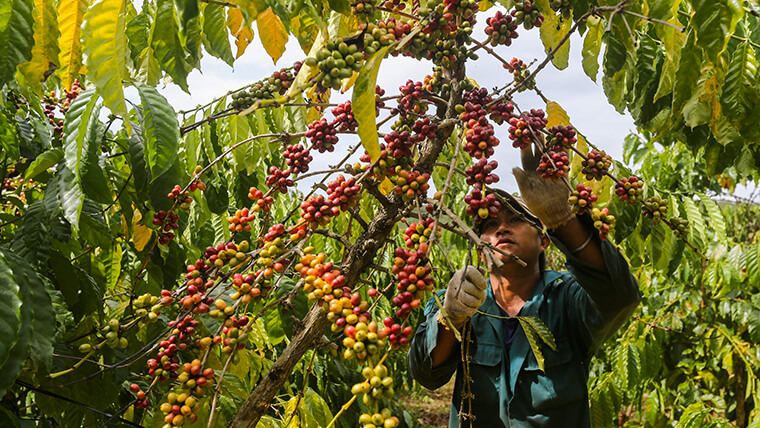 Source: VnExpress
2 - Climate
The climate in this province is very temperate and pleasant. The annual average temperature is from 23 to 24°C. There are two distinct seasons: The rainy season (from May to October) usually has a cool climate, moderate humidity. The dry season (November to April next year) normally experiences cool weather at the beginning months, dry and hot at the end of the season.
II - Tourist attractions in Dak Lak Vietnam
1 - Buon Ma Thuot (Ban Me) City
Located about 11km from the provincial airport, Buon Ma Thuot is the capital of this province as well as the cultural center of the Central Highlands. Coming to Buon Ma Thuot, visitors should visit some of the following famous destinations:
Ban Me Six-way Crossroads Area
This is a hustle and bustle intersection where standing the victory monument of Buon Ma Thuot - a great symbol of the city.
- Location: Nguyen Tat Thanh street, Thang Loi ward, between Highway 26 and 14.
House exiled Ban Me Thuot
This house is a historical site with the structure of an old prison system left from the French colonials. Currently this house has been recognized as a national heritage.
- Location: 15 Tan Thuat, Tu An, Buon Ma Thuot city
- Entrance ticket price: 10,000 - 20,000 / person ($0.43 - 0.86)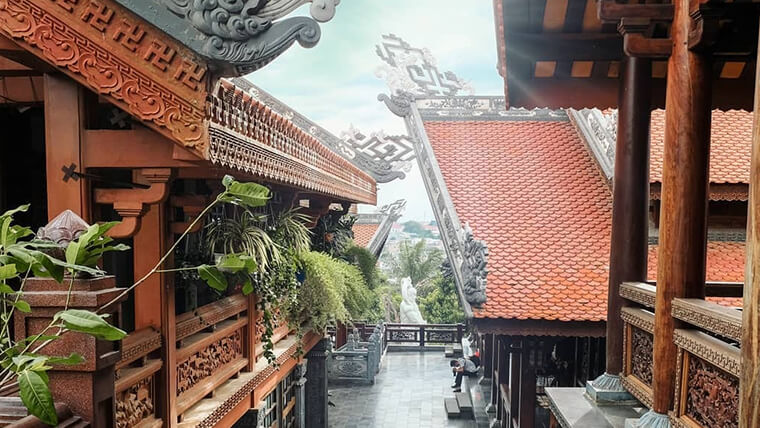 Source: Giathinhph
Sac Tu Khai Doan Pagoda
Being constructed in 1051, Sac Tu Khai Doan is the largest pagoda in Dak Lak Vietnam. The name of the pagoda is taken from the names of Emperor Khai Dinh and Empress Doan Huy, father and mother of King Bao Dai respectively. The pagoda is the combination between the architecture of the Hue communal house and the Central Highlands stilts. It owns a main brown tone, curved tiled roofs, and extremely meticulous and delicate decoration patterns.
- Location: 117 Phan Boi Chau, Thong Nhat, Buon Ma Thuot City
The world coffee museum
This place is an exhibition complex including exhibition space, library space, lighting space, coffee space, and so on. All the exhibition areas are designed according to the architecture of the Tay Nguyen long houses. Coming to the museum, visitors will have interesting experiences such as to discover the differences in the way of making coffee in each region, enjoy a delicious cup of coffee and relax in the modern architectural space.
- Location: Nguyen Dinh Chieu Street, Tan Loi Ward, Buon Ma Thuot City
- Ticket price: 40,000 VND / child ($1.72) and 75,000 VND / adult ($3.23)
Dak Lak Museum
The DakLak Museum stores many cultural relics of the different ethnic groups in the Central Highlands region. Therefore, it is very suitable for visitors who are interested in learning about the culture of the ethnic minorities.
- Location: No. 02, Y Ngong, Buon Ma Thuot City
- Ticket price: 20,000 - 30,000 VND/ person ($0.86 - 1.3), basement exhibition: 100,000 VND/ person ($4.31).
2 - Waterfalls in Krong Ana district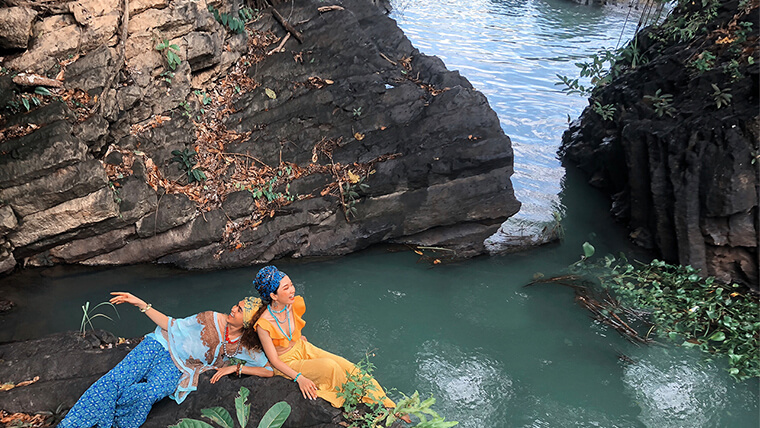 Source: VnExpress
There is a list of the top most beautiful 3 waterfalls located close to each other in Krong Ana district which is only 25-30km from the center of Buon Ma Thuot city:
Dray Nur waterfall
This is a majestic waterfall that Mother Nature gives to Dak Lak as a gift. Recently, it is invested and developed in the direction of eco-tourism.
Dray Sap waterfall
Being located very near the Dray Nur waterfall, Dray Sap waterfall is another amazing wonder among nature. Its water falls from a very high distance, creating a massive sence of water dust flying as the color of fairy mist.
Gia Long waterfall (also known as Dray Sap Thuong waterfall)
The waterfall was named by King Bao Dai when he visited it in 1930. Visitors will be impressed by the wild natural landscape. You also should try the suspension bridge and visit the Mo Cau historical site. Moreover, there are many kinds of rare trees within the waterfall area such as conifers, Du Sam, Kien Kien, Cho Xot.
Ways to visit the waterfalls:To come to Dray Nur waterfall from Buon Me Thuot city, you can consider among three means of transport: motorbike, bus, and taxi.
By bus
Bus No.13: Ticket price 60,000 VND / seat / one-way (~ $ 2.58); Departure time: from 5:30 - 19:00 daily, each 15 or 20 minutes/ trip.
Bus itinerary: Dak Lak Bus Joint Stock Company - Nguyen Chi Thanh - Nguyen Tat Thanh - No Trang Long - Le Hong Phong - Y Ngong - Le Duan - Vo Van Kiet - Highway 14 - Dak Lak & Krong No intersection.
Tourists should get on the bus at the bus station on Nguyen Chi Thanh street or Nguyen Tat Thanh street.
By taxi
The price ranges from 300,000 to 400,000 VND / one-way / 4-seater car ($13 - 17.24). There are some taxi companies in Buon Ma Thuot:
- Mai Linh Taxi: 0262 3 819 819
- Tay Nguyen Taxi: 0262 3 83 88 38
By motorbike
Regarding self-traveling by motorbike, you should follow the route: Le Duan - To Huu - DT 682 road. Traveling time is about 45 - 50 minutes. Motor rental price is from 100,000 - 200,000 VND/ motorbike/ day ($4.3 - 8.6).
Some motorbike rental addresses in Buon Ma Thuot city:
- Anh Hung
Phone: 0915 106 235
Address: No.53/ 14B Le Duan Street, Tu An, Buon Ma Thuot city
- Motorbike rental
Phone: 090 361 33 43
Address: No.315, Y Jut, Thang Loi, Buon Ma Thuot city
3 - Lak Lake area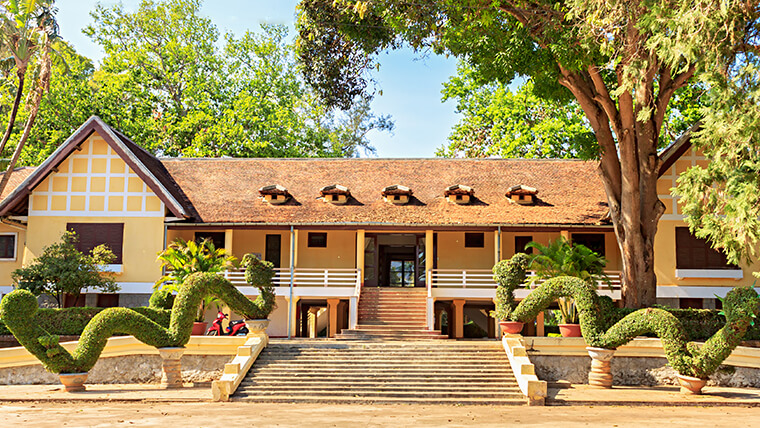 Source: Commons.wikimedia.
Being surrounded by majestic primeval forest, Lak Lake is the second largest freshwater lake in Vietnam. Coming to Lak Lake, you will experience many activities such as dugout canoe sailing, elephant riding, camping overnight by the lake, and so on. For travelers who want to experience dugout canoes, you should find and go to the wharf located along the lake. Ticket price is 10,000 VND/ person/ one-way ($0.43). Then, tourists should take a tour to surrounding locations:
Bao Dai Palace
King Bao Dai Place in Dak Lak province is the large 3-storey villa area located on the top of a 422 square meter hill. It was built in 1951 as the place where King Bao Dai used to relax and hunt. In terms of architecture, it is considered the simplest villa of Emperor Bao Dai. From the palace, visitors can witness the Lak lake crocodile specimen, enjoy the black and white photos of Emperor Bao Dai and his wife, Empress Nam Phuong.
- Location: No. 30, Au Co street, Lien Son town, Lak district
Yang Tao Elephant Mountain
Legends say the two Father and Mother Elephant-like stones are "walking stones" because one day local people suddenly found these two stones no longer in their original position. The reason why they are called elephant rocks is because they have curved shapes like the back of large elephants. Standing on that "back of an elephant", visitors will have a chance to enjoy an immense view of the paddy fields.
Chu Yang Sin National Park
It is the beauty of stunning nature and the primeval forests that have attracted numerous tourists, especially who prefer discovering the magic of mother nature adventuring and experiencing several activities such as dugout canoe sailing, visiting the thousand-year-old Po Mu trees, watching the wildlife, walking along forest,...
4 - Buon Don district
Located about 50km from Buon Ma Thuot city, Buon Don is famous for its taming elephants activities. The idiosyncratic and cultural activities of the region have attracted thousands of tourists to Don village. Visitors should visit some of the following destinations when coming to Buon Don: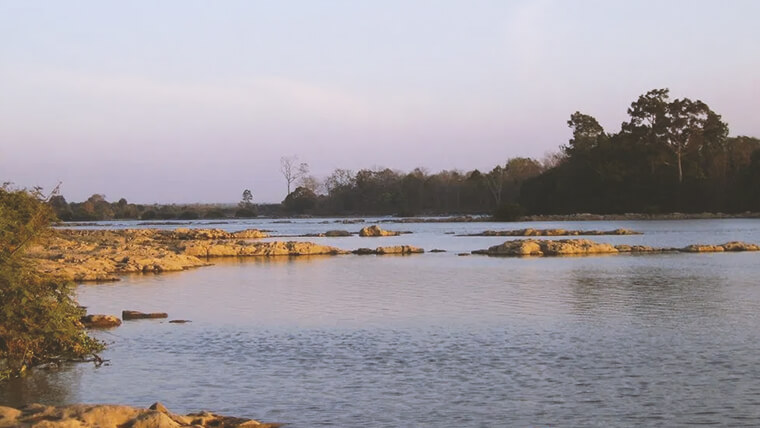 Source: Internet
Tomb of the King hunting elephants
The tomb in Dak Lak Vietnam is associated with the legend of a Gru (hero/ elephant hunter). It is an unique architecture of ethnic minorities that you will never see anywhere. The tomb impresses visitors with its high and pointed spire, covered-with-moss and ancient walls. If you're lucky, you might have a chance to hear the thrilling story of King of Elephant Hunting from the natives.
Seven-Branch Waterfall
The Serepok stream flows and meets a large rocky cliff which divides the flow into 7 separate branches. Standing on the top of the mountain and looking down, the waterfall is like a giant hand pulling fingers out.
Tam Linh hill
Tam Linh hill is a quiet and pristine area. It is also a place to capture the cultural beauty of the ethnic people. Not only showing the cultural beauty of indigenous people but this area also keeps the 40m high Buddha and other 18 Arhat statues. Local people often come to the hill and express their respects and pray for a peaceful and fulfilling life.
Ea H'Leo Wind Farm
The wind farm is considered as one of few areas having the best wind energy within Vietnam. Coming to the wind power field, visitors will experience the fantastic feeling like losing among the wind blower fields of Europe.
5 - Ea Sup and Yok Don National Park
Ea Sup district is 73km away from Buon Ma Thuot. There is the large Ea Sup lake surrounded by green trees. This is an ideal place for camping, team building activities, and BBQ.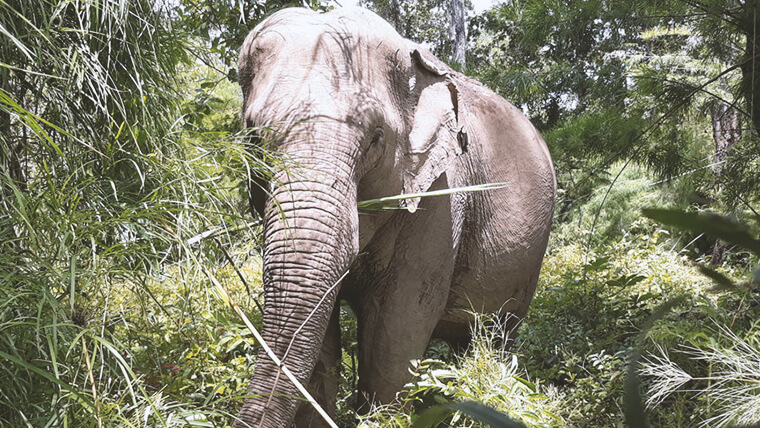 Source: Yokdonnationalpark
Yok Don National Park is located 40km from Buon Ma Thuot city. The park preserves several rare flora and fauna of the country. It is famous for exploring forests and discovering natural world activities.
6 - Dray Knao Waterfall in Dak Lak
About 7km from Buon Ma Thuot City, Dray Knao waterfall owns a dreamlike and mysterious beauty. The waterfall has straight cliffs as if a layer preserving Dray K'nao's treasures.
III - Top things to do in Dak Lak
1 - Experience the cultural space of Central Highlands Gongs
The Central Highlands Gong is a form of collective and community performance. It is enshrined by cooperating and understanding among a group of people who play the gongs. It expresses the community spirit vibe which is very different from the individual or artistization of the performers.
When enjoying Tay Nguyen gongs, visitors will feel the majesty and spiritual atmosphere while echoing right into your ears are the sound of Gia Lai and Bahnar gongs. The Cultural Space of Gong in the Central Highlands of Vietnam has been recognized by UNESCO as an oral and intangible heritage of humanity.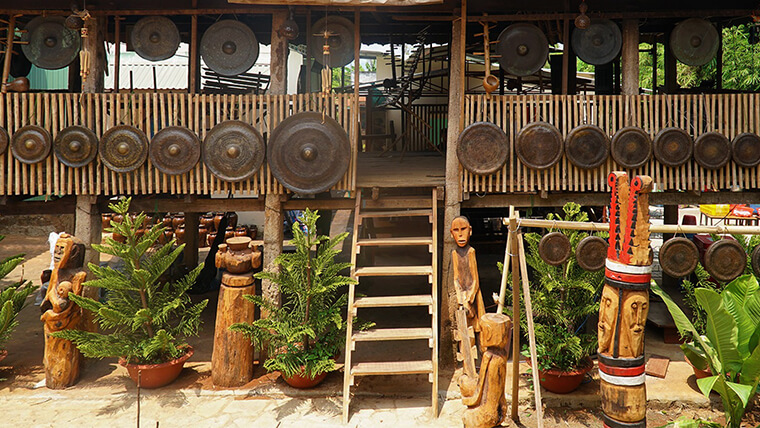 Source: VnExpress
2 - Enjoy Buon Ma Thuot Coffee Festival
Buon Ma Thuot Coffee Festival is recognized by the Prime Minister of Vietnam as a national festival, held twice a year, usually in March. The festival is organized to honor coffee trees and pray for rich harvests to bring the people prosperity and peace. There are many activities within the festival such as market fairs, exhibitions, coffee contests, coffee tours, and so on. Visitors can have detailed information about time, location, and schedules via following the website http://lehoicaphe.vn.
3 - Discover Dak Lak cuisine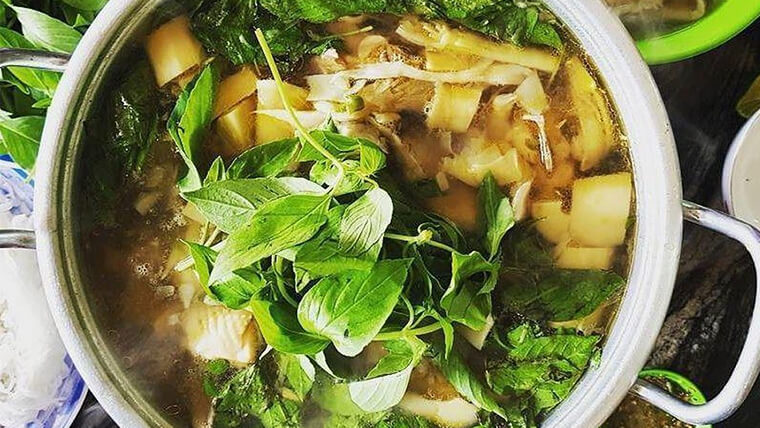 Source: Ximgo
Don village grilled chicken
Chicken which is grilled elaborately and meticulously, is enjoyed with salt, wild chili and lemongrass salt. Price is about 300,000 VND / per serving ($13).
Forest vegetable hotpot
The dish is the combination of 10 selected forest vegetables, dried shrimp, and meat. It brings the pure aroma of forest, which is also good for people's health. The price is about 70,000- 100,000 VND / per serving ($3.1 - 7.4).
Most of these specialities will be available for sale, and are very popular in the villages.
Coffee
Some famous coffee addresses:
- Buon Me Thuot Coffee World Museum:
Address: Nguyen Dinh Chieu, Tan Loi ward.
Entrance ticket price: 75,000 VND ($3.3), including drinks.
- The Circle Coffee Roasters:
Address: 291 Ha Huy Tap, Tan Loi ward
Price: 20,000 - 50,000 VND/ cup ($0.87 - 2.2).
IV - Other information
1 - Hotels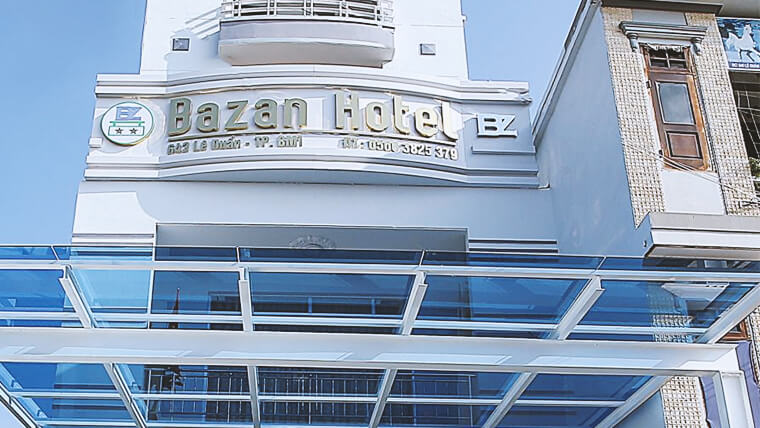 Source: Agoda
Dakruco Hotel
- Address: 30 Nguyen Chi Thanh, Tan An, Buon Ma Thuot.
- Price: 500,000 VND/ room/ night ($21.75).
Bazan Hotel
- Address: 2/5 Nguyen Dinh Chieu, Tan Loi, Buon Ma Thuot,
- Price: 250,000- 300,000 VND/ room/ night ($11 - 12.5).
2 - Suggested tour to explore Dak Lak
One-day tour
- Experience the cultural space of Central Highlands gongs
- Visit Dak Lak Museum
- Enjoy the special dishes and delicious coffee
Two-day tour
- Experience the cultural space of Central Highlands gongs
- Visit 3 falls in Krong Ana district
- Visit Dak Lak museum
- Enjoy night activities at stilt houses and specialties
Three-day tour
- Visit waterfalls in Krong Ana district
- Visit coffee museum
- Enjoy a standard cup of coffee
- Experience activities at Ea Sup and Yok Don National Park
- Visit Don village
- Experience the cultural space of Central Highlands gongs
- Enjoy local specialties
Some tourism companies organizations that tourists can contact:
Phu Si Tourist Company
- Tel: 028 3 602 31 47
- Address at 70 Nguyen Hao Vinh, Tan Quy Ward, Tan Phu District, Ho Chi Minh City
Vietravel Company
- Tel: 0262 3 753 999
- Address 58 Dien Bien Phu Street, Thong Nhat Ward, Buon Ma Thuot City.
Dat Viet Tourism Trading Investment Joint Stock Company
- Tel: 028 73 081 888
- Address 198, Phan Van Tri Street, Ward 10, Go Vap District, Ho Chi Minh City.
In short, we - Localtravelidea have had a general view on Dak Lak Vietnam province characterized by majestic, prosperous, and peaceful beauty. Having unique features in the culture of ethnic minorities, this is one of the most ideal places for your vacation.