It is indicated that Vietnamese dogs have been domesticated a long time ago, and over time, they have gradually become attached to a part of Vietnamese culture and life. Below, let's take a closer look at the role of dogs in Vietnamese culture and people's life, as well as 4 special native dog breeds in Vietnam.
Vietnamese dogs play an important role in local culture
Dogs are one of the Zodiac animals in Vietnamese culture and in many Asian countries. Dogs, according to Vietnamese folklore, bring good fortune and prosperity to their owners. Some sayings about dogs demonstrate their impact on people's lives, such as "Dog arrives, money comes" or "Hold dog's tail to go home." Dogs are regarded as a mascot in the culture of the Co Tu people (a Vietnamese ethnic minority); however, in the Muong people's minds, dogs are a symbol of death.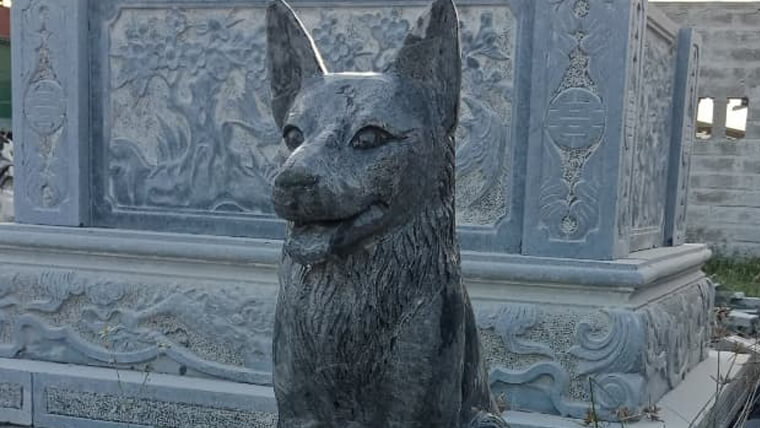 Vietnamese dogs play an important role in local culture - Source: Internet
To learn more about the role of dogs in Vietnamese culture, consider the ritual known as stone dog worship. This tradition may be shown in two ways: burying the dog sculptures or putting them on pedestals in front of the front gate as the gatekeeper. Many places of worship for dogs may be found in the Dan Phuong district in Hanoi capital.
A couple of carved Vietnam dog sculptures sit in front of the entrance of the Japanese Covered Bridge in Hoi An Ancient Town. Furthermore, one of the popular practices in Dong Mo town - Lang Son city, Dong Van district - Ha Giang province, Cao Bang province,... has been the placement of dog sculptures in numerous families in order to protect temples or houses from haunting.
How many local Vietnamese dog breeds are there?
In Vietnam, there are 4 national dog breeds: the Phu Quoc dog, the Lai dog, the Hmong dog, and the Bac Ha dog, which are proudly known as the "four greatness of Vietnamese canine."
Phu Quoc ridgeback dog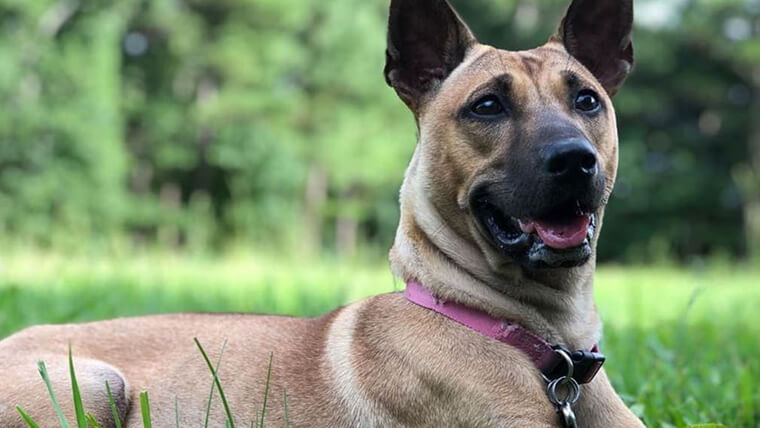 Phu Quoc dog - Source: Petmaste
The Phu Quoc ridgeback dog is unique to the Phu Quoc island and is the most valuable canine in Vietnam. This unique Vietnamese dog breed has a tiny head, a long jaw, and a distinctive eddy of fur on the backbone. It has a slim body and dark fur; its feet even have a propeller membrane that allows it to swim very well indeed. The Phu Quoc dog is an intelligent animal that knows how to dig a cave to give birth, hunt, and persist in tracking the prey's mark.
Bac Ha dog - top 4 native types of Vietnamese dogs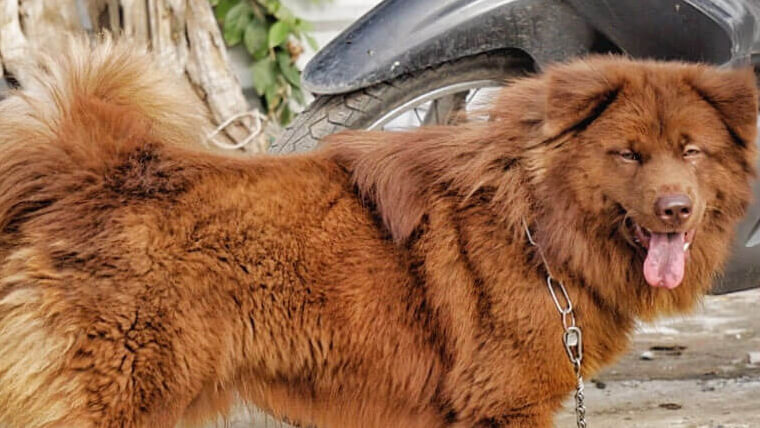 Bac Ha dog - Source: Internet
Bac Ha dog that has the origin from Bac Ha mountain, Lao Cai province, is grown to be a hunting canine or a great companion on trips to the forest and the household keeper. This dog has ruffle hair, hairy mane and a hairy tail that look like a mop. Especially, Bac Ha dog is extremely loyal and agile.
Lai dog (Indochina Dingo/ Vietnamese dingo)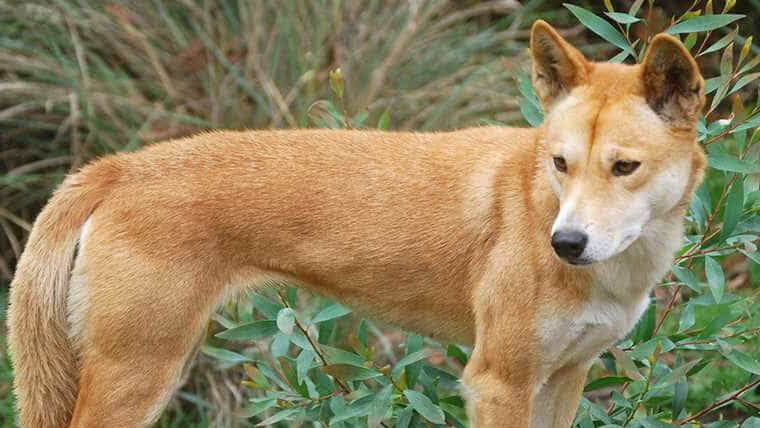 The Lai dog - a breed of local dogs in Vietnam - Source: Internet
The Lai dog (also known as Indochina Dingo) is an ancient canine breed that dwells in the mountains of Vietnam's northwestern area. This dog's characteristics include loyalty, strict discipline, wildness, and a strong hunting sense. Adult Indochina Dingoes may reach more than 40 kg and stand 70 centimeters tall.
Hmong dog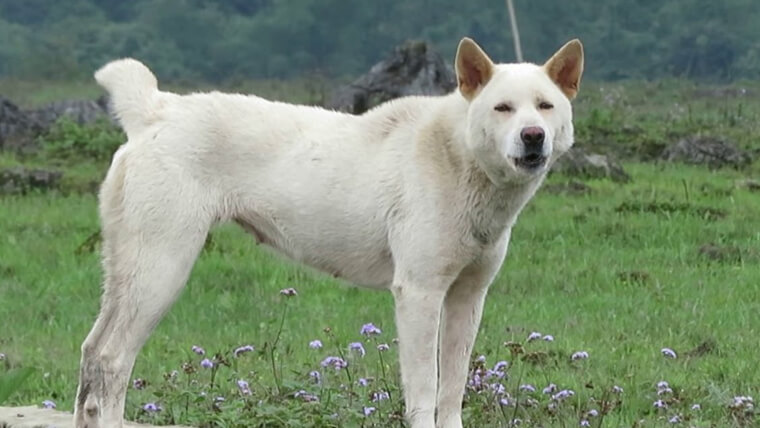 Hmong dog or H'mong stumpy tail dogs - Source: Internet
This Vietnamese dog breed is raised by Hmong people for hunting and house protection. This dog was unique in that it had a very short tail. This is also a fast, smart, and loyal dog.
So, in addition to the national dogs mentioned before, you can observe many different dog breeds in Vietnam, such as Chihuahua, Beijing, Poodle, Pug, Alaska, Husky, Pomoderian, and so on.
It can fascinate you: Vietnamese cats & interesting things to know
Vietnamese dogs & the racing competitions
Vung Tau is Vietnam's sole city that hosts dog racing. Every weekend, the racing competition is held at Lam Son Stadium. There will be 10 to 12 races in a single day. On the 450m track, eight dogs compete in each race.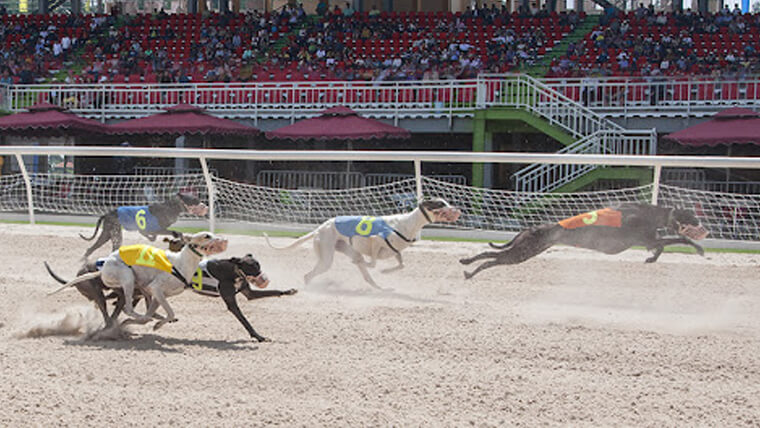 The interesting dog racing in Vung Tau city - Source: Internet
The organizers run a gambling game with five different categories to play in order to boost the attraction of the event. The cost of admission is 10,000VND/ticket ($0.43). Each participant's score is shown at the end of each race. Watching the Vietnamese dogs running in an exciting competition is a must-try experience when you visit Vung Tau coastal city.
- Address: 15 Le Loi street, ward 1, Vung Tau city
- Ticket price: 90,000 VND/seat Standard (3.87$); 180,000 VND/seat VIP area with AC (7.74$)
- Time: 7pm - 10pm Friday night, Saturday night & special occasions
- Website: http://www.duachovietnam.net
Can we bring dogs to the hotel?
Most hotels in Vietnam do not allow dogs. However, there are a few Vietnamese hotels that provide special facilities for these pets. You should contact the hotel ahead of time to get an exact answer on this.
Is bringing dogs in Vietnam on planes allowed or not?
Currently, the domestic carrier Vietnam Airlines allows the transportation of pets (dogs, cats, and so on) in the cabin or as a consignment, according to the airline's restrictions. Pets are only permitted at the check-in area of Vietjet Air, not in the cabin. Other carriers in Vietnam, like Bamboo Airways, and Jetstar,... do not take animals in any form.
Vietnamese dogs & the contentious issues
Eating dog meat is a contentious issue in Vietnam. Some individuals believe that this is terrible conduct; nevertheless, the majority of people believe that eating dog meat is common sense because it has been practiced for so long. Every year, there are numerous Vietnamese restaurants that serve dog meat as the main course. As a result, many animal lovers in general, and Vietnamese in particular, are opposing this action. The explanation is obvious: dogs in Vietnam are loyal to their owners and wonderful friends. As a result, eating them is regarded as the most inhumane action. The debate about consuming dog meat appears to be ongoing because there are no particular laws in place to address this issue.
Vietnamese dogs have always been associated with the Vietnamese people's cultural and artistic lives. At the same time, dogs are close companions that have been raised as pets, and many Vietnamese people today oppose acts of maltreatment or the consumption of dog flesh.