This 400-year-old structure represents a merging of Vietnamese, Japanese and Chinese cultures and architecture during the Hoi An commercial port trade phase. Nowadays, the Japanese covered bridge is considered as a symbol of Hoi An Ancient Town.
I - The history of the Japanese Bridge in Hoi An
Japanese merchants first constructed this bridge in the 17th century. In the Japanese's belief, the bridge is considered a sword stabbed down the back of a monster Namazu to tame it without causing earthquakes or natural disasters. Later, the local Vietnamese constructed a new pagoda connected to the bridge's northern railing, and the name Cau Bridge (Pagoda Bridge) was derived from there as well.
Lord Nguyen Phuc Chu visited the Japanese Covered Bridge in Hoi An in 1719 and named this bridge "Lai Viễn Kiều" (Bridge welcoming guests from afar). Vietnamese and Chinese style elements gradually replaced Japanese architectural features during the restoration process in 1817, 1865, 1915, and 1986. As a result, this small bridge is regarded as a cultural interference symbol in Hoi An. In 1990, the Cau Bridge was designated a National Historical-Cultural Relic.
II - Architectural Features of the Hoi An Japanese Bridge
The bridge was designed in the distinctive architectural style of the typical Japanese "house on bridge". It is 18m long, made primarily of wood, with stone pillars and a dome-shaped roof made of yin-yang tiles.
The bridge and pagoda are made of wood. They are not only painted vermilion but also meticulously carved, decorated with patterned motifs. The main face of the Japanese Covered Bridge Hoi An approaches the Hoai River, and the main entrance is marked by a wooden sign inscribed with three words "Lai Viễn Kiều''.
The two corners of the bridge are housed in two wooden animal head sculptures (one is a dog head, the other is a monkey head), a detail associated with Japanese religious culture with the sense of worshipping the two gods who subdued the beast Namazu, stopping it from waving its tail to cause earthquakes.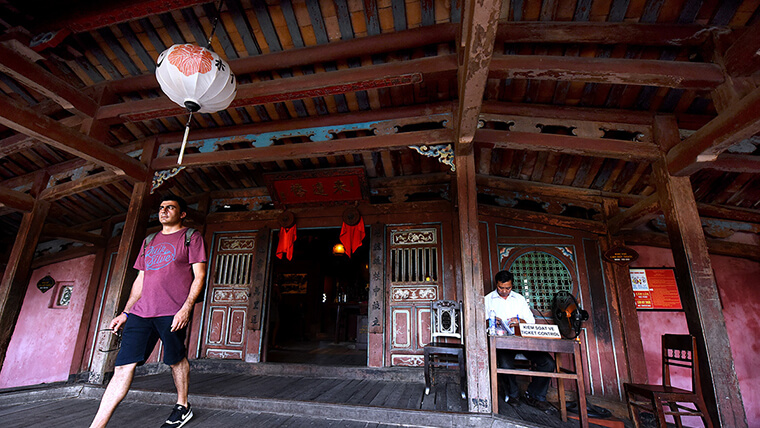 The Japanese Bridge in Hoi An - Source: VnExpress
A statue dedicated to the North Emperor Tran Vo in Vienamese's culture - the god who preserves joy, gives happiness, and sends good wishes to man - stands in the middle of the bridge (also known as the bridge).
Not only is it a symbol of architectural interference, but it also represents indigenous peoples' spiritual beliefs and Japanese culture. The Hoi An Japanese Covered Bridge is one of the most iconic tourist attractions in Hoi An's ancient town. This one-of-a-kind bridge image was also printed on the back of a VND 20,000 note.
When night comes, the shadow of the Japanese Bridge in Hoi An falls on the Hoai river, creating a romantic scene that captivates many visitors.