I - History
Bamboo Airways was officially approved by the Vietnamese government on July 9, 2018, with the mission of connecting tourist regions in Vietnam. On January 16, 2019, the airline's first commercial flight officially took off from Ho Chi Minh City to Hanoi. Over a year of operation and development, this brand has proven its position on Vietnam's aviation map. The evidence is that by December 2019, this agent accounted for more than 12.3% of the market share, 6 times higher than the rate of 2% in January 2019.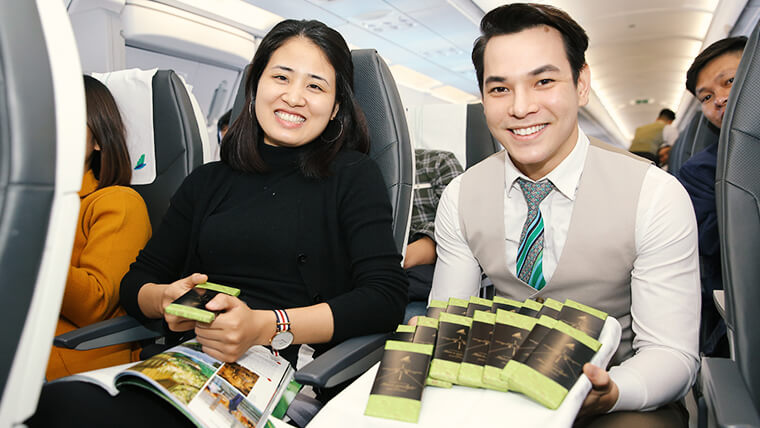 Source: VnExpress
Contact information:
- Registered business place: zone 4, beach resort Nhon Ly - Cat Tien, Nhon Ly commune, Quy Nhon city, Binh Dinh Province, Vietnam
- Hanoi office: 22nd floor, Bamboo Airways Tower, 265 Cau Giay, Dich Vong ward, Cau Giay district, Hanoi.
- Telephone: 024.32.333.233 - Mail: info@bambooairways.com
- Ho Chi Minh City Branch: 2nd floor, SASCO building, Tan Son Nhat International Airport, 45 Truong Son Street, Ward 2, Tan Binh District, Ho Chi Minh City, Vietnam.
- Customer service center: 1900 1166
- Website: https://www.bambooairways.com/
II - Bamboo Airways fleet
| | | |
| --- | --- | --- |
| Planes | Operating | Capacity |
| Boeing 787 -9 | 3 | 292 |
| Airbus A321Neo | 4 | 198 |
| Airbus A321Neo | 4 | 204 |
| Airbus A320Neo | 5 | 170 |
| Airbus A320 - 200 | 9 | 170 |
| Airbus A319 - 100 | 1 | 128 |

Currently, Bamboo Airways owns two of the most modern and specialized aircrafts, Airbus A321Neo and Boeing 787 - 9.
- Airbus A321Neo: A common and dedicated plane worldwide, including Vietnam. The Airbus A321Neo is a new version of the A321 series, which is the largest aircraft in the Airbus A320 system with A318, A319, A320, A321.
- Boeing 787 - 9: Boeing 787 - 9 has a length of 63m and can carry 290 passengers, this will be an effective assistant of Bamboo in long-haul domestic and international flights. Boeing 787 - 9 is dubbed the "5-star hotel in the air" with the ability to fly directly for 13 hours without technical stops.
III - Flying routes of Bamboo Airways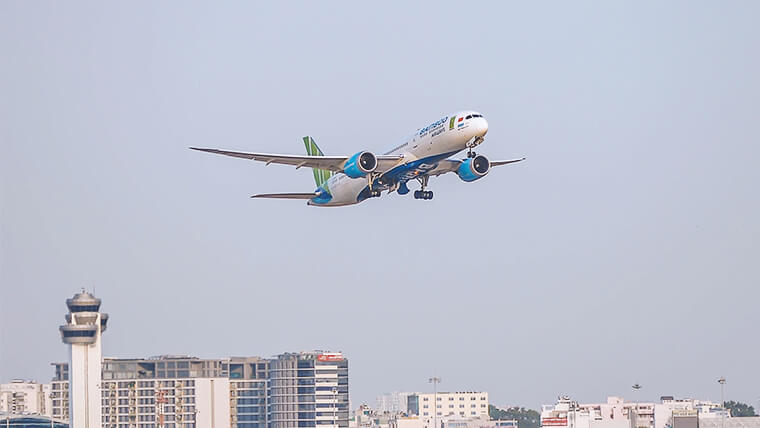 Source: Bambooairways
- Domestic flights: Currently, with the domestic market, this company is focusing on exploiting routes to destinations such as Hanoi, Hai Phong, Ho Chi Minh, Quang Binh, Quang Ninh, Thanh Hoa, Quy Nhon, Nha. Trang, Phu Quoc island, Da Lat, Vinh, Pleiku, Can Tho, Hue,...
- International flight routes: In addition to the domestic market, it also does international routes, round-trip direct flights between countries: Da Nang - South Korea, Hanoi - Taipei, Nha Trang - Korea, Hanoi - Kaohsiung, Hanoi - Czech Republic ...
- Plan to develop flight routes in the future: Bamboo Airways is planning to develop future routes with a network of 30-40 routes, with more direct international routes connecting to Asia, America and Europe. Developing more in quality as well as service to meet the increasing demands of customers.
IV - Services
1 - Bamboo Airways ticket classes
Currently, Bamboo Airways applied to 3 tickets class: Business, Plus and Eco.
Here are the ticket fares for each ticket class, (x means "do not apply").

Applied Conditions
Business
Plus
Eco
I -

Baggage

Carry - on baggage

2x7 kg

7kg

7kg

Checked baggage

30kg (free)

20kg (free)

Charge

II - Ticket Fare

Children 2 - 12y (excluded VAT)

75% adult fare

Children under 2y (excluded VAT)

$4.32/ way

the elderly
(over 60y)

x

85% of basic fare

x

Disability / special fare (over 12y)

x

85% of basic fare

x

Disability / special fare
(2-11y)

x

75% adult fare

x

Disability / special fare
(under 2y)

x

$3.45
(excluded VAT)

x

III - Other fees

VIP lounge

Free

x

Advanced seat reservation

Free

Charge

Flight date / flight itinerary change fee

$

10.79 + difference (if any)

$

14.67 + Difference (if any)

Name change fee

$19.42

x

Refund

$12.95

x

Payment

Prompt payment


Postpaid

Prompt payment


Postpaid

Prompt payment

Minimum ticket change time

Within 6 months from the date of ticket issue

3 hours before departure time

3 hours before departure time
2 - Fees for change and refund of tickets of different types / classes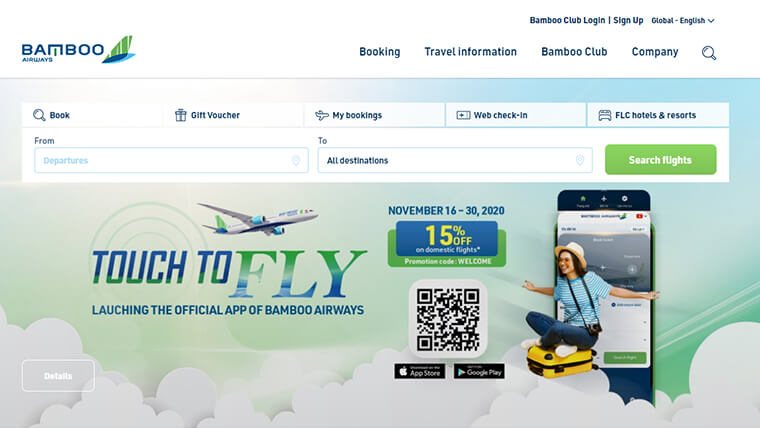 Source: Internet
Currently, Bamboo Airways is stipulating that when customers want to change or refund tickets, a fee of 450,000 VND (19.42 USD) / person / way / change (VAT excluded) will be charged. To be able to refund, customers need to provide the airline with necessary information such as flight ticket code, flight itinerary, full name, flight date, flight time...
Passengers can refund or exchange tickets through one of two ways:
- Option 1: Contact Bamboo Airways directly via website or customer care system for specific instructions. You need to provide full information: ticket code, flight itinerary, first and last name, date and time of flight ... to complete the refund / exchange procedure.
- Option 2: Contact the Bamboo Airways agents for guidance and assistance in changing tickets.
Despite being a brand from Vietnam and a relatively young age, this airlines company is gradually winning the hearts of visitors by its service quality, hospitality and beautiful image. If you have the opportunity to once experience with Bamboo Airways to understand more about this.