Ta Van village Sapa is home to several ethnic minorities in the Northwest of Vietnam, which is outstanding with the rustic beauty of nature and peaceful pace of life. If you are looking for an off-the-beaten-track destination, Ta Van is absolutely an ideal option to take into consideration.
I - Where is Ta Van village?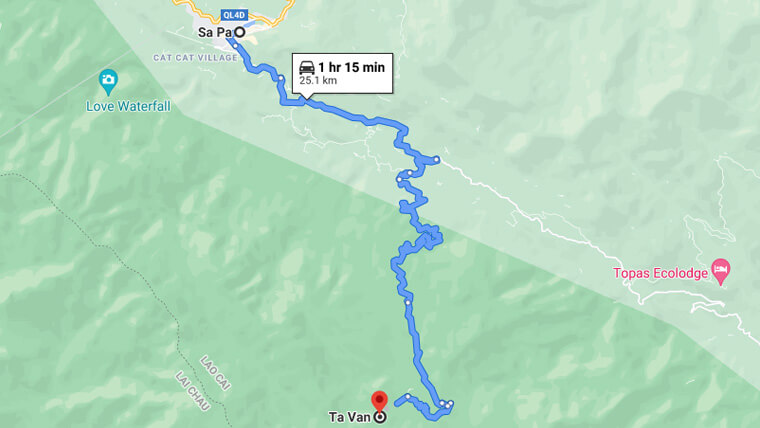 Source: Internet
This village is located in Muong Hoa valley, in Ta Van commune, about 10km southeast of Sapa town center. You can come here from Sapa town center by taxi, motorbike or motorbike taxi. The road to the village is a winding mountain road, so it is recommended that you travel by taxi or motorbike taxi.
Taxi
Taxi cost: 100,000 - 150,000 VND / 4-seater car ($4.32 - 6.5).
Some taxis in Sapa:
- Mai Linh Taxi: 02143767676
- 24 hour Taxi: 02143789789
- Friendship Taxi: 0214383483448
- Hung Vuong Taxi: 02143789789
Travel by motorbike to Ta Van village Vietnam
Motorbike rental fee is about 120,000 - 150,000 VND / day ($5.17 - 6.5). Some motorbike rental shops in Sapa:
Hoc Ly motorbike rental:
- No.08, Hoang Lien Son street, Sapa town
- Phone: 09151 90 874.
Tam Tran Sapa motorbike rental:
- No.10, Hoang Lien Son street, Sapa town
- Phone: 0974 47 37 40.
Mr. Chinh motorbike rental:
- No.44, Fansipan street, Sapa town
- Phone: 0988 628 515
Motorbike taxi
You can easily rent a motorbike taxi in the center of Sapa town from places such as Sapa Stone Church, Sapa town center bus station. Remember to ask for the price and bargain a bit.
II - Ta Van village Sapa highlights
Ticket price: 75,000 VND/ person ($3.23). Tickets are sold at the red iron bridge leading to the village. After buying tickets, you follow the roads to explore every corner of the village. Due to narrow winding roads which are usually slippery in the rainy season, the most appropriate way to discover the village is going on foot.
The rustic houses in the village which are located on the hillside and some among the vast paddy fields are usually surrounded by fog every morning, which creates an extremely poetic and romantic scene.
1 - Gia Dinh Museum in Ta Van village Sapa Vietnam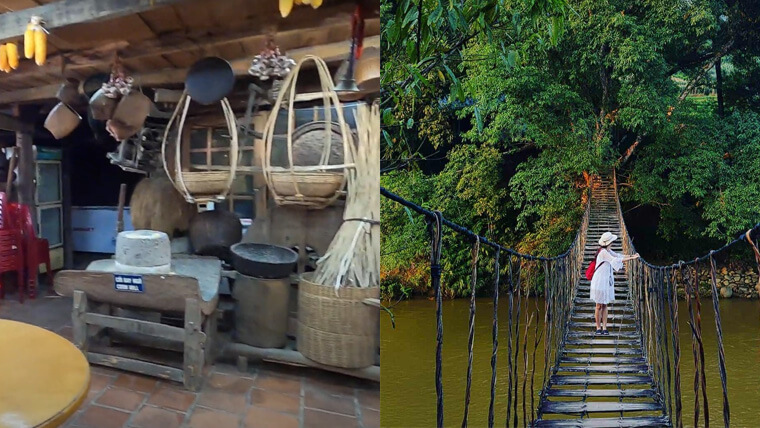 Gia Dinh museum and Cloud Bridge - Source: Internet
The museum of Gia Dinh, located in the center of the village, displays multiple artifacts of the ethnic groups living here such as clothes, farming tools, spinning tools... In the backyard of the museum is a Ha Meo restaurant that specializes in serving drinks (coffee, juice,...) and local dishes (grilled chicken, grilled pork, stir-fried vegetables,...).
- Museum ticket price: 10,000 VND / person ($0.43)
2 - Cloud Bridge
Behind the Family Museum is a clear stream with a unique Cloud Bridge or may Bridge (no entrance fee). Cloud Bridge in Ta Van Vietnam is structured from wooden planks spaced about 20cm apart, and connected by rattan ropes, one end of the bridge is fixed to an old tree.
The scenery around the bridge is both poetic and rustic, which is the combination of green trees, rivers and streams, and white clouds reflecting its images on the water surface. Going all the way to the Cloud Bridge is really a great challenge because it is quite wobbly and below is the stream flowing quite fast; however, it would be an amazing experience that you can have a sense of adventure and take incredible photos.
In the past, Cloud Bridge was the main transportation route for local people in Ta Van village, but later on, iron bridges and solid concrete bridges have gradually replaced Cloud Bridge and Cloud Bridge is now only for tourism purposes.
3 - Ancient Stone Field
Ancient Stone Field in Muong Hoa valley has an area of 8km2, about 8km southeast of Sapa town. It features nearly 200 stone blocks, which were first discovered in 1925 and then attracted by unique carved shapes, looking like the hexagrams of the I Ching, rice fields, and the sun dating back thousands of years.
Coming here, you are strongly impressed by not only green lawns and mysterious giant stone blocks which are up to 15m long and 4m high but also the vast green fields in the poetic and beautiful Muong Hoa valley.
4 - Muong Hoa Stream in Ta Van village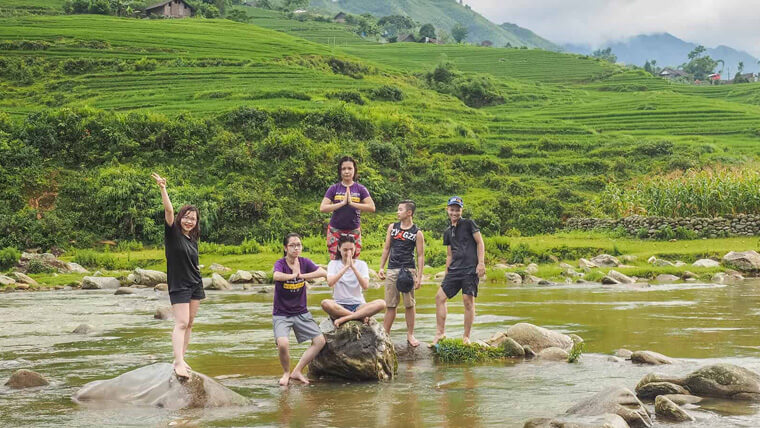 Muong Hoa stream - Source: Vntrip
Muong Hoa stream is proudly recognized as the most stunning stream in the wild and majestic Northwest of Vietnam. The famous 15km long beautiful stream flows along the Muong Hoa valley, through many villages of Sapa, including Ta Van village. It weaves around terraced fields, creating a picturesque scene for every season of ripe rice. It is also the convergence of 22 streams in different sizes, stemming from lush green forests or wild ravines, which contributes to making the stream water cool and transparent year-round.
III - Where to stay in Ta Van village?
In this village, homestay is the most popular kind of accommodation. You have the opportunity to experience life like a local. Going to the market, cooking with the host, or participating in the daily chores of the locals are great things to experience on this trip.
Let's explore some homestays with Vietnamtrips:
1 - La Dao Spa & Coffee House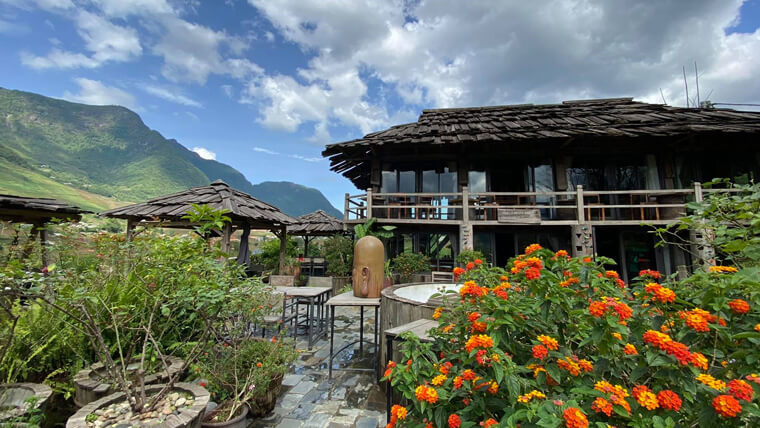 La Dao Spa & Coffee House - Source: Ladaospaandcoffeehouse
This is a combination of room service, café shop, and spa service. Rooms here are made from wood, following the local architecture. The homestay's cafe serves a variety of drinks and famous Vietnamese coffee with a view overlooking the beautiful immense rice fields. The most remarkable thing at this Ta Van village homestay is the medicinal leaf bath therapy of the local red Dzao people to help refresh the spirit.
- Phone number: 02143768888
- Website: http://www.ladaospa.com
2 - Phori's House
Located next to a very romantic stream, Phori's House has a lovely decoration with most of the house's items made from wood. Phori's House has a spacious kitchen where you can cook for yourself.
- Fanpage: https://www.facebook.com/phori.house
3 - Tavan Family Homestay - a great homestay in Ta Van village
Tavan Family Homestay offers cozy rooms with predominantly wooden interiors. Homestay offers a motorbike rental service, Sapa tour guide, Fansipan cable car ticket, and fishing.
- Room rate: 400,000 - 1,000,000 VND/ night ($17.24 - 43.1)
- Website: http://tavanfamilyhomestay.com
4 - Tavan Chopai Homestay
With a large campus, this homestay is a great place for small gatherings or outdoor BBQ parties. It also offers a freecycle for guests to explore the surroundings.
- Room rate: $18 - 25/ night
- Fanpage: https://www.facebook.com/Tavanchopaihomestay
IV - Ta Van village map
Ta Van village Sapa Vietnam is a very worthwhile place to visit. Staying at a homestay, enjoying local foods, and learning about the lifestyle & culture of the local ethnic people are the best things to do when coming here.