Built-in 2003, Topas Ecolodge Sapa was built based on the dream of travelers who love hiking and exploring – the desire to have a mountain resort with basic amenities that is close to nature and the local ethnic minorities. Therefore, you will not find modern entertainment facilities such as TV or wifi here, helping you to immerse yourself in nature. In particular, Topas Ecolodge Vietnam also tries to minimize single-use plastic waste, by encouraging people to bring their own toothbrushes and toiletries.
I - How to get to Topas Ecolodge Sapa?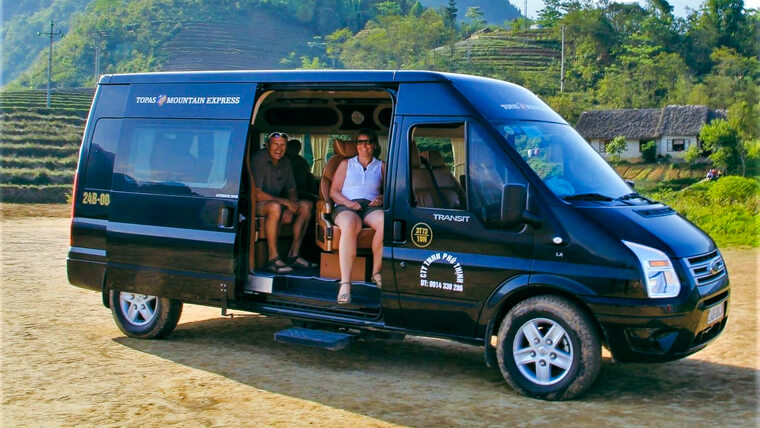 Topas Mountain Express - Source: @topasecolodge
About 18km from Sapa Town Center & 320km from Hanoi, Topas Ecolodge Resort is located in the territory of Hoang Lien National Park, Lech Dao Village, Thanh Binh Commune, Sapa Town, Lao Cai Province. The road is still quite arduous so you should only choose to go by personal vehicle if you really have experience and good health. Meanwhile, the simplest and most convenient way is to use Topas Ecolodge's transfer service with many options depending on your plan, including budget and schedule.
Shuttle bus from Hanoi Capital to Topas Ecolodge Sapa
The bus has 8 comfortable and luxurious seats, equipped with separate lights, providing you with drinking water and snacks. The trip lasts about 5 hours, you can stretch your legs and go to the toilet at the stop after about half the travel time (2.5 hours).
Daily departure:
- From Hanoi (the districts of Hoan Kiem & Tay Ho ): 6:30am - 7am
- From Noi Bai International Airport: 7:30am - 8pm
- Leaving Topas Ecolodge: 2:30pm
Seat price: 550,000 - 700,000 VND / seat ($23.7 - 30)
If you want more freedom about where and when to go, Topas Ecolodge also offers private car service from Hanoi to Sapa, including snacks like muffins and fruit.
Shuttle bus from Sapa Town
There are several daily shuttle buses to Topas Ecolodge Sapa, but you must book the service along with your stay due to fixed departure times and limited seats. Completely free for all guests staying at the resort, a bus ride takes about 45 minutes, departing from No.15 Le Van Tam Street in the center of Sapa Town, with departure time:
- From Sapa to Topas Ecolodge Resort: 10am & 1:15pm
- From Topas Ecolodge to Sapa: 9am, 12pm & 3:30pm
II - The special Topas Ecolodge Sapa room system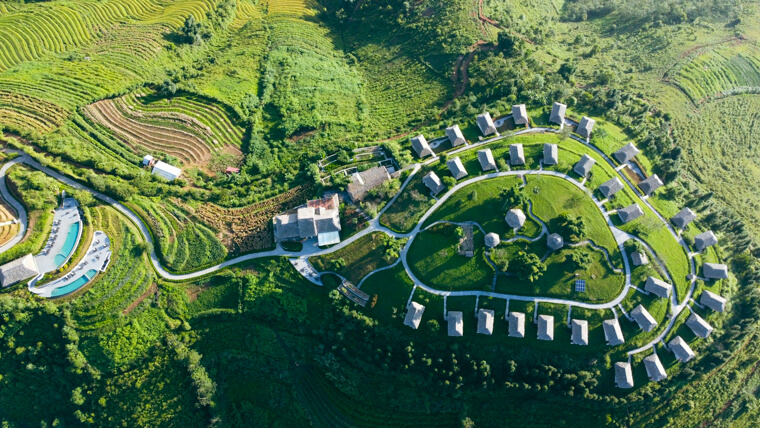 Source: @topasecolodge
Topas Ecolodge Vietnam represents its class in the magnificent landscape and a unique combination of two seemingly opposite schools: Nordic ecological spirit and Vietnamese design style. The rooms here are furnished with simple, refined, and elaborate interior decoration in every detail, highly functional yet cozy with minimal Danish elements. Staying at Topas Ecolodge Sapa, you can easily see neutral colors, natural light, sleek modern furniture with gentle lines and subtle curves, warm-toned wood details, green plants, and applicable items. Combining the above factors into common Vietnamese materials, you will feel the "luxury" and richness meticulously put into every detail, while still being friendly to nature.
Currently, Topas Ecolodge Sapa has a total of 41 bungalows, all made from white granite taken from Hoang Lien Mountain and cut by the hands of the most skillful craftsmen in Ninh Binh. All rooms are arranged with 1 double bed or 2 single beds, and a private balcony in the bedroom from which you can enjoy the magnificent view of the mountains. You can choose between 4 types of bungalow rooms to suit your budget and requirements:
1 - Premium Executive Bungalow
Located at the end of the resort, this is the original room type of Topas Ecolodge Sapa, with an area of ​​28.5m2 including 1 bedroom and 1 bathroom with amenities, fitting for 3 adults or 2 adults and 1 child under 12 years old. Each bungalow exudes rustic beauty from solid stone walls and is equipped with heating, two-way air conditioning, refrigerator, safe and toiletries, premium warm blankets,...
Room rate: $204 - 548 / room / night
2 - Suite Bungalow in Topas Ecolodge Sapa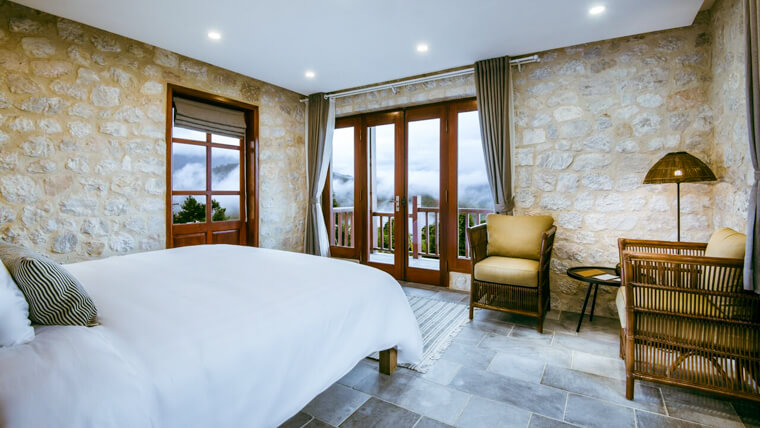 Source: @topasecolodge
Spacious yet cozy, each of these two-story chalet-style rooms of Topas Ecolodge Resort Sapa has a total area of ​​56m2 with a maximum capacity of 3 adults, or 2 adults and 2 children under 12 years old. Each Suite Bungalow includes 1 living room, 1 bathroom and 1 bedroom with separate toilet, as well as other amenities such as 2-way air-conditioner, humidifier, and coffee machine. Right from the private balcony, you can enjoy the stunning picture of nature with a panoramic view of the towering mountains interwoven with luxuriant pine forests and terraced rice fields. From this type of Topas Ecolodge Sapa room, you have access to a Premium Executive Bungalow through a private garden, furnished with outdoor furniture, perfect for groups like family or friends.
Room rate: $290 - 638 / room / night
3 - Deluxe Suite Bungalow
Deluxe Suite Bungalow, possessing modern environmentally friendly equipment is the newest room class of Topas Ecolodge in Sapa Vietnam, consisting of 2 floors with a total area of 60m2 with the same capacity as Suite Bungalow, decorated in an elegant Nordic style. Located near the infinity pool, the bungalow offers impressive views overlooking the rolling green mountains and valleys hidden in the clouds.
Room rate: $330 - 688 / room / night
4 - Pool Villa in Topas Ecolodge Sapa
Expected to launch in summer 2022 in Topas Resort, this is the first eco-villa with a swimming pool. With a total area of 87m2, Pool Villa has the same standards as other bungalows, as well as its own hot tub, bringing a whole new experience here. Located next to the peaceful village road connecting to Lech Village, the Pool Villas are separate from the rest of the resort, providing maximum privacy and tranquility. It is the perfect "luxury" eco-resort, especially for couples on occasions like honeymoons, anniversaries, birthdays or other special days.
Room rate: $452 - 565 / room / night
III - Other services in Topas Ecolodge Sapa
1 - Infinity pool in Topas Ecolodge Resort Sapa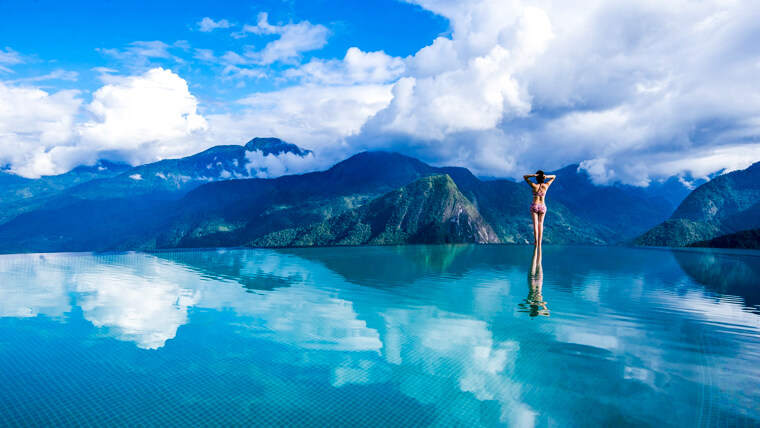 Source: @topasecolodge
Newly put into operation in mid-2017, the infinity saltwater pool is the most impressive highlight of Topas Lodge Sapa. Considered one of the most beautiful infinity pools in Vietnam, it is designed in the middle of the hill, including upper and lower pools connected by a staircase, surrounded by terraced fields and mountains. The upper pool has a dedicated area for children with a depth of about 70cm and an adult pool with a depth of about 1.4m - 1.68m. If you are not a guest, you can still use the pool from 10am to 4pm and must buy a "Day Pass" tour, which is sold at the Topas Ecolodge Sapa office for 500,000 VND / adult ($22.08) and 250,000 VND / child ($11.04).
2 - Topas Ecolodge Spa
For the ultimate in relaxation, the Rice Spa in the resort offers comprehensive and detailed care services. Besides massage, Rice Spa also offers a herbal bath service, made with a range of local medicinal herbs carefully selected by the Red Dao people, lifting your spirits after a tiring day of exploring. Remember to reserve the service at the front desk and arrive on time (10 minutes in advance). Your treatment time will be limited if you arrive late.
Opening hours: 10am - 8pm
3 - Culinary experience at Topas Ecolodge Sapa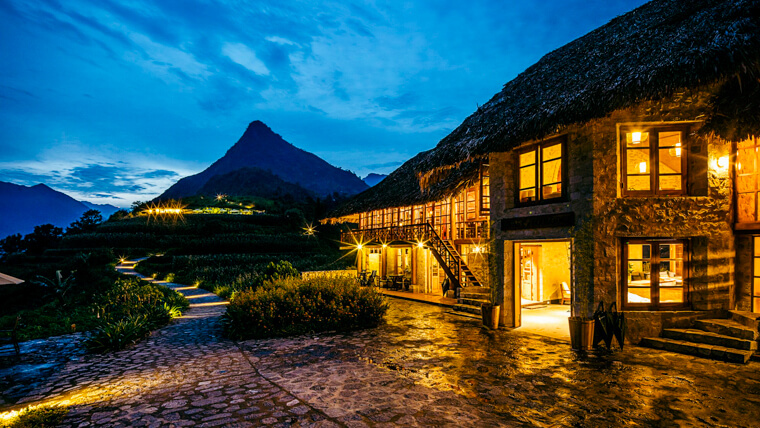 Source: @topasecolodge
Based on the principles of sustainable development and environmental friendliness, Topas Ecolodge Resort has built a clean food supply chain with premium imported ingredients such as meat and cheese. In addition, there are local products including seasonal ingredients along with rice, vegetables, poultry, fish,… and fruits harvested in the surrounding villages or in the resort's own organic garden. The Danish chef at Topas Ecolodge Sapa is constantly communicating and working closely with the local team to bring you awe-inspiring culinary experiences at this remote mountain top resort. You will also be served wine and cocktails, or bring your favorite wine to enjoy, but no other food or drink is allowed.
The Stilt House Restaurant
Located in the heart of Topas Resort, this restaurant is where most of your meals are served, featuring a romantic outdoor terrace and a small patio where you can enjoy coffee or Vietnamese tea. The menu here is a desirable combination of European cuisine with Vietnamese influences, reflected in the taste and variety of dishes, including special diets.
- Mountain style buffet breakfast: 7am - 10am
- Lunch: 11am - 9pm
Pavilion Barbeque in Topas Ecolodge Sapa
This barbecue restaurant features an open-air outdoor space in one of two hilltop gazebos, surrounded by unspoiled natural landscapes, giving you the chance to enjoy dinner under a starry sky. Seating is limited so you should make a reservation at the front desk as soon as you arrive at Topas Ecolodge Resort, but only if the weather permits, with no rain or high winds. The enticing menu here includes delicious BBQ dishes all grilled over an open-air stove or charcoal grill, along with seasonal delicacies and local specialties. Pavilion Barbeque in Topas Ecolodge Sapa also does not use any chemicals to kill insects, so you should remember to use insect repellent (eco-friendly) or/and wear long clothes to avoid mosquito bites.
Topas Ecolodge Lounge
Also located in the main building, this cozy area is next to the reception and directly below The Stilt House restaurant in the campus of Topas Lodge Sapa. Equipped with high-speed Wi-Fi and a diverse cocktail bar, it is also possible for you to borrow some interesting books, board games or toys for children.
Picnic
Topas Ecolodge Sapa organizes a walking tour to explore the Nam Pa valley, with a BBQ lunch served amidst watershed streams and rice fields, prepared by a Red Dao woman. The menu is simple yet elegant, including sparkling/white wine or squeezed juice, paired with Sapa strawberries dipped in melted chocolate, or freshly baked hot cookies and fruit.
Pool Bar
Located right next to the infinity pool of Topas Ecolodge Resort Sapa, this bar serves a variety of snacks, drinks, and fruits, ranging from homemade pizzas to mountain-inspired iced teas, and the Moscow Mules - a wonderfully refreshing cocktail.
4 - Sapa discovery tour provided by Topas Ecolodge Sapa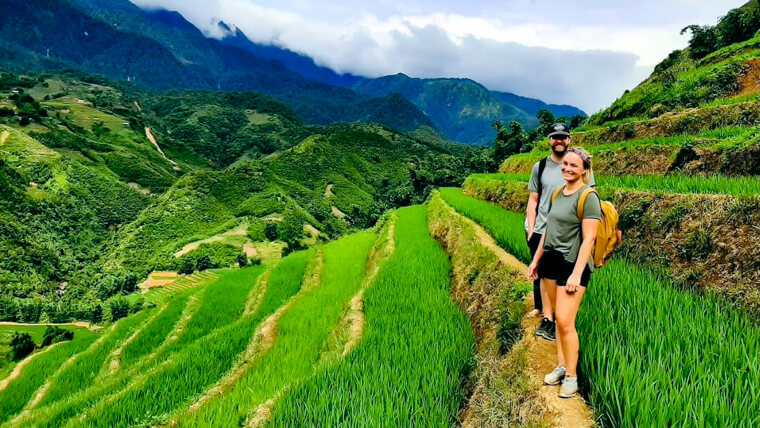 Tourists at Ta Van Village - Source: vietnamtourism.gov.vn
The advantage of location and topography of the area around Topas Ecolodge Vietnam gives you a wide choice of experiences when you come to explore Sapa, one of the most beautiful lands in Vietnam. Don't miss the opportunity to immerse yourself in the local culture when visiting ethnic villages, experiencing a day at the highland market or visiting the weaving workshops to learn more about the famous handicrafts of the Northwest. Staying at Topas Ecolodge Sapa, you can also roam in the mountains through a variety of physical activities such as hiking or mountain biking, feeling the harmony between the wild beauty of nature and the uniqueness in the culture here. Below are some package tours offered by Topas Resort Sapa that you can choose from, all with a bilingual (English and Vietnamese) local guide:
Following the trails of Red Dao people: 3 days & 2 nights;
- Day 1: 5 hours travel & 3 hours hiking to learn about the Red Dao people;
- Day 2: 2.5 hours transfer, 30 - 45 minutes visiting the village & 2 hours forest walking;
- Day 3: Freedom to experience in the premises of Topas Ecolodge Sapa;
Explore Sapa on foot: 2 days & 1 night;
- Day 1: 5 hours travel & 3 hours hiking to learn about the Red Dao people;
- Day 2: 2.5 hours transfer & 5 hours travel, 2 hours forest walking & 30 - 45 minutes visiting the village;
Hidden trails in the heart of Sapa: day tour with main activities: 7km hiking, 1.5 hours travel & 45 minutes visiting the village
Hiking through Nam Pa forest & having BBQ: day tour from Topas Ecolodge Sapa with main activities: 8km hiking, 2 hours moving & 30 minutes visiting the village
Most popular half-day and 1-day activities provided by Topas Ecolodge Resort Sapa:
- A bike lover's dream: In half a day, you will be roaming in the saddle, discovering the beautiful scenery of nature and idyllic villages within a 7km radius around the Topas Ecolodge Vietnam.
- Weaving class: This unique experience of taking part in a special class is combined with a 2-hour trekking from Lai Chau Village to Ta Van Village and vice versa. In this 1 day from Topas Ecolodge Sapa, you will be introduced to hemp fiber production, traditional dyeing techniques, the art of batik weaving and folk painting, all by Black H'mong artisans in Lao Chai Village.
- Taking pictures with the Red Dao people tour by Topas Ecolodge Vietnam: Joining the photography experience tour, you will walk to Lech village located on a mountain in Thanh Kim Commune - the residence of the Red Dao people. This is the place where you can freely admire the impressive scenery of the terraced fields and capture the stunning villages like a realistic painting.
- Unique weekend market tour by Topas Ecolodge Sapa: Every Sunday, people from ethnic groups such as H'Mong, Phu La, Dao Den, Tay and Nung eagerly gather at Bac Ha Market to exchange goods, livestock, fabrics and other local products. Visiting this weekend market with the largest scale in the Northwest of Vietnam, you will be mesmerized by the cheerful atmosphere and colorful space.
- On top of the world: This tour by Topas Ecolodge Sapa is an opportunity to conquer the roof of Indochina - the 3,143-meter-high Fansipan peak - with the tallest cable car in Asia, while admiring the beauty of Muong Hoa Valley from above.
With the aim of providing a pristine, minimalist lifestyle experience with modern equipment, Topas Ecolodge Resort Sapa was born with unique and different standards from ordinary hotels or resorts. Staying here during your visit to Sapa, you will have the opportunity to admire and live close to the breathtaking natural scenery, as well as explore the villages and ethnic minorities here. As one of the best resorts in Vietnam today, Topas Ecolodge Sapa Vietnam offers a perfect space with high-class services while still preserving the surrounding environment and local culture.