Along with the beauty of nature and people, Sapa also captivates tourists with its unique culinary style from ingredients to cooking. The foods in Sapa are typical for Northwest mountainous cuisine in Vietnam, some specialties can be mentioned such as mountainous chicken, local stew horse meat in a big pot (Thang Co), natural-raised pig pork, grilled dishes, local vegetables, bamboo-tube rice... Here is a list of the top 10 best restaurants in Sapa, which are recommended based on prime location, menu, price and good reviews.
1 - Sapa Sky View Restaurant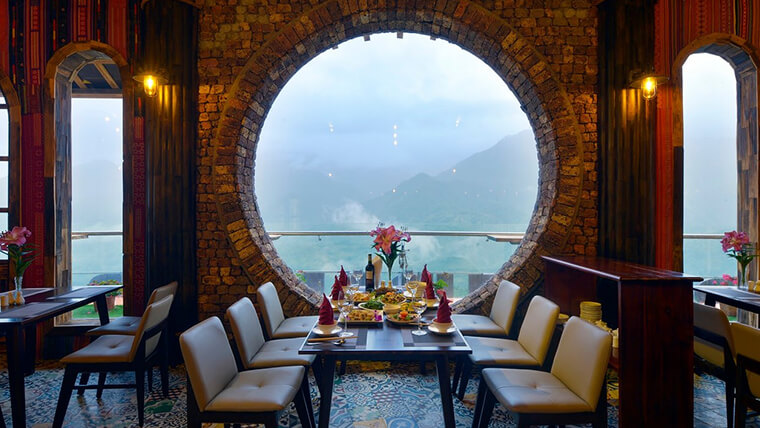 Source: Tripadvisor
The restaurant is located on the 7th floor of Chau Long Hotel - the hotel is located in the heart of Sapa town and has an amazing view overlooking Muong Hoa valley and Fansipan Mount. The restaurant space is bold in the architectural style of indigenous people, with decorative details of brocade motifs. The yellow light inside brings a cozy atmosphere to guests.
This is one of the most impressive restaurants in Sapa which serves specialties of Sapa and European dishes. The finest fresh ingredients such as salmon, wild boar, horse, beef, and vegetables are carefully selected to make grilled meat, steamed pork, bacon, salmon salad, stew horse meat, fried salted chicken, and steamed horse's meat,... European dishes include pumpkin soup, tuna salad, grilled lamb chops,...
Address: No.24 Dong Loi Street, Sapa town
Price:
- Vegetables - Salad: 50,000-120,000 VND (~ $2.2 - 5.2) / plate
- Hot pot: 800,000-1,200,000 VND (~ $34.5 - 51.7) / pot
- Other dishes: 200,000-690,000 VND (~ $8.6 - 29.7) / serving
Opening hours: 8am - 10pm
Phone number: 0813241768
2 - Little Sapa Restaurant
Little Sapa is a small restaurant with a simple design but good service quality and super delicious food. The restaurant serves both the best local Sapa food, Vietnamese dishes and European dishes. The signature dishes are mushroom soup, and chicken noodle soup.
Location: No.5 Dong Loi Street, Sapa town
Prices: 50,000 - 300,000 VND / dish (~ $2.1 - 12.93)
Opening hours: 6:00 - 15:00 and 17:00 - 22:00
Phone number: 038 806 3526
3 - Aira Sapa Restaurant & Bar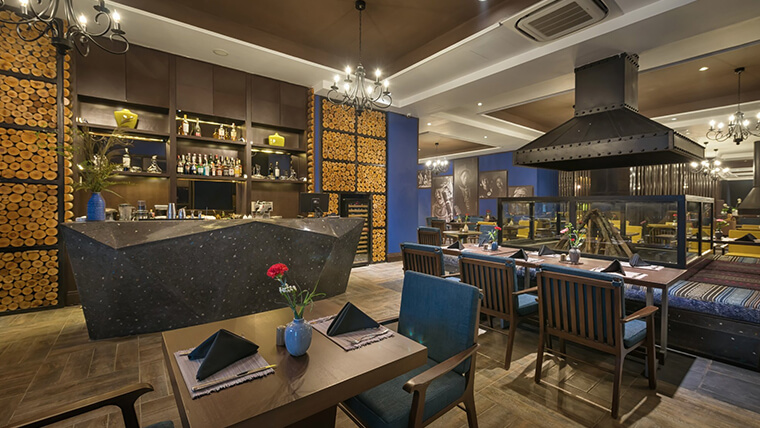 Source: Tripadvisor
Located on the ground floor of the Aria Boutique Sapa Hotel & Spa, this restaurant has a luxurious and modern design. The restaurant highlights are the two large traditional wood-burning fireplaces and an impromptu table and chair arrangement. The restaurant offers stunning views of the green mountain and the majestic valley.
The restaurant's menu consists of Vietnamese local & vegetarian and European food. The most popular dishes are roast chicken, duck breast with passion fruit sauce.
Location: No.30 Hoang Lien Son Street, Sapa town
Food price: 100,000 - 500,000 VND / dish (~ $4.3 - 21.2)
Opening hours: 6:30 - 22:00
Phone number: +84 214 377 2268
4 - Anise Sapa Restaurant
Anise Restaurant is spacious and plush with the decoration of marble walls and a harmonious combination of ancient and modern styles. The restaurant's 3 signature dishes include black chicken hotpot, pumpkin soup, crispy pork knuckle. Other famous dishes are sturgeon hot pot, bread with bacon, vegetable hot pot,...
Location: No.21 Xuan Vien Street, Sapa town
Food prices: 60,000 - 650,000 VND / dish (~ $2.58 - 28.01)
Opening hours: 9:00 - 22:30
Phone number: + 84-214 3873 579
5 - Chicago Pizza Sapa - best pizza in Sapa
Chicago Pizza Sapa restaurant is designed in European architectural style with wooden tables and chairs and other typical architecture creating an old European pub. This place is famous for its pizza and hamburgers, pasta, seafood hot pot, sushi and the local dishes such as fried rice, pho soup, rice cooked in bamboo tubes ..
Location: No.8A Thac Bac, Sapa town
Food prices: 150,000 - 200,000 VND (~ $6.47-8.62) / serving.
Opening hours: 12h00 - 00h00
Phone number: 0353 163 719
6 - Nature View Restaurant Sapa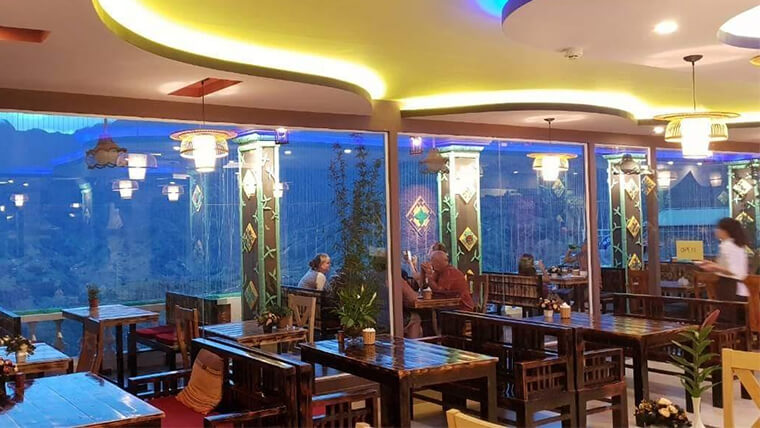 Source: Tripadvisor
Nature View Restaurant in Sapa offers guests a full view to Fansipan peak and Muong Hoa valley. The restaurant space is a harmonious combination of luxurious and simple décor in the main concept of mountains and forests combining local architectural style with wine jars, wine making equipment, fireplaces. Having many dining areas including a banquet area, private rooms, family dining rooms to meet guests's demands
A diverse menu including European dishes such as soup, grilled salmon, and pizza, and Vietnamese traditional dishes such as tofu, fried rice, steamed chicken with lemon leaves, and spring rolls are all available at these Sapa restaurants.
Location: at 1st floor of Sapa Nature View Hotel, No.61 Fansipan Street, Sapa Town
Food prices: 150,000 VND (~ $6.47) / dish
Opening hours: 7:00 - 22:00
Phone number: 091 544 97 07
7 - 1991 French Bistro
This restaurant is designed simply with a main blue tone and has a harmonious combination between romantic French architecture and indigenous cultural details such as brocade pillows, decorative paintings, and stone walls. 1991 French Bistro is one of the best restaurants in Sapa opened and served in the bistro style. Guests can enjoy good food and admire the romantic misty town and the pristine white plum blossoms scenery through a large glass door. The menu at 1991 France Bistro is also relatively diverse with both European and Asian dishes, in which the most favorite dishes are pizza, hamburgers, pasta, salmon hot pot, and sturgeon hot pot.
Location: 1991 Sapa Hotel 1st floor, at No.35 Xuan Vien Street, Sapa town
Food prices: 40,000-200,000 VND (~ $1.72-8.62) / dish
Opening hours: 7:00 - 23:00
Phone number: 0378 444 968/ 02146 511 555
8 - Hoa Tam Restaurant - vegetarian restaurant Sapa
Hoa Tam Restaurant specializes in serving Vietnamese vegetarian food in Sapa town, a small but cozy space designed in accordance with the style of indigenous people houses with such materials as wooden truss, leaf roof, wooden furniture, and ancient patterns in a stone background.
Location: Sapa old market, Sapa town
Food prices: 30,000-50,000 VND (~ $1.29-2.16) / dish
Opening hours: 6:00 - 22:00
Phone number: 034 454 1551
9 - Namaste Omar's Indian Restaurant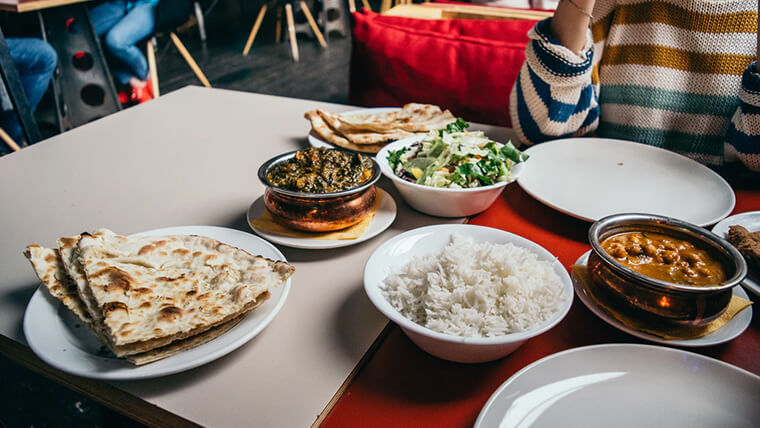 Source: Pille R. Priske
The restaurant specializes in Indian cuisine which belongs to a famous Italian food chain in Vietnam. The signature dishes in this Sapa restaurant are Pakoras fish, Masala Poppadom, Lamb Samosa and Rara Mutton lamb .
The main courses dishes: Mulligatawny Soup, Tikka Chicken, Hariyali Tikka
Vegetarian dishes: Shahi Paneer, Dal Takada
Seafood dishes: Vindaloo, Masala shrimp
Other recommended dishes: Biryani Vegetable dishes, Biryani egg, Degree Keema Naan - Indian bread
Desserts: Gulab Jamun, Masala Raita, …
Location: No.3 Thac Bac, Sapa town
Food prices: 230,000 - 465,000 VND / person (~ $9.9 - 20)
Opening hours: 10:00 - 22:30
Phone number: (+84) 2143889279
10 - 24 Restaurant in Sapa
Restaurant 24 Restaurant is a Vietnamese cuisine restaurant that has a small but pretty cozy space. The most famous dishes at this restaurant are beef noodle soup, grilled fish, creamy salmon, fried rice, grilled duck, mixed hot pot, salmon hotpot, and steamed fish mackerel hotpot.
Location: No.24 Fansipan, Sapa town
Food prices: 30,000 - 150,000 VND /dish (~ $1.3 - 6.5)
Opening hours: 9:00 - 23:00
Phone number: +84 91 542 22 68
This is the list of the top 10 best restaurants in Sapa Vietnam with diverse menus and good locations in Sapa town. You should not miss enjoying local food made by local people if you stay at a homestay. This will make your experience much more interesting in your journey to Sapa - a famous Vietnam northwestern region.