Nestled at the foot of the Hoang Lien Son mountain range, Ta Phin village in Sapa is famous for its wild and idyllic beauty with stunning majestic rice terraces and simple stilt houses. The lifestyle of the locals is still very safe and sound, surrounding handicrafts and manual work. Just a short walk can give you the chance to meet grandmothers and mothers sitting and weaving colorful brocade. The brocade of Ta Phin villagers is so well-known that it is exported abroad.
I - Where is Ta Phin village in Sapa?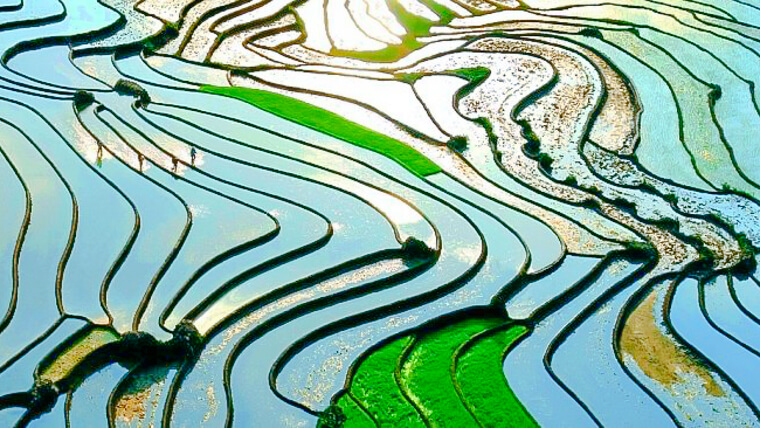 Source: otrip
The small village of Ta Phin is located in Ta Phin commune, about 12km from Sapa town to the Northeast. The road leading to the village is a mountainous road that is quite steep. Because of a stone exploitation site nearby, there are several big trucks getting in and out, resulting in roads of great dirt. It costs you no fee to enter the village. However, you are advised to have a person as a guide who can introduce you to interesting corners and support you in communicating with the locals.
When you visit Ta Phin village Sapa Vietnam, there is a high likelihood that you come across some groups of native women and children (some but not all) inviting you to buy souvenirs and brocade at a price of 20,000 VND ($0.9)/item. This can be seen as a downside of Sapa tourism in general and tourism of Ta Phin Sapa in particular. If you find this action annoying, you can buy a tiny one or refuse in a polite way.
II - Bathing with medicinal herbs of the Red Dzao people in Ta Phin village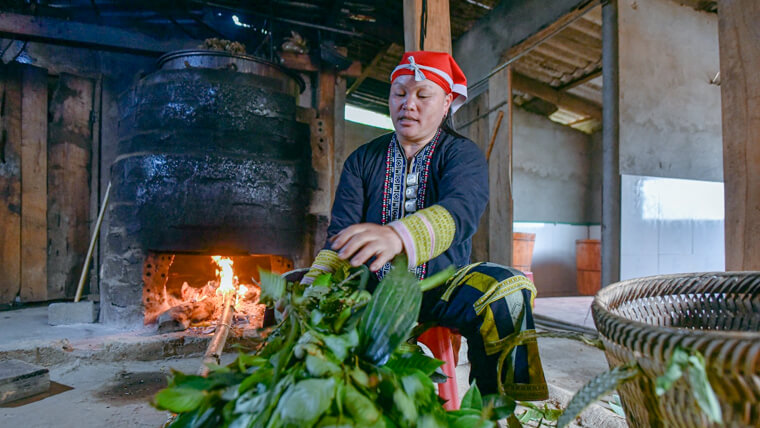 Medical herbs of Dzao people - Source: dantri
In addition to admiring the brocade products, visitors can also easily see the Dao girls wearing rattan baskets filled with leaves or the porches of the ethnic people drying with leaves. The Red Dao people have a very long tradition of bathing with herbs regularly, especially at the end of the year and the end of the month. The meaning is to wash away all the bad luck of the old year, to help the body feel refreshed and healthy to welcome the new year.
In Ta Phin village, the herbs are picked directly in the forest, washed, dried, and contained in big bags in dry and clean places such as the attics. When bathing, the Dao people take some and boil them with warm water, and then pour them into the bath. This liquid is good for both foot baths and steam baths. To get a quality bath, the Red Dao people use 120 different types of herbs at most and more than 10 types at least.
Note that the price for a bath in Ta Phin village Vietnam fluctuates from 80,000 VND ($3.4) - 120,000 VND ($5.2)/time. Don't try when you are either hungry or full. Never bathe with medicine when you are drunk. It is not recommended for pregnants, either. 15 - 30 minutes is an ideal time to soak in the water to avoid getting too drugged. After finishing, you only must dry your body with a tower without soaking it with pure water once more.
III - Top 6 tourist destinations in Ta Phin village
1 - Ta Phin Cave
Ta Phin cave, also Ti O Cam cave, belongs to a branch of the Hoang Lien Son mountain range. The cave entrance is about 5m high, and about 3m wide. Keep going about 30m more, you will realize that the cave is divided into several paths which are only large enough for one person to pass through. These paths lead to a diversity of directions, some are roundabout but turn out to come back to the start.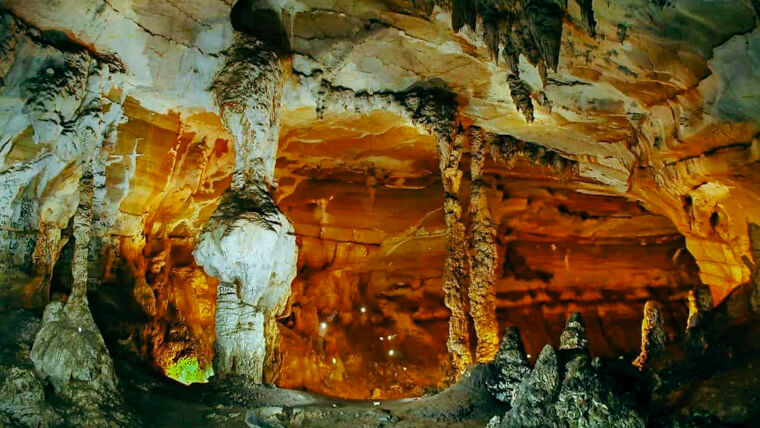 Ta Phin cave - one of top attractions in Ta Phin village - Source: justfly
Trekking inside Ta Phin cave is not an easy task because the surface is up and down without any rules. You have to hold tight and hang to the cliffs to move forward at some points. The largest area in the cave is about 8m high; the stalactites here hang down, knit into a series of winding, jade-colored "lace". Inside the cave, there is a large stone that features the footprints of chickens and horses. The opposite cliff has some French words carved by hard things, which can be clearly seen even though it is covered by a layer of time dirt.
The cave lies at the end of Ta Phin village, paved the way by a bamboo forest. Because the cave has not been invested for tourism so much that it looks so wild; therefore it is necessary to hire a flashlight of the native (20,000 VND ($0.9)/light). Besides, the electric light system in the cave is managed by a group of local folks who sit right at the cave entrance. When you enter the cave, they turn on the light for you and charge you once coming back (30,000 VND ~ $0.3).
2 - Terraced fields in Ta Phin village
Like residents in many other villages in Sapa, Ta Phin residents cultivate on terraced fields. The terraced fields in Ta Phin are not as sparkling as those in Muong Hoa valley but beautiful enough to catch your breath. Curved terraced fields spread out in front of your eyes like strips of silk. The scenery is the most spectacular when it comes to the pouring-water season (April to May) and harvest time (September to October).
Visiting Ta Phin village Vietnam in the pouring-water season, you will have a chance to observe layers and layers of terraced fields clustered together like silver streams. The water reflects banks of clouds drifting in the blue sky. In the harvest, the whole picture is put on a golden coat dotted with a couple of small white waters. The yellow brings happiness to the landscape and the villagers as well which is manifested in the hectic and enthusiastic working atmosphere.
3 - Ta Phin Ancient Monastery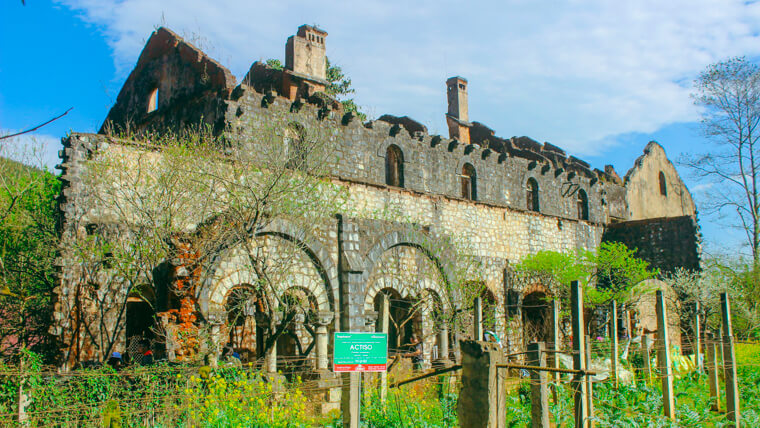 Ta Phin Monastery - Source: mia
Built in 1942, Ta Phin Monastery used to be the residence of Christ nuns for many years before they proceeded to Hanoi in 1945 due to the unstable security situation in Sapa. Since then, the monastery in Ta Phin village has been abandoned as ruins and is now in serious disrepair, but because it was built with solid laterite, the walls and pillars still exist up until now.
The reason why Ta Phin Monastery attracts many young people flocking to take photos is that it evokes a feeling of nostalgia with its old mossy walls that go with the years. The feeling of taking photos at Ta Phin Monastery is like taking pictures in an ancient building in the West.
4 - Ta Phin Stone Garden Ecological - top 6 attractions in Ta Phin village
With a total investment of about 15 billion VND ($0.65 million), the entire 12 thousand square meters of the garden was designed and renovated without breaking the existing natural landscape structure. Interspersing with million-year-old stone throughout the garden are cool green vegetable beds that are planted to serve the needs of on-site accommodation of visitors.
In the stone garden in Ta Phin village, there are cool underground water springs cracked from the rock holes that are also renovated by the owner into a small stream, both providing irrigation water for the system of vegetable gardens, flowers (ancient roses, dahlias, and hydrangeas) and ornamental plants around the garden, and for raising cold water fishes such as salmon, sturgeon, flower fish...
If you want to stay in Ta Phin village, you can consider the homestay system in Ta Phin Stone Garden Ecological Area, which is also built and invested with clean and elegant furniture. Bar, food processing area, and restaurant, the exhibition where household items of the indigenous people are displayed, or the famous medicinal herb bathing area of ​​the Red Dao people, are also designed in a large and methodical manner, but still retain the identity of the indigenous people.
5 - Ta Phin Community House
Ta Phin Community House was built with unique architecture and outstanding red paint in the middle of majestic mountains, becoming an ideal common place for residents of Ta Phin village Vietnam and visitors. The design of Ta Phin Community House is inspired by the traditional red scarf of the Dao women in the village of Ta Phin Sapa. The house is constructed with eco-friendly materials such as stone, unburnt bricks, recycled wood, and pine hemp, applied with a series of green and energy-saving architectural solutions. This is a space to display traditional handicraft products, as well as a small library, an information station, a place for training and promotion, and a medicinal plant conservation garden.
6 - Artika - Valley of Arts & Resort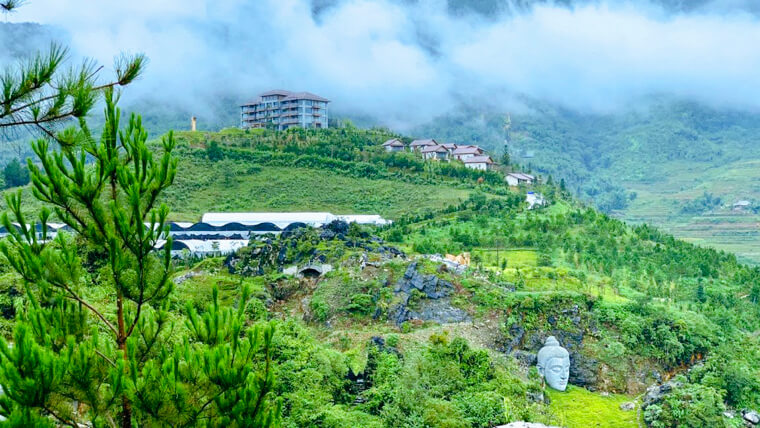 Artika - Valley of Arts & Resort - Source: annambooking
Artika – Valley of Arts & Resort in Ta Phin village is a high-class resort, an art gallery, and a large-scale ecotourism area, with many top-notch artworks that bring us many new experiences. Located independently in the village of Ta Phin, far from the crowded Sapa town center, Artika resort maintains a pleasant atmosphere: fresh, quiet with natural scenery that is not interfered with too much by human hands and guarantees providing customers with a true service (dedication, artistic quality, and culture) in a peaceful natural setting.
IV - Top-rated places to stay in Ta Phin village Vietnam
With a place with secluded and natural scenery like Ta Phin, a homestay is the best retreat you should opt for. Currently, there are 40 homestays scattered throughout this small village. Some of the names that Vietnamtrips expect to be suitable for you guys are:
1 - Ta Phin Lodge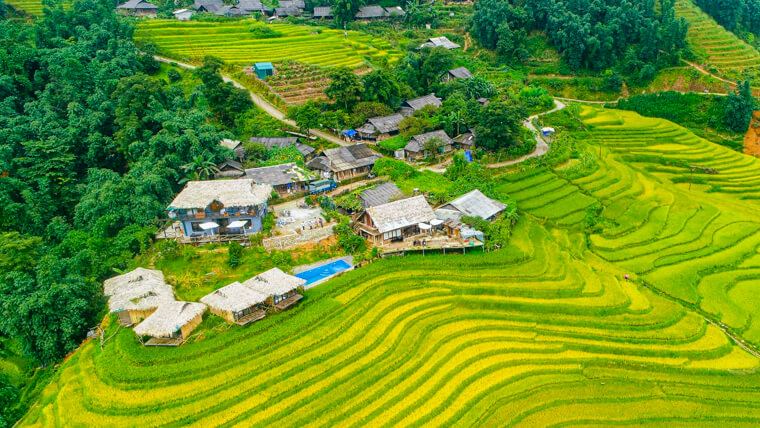 Ta Phin Lodge - Source: @taphinlodge
With a typical thatched roof of villages in the Northeast area of Vietnam, and modern materials such as glass doors and windows, rooms at Ta Phin Lodge bring both comfort and interesting experience to customers. The yellow theme color of this homestay in Ta Phin village makes the whole space warmer. From the window of your rooms, you can catch sight of picturesque rice terraces, which is a big bonus point.
- Address: Group 8, Ta Phin commune, Sa Pa town
- Contact: 093 639 19 33
- Room rate: 290,000 VND/night ($12.5)
2 - Ta Phin Cottage
Ta Phin Cottage follows modern design but still well mingles with the peaceful and rustic surroundings. As a cottage, the inferior of this accommodation is all paneled with timbers from floor to ceiling. The majority of amenities are wooden, mixed with brocade in a delicate way. The location is a strength of this homestay. From here, you can admire the most stunning pictures of Ta Phin village: rolling mountains wrapped with clouds, impressive terraced fields, and romantic pine forests,...
- Address: Ta Phin commune, Sapa town
- Room rate: 846,000 VND/night ($36.5)
3 - May Sin Homestay
May Sin Homestay is the house of a Dao family, therefore, it looks nothing different from other stilt houses here. By choosing it as a shelter for your trip to the village of Ta Phin Sapa, you can get to know more about the habits and schedules of an ethnic minority in Vietnam.
- Address: Ta Phin commune, Sapa town
- Contact: 0359 483 824
4 - Artika - Valley of Arts & Resort
As reviewed above, Artika is a retreat and an art gallery at the same time. This is the thing that makes it stand out from others homestays in Ta Phin village. Thanks to careful planning, each corner at this resort is a fantastic setting for your photos. Coming here, you will feel that your journey is fulfilled.
- Address: Ta Phin commune, Sapa town
- Contact: 0909818695
5 - AnhDung Homestay
Staying at AnhDung homestay is a chance for you to get to know more about the characteristics of the traditional houses in Ta Phin village. The homestay has a fence shaped by rocks, a gate, and also every part of the house such as the pillars, the chairs, the walls made of wood or bamboo. Along with a residence, this is also a restaurant with a menu filled with special dishes namely Vietnamese snake wine, grilled chicken, and grilled fish,...
- Address: Giang Tra village, Ta Phin commune, Sapa town
- Contact: 096 567 82 88
We have provided you with each and every stopover in Ta Phin village, an ideal getaway for several visitors. Hope that you have gained precious information and experience to get your travel-ready. And don't forget to follow and support us in the next writings.