Sapa - a small mountainous town in northern Vietnam, is home to plenty of spectacular landscapes and cultural activities. The top Sapa attractions you should visit are:
1 - Fansipan mountain - top 11 attractions in Sapa
Fansipan Mountain, 'The roof of Indochina', is the highest point of Hoang Lien Son mountain range at the height of 3,143m above sea level. For adventure and nature lovers, conquering Fansipan peak is an extremely worthwhile experience. The Fansipan conquering trip often takes 3-5 days. Hiking the mountain with a porter as a local guide is highly recommended. On the other hand, you can get to the peak by cable car. Cable car ticket:
- Adult: $30 / round-trip
- Child (from 1-1.5m high): $21.5 / round-trip
From Fansipan peak, you can take a panoramic view of Heaven Gate in Sapa, admire the spectacular scenery of 'City in the clouds' and explore how awe-inspiring nature can be. Mount Fansipan is absolutely one of the best places to visit in Sapa Vietnam.
2 - Local villages in Sapa
The Sapa is home to many ethnic minorities in Vietnam such as Hmong, Dzao, Tay, etc. Through many generations, the local people still retain and spread the uniquely traditional and cultural values of their ancestors. These days, along with the fast-paced development of tourism, the ethnic local villages have become extremely nice places for travelers who do love to explore the landscape, the traditional customs & culture as well as the humble but intriguing lifestyles of the locals. Some well-known villages that can't be missed out on are Cat Cat Village, Sin Chai Village, Ta Van Village, Ta Phin Village, Ta Ho Village.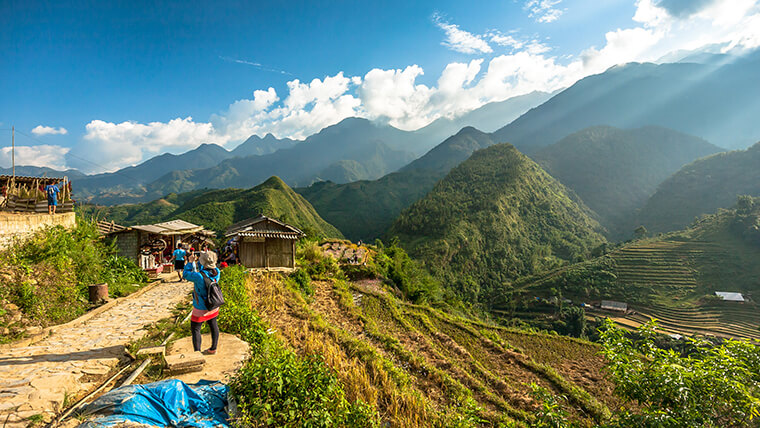 Cat Cat Village is a famous Sapa tourist attractions Source: Nicolas Ma
Cat Cat Village
The Stretch of the road from Sapa Town Center to Cat Cat Village is about 2km and it lies right below Hoang Lien Son Mountain Range. This famous village is home to the H'Mong people in Sapa. Walking around Cat Cat Village, you can admire the stunning landscapes and have a better experience of the customs of the H'Mong ethnic community.
Sin Chai Village
Located in the north of Sapa, Sin Chai Village is about 4km from the center of Sapa Town. Surrounded by breathtaking landscapes, this village is a great place for enjoying a fresh atmosphere and immersing in the beauty of sunrise and sunset.
Ta Van Village
Ta Van village is located at the bottom of the mountain of Muong Hoa Valley. To reach this attraction in Sapa, you need to cross a 10km-trail winding through a hill. However hard it can be, Ta Van will definitely treat you well with green rice terraces or the golden ripeness during the harvest time. A picture of the industrious local peasants must be an unrivaled memory for you guys.
Ta Phin village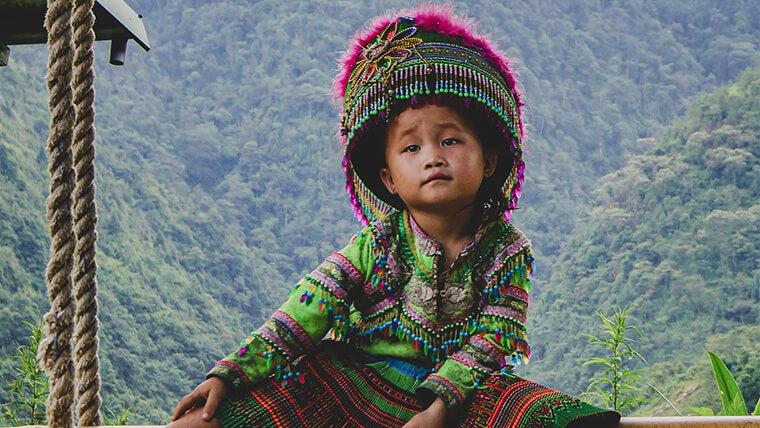 Source: Kyle Petzer
What's more, you can stand a chance to learn more about the lifestyle, tradition, and customs of the locals there. The cuisine is a highlight in Ta Phin, so don't forget to try some specialties such as hand-carried pig meat, chicken soup with bamboo shoots, and heal yourself with Red Dao herbal bathing.
Ho Village
With a distance of 30km to the southwest of Sapa town center, Ho Village is one of the most well-known attractions in Sapa Vietnam for its winding roads, majestic waterfalls, and undulating hills. This is also home to many famous beautiful homestays that are suitable for tourists to experience the life of Sapa people in the most authentic way.
3 - The charming waterfalls in Sapa
Visiting waterfalls in Sapa is an unmissable experience. Bac waterfall and Tinh waterfall should be on your top list for sure.
Silver waterfall
Located about 10km from Sapa town center, Silver Waterfall is one of the most long-standing waterfalls in Sapa. The 200m-height waterfall originates from the Muong Hoa stream. It flows fiercely toward the bottom from the top of the mountain creating a picturesque scenery with the white strips of water.
This place to visit in Sapa Vietnam can make you say wow with its majestic beauty. The water strips flow along the rocky cliff in a zigzag shape and pour into a small lake making the impressive and fresh white foam.
Ticket fee: 15,000 VND/person ($0.64)
Love waterfall
Love Waterfall is 2km from Silver Waterfall and it is named as one of the most spectacular waterfalls in Vietnam. To reach it, you need to walk along Vang Stream. Green trees on both sides and the fresh air all year round are like an ornament for the waterfall. The first impression you can get immediately is that the waterfall is like a thin, light white curtain hanging between the cliffs.
Ticket price: 70,000 VND/person ($3), including ticket fee for nearby sites such as Vang Stream, Tram Ton Pass
4 - Rice terraces - top stunning attractions in Sapa Vietnam
Visiting the terraced rice fields in harvest time (from late September to early October) is a top choice of many wanderlusters for admiring the splendor of natural scenery when dressed in a golden coat.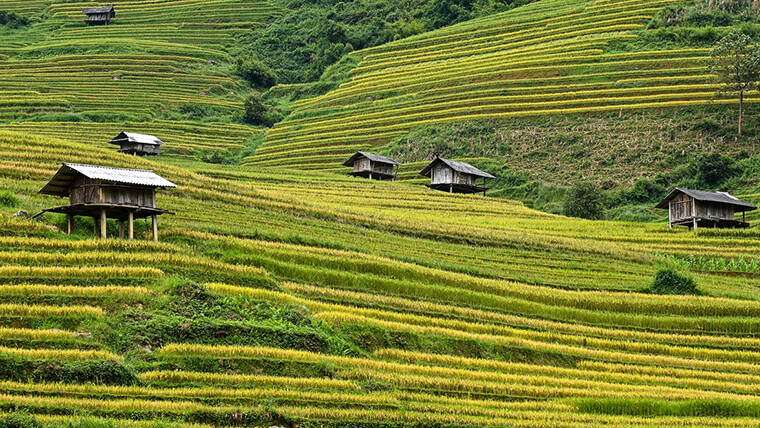 Source: VnExpress
When you walk along the rice terraces, a sense of relief will surround you thanks to the aroma of ripe rice blending into the wind. Also, the laughter of the local peasants will give you a newfound appreciation for our life. That's why for some people, such a peaceful terraced rice field is the most wonderful treasure.
5 - Tram Ton pass - Sapa attraction for adventure-holics
It takes you about 35 minutes to travel by motorbike through the distance of 17,5km along the 4D National highway from Sapa Town to Tram Ton Pass (also known as O Quy Ho pass). Travel time is about 35 - 45 minutes. Motorbike rental fee ranges from 150,000 - 200,000 VND/day ($6.46 - 8.26). Some motorbike rental shops in Sapa:
Hoc Ly motorbike rental:
- No.8 Hoang Lien Son street, Sapa town
- Contact: +84 915 190 874.
Tam Tran Sapa:
- No.10 Hoang Lien Son street, Sapa town
- Contact: +84 974 473 740
Mr. Chinh's motorbike rental:
- No.44 Fansipan street, Sapa town
- Contact: +84 988 628 515
The 4D National highway is not an easy-riding road, you are highly recommended to take a taxi for more convenience and safety to get to this attraction in Sapa.
By taxi, total travel time is about 20 minutes/ way, traveling cost is from 150,000 - 200,000 VND / way ($6.46 - 8.26). Some local taxi brands:
- Mai Linh Taxi +84 214 3 833 388
- Hung Vuong Taxi +84 214 3 855 855
- Huu Nghi Taxi +84 3 834 834
Tram Ton is one of the highest passes in Vietnam. Viewed from high above, it's like a rope tied up in the middle of the mountain by a skillful artisan. The winding roads and the unspoiled natural landscapes on both sides of the road will definitely entertain you.
6 - Muong Hoa valley - top peaceful attractions in Sapa
Located in Muong Hoa commune, Muong Hoa Valley is about 10km to the southeast of Sapa town center. To get there, you need to go across the high mountains and winding roads. But right after that, you will be amazed by the picturesque scenery. The stacked rice terraces, ancient stone fields with different shapes, or the monastic houses owned by the honest locals will leave you an indelible experience.
7 - Ham Rong mountain
As a part of the Hoang Lien Son Mountain Range, Ham Rong Mountain is about 3km from Sapa Town. This mountain was named Ham Rong because of its shape similar to the jaw of the majestic Dragon God. Located at an altitude of 1900 m above sea level, Ham Rong Mountain is one of the most ideal places to go in Sapa to admire all the magnificence that nature has bestowed on the place
8 - Sapa stone church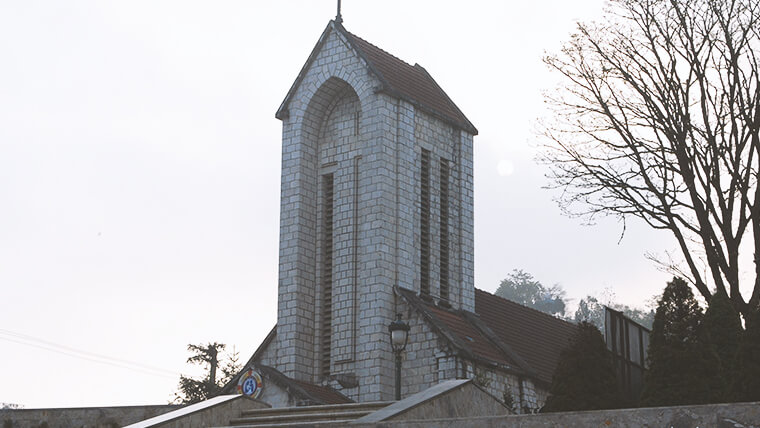 Source: Internet
Built in 1935 by a French architect, Sapa Stone Church has a total area of up to 6000 square meters located right behind Ham Rong Mountain. The design of Sapa Stone Churches is inspired by Roman Gothic style with 7 compartments, each compartment has an area of up to 500 square meters and a 20-meter-high bell tower. Behind a large yard is a chapel with 32 stained-glass windows. The whole church is built of hewn stone and linked by sand, lime and molasses. If you visit here on Saturday, you can join the love market and witness the unique traditional culture of the local people.
9 - Sapa museum
This Sapa tourist attraction is a storage of objects and artifacts of the locals through different historical periods. Until now, the museum has displayed 200 samples of documents, pictures, and lots of ancient artifacts such as pottery, carpets, wooden statues. Everything becomes more lively under the shimmering golden light. No entrance fee is required and it opens every day including Saturday and Sunday.
10 - Sapa lake
Sapa lake is one of the most well-known spots in Sapa, especially during the summer. You can take a relaxing stroll, watch the willow, and feel how fresh the air is. This is also a popular venue for organizing cultural events such as firework festivals on the occasion of the Tet Lunar New Year.
11 - Bac Ha market
This is one of the best places to visit in Sapa, Vietnam for a deep insight into local culture & daily activities of ethnic minorities in remote regions of Vietnam. Located about 115km to the south of Sapa town, Bac Ha market is one of the most famous and busiest local fair markets in Sapa where you can immerse in the brilliant colors of traditional costume, brocade woven fabric, enjoy the flavorful & tasty dishes such Thắng Cố (stewed horse meat & offals), five colors sticky rice, grilled pork and so on. The sound and vibe of smile, joy, and happiness on the face of local people can make your day.
Above is the list of the must-visit attractions in Sapa Vietnam. It is obvious that there is a wide range of places to visit in Sapa which can bring you great memories.