Ham Rong Mountain is a must-not-miss destination for tourists whenever visiting Sapa, the town of fog. Because of its shape like the jaw of a dragon, it is named Ham Rong (Ham Rong means Dragon Jaw in English). Ham Rong Sapa is the meeting point of nature, culture and human beings in the Northeast mountainous area of Vietnam. It is also one of very few mountains in Vietnam with clear and imaginable shape.
I - How to travel to Ham Rong Mountain Sapa?
1 - Location of the mountain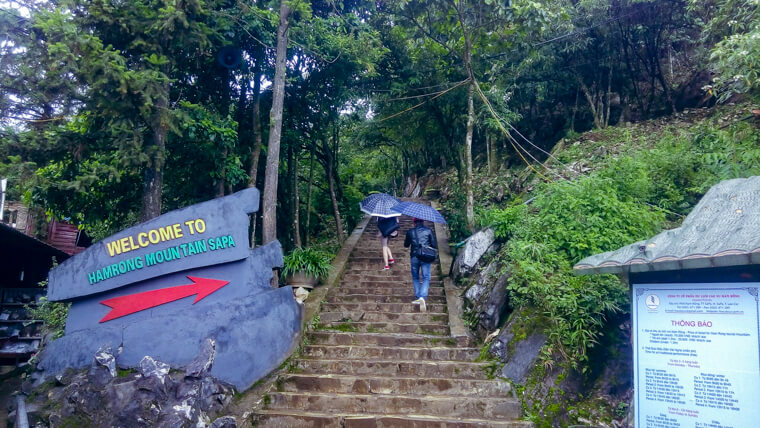 Source: loi hoanggia
Surrounded by a handful of forests and mountains, the mountain of Ham Rong is located about 3.5km away from the center of Sapa town. The mountain has an altitude of 1,450 - 1,850 m with a steep slope of 30oC. Its temperature is about 15 - 18oC on average while the annual average rainfall reaches 1,800 - 2,000mm. On the most chilling day of the year, it is possible for the occurrence of snowfall and frosts.
2 - Instruction to move to Ham Rong Mountain
With a distance of 3.5km, visitors can choose to follow one of the following means of transportation:
By motorbike
- Travel time: 10 minutes
- Rental fee: 120,000 - 150,000 VND ($5.2 - 6.5)/day
- Parking fee: 10,000 VND ($0.4)/vehicle
- Some motorbike rental address in Sapa:
+ Hoc Ly motorcycle rental - No.08 Hoang Lien Son Street, Sapa Town; contact: 0915 190 874
+ Tam Tran motorcycle rental - No.10 Hoang Lien Son Street, Sapa Town; contact: 0879 689 886
+ Mr. Co motorcycle rental - No.19 Dong Son Street, Sapa Town; contact: 098 607 35 59
The way to reach Ham Rong Mountain is located right behind Sapa Stone Church. Because its width is quite narrow with local houses on both sides, you will have to be careful if traveling by motorbike. You can park your vehicle at vendors, shops and restaurants near the greeting gate of the tourist area. The fee for parking fluctuates from 10,000 VND ($0.4) to 20,000 VND ($0.9)/motorbike. You can hire traditional costumes right at these stores, by the way.
After parking, you follow the stone steps to get to the Ham Rong Mountain ticket office. The path is relatively narrow and available for motorbike, bicycle and pedestrian, you should make a note. Once you finish buying a ticket, let's walk on the stone steps to explore the entire tourism area.
By taxi
- Travel time: 10 minutes
- Fee: 50,000 VND /4 seater car/turn ($2.2)
- Some taxis in Sapa:
+ Mai Linh taxi: 0214 3 76 76 76
+ Fansipan taxi: 0203 62 62 62
+ Hieu Hong taxi: 0214 3 820 820
On foot (trekking)
Tourists who love nature and have good health can travel in this approach. It only takes you 20 to 30 minute to reach the entrance of Ham Rong Sapa. Note that you are advised to wear sneakers and a thin coat during the trip.
II - What is in Ham Rong Mountain Sapa?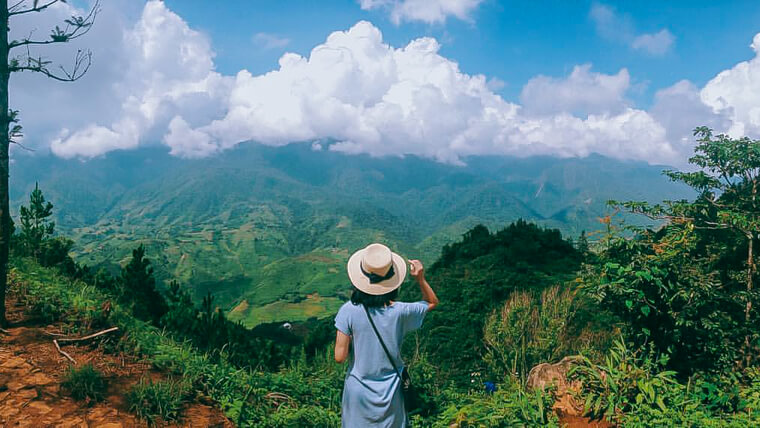 Source: @_keokeo
The mountain of Ham Rong is constructed on a campus of 148 hectare. The mountain is 1,450 - 1,850 m high, of which the top is decorated with several miniatures and a space filled with flowers. Scattering on the mountain are free charge stopovers in which there are seats and stalls selling mineral water and snacks as well as costumes for rent. The majestic beauty of the mountain combined with decorative miniatures created by human beings creates a colorful and attractive destination.
It takes the travelers at least 1 hour to reach the top of Ham Rong Mountain. The way is paved by stone steps, featuring instruction signs in both English and Vietnamese. On rainy days, it turns out to be very slippery; therefore, you must dress neatly in order to ensure your own safety.
The journey to conquer this mountain is one of the most exciting things to do in Sapa with a quite long and challenged route by narrow gorges and small caves; you should get yourself ready both physically and emotionally. However, along that road, you will bump into dozens of beautiful constructions, some of the most outstanding are:
1 - Orchid garden in Ham Rong Mountain
On the way to conquer the peak of Ham Rong Sapa, Orchid Garden is your first stopover. The Orchid Garden is a venue of hundreds of orchids belonging to 200 species. Thanks to favorable natural conditions (temperature, rainfall,...), these flowers grow really well, giving beautiful and big blossoms. Apart from admiring the elegance of the flower, visitors are given a chance to get more understanding about how to grow, nurture this ornamental plant which has a charming beauty but demands farmers to be very meticulous in taking care of it.
2 - The garden of twelve zodiac animals
The garden is an interesting highlight of the Sapa Ham Rong Mountain Tourist Area because it is the gathering of 12 zodiac animals in the Oriental culture. All are shaped in an animated style, bringing you the sense of intimacy. Each individual is positioned in a random place, surrounded by lush trees and mossy stones, making it an ideal setting for photography. However, the most favorite check-in point is the bridge in front of the statue of Goat crossing a small lake.
3 - The Central Flower Garden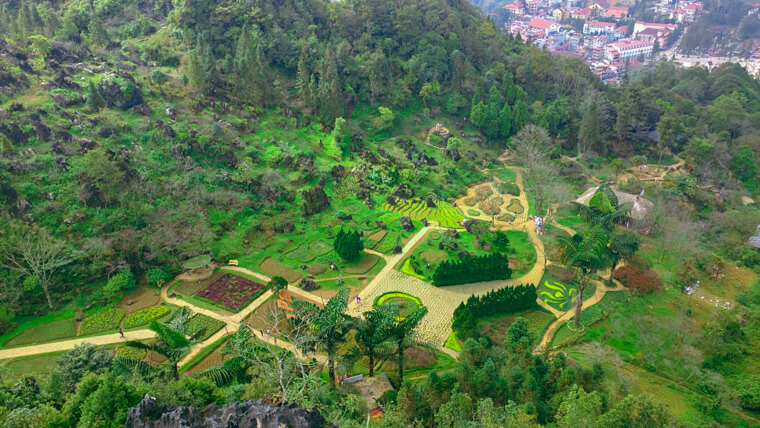 Majestic Central Flower Garden in Ham Rong Mountain Sapa - Source: @ KC Tham
Under the careful hand of artisans, this wild nature has turned into a picturesque landscape. Once stepping foot here, don't forget to take a selfie with the enormous word Sapa formed by ornamental trees. In general, this flower garden is arranged logically so that guests may feel like they are standing somewhere in Europe.
A special thing about it is that all the flowers such as peony, iris and hydrangea grown here are imported from French, Russia or Japan, which only thrive in cold weather. Besides, the management board takes 5,000 m2 of the area to grow buckwheat flowers, the typical plant of the Sapa forest and mountain. To fully contemplate its spectacle, you should come from April to May.
4 - Telecommunication Station in Ham Rong Mountain
The Telecommunication Station on Ham Rong Sapa has an altitude of approximately 2000 m. This is an incredible height for you to capture the entire view of Sapa town in your eyes. Everything from rolling mountains, winding roads like smooth strips of silks in the middle of a majestic picture to small houses hidden by misty fogs are there waiting for you to climb to the highest floors and be overwhelmed by them. There is a period in which the landscape is seen as the most magnificent, which is the sun set. At the time, the sky is tinged with a yellow orange, transferring to everything underneath.
5 - Cloud Yard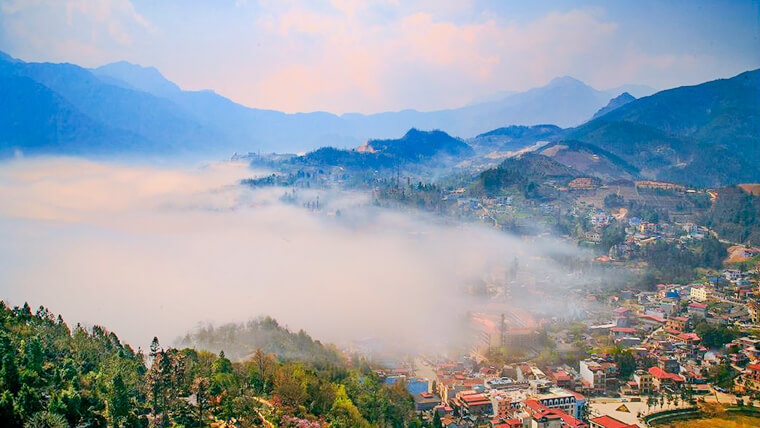 The breathtaking cloud yard - Source: Lê Đức Kim
Cloud Yard is a must-visit stopover on your way to the top of Ham Rong Mountain. The name originates from the characteristics of this place. At this height, the air is relatively cold; banks of clouds keep lingering around you, the whole space looks as if it is covered by an opaque canopy. The serenity, seclusion and quietness coupled with the fresh atmosphere brings you the relaxation that you are expecting after a long trekking. This is an ideal place for those who love freedom and have a strong sense of adventure.
6 - Heaven Gate on Ham Rong Mountain in Sapa
On the way to the Heaven Gate, you will see nothing but an endless blue sky ahead and an ocean of white clouds below. In fact, there are even 2 heaven gates here. After passing by the first, you came to the second at a height of 1,700 m above sea level. This is where you can view the head of the dragon the most clearly. Standing on this towering cliff, you will get lost in the feeling of gliding while observing the city in fog.
III - Helpful information for visitors to Ham Rong Mountain Sapa
1 - Ham Rong Mountain entrance fee (updated 2022)
The dazzling scenery at dusk - Source: mytour.vn
The entrance fee to Ham Rong Tourist Area in 2022 is 70,000 VND /adult ($3) and 20,000 VND /child ($0.9).
Note that: Opening hours are from 7am - 6pm
2 - The best time to visit the Ham Rong Sapa
September to December is proper for cloud hunting and watching sun dawn at the Heaven Gate. April to May is perfect to watch the forest and mountain, rice terrace peeking out of the cloud. Planning a trip to Ham RongTourist Area, you should avoid the period from July to August because of continual rains resulting in several potential risks for the trekkers.
3 - Ham Rong Mountain map
Ham Rong Mountain Sapa has never let anyone down with its "divine" beauty. If you travel to Sapa town in Vietnam but fail to visit this destination, it will be a deep regret. With all the information above, Localtravelidea hopes that you can shape yourself a proper schedule to explore this mountain and other places along Vietnam.