Lying on the quiet Hoi Vu Street, the Hanoi Social Club Restaurant is located at No.6 Hoi Vu Street, Hang Bong Ward, Hoan Kiem District, Hanoi City. Belonging to the area around the Hanoi Old Quarter, the cafe is less than 300m from St Joseph's Cathedral and only about 560m from Hoan Kiem Lake. This is the right place for you to take a short break after walking the streets, chill and chat with friends while listening to music, convenient for continuing to explore the capital of a thousand years of civilization.
Impressive space of Hanoi Social Club Cafe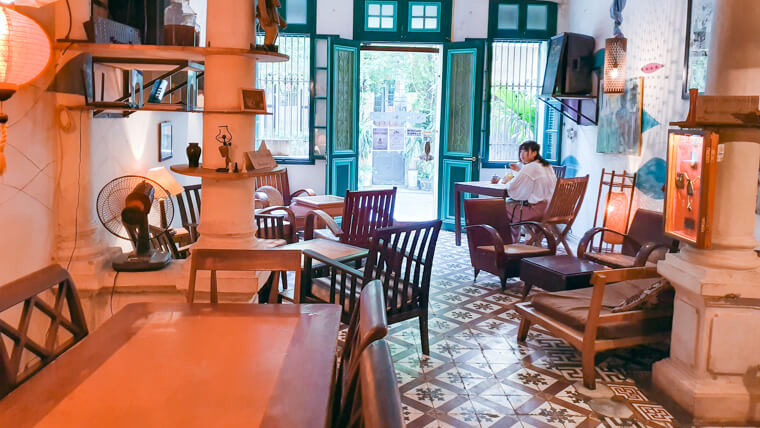 Inside space - Source: Manas Kapoor
Opened in June 2011, this is a vintage small coffee shop in the heart of Hanoi City, combining European and Asian features in harmony. From the outside, this is a 2-storey house with classical French colonial architecture, having a romantic and unique style with green, white, and yellow tones. The doors and windows are wide open, overlooking countless vines, basketed and potted plants, giving an airy and fresh feeling even from before stepping inside. Coming to the Hanoi Social Club Restaurant, you can choose between the quiet and cozy 1st floor, the light-filled 2nd floor, or the rooftop green secret garden.
The quiet and cozy 1st floor of Hanoi Social Club
As soon as you step in, you will see a cozy space, usually reserved for hosting live music, small but airy due to high ceilings and 2 ancient ceiling fans that are still slowly spinning. Handmade wooden tables and chairs, rattan chairs, and sedge rugs are scattered everywhere, along with decorations such as bookshelves, statues, modern artworks, lamps radiating soft light, and so on. In the corner of the 1st floor is a small bar where you order drinks and food, next to the stairs leading to the next floor.
The light-filled 2nd floor of Hanoi Social Club Restaurant
The 2nd floor of the cafe has a bright and somewhat more private space, semi-divided into 3 rooms, with a balcony overlooking the idyllic and quiet Hoi Vu Street. Surrounded by youthful vines, the outside places also have sets of table and chairs, where you can sit and sip a cup of Hanoi coffee while enjoying the breeze. In the middle of the room is a large sofa, surrounded by small wooden tables and chairs for lovers to snuggle together, with a rustic guitar leaning against the wall in the corner.
This space of Hanoi Social Club Cafe is a contemporary picture with antique clocks and mirrors, old-colored posters introducing music performances or trade fairs,...
The rooftop green secret garden
This classic cafe also has a green space filled with trees on the rooftop, although it is more cramped, you can get a lot of natural light. Nestled among basket plants, potted plants of all colors and sizes are handmade wooden chairs and tables, which look old but are very sturdy. Sitting at the rooftop garden of Hanoi Social Club, you will have the chance to experience the feeling of enjoying exotic drinks, as well as delicious food, in the midst of unspoiled nature right in the middle of the busy city center.
Note:
- Operating hours: 9am - 11pm
- Phone number: 024 3938 2117
- Email: hanoisocialclub@gmail.com
- Facebook: https://www.facebook.com/TheHanoiSocialClub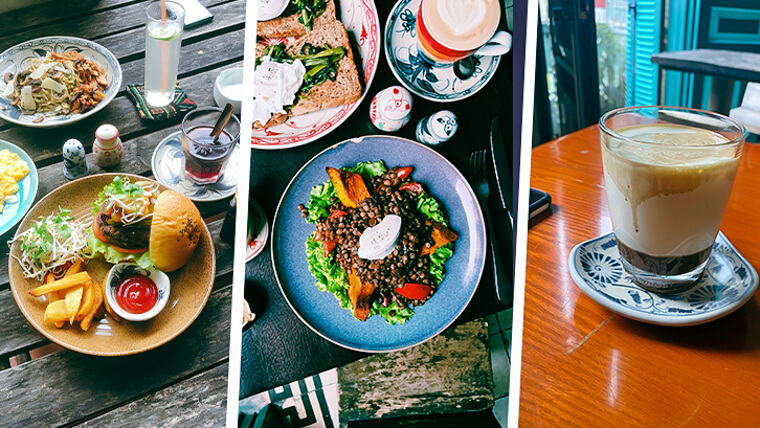 Unique food & drink menu - Source: @ducquy
The owners of this cafe are two foreigners, Jac and John Kis, who originally built this cafe with the desire to bring a feeling of warmth, comfort and fun to guests. They have made this place into a meeting bridge between European and Vietnamese food, culture and art, offering dishes that cannot be found easily in Hanoi. Coming here at any time of the day, you can order your desired food, from a midday brunch, to a late-night snack in the afternoon.
The Hanoi Social Club menu covers different cuisines, with quality guaranteed from the careful selection of ingredients and preparation, accompanying the care for vegetarians and vegans. You can find here everything, from mouth-watering Malaysian curry laksa, to Hungarian goulash made with the recipe of the owner's grandmother, and a range of dishes of rye and eggs. You will have the opportunity to enjoy excellent dishes at a very reasonable price, including vegan lasagna, or premium chicken, beef or pork when coming to the Hanoi Social Club Restaurant,
Drinks at the cafe are also very diverse, divided into three categories including alcohol, cocktails, and regular drinks such as carbonated water, tea, juice, Italian and Vietnamese coffee. There is also IPA and Pasteur craft beer, coming along with a variety of wines from red, white to rosé, all of high quality and delicious taste. In addition to familiar names like mojito or margarita, you can try unique cocktails such as Pho soup, Bun cha,... Below are some options that you should definitely try when coming to Hanoi Social Club Cafe:
Burger Hanoi Social Club
This is one of the restaurant's most popular and featured dishes, with quality beef cooked and seasoned just right, along with fresh vegetables and delicious sauces. You can additionally order other ingredients such as eggs, avocado and cheese for a very cheap surcharge of only $1. The veggie hamburger is also quite appealing even if you are not a vegetarian, consisting of walnuts, black beans and radishes, chili peppers, drizzled with spicy ketchup on a loaf of brioche bread, accompanied by fries. This is really one of the most popular choices in the Hanoi Social Club breakfast menu.
- Price range: 130,000 - 160,000 VND / serving ($5.7 - 7)
Curry laksa
Born about 1000 years ago, this deadly attractive food is actually a popular noodle dish, associated with the culinary culture of Malaysia. Curry Laksa usually includes basic ingredients such as noodles, tofu, eggs, chicken, shrimp, blood cockles, bean sprouts… But the most important part is the broth, which is cooked from coconut milk and curry powder, so it has a characteristic yellow color with a unique, greasy taste. The restaurant also has a laska option for vegetarians, but you should note that the pasta still has shrimp.
- Price range: 140,000 - 160,000 VND / serving ($6.14 - 7)
Coconut tea at Hanoi Social Club Cafe
This is not only a delicious drink but also a dessert with an attractive taste, especially suitable for drinking in a romantic classical space while listening to music. Coconut chai tea here has the most original taste, using black tea leaves, coconut milk, and sugar, creating a gentle sweetness.
- Price range: 65,000 VND / serving ($2.85)
Salad
Hanoi Social Club Restaurant serves a wide variety of salads, using fresh vegetables such as spinach, tomatoes, dill, avocado, grilled mustard seeds, pumpkin and tomatoes. In particular, these dishes are added with some extremely premium, unique and delicious ingredients including goat cheese, ricotta cheese or feta cheese and Italian vinegar.
- Price range: 100,000 - 130,000 VND / serving ($4.38 - 5.7)
Music programs - another highlight of Hanoi Social Club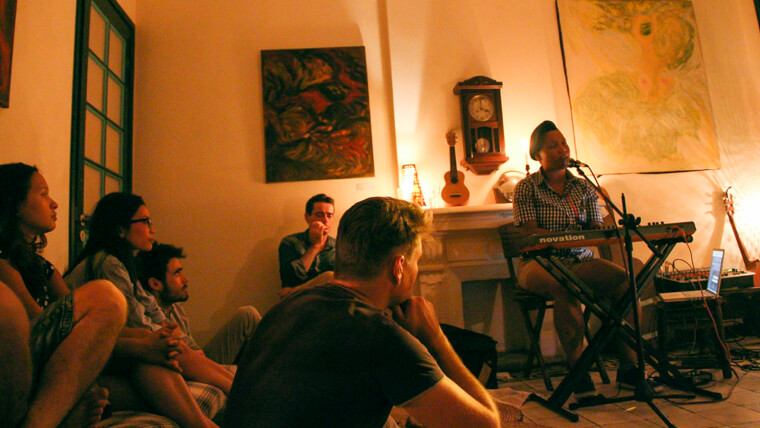 Music program at night - Source: @TheHanoiSocialClub
Quite famous among the Hanoi music lover community, this restaurant is a place that regularly organizes music activities for young artists, both locals and foreigners. Here, each person has the right to express their own compositions, in a unique way among a cozy space without distance. With only a guitar, a harmonica, or / and a microphone, using the cafe's good sound quality speakers, a very "adventurous" music night was born.
In the past, experienced and established artists have also performed at Hanoi Social Club, such as West African Spirit, Norra Marris, Daniel Henneberry or Shadylanes. As for usual, there are periodic music nights held, particularly Xom Nhac with a more contemporary sound and highlights of the underground music scene. Born to promote the spirit of original art creation, this group is an intimate community where you can feel free to share your music.
The performance event of Xom Nhac at Hanoi Social Club Restaurant takes place in the evening at 8:30 a.m. every other Thursday, usually consisting of only acoustic music with a sufficient volume. As long as these criterions are followed, any artist or group can perform with the instrument they want, whether they are newbies or experienced artists. While covers are allowed, guests are encouraged to use original songs, and must include at least two self-composed songs in their performance.
- Website: https://www.facebook.com/Xóm-Nhạc-876317925724786/
Not only possessing beautiful, classical architecture and decoration, the Hanoi Social Club Cafe is also a cozy music space. Attention to detail, delicious food, and drinks are also special highlights of this cafe. If you have the opportunity to visit Hanoi, you definitely do not miss stopping by to drink coffee, chat with friends while enjoying unique music.