Vietnam is one of the countries that has a diversity of bird species, which include 848 species totally, of which there are 13 endemic ones and many are rare and precious, which are listed in the Red Book of Vietnam and the IUCN Red list. Let's discover the most unique species of birds in Vietnam in the article below.
I - What is the national bird of Vietnam?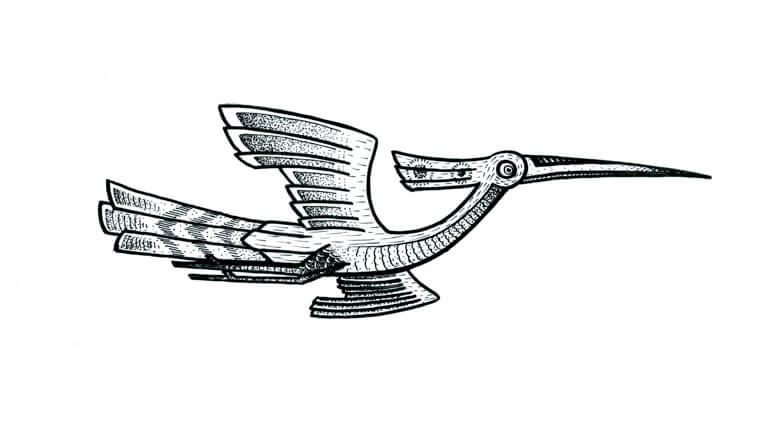 The image of "Chim Lạc" - Source: @lstvfanpage
Vietnam does not have the official national bird, but "Chim Lạc" (Lac bird) is considered as an imaginary national bird, supported by a majority of Vietnamese people, according to ancient documents and records. "Chim Lạc" is the symbol of Au Lac, the very first state of the ancient Vietnamese people in present-day North and North Central regions.
This imaginary Vietnamese national bird is a mysterious bird featuring outstretched wings with a long beak, which appears on the surfaces of ancient bronze drums, typically on the Dong Son Drum, resembling the bronze crane at the Temple of Literature in Hanoi. This "species" of bird in Vietnam is regarded as the totem of Lac Viet people (the ancient Vietnamese), which represents the wet rice civilization of the ancient Vietnamese. Chim lac is a symbol which is both familiar with people but also very sacred. The posture of a bird spreading its wings widely to fly on the sky with a straight beak and hold its head up symbolizes the longing aspiration and the dream of conquering challenges despite heavy storms ahead.
II - Top 8 ideal places to watch birds in Vietnam
1 - Thung Nham Bird Park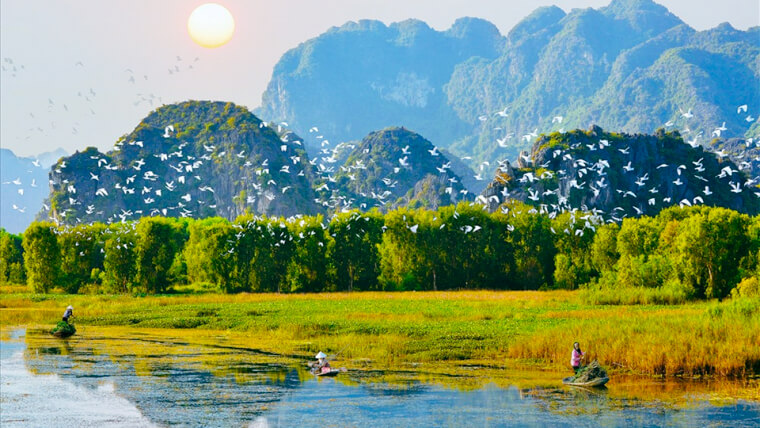 This is a tourist magnet of Ninh Binh Province - Source: Travel.com.vn
Thung Nham Bird Park, also known as Thung Chim (Bird Valley), belongs to the core area of Trang An Scenic landscape Complex. This is well-known not only as an eco-tourism area with poetic landscape, tropical forests, caves and immense rivers but also home to thousands of species of birds, including the rarest and most precious ones. With a total area of more than 334ha, Thung Nham is the habitat of nearly 40 species of birds of Vietnam with a total number of up to 50,000 individuals, typically storks, herons, teals, anas crecca, etc. , of which there are many are recorded in the Vietnam Red book and two rare species of birds listed in the IUCN Red List: the Great hornbill and the Crane. You can see thousands of birds any time of year, but the best times to visit Thung Nham bird park are from October to March when birds start building their nests and from April to September when plenty of birds go out and return after feeding.
Coming to Thung Nham Bird Park, you can not only watch numerous birds in Vietnam but also have the chance to visit a system of mesmerizing caves such as Ba Co Cave, Mermaid Cave, Buddha Cave, Vai Gioi Cave.
- Address: Hai Nham Commune, Hoa Lu District, Ninh Binh Province, about 15km from Trang An Scenic Landscape Complex
- Entrance ticket: 100,000VND/ adult ($4.4); 50,000VND/ kid ($2.2), free of charge for kids under 0.8m.
- Boat ticket to visit the garden: 20,000VND/ ticket ($0.88)
2 - Places to watch Vietnamese birds: Bang Lang Stork Garden
With an area of more than 16,500m2, Bang Lang Stork Garden in Can Tho city, established in 1983, is home to more than 300,000 storks with about 20 species together with many precious birds of Vietnam such as the black-crowned night hero, pelican, etc. It is the diversity of species of birds that have made the Stork Garden the most famous bird spot in the Mekong Delta recently.
Surrounding the garden is the rows of giant crape myrtles which stand out in the poetic and tranquil space of verdant green trees and the white storks. The best time to admire the utmost beauty of the garden is at sunset when the space is dyed in the glorious color of reddish and orange sunlight.
Address: Thoi Binh 1, Thuan An ward, Thot Not district, Can Tho city, 60km from Can Tho city center
Entrance ticket: 20,000 VND/ adult ($0.88); 10,000 VND/ kid ($0.44)
3 - Tram Chim National Park - top 8 places to watch birds in Vietnam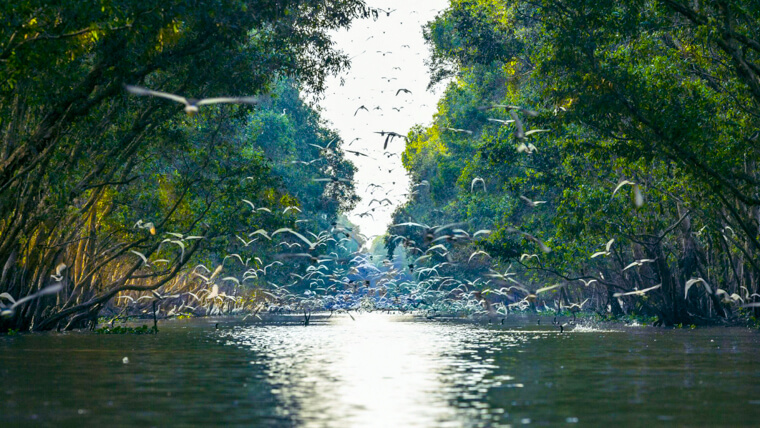 Source: Truyenhinhdulich.vn
With a total area of 7,313ha, Tram Chim National Park is a wetland area, classified in the special-use forest system with many precious bird species, including the red-crowned crane, an extremely rare bird in the Red Book. In particular, there are a total of 233 species of Vietnamese birds belonging to 25 genera and 49 families. The species of fishes here are also very rich and play a crucial role in ecological balance. Some species of fish are listed in the Red Book of Vietnam.
One of the most exciting experiences in the park is taking a boat along the green canals, watching all kinds of Vietnam birds flying around to look for prey, creating the noisy sounds. Along the canals, you come closer to the fields of pink lotus, white lotus, or vast paddy fields shimmering in the bright sunlight. If you visit the park from January to June, you will get to watch the flocks of red-crowned cranes finding food.
- Address: Group 4, Tram Chim town, Tam Nong district, Dong Thap province
- Entrance ticket: 20,000 VND/ ticket ($0.88)
- Boat ride ticket: 500,000 VND/ 10 people ($22.04)
- Kayak/ hydrobike rental: 50,000 VND/ person ($2.2)
4 - Bac Lieu Bird Sanctuary
With an area of 385ha, including 19ha of primitive forest, Bac Lieu Bird Sanctuary is an ideal place to watch birds in Vietnam as well as a famous tourist spot in Bac Lieu province. The bird sanctuary features about 150 species of fauna, 104 species of flora, 58 species of fish, 8 species of reptiles, and is home to about 46 species of birds, of which many are listed in the Red Book of Vietnam such as Painted stork and Indian cormorant. With high diversity, Bac Lieu Bird Sanctuary was recognized as a Nature Reserve in 1986 and a Habitat Conservation Area in 2014 by the Vietnamese Government.
Besides watching many species of birds of Vietnam, you can have numerous enjoyable experiences here such as: check-in with bright canary flowers, burma padauk, etc.; rowing a dinghy through the canal with lined green trees on both sides; strolling or riding an electric bike under the canopy of the forest, etc. You can climb up the observatory to admire the stunning view of verdant forests with the flocks of Vietnam birds flying in the vast space and creating the ear-pleasing sounds. Interestingly, you can join in extremely fun and appealing folk games here such as cycling across the bridge, swinging rope, blindfolded football catch, dinghy race, etc.
- Address: Cao Van Lau street, Nha Mat ward, Bac Lieu city, Bac Lieu province,
- Entrance fee: 30,000 VND/ person ($1.32)
5 - Places to watch birds in Vietnam: Vam Ho Bird Sanctuary
Vam Ho Bird Sanctuary in Ben Tre province - Source: Ezbook.vn
With an area of more than 67ha, Vam Ho Bird Sanctuary is the largest sanctuary of Ben Tre province which is home to 500,000 storks, 84 species of birds in 35 classes, especially over 120 species of rare and precious birds of Vietnam such as stork, cormorant, gray heron, etc. together with various wild animals like pythons, snakes, squirrels, bats, weasels, and iguanas, etc. Coconut trees are the most popular plant in the sanctuary. Besides, there are also gray mangroves and date palms which are ideal places for birds to live and breed. Hidden in the sanctuary is the system of canals interlaced like spider webs where there are countless shrimp, fish, crab, etc. , a rich food source for storks and Vietnamese birds in the area.
The best time to visit Vam Ho Bird Sanctuary is from April to October when the storks start refuging in the garden for birth-giving and raising their young birds. Therefore, you can view flocks of storks flying over Ba Lai River at a splendid sunset, which is absolutely an incredible experience. You can also enjoy the relaxing moments when strolling under the green trees or leaning back to the hammock under the foliage, listening to the sounds of chirping birds in Vietnam mingling with the rustling leaves.
- Address: the communes of My Hoa, Tan My and Tan Xuan, Ba Tri district, Ben Tre province
- Entrance ticket: 150,000VND/ person ($6.6) (including tour guide and games)
6 - Dam Doi Bird Sanctuary
Dam Doi Bird Sanctuary, is the largest bird sanctuary in Ca Mau province, constructed at the end of the 20th century and well-preserved until now. With an area of around 18ha, the sanctuary attracts a large number of Vietnam birds to reside, especially storks and many rare species of birds. The vegetation in the sanctuary is also very unique, mainly old mangroves, reflecting their silhouettes on the lake's clear surface. When coming to Ca Mau Bird Sanctuary, you have a chance to let your hair down in the idyllic space, fresh atmosphere, listening to birdsong, and watching the flocks of storks or cranes flying in the clear blue sky. Thanks to its charming scenery and natural diversity, this has become a favorite site for professional photographers to take beautiful pictures and study about the animal world.
Besides Dam Doi Bird Sanctuary, there are several other bird parks in Ca Mau where you can watch numerous species of birds of Vietnam such as Ngoc Hien Bird Sanctuary - a World Biosphere Reserve recognized by UNESCO, Lam Vien Bird Park or Tu Na Bird Park.
Address: Tan Dan commune, Dam Doi district, Ca Mau province, about 45km to the Southeast of Ca Mau city center
7 - Top 8 places to watch birds in Vietnam: Xuan Thuy National Park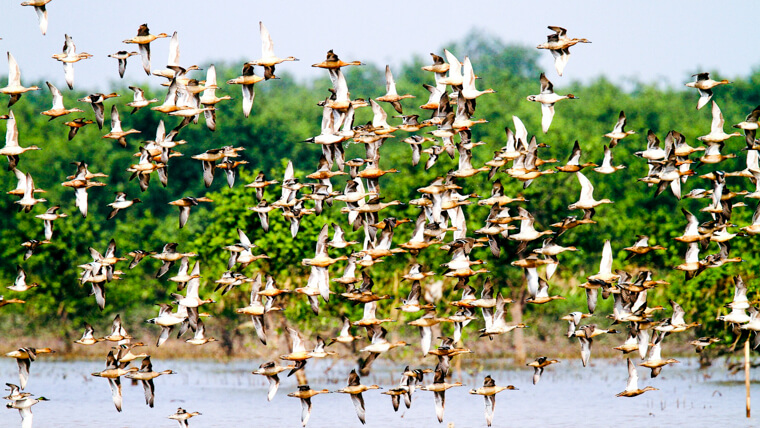 Source: Vuonquocgiaxuanthuy.org.vn2
Xuan Thuy National Park has a total area of 12,000ha, belonging to the Red River estuary. The park is also called the Ramsar area, which means the wetland of great significance internationally for the habitat of species of Vietnamese birds. It is home to up to 105 species of vascular plants, more than 200 species of birds, of which some aquatic birds are listed in the World's Red Book, including spoonbills, painted storks, pelicans, the spotted greenshank, Chinese egret, etc. In addition, there are also over 500 kinds of aquatic animals, many of which are of economic value such as shrimps, crabs, yellow-tailed seaweed, and over 10 species of animals, which includes three rare and precious precious animals of the country such as dolphin, otters, and sharks. With the high biodiversity and ecosystem, Xuan Thuy National Park attracts numerous visitors, including scientists and professional photographers to come for intensive research.
The best time to visit the park is from October to April next year, when many precious species of birds in Vietnam immigrate to the park and thousands of birds move here to avoid the cold extreme weather. It is a great idea to row a boat around the park, admiring the glorious sunset or simply to enjoy dinner in the park, immersing in the absolutely quiet and peaceful space in the nightfall.
Address: Giao Thien commune, Giao Thuy district, Nam Dinh province
8 - Con Chim Ecological Zone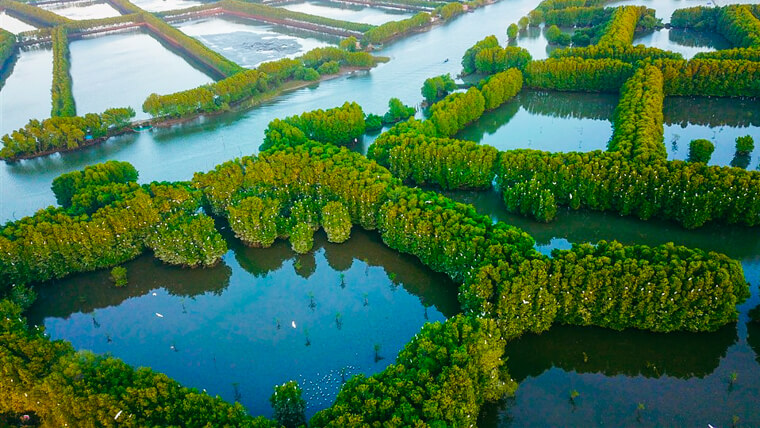 Source: quynhontourist.com
Con Chim Ecological Zone is renowned as the "green oasis" on Thi Nai lagoon with a total area of 480ha. Con Chim in Binh Dinh province is divided into many areas such as the ecological breeding area with mangrove forest, seagrass conservation area, bird sanctuary, and mollusk rearing area, etc. There are about 25 species of plants and 64 species of plankton, 76 species of fish, and hundreds of species of Vietnamese birds, including some endemic storks and precious species.
When visiting Con Chim, you get to explore the beautiful nature on a boat along the mangrove forest and let your soul wander among the immense space and idyllic moments with the sounds of chirping birds. Moreover, you can go to " chòi" - a higher place compared to the rest so as to watch thousands of white storks flying in the clear blue sky. The most interesting experience may be "turning into" a true fishman and going fishing in the lagoon which features a myriad of unique shrimps and fishes. Camping in the ecological tents to immerse in the wild natural landscape and have fun with your travel mates is also worth trying here.
Address: Vinh Quang 2 village, Phuoc Son commune, Tuy Phuoc district, Binh Dinh province.
III - Endemic species of birds in Vietnam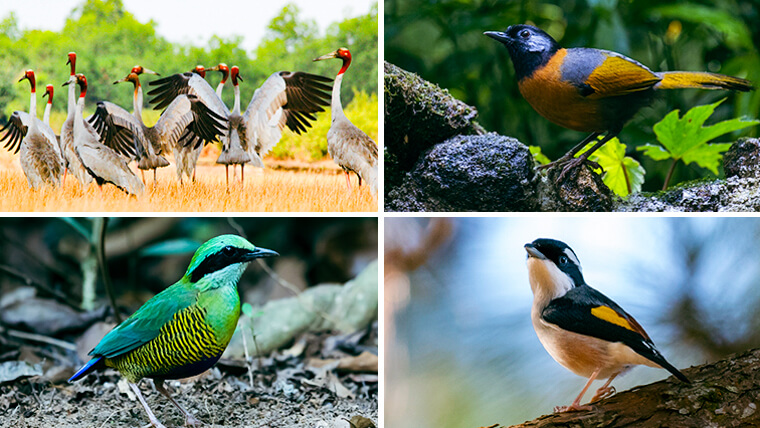 Source: @ninhducquy
Collared laughingthrush
This species is found in Dalat City (Da Lat plateau), Dak Lak Province (Chu Yang Sin Nature Reserve), Lam Dong Province (Gate of Heaven, Bi Dup and Nui Ba), and Da Nhim in Dak Lak and Lam Dong. This kind of bird in Vietnam is decked out in orange, gray, and black. It has black head, orange neck and breast, multicolored wings, and a silver ear patch, making it unmistakable with other species.
Oriental Bay Owl
Oriental Bay Owl also known as the Asian Bay Owl, resides in Bac Kan Province, Gia Lai Province (An Khe Commune), Tra Vinh Province, and Ha Tinh Province (Ky An District). This species is ranked in the Red Book of Vietnam because of its scarcity and high aesthetic and scientific values, which are valuable genes. Oriental Bay Owl features dark and pale creamy gray chestnut with light spotting on the sides. The neck of this Vietnamese bird is white with dark purple and black-brown dots. The rest of the body is brown with small scattered black spots with a brown tail featuring horizontal black stripes.
Bar-bellied pitta
Bar-bellied pittas are not common birds in Vietnam, living in the Red River Delta and the Southeast region (Cuc Phuong National Park, Cat Tien, Vinh Cuu Nature Reserve). Their habitats are evergreen, semi-evergreen broadleaf forests and bamboo forests. Bar-bellied pitta is about 19 to 21cm high, outstanding with jade-green pitta which are densely stripped, the bright green chest part and large black stripe stretching from beak to the neck.
Sarus crane or grus antigone
This species of bird in Vietnam often migrate to Tram Chim National Park in Dong Thap Province and Hon Chong area in Kien Luong and Ha Tien Districts in Kien Giang Province. The crane is of high aesthetic and biological values; therefore, this species is listed in the Red Book of Vietnam and IUCN Red List. It is recognizable with a silver-gray body, the red upper neck, green beak and head with red legs.
Pitta nympha
Pitta nympha is one of the endemic species of birds in Vietnam. This is a rare migratory species in the Northeast, the North, and the South Central Vietnam (easily found in Xuan Thuy National Park). The habitat of this bird is evergreen broadleaf forests, gardens, and plantations. It is listed as an endangered species on the IUCN Red list
Mi Langbiang (Crocias Langbiannis)
This species settles in the highlands of Dalat and Chu Yang Sin forest in Dak Lak province. It has been listed in the Red Book of Vietnam since 1992 and the Red Book of Asian Birds in 2001. The species of Vietnam bird has gray fur, the lower part of its body is pale white with pale black stripes on the flanks and hips. The top of the head and the nape of the neck are gray, hips and feathers in the upper part of the tail are reddish brown with dark brown stripes.
Spot-breasted laughingthrush or Garrulax merulinus obscurus (scientific name)
This species of bird of Vietnam is allocated in Northeast Laos and Northwest Vietnam (particularly the provinces of Lai Chau, Lao Cai, Nghe An, Dak Lak, and Lam Dong). Its habitat is in evergreen forests, second-growth forests, or bamboo forests, normally at an altitude of 1,500 - 2,000m.
Short-tailed scimitar babbler
Short-tailed scimitar babbler is one of the endemic species of birds in Vietnam.Its scientific name is Jabouille danjoui, found in some provinces in the North Central, South Central and Central Highlands of Vietnam such as Ha Tinh, Quang Binh, Quang Tri, Thua Thien Hue, Gia Lai, Kon Tum, Dak Lak, and Lam Dong. Its habitat is under the canopy of evergreen forests, where there are many bamboo trees and rocks. Its average length is about 23cm with a long, curved gray and yellow green beak, white upper chest with yellow spots, and pink-brown legs.
Vietnamese cutia (Khướu hông đỏ Việt Nam)
This species of Vietnamese bird has the scientific name of Cutia legalleni, mainly found in Vietnam and Laos. In Vietnam, this species mainly lives in the Lam Dong Plateau. It settles in the natural environment which are subtropical and tropical humid forests at a height of more than 1,500m.
Vietnamese greenfinch (Chloris monguilloti) - one of the endemic species of birds in Vietnam
The species of bird in Vietnam is located in the high mountains of Lam Dong province (from 1,000 - 2,000m), usually found in sparse pine forests and cultivation areas surrounding residential areas. It has a pretty beak and little pink legs with a brown head, back, and tail.
White-browed Shrike Babbler
In Vietnam, it is divided into four sub-species, found in Dalat city and Bach Ma National Park in Thua Thien Hue. It is small with a length of 14cm. Male features black crown and nape, and a gray rest of the upperparts. Female is smaller with a grayish crown and head-sides; grayish-brown upperparts and golden-olive tails and wings.
It can be seen that, you can find countless species of birds in Vietnam from North to South, each of which has different characteristics and habitats, which hugely contributes to the rich biodiversity of Vietnam as well as the development of eco-tourism in the near future.