Binh Dinh Province is located in the Central Coast region of Vietnam with a total area of 6,025km, bordering Quang Ngai Province to the North, Phu Yen Province to the South, Gia Lai Province to the West and the South China Sea to the East - about 1,065km away from Hanoi City, 686km from Ho Chi Minh City, and 300km from Danang City.
- Airport: Phu Cat Airport in Cat Tan Commune, Phu Cat District
- Binh Dinh postal code: 55000
- Administrative units: Quy Nhon City, An Nhon District-Level Town and 9 districts including Tuy Phuoc, Phu Cat, Phu My, Hoai Nhon, Hoai An, An Lao, Tay Son, Van Canh, and Vinh Thanh.
With a 134km-long shoreline, this province possesses many beautiful beaches such as Hoang Hau, Quy Nhon, Trung Luong, Tan Thanh,... as well as charming islands like Nhon Chau, Hon Kho, Dao yen,... which are valuable sources for tourism development of Binh Dinh Vietnam. In addition, the province is also renowned for historical and cultural relics that have existed and developed along the long course of history of the nation. Below are 15 most outstanding tourist spots of this province (majority of these spots are distributed in Quy Nhon City)
I - Top 8 beaches & islands in Binh Dinh Province
When it comes to Binh Dinh - the province of poetry, the most outstanding images must be numerous stunning beaches that are huge potentials for beach tourism. Majority of beaches here are relatively flat with white sand, clear blue water and full of sunshine. Let's take a look at the most impressive beaches and islands of this province in the list below:
1 - Eo Gio in Binh Dinh Province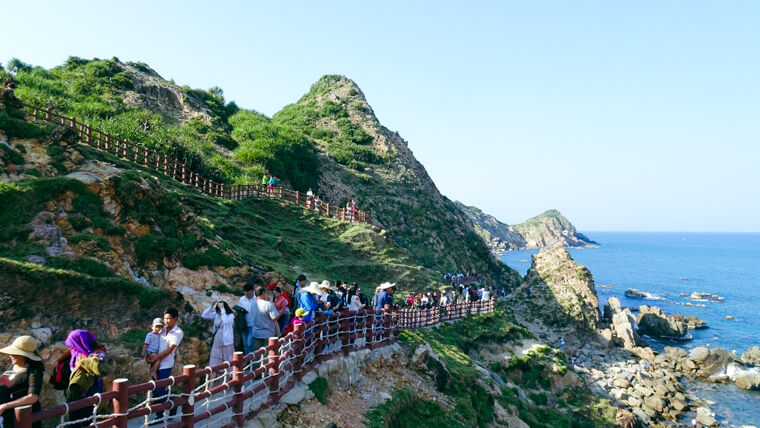 Source: youtube
Eo Gio or Windy Strait is located on Phuong Mai Peninsula in Nhon Ly Commune, Quy Nhon City and very close to Ky Co Beach; therefore, it is also called Eo Gio Ky Co. Eo Gio stretches along the coastline and is surrounded by high steep mountains. On the way to Eo Gio, you get to admire magnificent natural landscapes with rows of casuarinas, majestic mountains, the transparent blue sea crashing the incredibly charming white sand. Under the sea are colorful coral reefs with schools of fishes in different types and shapes, making this one of the best places to visit in Binh Dinh Vietnam.
At the mountain foot is a rock beach with bumpy roads filled with rocks in unique shapes and various sizes, embracing the blue sea. If you come here in the early morning, it is wonderful to lay on the flat huge block of rocks and watch the splendid sunrise in the breathtaking background or simply stroll along the path near the beach amidst majestic mountains which is made up from thousands of steps with white and red handrails.
Besides, there are many tourist attractions when you pay a visit to Eo Gio Binh Dinh Province, including Ky Co Cave and Ba Nghe Cave, etc. , which are home to a myriad of swallows. Around Eo Gio are green grass fields where flocks of goats and cows gaze leisurely, creating an idyllic and poetic atmosphere. Just about 30-40 minutes traveling from Eo Gio, you get to Ky Co Beach, outstanding with pristine untouched beauty, featuring clear emerald sea water and unique coral reefs.
2 - Ky Co Beach in Binh Dinh Province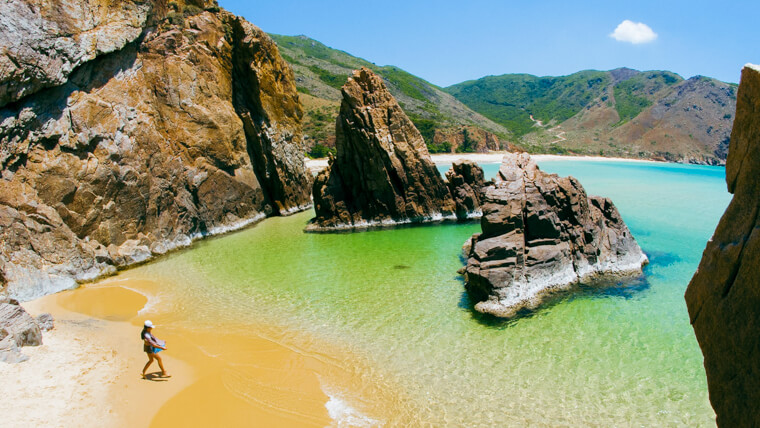 Source: vietnamtourism.gov.vn
Located about 20km to the southeast of Quy Nhon City, Ky Co Beach is the most attractive spot in the province. The best time to travel to the beach is from February to August when the weather is favorable with mild temperature and cool wind, suitable for sightseeing and other beach activities.
The stretching Ky Co beach curves like a crescent moon, surrounded by majestic mountains and steep rock in various sizes and shapes. From afar, the entire area looks like a breath-taking picture created by surrounding mountains, golden sandy slopes, embracing the crystal clear emerald and dark blue water. On both sides of Ky Co Beach in Vietnam Binh Dinh are high, huge rock blocks some of which spread to the beach, creating unique and interesting canyons. Other areas are eroded by seawater, gradually forming large holes which look like mesmerizing caves. The beach here is really narrow with cool clear water, so you can relaxedly immerse in the emerald water, simultaneously admire the smooth white sand and the rows of coconut trees reflecting their silhouettes on the sand. The must-try experience at Ky Co Beach in Binh Dinh Province is boating to Bai Dua (Pineapple Beach) with local fishermen on a basket boat in order to watch colorful corals. In addition, you can also have a chance to sample the delectable local cuisines such as grilled snails, grilled abalone, crab, steamed squid, grilled sea urchin with onion, and the list goes on.
3 - Trung Luong Camping Site
Trung Luong Camping Site, situated in Cat Tien Commune, Phu Cat District near Nui Ong Pagoda, is a prominent tourist magnet of Binh Dinh Province Vietnam, attracting a large number of tourists to come for camping, relaxing and enjoying the serene atmosphere as well as rustic but still poetic natural landscape, which is harmoniously combined between rocky mountains and immense sea. The outstanding feature here is adorable houses embraced by high hills overlooking the sea and rocky mountains.
From the campsite to the beach, you will pass a soft paved road winding around the mountain, surrounded by countless overlapping stones with various unique shapes, which is the reason why Trung Luong Camping Site in Binh Dinh Province is likened to Jeju island in Vietnam. Trung Luong beach exudes a wild and idyllic look with clear emerald water, ideal for swimming or snorkeling to see the beautiful coral reefs. The most exciting experience that you should not miss is setting a campsite overnight, having a BBQ party in the romantic scene at night and having fun with your travel partners. For those who prefer the private and quiet space, the bar right next to the camping site is a perfect choice where you are enthusiastically served by adorable bartenders and immersed in the chilling music.
4 - Hon Kho Island - top 15 Binh Dinh attractions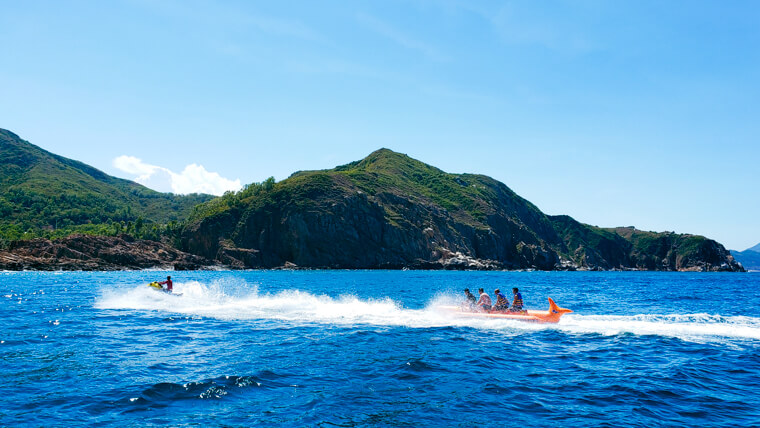 Source: vnexpress
Hon Kho Island (Cu lao Hon Kho) in Hai Dong Village, Nhon Hai Commune, Quy Nhon City. It belongs to a complex of 32 islands near the coastline of the province. The highlight of Hon Kho is the unspoiled beauty with numerous huge blocks of rock. Surrounding the island are green grass bushes with rocks, which creates a very wild and rusty scene.
The beaches around Hon Kho Island in Binh Dinh Province are impressive with jade colored water and long, smooth sand, ideal for swimming, snorkeling to admire corals, joining adventure games underwater or going to the raft to enjoy fresh seafood, etc. The most highlighted feature in Hon Kho is a nearly-200m-long wooden bridge leaning against the cliff and overlooking the blue sea. The bridge deck is made of floor with no handrails, creating the feeling of freedom and absolute comfort. Next to the wooden bridge are large stones that are a favorite place for check-in.
5 - Ghenh Rang - Tien Sa Tourist Site in Binh Dinh Vietnam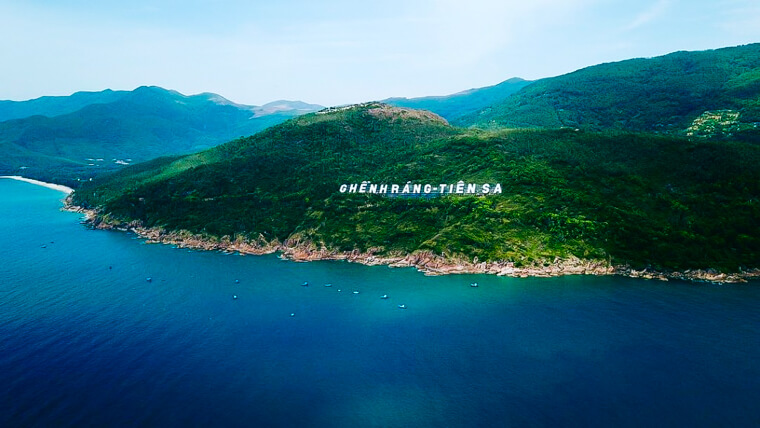 Source: @mapmapbeobeo
Situated in Ghenh Rang Ward, Quy Nhon City, Ghenh Rang - Tien Sa Tourist Site is the complex of rocky beaches distributed along the curve of Xuan Van strait. Thanks to its unique beauty, Ghenh Rang was recognized as a national monument in 1991. There are many tourist attractions in this site including Hoang Hau Beach (Queen Beach), Egg Stone Beach with fantasy egg-shaped rocks, Tien Sa Beach with breath-taking natural scenery. Besides, you can visit the Tomb of Han Mac Tu, a talented Vietnamese poet who spent the last years of his life in Binh Dinh Province.
6 - Hoang Hau Beach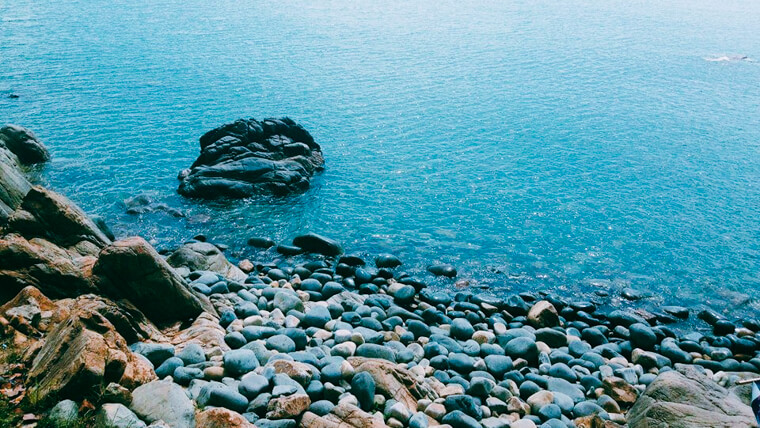 Source: haloquynhon.com
Located in Ghenh Rang - Tien Sa Tourist Site, Hoang Hau Beach still possesses the pristine and untouched beauty. In addition, near the beach are a system of top-notch resorts, making it a popular tourist attraction toward domestic and international tourists. Surrounding the beach are large and smooth stones like giant bird eggs together with a steep cliff. The "stone beach" is a harmonious combination between white stones and gray stones with unique sculpted motifs, appealing to numerous tourists to Binh Dinh Vietnam. There is a lighthouse near the beach, where you can have a panoramic view of the entire beach with big waves crashing the stones and a couple of boats floating in the middle of the sea. It is a great idea to walk along the mountainside so as to explore the utmost beauty of the beach and the "giant wall" of cliff.
7 - Quy Nhon Beach
Situated right in the heart of Quy Nhon City, Binh Dinh Province Vietnam, Quy Nhon Beach stretches about 5km, curving in the shape of a "crescent moon" running from Mui Tan to Genh Rang, characterized by golden sand and eye-catching clear blue seawater. Moreover, around the beach are covered by many green trees, suitable for both swimming and relaxing without worrying about getting sunburnt. Remember that the beach is very close to Xuan Dieu food street and many other nice restaurants.
8 - Cu Lao Xanh in Binh Dinh Province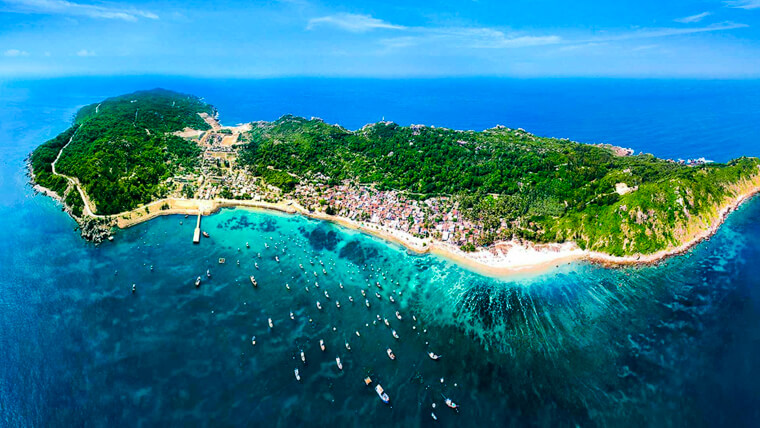 Source: vietnambiz.vn
Cu Lao Xanh belongs to Nhon Chau Island Commune, Quy Nhon City. With a quite moderate area of 364ha, Cu Lao Xanh is absolutely different from the rest because of its incredibly wild and rustic beauty which has not been significantly impacted by tourist activities, suitable for those who would like to find an off-the-beaten path for relaxation and sightseeing. Two symbols of the Cu Lao Xanh, Binh Dinh Vietnam are the lighthouse and the Thanh Nien flagpole. The former was constructed more than 100 years ago with a height of 119m above the sea level and the latter is the national flagpole made of granite with a height of 22m, on which are engraved with the latitude and longitude of the island.
Besides, there is a Thao Nguyen rocky beach in the back beach of the mountain in Binh Dinh Province with a variety of rock formations, which is an awesome and romantic check-in place. Cu Lao Xanh also features many gorgeous beaches such as Bai Nho, Bai Dong, and Bai Nam, all of which are small but outstanding with transparent jade-colored water. Swimming and other beach activities such as diving, canoeing, and paragliding,... are extremely popular here.
II - Top 2 historical relics of Binh Dinh Province
1 - The ancient Do Ban Citadel
Hoang De Citadel or Do Ban Citadel is a national relic, which is a tourist spot as well as historical site of Hau Nhon Commune, An Nhon District-Level Town. This used to be the capital of Champa kingdom, constructed in 988. The citadel features 3 layers of wall with a total area of more than 9km2, making it the most large-scale citadel in Vietnam, surrounded by continuous hills like a shield to protect the citadel. Inside the campus of Do Ban Citadel in Binh Dinh Vietnam still remains several ruins and ancient relics left from the old time such as flag poles, a marble walkway, stone elephant statues, semicircular lake, etc. There is a temple inside the main house to worship two great generals under the reign of Nguyen Anh emperor. You can also visit Canh Tien Tower, built in the style of typical Cham towers with a height of 20m, decorated by the white stone snake statues along with statues of elephants and monsters.
2 - Banh It Tower - top tourist spots in Binh Dinh Province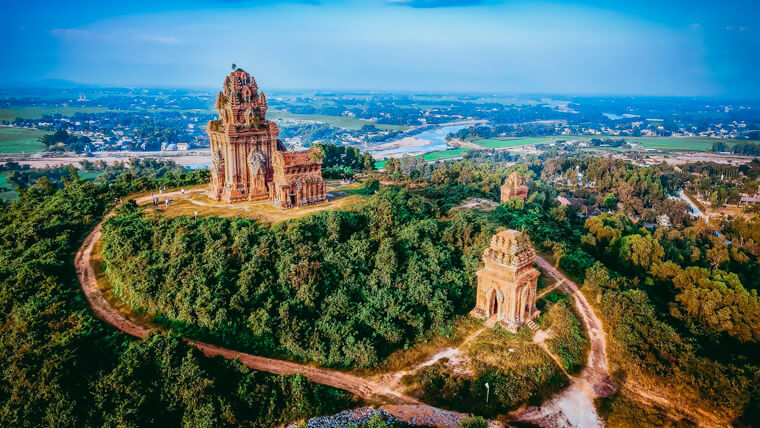 Source: mybinhdinh.vn
Banh It Tower, also known as Silver tower or Yang MTian in the local language, is a cluster of the ancient Champa towers, constructed in the period from 11th to 12nd century and located in Dai Loc Village, Phuoc Hiep Commune, Tuy Phuoc District. The towers are located on the hill with an altitude of 100m above the sea level.
The main tower has the largest size, situated in the center of the hill, surrounded by three smaller towers. The main town in Binh Dinh Vietnam is 12m high, sophisticatedly decorated with patterns on the dome or the walls with the attractive dancing bas-reliefs. Next to the main tower is the "Saddle" Tower, about 12m high and 5m wide with the roof like a horse's saddle. The tower is decorated by the images which are raising hands together like a base to lift the tower. Located in the South is the smaller tower in the lower location. Its roof is carved elaborately and gradually smaller towards the top. In the lowest position is the Gate tower, 10m from the main one. Gate Tower in Binh Dinh Province is simply decorated but still looks very strong and solid. The arch of the gate is shaped like a javelin pointing straight up to the sky. The interior of the towers include the statue of the stone Siva Goddess sitting on a lotus leaning against a stone in the shape of an arc. Although the statue has many broken parts, its value is still intact until now. There are many precious artifacts inside these towers waiting to be explored.
III - Top 2 temples & pagodas in Binh Dinh Province
1 - Ong Nui Pagoda Binh Dinh Vietnam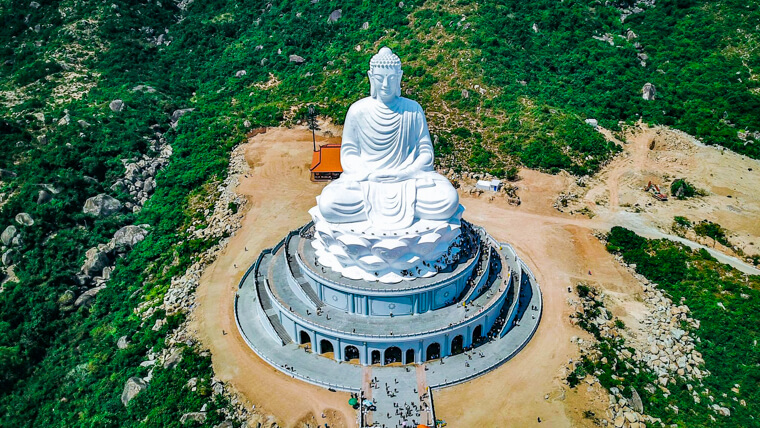 Source: we25.vn
Ong Nui Pagoda, also called Linh Phong Pagoda or Linh Phong Son Tu, is situated on the top of Chop Vung in Cat Tien Commune, Phu Cat District. The pagoda has an ideal location that "leans against the majestic mountains, overlooks vast sea and is surrounded by the winding stream with breath-taking scenery". Behind the pagoda are many ancient towers amidst rocky mountains and old trees, the resting place of late monks. There is also a cave named To with cliffs and large rocks overlapping each other. At the mountain foot is the gentle winding Chua River, shimmering in the sunlight with waves of white foams.
Inside Ong Nui Pagoda in Binh Dinh Province Vietnam are tombs and main hall, etc. typical of Asian Architecture, characterized by bright red tile roofs, decorated with two porcelain dragons fighting over a flaming pearl. To get to the pagoda, you have to go through 300-year-old stone steps, from which you can admire the majestic Ba mountain and the poetic village dotted with small houses. If you visit the Ong Nui pagoda on 24th and 25th of lunar January, you get to enjoy the Ong Nui festival.
The highlight of Ong Nui Pagoda Binh Dinh Vietnam is the giant Buddha statue, the tallest sitting Buddha statue in Southeast Asia with a height of 73m inaugurated in 2017. The large-scale work includes a statue of Shakyamuni Buddha and a statue of Buddha sitting on a lotus, which is located at a height of 129m above the sea level, overlooking the South China Sea and leaning against the highest mountain in the complex of Nui Ba relic.
2 - Thien Hung Pagoda in Binh Dinh Province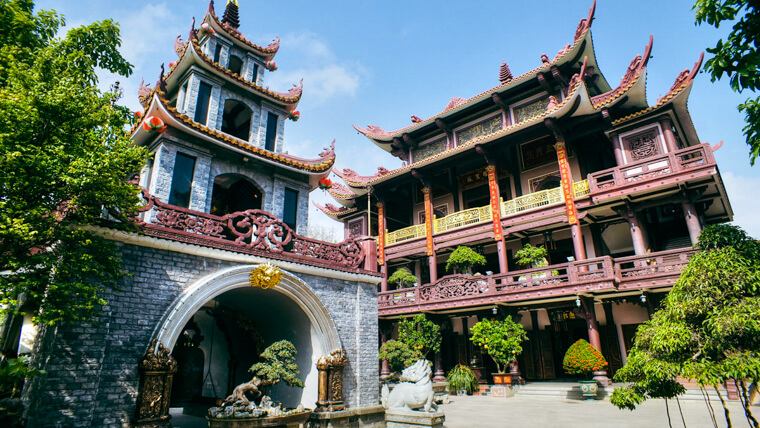 Source: quynhonland.com.vn
Thien Hung Pagoda is located in Nhon Hung Commune, An Nhon District-Level Town - about 20km to the East of Quy Nhon City Center. The pagoda is not as magnificent and brilliant as others, but still appeals to many tourists at the first visit. It has the typical oriental architecture depicted by curved tiled roofs like the old palace, interspersed with bonsai pots that are neatly trimmed. The outstanding feature of Thien Hung Pagoda in Binh Dinh Vietnam is a 12-storey bell tower right in the middle of the campus, located on a separate area with the statue of the EIghteen Arhats, in the middle of which is a lake. The garden of the pagoda is a combination of a murmuring stream in which a school of fish are swimming and the smell of fragrant frangipani, etc.
IV - Other tourist spots of Binh Dinh Province
1 - An Toan Nature Reserve
Located in An Toan Commune, An Lao District, An Toan Nature Reserve is regarded as the national conservation area with a total area of 22,450ha with 88% of forest coverage of which the primeval forest accounting for more than 52%. The reserve features biodiversity including a wide variety of endemic and precious species that are mentioned in the Red book of Vietnam. Surrounding An Toan Nature Reserve in Binh Dinh Vietnam is the ridge of mountains combined with the system of streams and waterfalls as well as majestic landscapes, which makes the cool favorable weather all year round, which are also the advantages for eco-tourism development.
2 - Thi Nai Marsh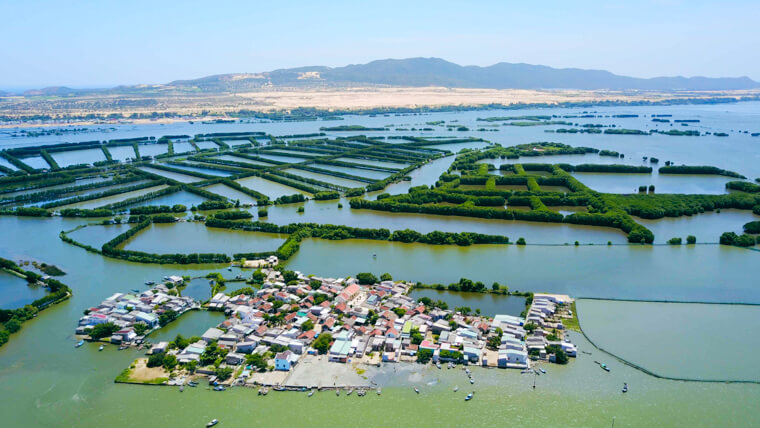 Source: vietnamtourism.gov.vn
With an area of about 5,000ha and a length of more than 15km, a width of 5km (the widest part), Thi Nai marsh (also called Hai Hac marsh or Bien Can marsh) is the largest brackish saltwater lagoon of Binh Dinh Province Vietnam located in the northeast of Quy Nhon city. The marsh is like a miniature ocean in the heart of Quy Nhon, which is the convergence of Kon river and Ha Thanh river, which makes the charming "watercolor painting". There is a Con Chim eco-zone (bird sanctuary), which is considered the "green lung of Quy Nhon" with biodiversity in a total area of nearly 1,000ha.
In the east of Thi Nai Marsh, Binh Dinh is Phuong Mai peninsula, which is home to rolling sand dunes, endowed with a diverse ecosystem with valuable fauna and flora as well as beautiful landscapes. When visiting Thi Nai marsh, you have an opportunity to go on a boat ride, bobbing along with the waves, watch the immense scenery of the marsh and discover the local fisherman's life.
3 - Vi Rong Cape in Binh Dinh Province
Vi Rong Cape or Mui Rong or Dragon Fin Cape is located in Tan Phung Village, My Tho Commune, about 70km from Quy Nhon City. This is a giant cliff reaching out to the sea, indomitable amidst the immense ocean waves. In the heart of the rocky mountain is a mesmerizing cave with surrounding rocky beaches crashed by silvery waves creating incredibly white foams like a dragon flying up to the blue sky. Coming to this outstanding attraction of Binh Dinh Vietnam, you can immerse in the crystal clear turquoise seawater or lying down on the huge rock blocks with various eye-catching shapes then take beautiful photos, or simply admire the breath-taking scenery of white foams hitting the cliffs and the images of fishermen's boats in the middle of the vast space. In addition, you should not miss trying My Tho Wine, the specialty of Binh Dinh Province Vietnam. If you come here from 11th to 14th of lunar April, you can participate in "Fishing festival" to pray for favorable weather and good business with many amusing activities such as boat racing, hat boi, cheo ho at Ong Nam Hai Mausoleum, etc.
With a magnificent natural landscape of numerous stunning pristine beaches, majestic mountains together with rich culture and long-standing history, Binh Dinh Province is an incredibly attractive destination to visit in Vietnam. Let's come here to discover the utmost beauty of "the land of poetry" and the interesting culture that is hidden in the ancient architectural works and daily life of the local people.