If you're tired of resort trips centered around high-end hotels or restaurants, it's time to try these amazing Vietnam bike tours. This is one of the best ways for you to really see and feel the beauty of this country, which comes from nature, people, culture, and cuisine. You can explore various regions, from the vast countryside with golden rice fields, and the ancient old quarter, to the challenging mountainous area, and so on.
I - Why are Vietnam bike tours worth trying?
1 - Natural conditions facilitate the development of bike tours in Vietnam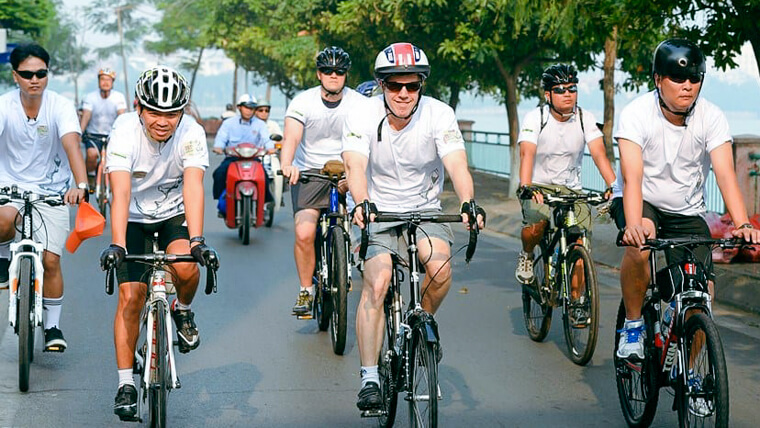 Source: xedapthegioi.vn
Vietnam has a land area of ​​331,211.6km2, stretching vertically with a length of 1,650km and a coastline of 3,260 km. The geographical location along with the long history of development has created the unique natural setting of this country, with countless majestic natural scenes that you can explore on cycling tours in Vietnam.
Three-quarters of the land area is mountainous, but mostly low-lying, with many weathered areas creating strangely beautiful caves that are hard to find elsewhere. There is a part of hills and mountains running to the sea creating an area of ​​thousands of different large and small islands, named Halong Bay. Meanwhile, the Northwest and North Central have many high mountains, steep slopes, waterfalls, and rapids, interspersed with vast limestone plateaus, which are very suitable for Vietnam mountain bike tours.
Vietnam's forests are important factors that lead to the development of Vietnam bike tours. Vietnam's forest is a typical tropical type, but depending on the location and humidity, it ranges from jungle to open forest, savanna and grassland. In addition, there are subtropical forests on medium or high mountains, or mangroves mainly in the coastal areas and the Southwest region. This country also has diverse, rare and unique flora and fauna resources.
Vietnam lies completely within the tropical belt of the northern hemisphere, with an average annual temperature of 22°C to 27°C, suitable for bike tours in Vietnam. Being strongly influenced by the monsoon seasons and complicated topography, Vietnam's climate is characterized by region & time. This makes Vietnam a great destination to visit and explore nearly all year round.
2 - Social and infrastructural advantages suitable for Vietnam bike tours
Vietnam is considered one of the safe tourist destinations, with a stable political situation and friendly cooperation relations with many countries around the world. On your Vietnam cycling trips, you can travel freely in the country without fear of war, violence or riots, and most of the local people are very friendly, ready to welcome and help you get acquainted with their customs. Not only that, the cost of staying & traveling here is also considered quite cheap compared to other countries in the region and the world.
One of the important factors affecting the development of tourism in general and bicycle tours in Vietnam, in particular, is infrastructure. The road system here is quite diverse, passing through provinces and cities, coastal & mountainous areas, residential areas, with wild majestic roadside scenery. In addition to the main roads such as National Highway and Provincial Road, there are also village roads, city roads and historical trails. Traveling around Vietnam, you can find it so easy and convenient to choose suitable accommodation establishments varying from homestays, motels, camping or stilt houses.
II - Top #9 places to have Vietnam bike tours
Bicycle tourism is growing strongly, with the number of tourism organizers and Vietnam bike trips increasing. You can cycle at most places in this country, from National Highway 1A connecting the South-North, to village roads, or even short streets in the city. Below are the most potential places for an experience-rich trip, with their own characteristics that make up the general beauty of this S-shaped country:
1 - Hanoi - an ideal place for bike tours in Vietnam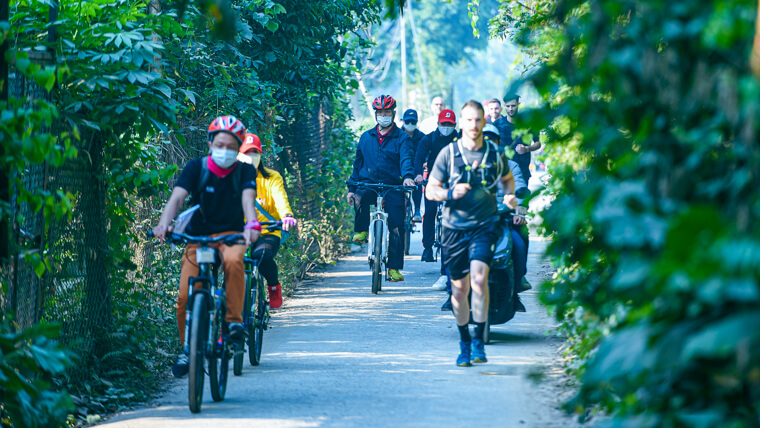 Source: vietnamnet.vn
Having a very unique beauty, ancient mixed with modernity, Hanoi gives visitors a nostalgic feeling when choosing this place to join a beautiful Vietnam bike tour. There are countless historical architectures harmoniously combining European - Asian features, such as Long Bien Bridge, Hanoi Opera House, Hoa Lo Prison, etc. You can cycle around the beautiful attractions of Hanoi like West Lake, Hoan Kiem Lake, or Hanoi Old Quarter,...
On Vietnam bike tours, you will also have exciting encounters with attractive street foods such as Hanoi pho, bun cha, or take a bite of Trang Tien ice-cream and Westlake's shrimp cake. If you want to get away from the hustle and bustle, the villages in the suburbs or long-standing traditional craft villages in Hanoi like Bat Trang Pottery Village, Van Phuc Silk Village, Duong Lam Ancient Village,... are the most ideal options for Vietnam cycling tours
There are a number of tour operators here, with prices ranging from 700,000 - 1,300,000 VND / day tour ($30.6 - 57), that you can contact as follows:
Hanoi Backstreet Tours
- Address: No.3B Hang Tre Street, Ly Thai To Ward, Hoan Kiem District
- Email: booking.hanoibackstreettours@gmail.com
- Website: https://hanoibackstreettours.com
Offroad Vietnam
- Address: No.34 Nguyen Huu Huan Street, Ly Thai To Ward, Hoan Kiem Ditrist
- Email: offroadvietnam@gmail.com
- Website: https://offroadvietnam.com
Hanoi bike tour
- Address: No.6 To Tich Street, Hoan Kiem District
- Email: info@bicycletourhanoi.com
- Website: https://bicycletourshanoi.com
2 - Vietnam bike tours in Ninh Binh Province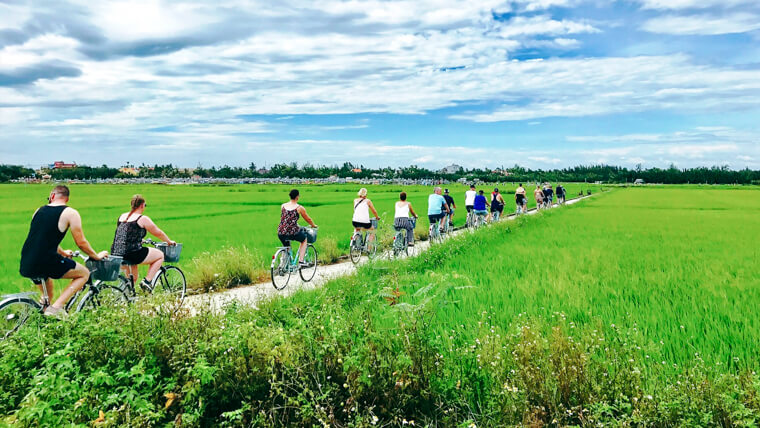 Source: tintucninhbinh.com
This is one of the attractive places for bike tours in Vietnam, satisfying the need to explore and admire the magnificent mountain space. The rice fields stretching through the mountains, vast Cuc Phuong National Park, interesting Tam Coc - Bich Dong tourist area with the untamed Mua Cave, the sacred Bai Dinh Pagoda, the remains of the feudal period such as the Temple of King Dinh, King Le, the scenic Trang An or Co Vien Lau Ancient Village,... are the outstanding spots in your Vietnam bicycle tours.
You can contect Little Tam Coc for support
- Address: Dam Khe Village, Ninh Hai Commune, Hoa Lu District
- Price: 50,000 - 800,000 VND / bike / day ($2.2 - 35)
- Phone: 0965 622 888
- Email: booking.littletamcoc@gmail.com
3 - Hoi An - top places for Vietnam bike tours
Most tourists visiting Hoi An ancient town usually walk to immerse themselves in the evening streets with lanterns and easily buy souvenirs. But if you want to explore the daily life of the people living in the countryside here, and watch the beautiful and poetic landscapes, then taking bike tours in Vietnam the suburbs is not a bad choice. On the way to the suburbs, you will follow the riverside roads, pass through the bamboo ramparts and vast rice fields, stopping to visit Thanh Ha pottery village, Hoi An silk village, Bay Mau coconut forest, and Tra Que vegetable village.
Grasshopper Bike Tours Vietnam
- Address: No.621/1 Hai Ba Trung Street, Minh An Ward, Hoi An City
- Price: 825,000 - 1,760,000 VND / tour ($36 - 77)
- Phone: 0932 034 286
- Email: cyclevietnam@grasshopperadventures.com
4 - Hue City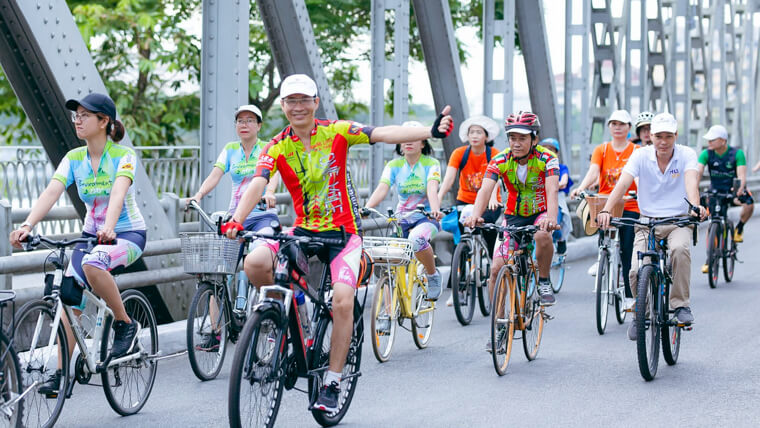 Source: baothuathienhue.vn
One of the experiences that you cannot miss in your Vietnam bike tours is to explore the quiet streets, poetic corners around Hue city, and a series of palaces of the Nguyen Dynasty. During the trip, you will pass through numerous bridges, from the old ones built in the 18th century, to the new ones filled with lights and colors. Cycling along the romantic Perfume River, you also have the opportunity to hear the royal music performance on dragon boats, and stop to enjoy attractive specialties such as Cao Lau, Hue beef noodle,...
Vietnam Bike Tours
- Hue branch: No.61, Street 6, An Dong Ward, Hue City
- Price: 1,000,000 - 3,000,000 VND / tour ($43.7 - 131.13)
- Phone: 097 413 10 32
- Email: hue@vietnambiketours.com
Hue Cycling Tours
- Address: No.162 Nguyen Sinh Cung Street, Xuan Phu Ward, Hue City
- Vietnam bike tours prices: 600,000 - 2,000,000 VND / tour ($26.2 - 87.4)
- Phone: 0774 522 468
5 - Ho Chi Minh Trail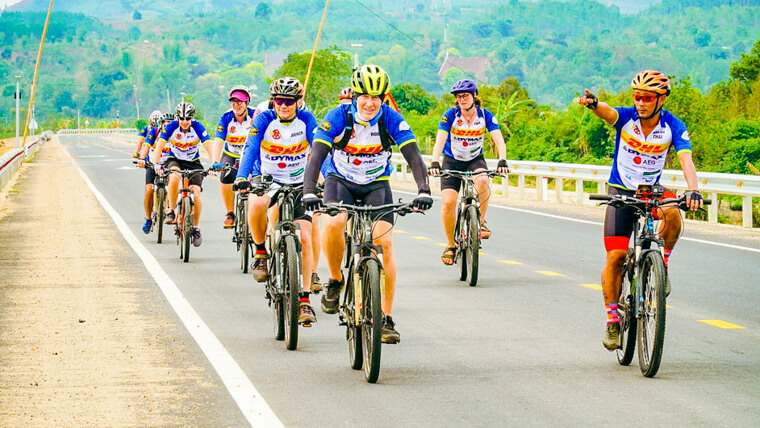 Source: sgtiepthi.vn
Through many wars, remodeling and construction in peacetime, this historic road has changed its appearance, now extending through 30 provinces and cities, from Pac Bo Village in Cao Bang Province to Ca Mau Cape in Ca Mau Province. The main road east of Truong Son Passes through central Vietnam, while the main one west of Truong Son has sections going through Laos, Cambodia. The Vietnam trail bike tours are basically 1375km long, passing from Nghe An, Ha Tinh, Quang Binh, and Quang Tri provinces to Binh Phuoc Province.
The Ho Chi Minh Trail is one of the most challenging places for bike tours in Vietnam, with many sections including flat, paved roads and bumpy, up and down steep slopes,… But the beautiful scenery during the trip is really worth the effort, sometimes it is in the middle of the dense forest, sometimes through the golden fields of fragrant ripe rice. You also shouldn't forget to stop at Truong Son Cemetery to light incense for Vietnamese heroes who died to protect national independence. In particular, you will have the opportunity to interact, chat and eat with various ethnic minorities.
Currently, there is no unit that offers Vietnam bike tours specifically covering this route, so you can only rent a bicycle and hit the road yourself. In addition to Vietnam Bike Tours, Amica Travel, and other names mentioned above, Mr. Biker Saigon is also an option you can consider:
- Address: No.354 Vo Van Kiet Street, Co Giang Ward, District 1, Ho Chi Minh City
- Phone: 0918 341 728
- Email: info@mrbikersaigon.com
6 - Taking Vietnam bike trips in Mekong Delta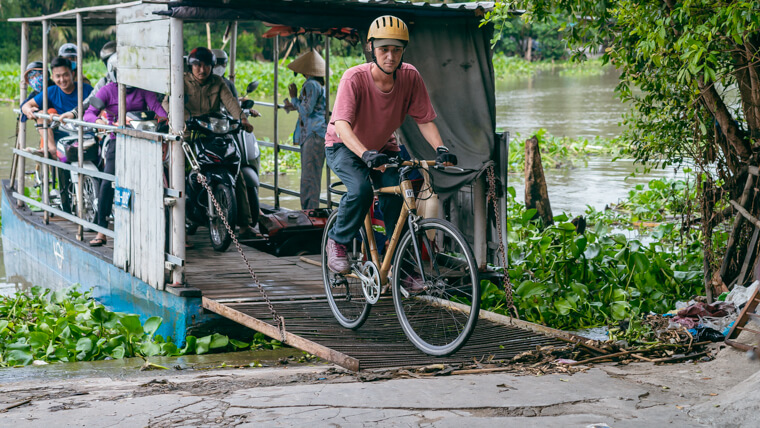 Source: urbanistvietnam.com
The Mekong Delta is famous for its floating markets, wartime historical sites, and French-style old houses,... And when taking the cycling tours in Vietnam's Mekong Delta, you will feel the slow pace of life in this land, in the rustic space of swaying coconut trees. In addition, you should also stop at the fruit orchards, come in and enjoy the multitude of fresh and quality fruits. Cycling along the flat roads through quaint villages and on dirt dams among rice fields will give you an opportunity to get close to the life of the locals.
Vietnam Travel Group
- Address: No.88 Bau Cat 3 Street, Ward 14, Tan Binh District, Ho Chi Minh City
- Price: 3,600,000 VND / 2-day tour ($157)
- Phone: 02444 582 123
7 - Ho Chi Minh City - an ideal place for Vietnam bike tours
When dawn or dusk, it is the ideal time for you to ride a bicycle to enjoy the cool breezes and relax, watching the slow pace of life in the city. In addition to a few ideal areas for you to cycle around in the center such as 30/4 Park, Notre Dame Cathedral, Saigon Opera House, places further afield such as Can Gio forest road, Nhon Trach forest road,... are also not bad options for your bike tours in Vietnam. During the journey, you should definitely stop by the local eateries and treat yourself to a few snacks such as grilled rice paper, a bowl of Hu tieu, and a refreshing glass of fruit tea or mix.
Organizers above, like Mr Biker Saigon, will gladly let you rent a bicycle to tour around, or you can just use public ones. Ho Chi Minh City is the first place in Vietnam to pilot this type of service, with dozens of bike parking spots and simple bike rental operations. You just need to download and install the free Mobike application to be able to use it, with the specific rental price being 5,000 VND / 30 minutes ($0.22).
8 - Da Lat City
Dubbed the "city of flowers', Da Lat possesses a particularly romantic & serene beauty, with countless tourist attractions, which are suitable for Vietnam bike tours. The pleasant weather, fresh lakes & spectacular waterfalls, large gardens and hills, make it the perfect place for a bike tour in Vietnam. You can go from Valley of Love, Mong Mo Hill, to Xuan Huong Lake and Than Tho Lake, admire the Prenn Waterfall and Dalanta Waterfall, and stop at Truc Lam Pagoda, Lam Dong Museum,… This is home to over 20 ethnic groups, giving you the opportunity to learn about them and their unique culture during your trip.
Viet Challenge
- Address: No.38 Tang Bat Ho Street, Ward 1, Da Lat City
- Tours:
+ Cycling to the outskirts of Dalat city: 900,000 VND / person ($39.3)
+ Cycling on "dragon's back" in Dalat: 680,000 VND / person ($29.7)
- Phone: 091 559 46 59 - 026 3354 6677
- Email: vietchallengedl@gmail.com
Highland sports tourism
- Address: No.B17, Hoang Van Thu Planning Area, Ward 4, Da Lat City
- Price: 897,000 - 1,150,000 VND / person ($39.21 - 50.3)
- Phone: 0965 331 182 - 0367 314 570
- Email: highlandsporttravel@gmail.com
9 - Mai Chau - a peaceful place for Vietnam bike tours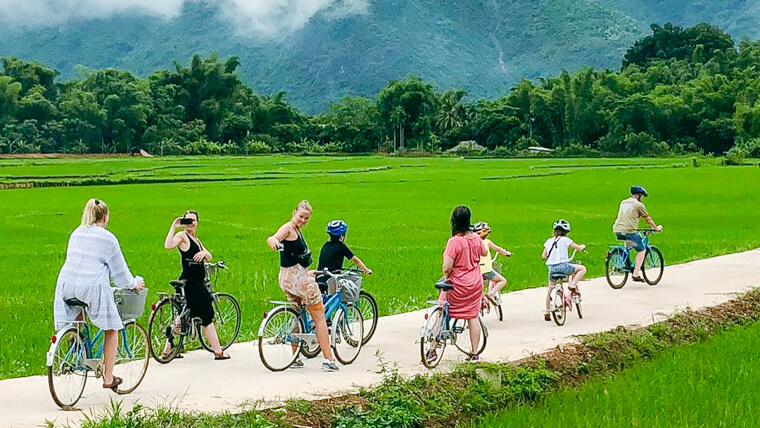 Mai Chau is a peaceful suitable for cycling tours in Vietnam - Source: checkintravel.vn
Known for its peaceful and tranquil space, Mai Chau is a beautiful little valley of Hoa Binh Province, bringing the gentle & rustic beauty of the Northwest mountains. This place attracts a lot of tourists and backpackers because of its rich, diverse culture and unique cuisine, along with famous attractions such as Chieu cave, Bo Doi cave, Buoc Village,... In the cool and clean atmosphere, there is nothing better than choosing this as a destination for a bike trip in Vietnam, passing through Lac Village and Poom Coong Village. In the evening you can also participate in cultural activities, campfire and watch musical performances of Thai boys and girls in Mai Chau.
Mai Chau Ecolodge
- Address: Na Chieng Hamlet, Na Phon Commune, Mai Chau District
- Price: 273,400 - 749,000 VND / person ($12 - 32.7)
- Phone: 0218 381 9888
- Email: info@ecolodge.asia
III - Suggested operators provide Vietnam bike tours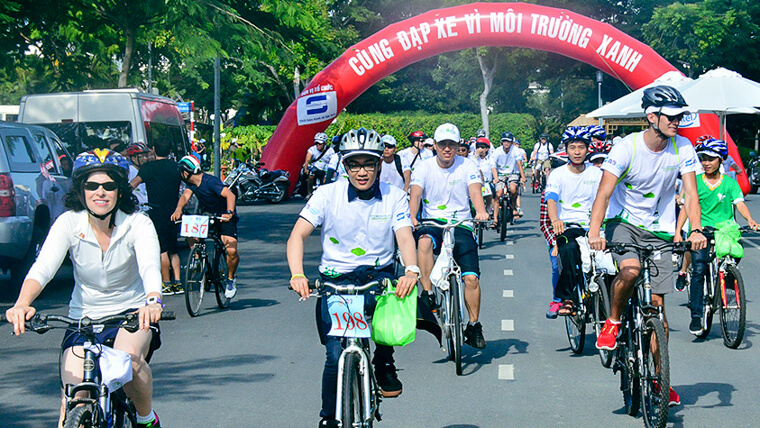 Source: usembassy.gov
Not only in one region, bike tours in Vietnam across the country or to other countries are also attracting more and more people. You can refer to a few organizers below to choose for yourself the one that best suits your trip, energy and interests.
Vietnam By Bike
As one of the leading organizers in bicycle tourism, this company has long experience in organizing bicycle tours in Vietnam. Vietnam By Bike offers adventurous tours such as cycling through Vietnam and Southeast Asia, particularly for foreign visitors from America, Europe, New Zealand, Australia, …
- Address: No.14/20B Chanh Hung Street, Ward 4, District 8, Ho Chi Minh City
- Phone: 0869 142 415 - 0888 54 1515
- Email: info@vietnambybike.com
- Website: https://vietnambybike.com/
Vietnam Cycling Tours (Vietnam Backroads)
Launched in 2010, it soon became one of the most comprehensive groups of bicycle tours, vehicles, trip times and cycling routes in Vietnam. Vietnam Cycling Tours will give you Vietnam and Cambodia bike tours, with the opportunity to choose between a variety of bike tours from resort, luxurious tours, to adventurous and challenging ones.
- Address: No.420/8 Vo Van Kiet Street, Cau Kho Ward, District 11, Ho Chi Minh City
- Phone: 0903 195 175 - 028 383 74 506
- Email: info@vietnamcyclingtours.com
- Website: https://vietnamcyclingtours.com/
Taking Vietnam bike tours, you'll also have complete autonomy, because you won't have to worry about gas, and can easily stop at attractions that are normally difficult to enter. Bike tours in Vietnam will be an opportunity for you to immerse yourself in unspoiled nature, find the most original beauty and relax on a wonderful discovery trip.