Among top most famous tourist attractions in Dalat, Xuan Huong lake is a must visit site. As soon as new guests set foot in the center of the city, they immediately are surprised by a lake transparent and emerald all year round likened to the heart, the jade of "the land of flower". To help you better understand this amazing stopover, Localtravelidea will provide you an overview with this writing.
I - What is the specific location of Xuan Huong lake Dalat?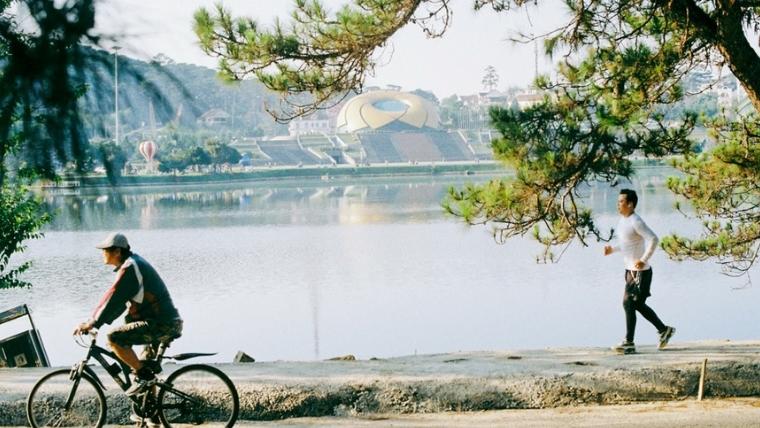 Source: zingnews
The lake of Xuan Huong is located at Ward 1 of Dalat city. Tran Quoc Toan street which rounds the lake passes through quite a number of iconic tourist sites namely Lam Vien square, the city garden, Cu hill, Yersin park. Featuring a prime position, convenient for approaching to several destinations, the lake is a venue of hotels in Dalat, which attracts a great number of guests because almost every tourist to this city would prefer an ideal accommodation like that.
You can visit Xuan Huong lake at any period of time because it is beautiful and available all year round thanks to a wonderful climate. The lake in the beginning month puts on a bright coat created by the cherry blossom at the lakeside. When March comes, purple phoenix flowers start to bloom on streets, leading you to a dreamy scenery. At the end of the year, clouds of misty fogs, the signature of Dalat swirl the water surface, which is sure to capture your soul.
II - The romance of Xuan Huong lake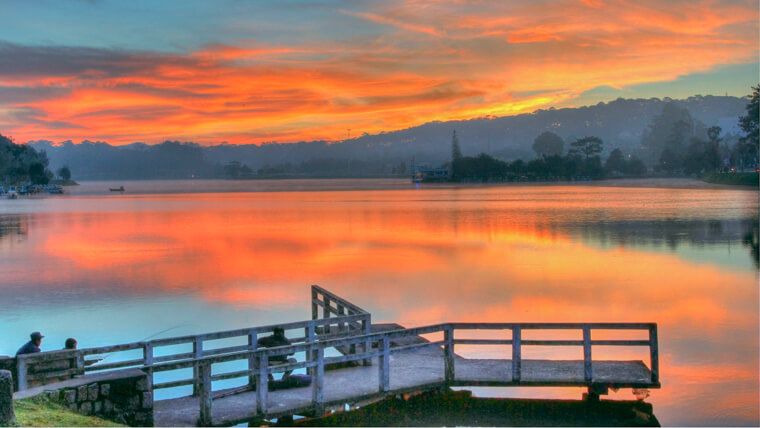 Source: focusasiatravel
The name "Xuan Huong" makes many people curious about its origin. Some say that the lake is named after a famous poet who was known for her romantic style, the others suppose it simply means the aroma of flowers in the spring (Xuan means spring and Huong means aroma). Whatever the reason is, this title can effectively manifest its charming beauty.
This lake is not a natural lake but an artificial one constructed in 1919. Xuan Huong lake dalat had an area of 25 hectare, a perimeter of about 5km in the shape of a crescent moon. At the time of establishment, the lake was called Grand Lac (Grand Lake in French). After 5 year, that name was changed into Xuan Huong and the lake of Xuan Huong, from then on, became a symbol of the dreamy Dalat city.
Surrounding the lake are flower gardens, grass lawns and pine forests, making the landscape serene and peaceful at any dimension and angle. If you have an occasion to observe Xuan Huong lake from the above, you will for sure picture a heart in green because most of the big and small roads of the city are concentrated here.
The fresh air and purity of the lake makes it a weekend gathering place for the residents in the neighborhood. Besides, if you approach here in the early morning, you will catch sight of some joggers, bicyclists,... On special occasions of Vietnamese New Year, Vietnamese National Day, and Independence Day,.. crowds of people flood here to watch firework displays. Taking advantage of the picturesque scenery at the lake, many restaurants and coffee shops go up, serving the need for contemplating the view.
III - Top 6 activities worth trying at Xuan Huong lake Dalat
1 - Swan boat ride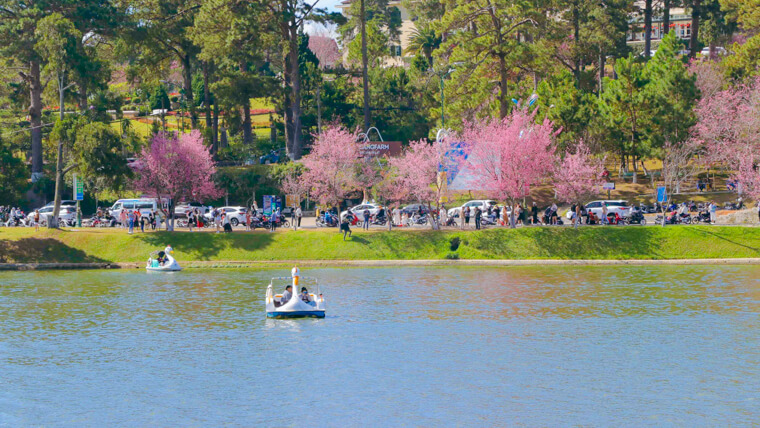 Source: Đặng Tuấn - TTXVN
Riding a Swan boat is probably the best way to contemplate the beauty of this lake. A Swan boat is large enough to contain 2 adults and a child, so it is pretty suitable for couples, young families, and friends to experience together. Swaying on the boat on Xuan Huong lake, you guys can enjoy cold breezes while admiring the spectacle of streets on the shore of the boat. This feeling is chilling in a strange way that can fade away all the concerns stuck in your head.
- Boat rental address: Ba Huyen Thanh Quan street, Ward 2, Dalat city, Lam Dong province
- Contact: 0263 3827 900
- Ticket fee: 60,000 VND ($2.6)/turn/small boat; 120,000 VND ($5.2)/turn/big boat
2 - Horse carriage ride at Xuan Huong lake
Traveling on a horse carriage is a highlight of tourism in Dalat in general. A horse carriage has a capacity of 4 - 6 people, so families or even groups of friends can take on at once. Beautiful horses leisurely walk on smooth roads lining the lake to let you feel the breath of this area. The starting point is the wharf on Tran Quoc Toan street, on the opposite shore with the Thuy Ta pavilion, and the ending point is the city flower garden.
- Ticket price: 200,000 VND ($8.6)/turn
3 - Cuisine around Xuan Huong lake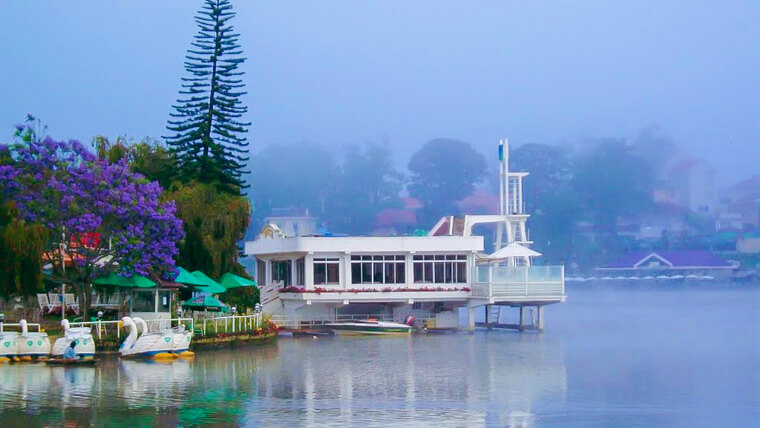 Source: dalattrongtoi
The area surrounding the lake of Xuan Huong is the focal point of restaurants and coffee shops with a diverse menu and the direct view to the lake. Sitting at a table in a cafe, sipping a cup of drink and leaning against the chair to watch over the touching outlook over a window is the joy that almost every tourist to Dalat wishes to try once. Some of the most outstanding name are
Thuy Ta pavilion
One of the structures that is firmly attached to Xuan Huong lake Dalat is the Thuy Ta pavilion which is a restaurant as well as a coffee shop floating on the water's surface. The building has impressive architecture, making many visitors mistake it for a small white cruise. The capacity of Thuy Ta pavilion is quite modest, unable to meet the need of an abundance of tourists arriving at the lake every year. However, because it has been associated with Xuan Huong lake and the local folk for so long that no one wants to alter anything in it, another restaurant has been born on the opposite side.
Address: No.1 Yersin street, Ward 10, Dalat city, Lam Dong province
Thanh Thuy restaurant
The new cafe bar is named Thanh Thuy which means "green water", also closely related to a feature of the lake. As compared to Thuy Ta, this restaurant is larger. That is also the reason why the atmosphere at these two places is distinguishable. Thuy Ta pavilion on Xuan Huong lake brings customers the feeling of peace and tranquility while Thanh Thuy is a vibration that can be somehow embodied by its outstanding purple cover.
Address: No.02 Nguyen Thai Hoc, Ward 1, Dalat city
Bich Cau coffee shop
Bich Cau coffee shop is located at an incredible position, on an island in the middle of the lake. There is a flower garden of the same name next to the coffee shop.
Address: Tran Quoc Toan street, Ward 1, Dalat city, Lam Dong province
4 - Camping on the bank of Xuan Huong lake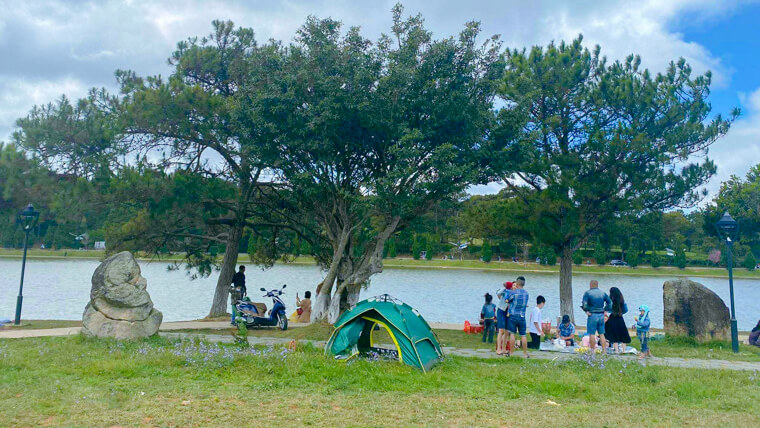 Source: kenh14
It is probably that when first setting foot here, you noticed a quantity of people erecting colorful camps under the pine trees and on lush grass. That's a common thing here, especially at weekends and holidays. These activities are totally allowed and free as long as you don't leave any waste and trash.
5 - Tandem bike ride
The way rounding Xuan Huong lake is smooth and flat, easier to take a ride. It is believed that if those who finish a round drive of the lake together, they will be by each other's side forever. For tandem bike rental:
- No.1 Bui Thi Xuan street, ward 2, Dalat city, Lam Dong province
- No.2 Tran Quoc Toan street, ward 1, Dalat city, Lam Dong province
It is a sure thing that your trip to Dalat can never be fulfilled if you skip Xuan Huong lake because it is the icon, the emerald heart of the city of fog. This writing has provided you with the necessary information to fully understand the beauty of the lake. The next step is waiting for you to complete it.