With a modest height, about 20 m, Datanla waterfall isn't noisy like the others of its kind because of the lack of steep slopes and the appearance of many rocky shelves slowing down the flow. The water at the foot of this fall is very clear, which is called a "fairy stream" by the indigenous people. Particularly, there is also an area whirlpool which is also known as the "Death abyss". The gentle, scenic beauty of this place makes it best for travelers.
I - How to get to Datanla waterfall Dalat?
This beautiful waterfall in Dalat is right on National Highway 20, Ward 3, Dalat City - about 5 km away from Dalat city center. It is in close proximity to some famous destinations in Dalat such as Tuyen Lam lake (4km), Truc Lam Zen Monastery (3km), Prenn waterfall (5.5km), Crazy House (6km)...
The name "Datala" or "Datanla" in K'Ho (an ethnic group of Vietnam who lives in this area) language originates from "Dah-Tam-Nha" meaning "leaves underwater" because although the waterfall is enormous, it nestles neatly on a majestic primitive forest.
To arrive here, you have a variety of options: by motorbike, by taxi or by car. However, going by motorbike is said to be the most suitable because you can admire the beauty of Dalat and be active in your itinerary.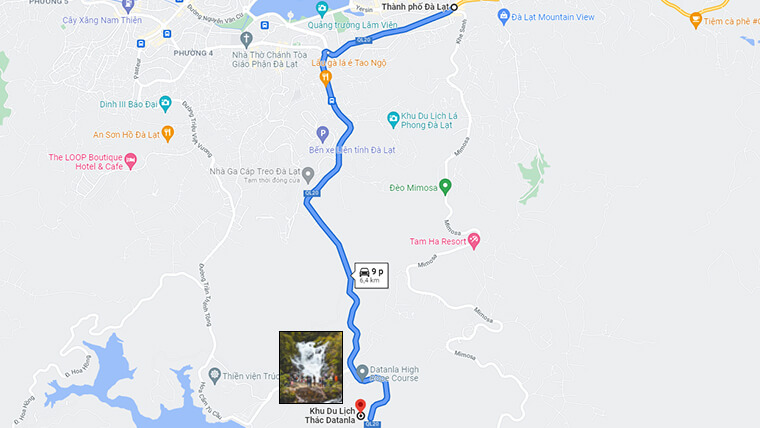 The road to Datanla waterfall Dalat - Source: Localtravelidea
The road from Dalat city to the waterfall is totally paved, straight, tree-lined so traveling is easy. The motor parking lot is located in the hill area, so when getting to the main gate of the tourist site, you must drive for a couple of hundred meters to rest your vehicle.
Currently, this waterfall is under the management and exploitment by Lam Dong Tourism Joint Stock Company (Dalattourist). Dalattourist has held a lot of adventurous activities, helping the tourists to experience the most unprecedented emotions when admiring the water strip in different dimensions and heights.
- Datanla waterfall entrance fee: 30,000 VND/adult ($1.3) & 15,000 VND/child ($0.6)
- Opening hour: 7:30am - 5pm
Note that:
- Ticket price for experiencing games in the tourism area is not included in the entrance fee, each game has a different price)
- Admission tickets are sold at the ticket box near the entrance
II - Datanla high rope course activity
This one is newly put into operation but quickly draws huge attention from visitors. The setting is a web of ropes interlaced with each other on high trunks into spider nets. There are 6 levels with increasing difficulty and 80 different challenges such as walking on a rope, climbing on a rope or flying in the air. The first 20 challenges are easy, designed for children's participation, the next 60 ones are hard, targeted at adults. Before starting the Datanla high rope course, you are instructed carefully about how to play and some basic skills.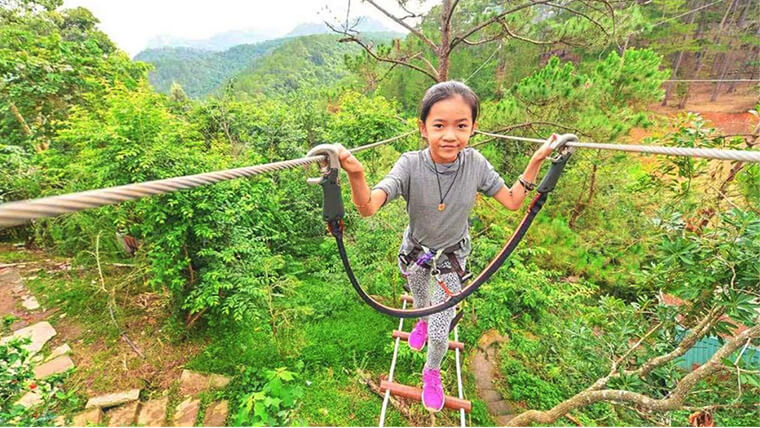 High rope course is a must-try activity - Source: Internet
You will start from a low distance (1-2m from the ground) and then gradually increase in height. The difficulty level is marked with color in ascending order: orange, blue, green, red, and black. There is a security staff supporting you underneath. However, you can quit the game anytime if you find it risks your safety. This high rope course in Datanla falls Dalat is so tempting to many tourists because it requires good physical strength, bravery and also resilience. The higher level you pass, the more sense of accomplishment you may feel.
It is advisable that you do this activity in the early morning (7am - 9am) because this is the time when your body is energy surging, Dalat weather at this time is cool and the tourist is not so crowded.
- Ticket price: 350,000 VND /person/one-way ticket ($15.1).
III - Other interesting Datanla waterfall activities
1 - Climbing to the top of the fall
If you are not an adventurous kind of person or you just want to challenge yourself in a more conventional way, climbing the foot stairs crossing the pine forest to explore the whole waterfall is an irresistible idea. Entering the jungle, you can contemplate the cozy, fresh atmosphere, pristine nature while listening to birds singing and the brook babbling. With a length of about 200 steps equivalent to 1km and slight slopes, the track to the top of Datanla waterfall Vietnam will not cost you too much force. However, you should not be reckless because although the stairs are firmly constructed with cement, over the years, they are fully covered with moss. Moreover, the water from the fall sometimes flows through the steps, making them more slippery.
To vary your experience, after climbing to the top, you can choose to travel by cable car on the way back to see if the scenery has anything different between when being watched from low distance and from a high distance.
- Ticket price of Datanla waterfall cable car: 80,000 VND/person/turn ($3.5).
2 - Canyoneering
The tourist site also provides canyoneering over the waterfall with a height of 20m. If you are confident in your health and would like to challenge your courage, you should get involved. Joining this activity, first, you must go through a short training course about climbing waterfalls, using equipment and flexibly reacting over unexpected accidents to ensure safety.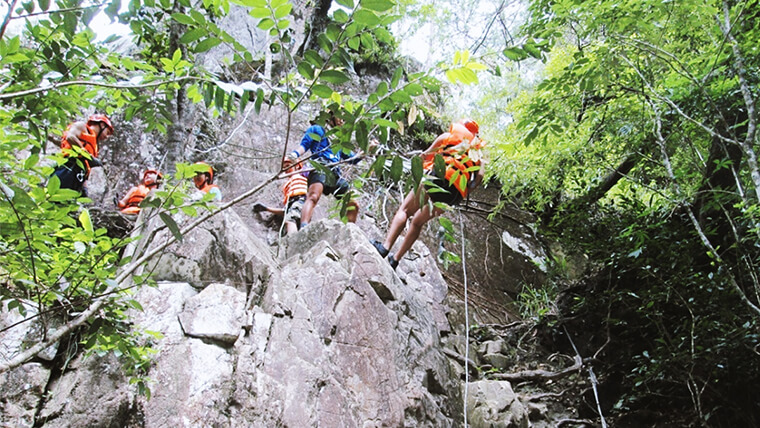 Canyoneering at Datanla falls Dalat - Source: VnExpress
From the foot of the fall, you, equipped with safety gear, hold the rope tight, follow the slope and hit stones to ascend. Keep your body perpendicular to the cliff, lean a bit backward while your arms and legs simultaneously force to push yourself toward.
At first, you may be a little unfamiliar with shaking and slow steps, yet once you are used to it, the higher, the better. In the middle, you can stop to observe the view surrounding Datanla waterfall, figure out the shape of the stones above your head or see flowers growing in the rock. The feeling of hanging on a rope, letting yourself afloat is so phenomenal. When you reach the top, looking down, you will respect yourself for bravery. Although there is the support of the zipline, you still have to hold on tight to minimize problems.
- Canyon tour price: 1,656,000 VND/person ($71.4)
2 - Datanla waterfall roller coaster activity
Another adventure sport in Da Lat that gives you several strong emotions is the alpine coaster. This is also the longest alpine coaster in Vietnam. With a length of 1000 m, the system glides around the mountain cliff and the waterfall; therefore, it is a unique way to discover the beauty of the waterfall.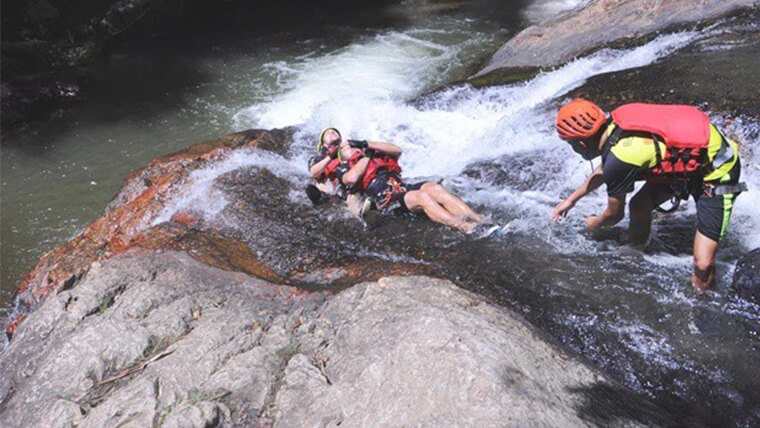 Alpine coaster activity - Source: Kenh14
The alpine coaster in Datanla waterfall is heavily invested with an extremely sensitive brake system that can ensure the minimum distance with the car ahead. In each pipe are double cars so that couples and friends can go together. With a turn, you don't need to take a 10-to-15-minute walk tiredly but still capture all the features of the waterfall in a faster, easier method. This is one of the most favourite activities in the tourist site.
Ticket price:
- Adult: 60,000 VND/person/one-way ($2.6); 80,000 VND/person/return ($3.4).
- Child: 30,000 VND/person/one-way ($1.3); 40,000 VND/person/return ($1.7).
4 - Kayaking in Datanla waterfall
This sport can not be claimed as risky but still brings you fascinating experiences. You can choose either way: racing with other groups or just leisurely sailing around. If you go in a group, it is high time to show off your team working, problem-solving,... In case you go alone or prefer a gentle way, rowing randomly to enjoy chilling moments with picturesque nature, cool breeze and clear water is rewarding as well.
- Ticket price: 800,000 VND/person ($34.5)
IV - Other necessary information about Datanla waterfall
1 - Restaurants
Near this tourist site, there are many restaurants and eating houses where you can come and have a meal after a long day of experiencing. Here are some suggestions:
Datanla restaurant
- Address: in the tourist site, National Highway No.20, Prenn pass, Ward 3, Da Lat city
- Opening hour: 8am - 5pm
- Website: https://dalatcity.org/en/datanlarestaurant
Fujiya Sushi Dalat restaurant
- Address: 34 KQH Nguyen Cong Tru, Da Lat city
- Opening hour: 11am - 2pm and 5pm - 10pm
- Website: http://www.fujiyasushi.net/
Le Chalet Dalat restaurant
- Address: No.06 Huynh Thuc Khang street, Ward 4, Da Lat city
- Opening hour: 8am - 10pm
2 - Datanla waterfall tour providers
If this is the first time you have been in Da Lat and have not known the first thing about this beautiful waterfall, you should refer to reliable tour providers such as:
Top Travel
- Price: 950,000 VND ($40.9)/person
- Itinerary: climbing mountain cliff - climbing Datanla - walking in Prenn pass - alpine coaster
- Contact: 0939 880 920
- Website: https://toptravels.vn/tour-du-lich-da-lat-vuot-thac-datanla/
Hoa Dalat Travel
- Price: Updating
- Itinerary: climbing mountain cliff - climbing waterfall - walking in Prenn pass
- Contact: 0981.62.62.43
- Website: https://dulichdalat.pro/Danh-Sach-Tour/Tour-Vuot-Thac-Datanla.html
Divui
- Price: 1,650,000 ($71.1) VND/person
- Itinerary: Canyoneering - sliding waterfall - climbing fall - jumping cliff
- Contact: 1900 636 732
- Website: https://divui.com/Tour-mao-hiem-truot-thac-Datanla-Da-Lat-25m
It is hard to find a place where you can still admire the pristine nature while getting involved in modern, intriguing sports like Datanla waterfall Dalat. So, what are you waiting for? Why don't you pack your suitcase and go right now?