With the development of society, people are gradually paying more attention to environmental protection, having nature-friendly recreational and sports activities in unspoiled places. In particular, trekking in Vietnam is loved by many people, because of the beautiful scenery on diverse roads, unique culture in mountainous places,... The best time for trekking & hiking in Vietnam is from late September to April when the weather is less rainy all across the country. If you are interested, you can also refer to the list of 13 places for taking some trekking & hiking tours across the country below.
I - Why trekking in Vietnam?
Trekking in the northern region of Vietnam - Source: luhanhvietnam
- Breathtaking landscape: Vietnam trekking has advantages thanks to the country's diverse terrain from coast to mountain region. Vietnam is home to an abundance of giant & impressive underground caves, rich fauna & flora in the vast nature reserves and national parks, spectacular rock mountains and deep abysses,...
Top ideal spots for trekking are famou northern mountains such as Fansipan peak, Pu Ta Leng, Bach Moc Luong Tu; central highlands with long mountain ranges such as Langbiang range, Ta Nang - Phan Dung trek route, the spectacular caves such as Phong Nha - Ke Bang cave, Son Doong cave, En cave, and numerous coastal routes.
- Rich culture & outstanding cuisine: In addition to the outstanding landscape, the culture and cuisine make your trekking in Vietnam a much more wonderful experience and feeling. A number of adventure tourism activities have begun to be carried out at the living places of the ethnic minorities, gaining popularity in the international tourist markets. Vietnamese cuisine is absolutely among the best cuisines in the world with countless delicious dishes that are made from fresh ingredients with many spices and in lots of ways of cooking.
- Low travel cost: Not only that, the travel cost in Vietnam is quite cheap compared to the common ground of other countries. On average, a combo of room, food & drink costs about $20-30 per day in Vietnam.
- Safe for the best trekking in Vietnam:
+ National security & social safety:
This country is always on the list of friendly destinations, with a stable political system and lovely locals, who are famous for their smiles and hospitality. Traveling and take a Vietnam trekking tour, you will feel safe because there is no war, no terrorism, riot or violent crime, at most only petty crimes like snatching or pickpocketing. You just need to be careful about your belongings, and if anything happens, the police are always ready to help.
+ Opening after covid 19:
After a long series of international tourism freezes due to COVID-19, Vietnam has officially reopened from March 15, 2022. Citizens of 13 countries have visa-free entry, such as Germany, France, Russia, Japan, Korea, United Kingdom,… For travelers from other countries who want to visit and take trekking in Vietnam. you only need to have a negative test result before leaving their country. Upon entry, all passengers must make a medical declaration at the website tokhaiyte.vn and install the PC-Covid application on their phones.
During 10 days from the date of entry, you will not have to be isolated, but must self-monitor if you have symptoms of suspected covid infection. There are also some other requirements such as having insurance with the content of COVID-19 treatment with a minimum payment of 10,000 USD, self-pay for testing, medical isolation, medical examination and treatment, and so on. Vietnam's meager travel restrictions is one of the reasons why it is now among top destinations to visit for adventure seekers.
II - Top 13 ideal places for trekking in Vietnam
1 - Fansipan peak in Sapa - the best Vietnam hiking route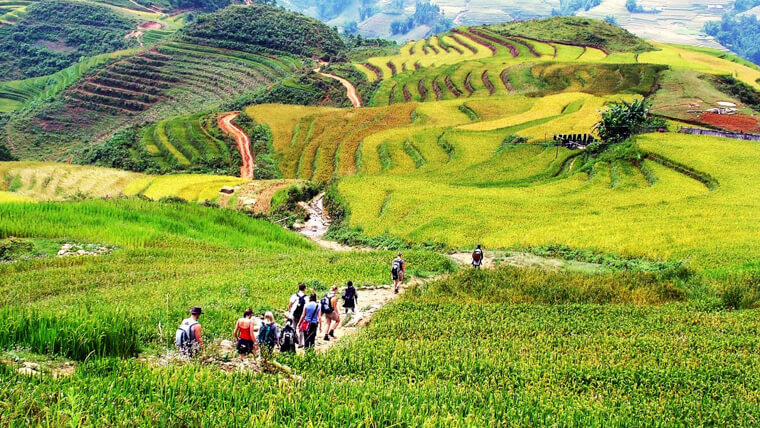 Source: kkday.com
Having come to Vietnam for trekking, you should definitely not miss out on Fansipan - the roof of Indochina at an altitude of 3,143m. There are three routes with different levels of difficulty, among which the easiest one is from Tram Ton to the top and back with a total time of 2 - 3 days. The mid-range is a 4-day route quite similar to the one above, but when returning, you will follow the Muong Hoa valley, Cat Cat stream and the eastern slopes of the Hoang Lien range. The most difficult route is only for professional trekkers, starting at Doc Mit, Binh Lu, reaching the top of the mountain.
The weather in Fansipan is almost pleasant all year round, especially from late September to April next year. The best time for trekking in Vietnam Fansipan is from October to December, when it is dry and not too cold with sunlight. When you reach the middle of the mountain, you can also see clouds and drizzle starting to appear and create a beautiful rainbow. This journey will lead you deep in the Hoang Lien Son National Reserve, letting you immerse yourself in the fairy space at the top of the mountain surrounded by clouds.
Besides Fansipan peak, Sapa - home to many tribal villages surrounded by valleys & hills, is absolutely a top place for a Vietnam trekking tour. Top recommended trekking routes: Sapa - Lao Chai village - Ta Van village, Sapa - Cat Cat village - Muong Hoa valley.
2 - Pu Luong nature reserve - top place for jungle trekking in Vietnam
One of the famous places for trekking is Pu Luong nature reserve located in the northwest of Thanh Hoa Province. Along with Mai Chau in Hoa Binh province and Cuc Phuong national park in Ninh Binh province, the route of Hanoi - Mai Chau - Pu Luong - Cuc Phuong national park is one of the most impressive travel routes in northern Vietnam.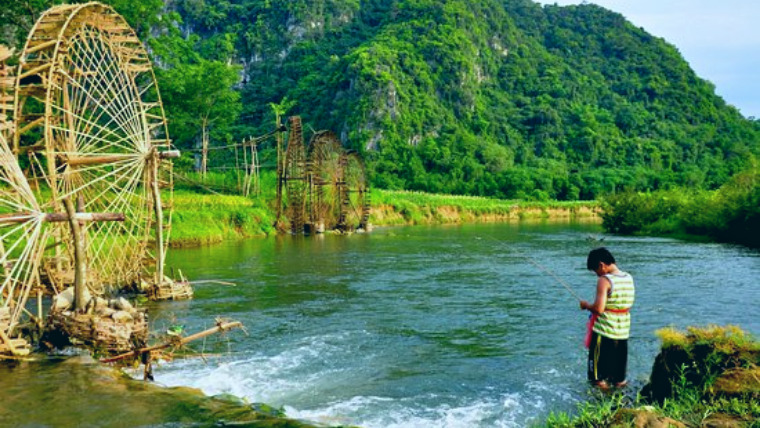 Pu Luong Vietnam trekking route - Source: Tripadvisor
The hiking trip to the top of the 1,700m Pu Luong lasts about 5 hours, quite tiring but very worth it with the mountain scenery of vast, immense and majestic fields looking from above. Starting from Kho Muong village, you can choose to trek through 4 villages of Pon, Thanh Cong, Cao Hoong and Kit to combine discovering the life, culture and customs of local people, or follow the trail Uoi - Pho Doan to Quan village.
Choosing Pu Luong is your place for trekking in Vietnam, you should get there at the end of May and the beginning of June, when the weather is very cool despite being in the summer, everything is covered with a green color of trees and young rice. And if you want to admire the brilliant golden rice fields as if the place were wearing a new shirt, then the period from September to October is not bad. In addition, you can also experience traveling here in other months, because the atmosphere is always quite pleasant and the space has its own beauty anytime in the year.
3 - A Pa Chai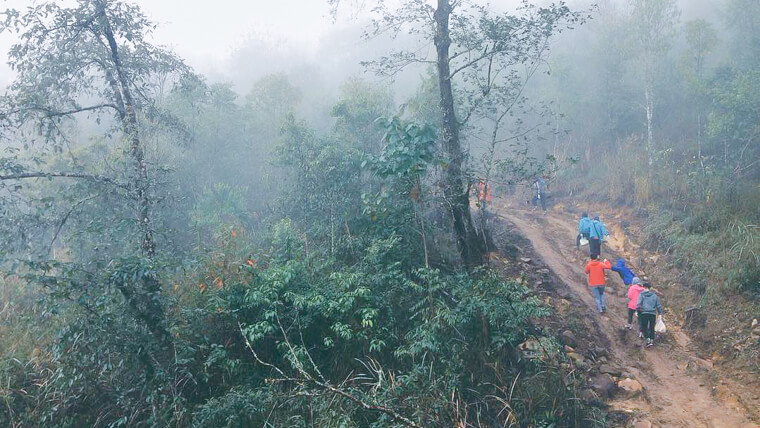 Trekking in A Pa Chải - Source: @bobinhhh
As the westernmost point of Vietnam, Apachai is located at the junction of the country with Laos and China, in Sin Thau Commune, Muong Nhe District, Dien Bien Province. This is one of the simpler routes for best trekking in Vietnam that can take about 3 - 5 hours to conquer the peak. The end of the journey is located at an altitude of 1,400m - the Apachai landmark made of granite on a square pedestal facing three directions.
The dry season (November - March) is the ideal time for hiking in Vietnam at A Pa Chai, when the weather is dry and the landscape is much more special, with limitless hills covered with green grass and gently floating clouds. In particular, November - December is the season of plum flowers and wild sunflowers in full bloom, covering Apachai with carpets of white and yellow. This happens to also be the time when the Ga Tho festival of Ha Nhi people takes place - your chance to meet and join in with the friendly and rustic people here.
4 - Ta Xua peak - one of the best places for trekking in Vietnam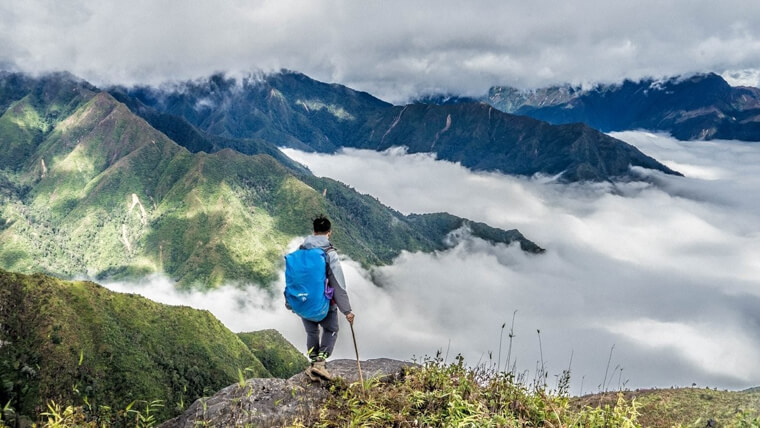 Trekking in Ta Xua - Source: travelgear.vn
Located in Tram Tau District, Yen Bai Province, Ta Xua mountain is currently one of the most attractive locations for Vietnam trekking, with beautiful and poetic scenery. This place actually has 3 peaks, but usually people only climb and explore the route to peaks 1 and 3, which is the highest peak with a height of 2,865m. A Ta Xua trekking tour will last 2 - 3 days, resting at the shacks on the way up the mountain. The best time to conquer Ta Xua is around January - March every year, when it is neither too hot nor too cold, convenient for sightseeing and trekking.
You will trek through long and high slopes with undulating rocks and dust, or a half-meter trail right at the ridge overlooking the deep abyss. Dense clouds on the peak make Ta Xua a top destination for trekking in Vietnam. This mountain is surrounded by higher ones, so dense clouds always appear, creating a surprisingly beautiful landscape like a magical picture of nature. It's the pure white color of the thin clouds, blended with the immense green of the mountains and forests, and the colorful shade of flowers. Standing on the top of Ta Xua, you will feel like you are lost in a fairyland that only exists in myths, your chance to freely take selfies.
5 - Bach Moc Luong Tu - one of the best Vietnam hiking tour
Having quite rugged terrain, Bach Moc mountain range has the highest peak at 3,046m above sea level, which is one of the four highest peaks in Vietnam. Located between two provinces: Lai Chau and Lao Cai, Bach Moc Luong Tu, also known as Ky Quan San, is an attractive Northwest destination for trekking in Vietnam. The best time to explore this place is during the season change between spring and summer (February - March), as the weather is quite pleasant and flowers bloom.
With a distance of about 14km from the foot of the mountain to the top, this trip lasting about 3 days and 2 nights is a real challenge. You will have to trek through many different terrains such as bare hills, bamboo forests, large wooden forests, and even moss-covered cliffs,…
Currently, there are 2 ways to get to the top of Bach Moc Luong Tu, one is going from Bat Xat, Lao Cai and the other is going from Phong Tho, Lai Chau, which is easier with more diverse terrain of untouched jungle.
6 - Ta Nang - Phan Dung (the hardest route of trekking in Vietnam)
Ta Nang - Phan Dung is known by travel lovers as the most beautiful trekking route in Vietnam, connecting from Ta Nang commune (Lam Dong), through Ninh Thuan to Phan Dung (Binh Thuan). Conquering a length of about 55km, you will have to spend about 3 days and 2 nights crossing the forest, climbing passes and wading streams, moving from an altitude of 1100m to 500m above sea level. Because this famous Vietnam trekking route passes through 3 different provinces, the climate has certain differences, near Ta Nang will have a cool climate and in Phan Dung the climate will be dry and hot.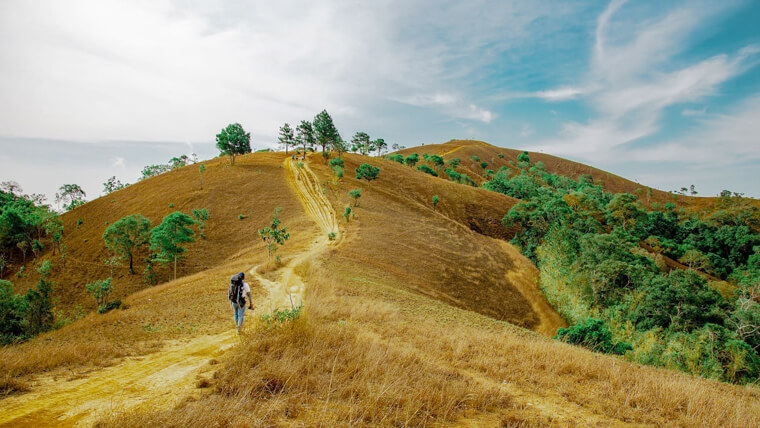 Ta Nang - Phan Dung is the best trekking in Vietnam route - Source: nucuoimekong.com
Like the Southern region, Ta Nang - Phan Dung also has rainy and dry seasons, each of which has its own beauty. Going in from May to November, you will encounter a vast green grass paradise that has just been washed by the rain, bringing an airy atmosphere. Meanwhile, December - April next year is the dry season, also known as the burning grass season, with the wild and poetic beauty of the golden color covering everything. The scenery is astonishingly diverse, yet extremely peaceful, giving you the opportunity to relax in the middle of nature, and forget the noisy city life.
7 - Lang Biang in Dalat
With a height of 2167m, Langbiang is a not too difficult destination for jungle trekking best suited for newbies and amateurs. Thanks to the gentle slope, you can walk and rest, while admiring the majestic mountain scenery on a journey of more than 4 km, lasting about 3 - 4 hours. The annual temperature is below 25°C, so you can come here at any time, particularly from November to February next year, when the cherry blossoms are in full bloom. From the misty peak of Langbiang, you will be able to see the majestic nature and the hidden city of Da Lat in the distance.
8 - Bach Ma National Park - ideal & easy Vietnam trekking place
Long known as a wonderful place for trekking in Vietnam, Bach Ma National Park (Thua Thien Hue province) brings you fresh air and charming natural scenery. Located at an altitude of 1500m, the top of Bach Ma mountain can be reached after going through a 19km road. The trip lasts about 4 - 5 hours, going through many winding sections and vertical steep slopes, so participants must prepare well. The best time to visit Bach Ma is in the summer (December - April) or around June - July.
With a total area of nearly 37,500 hectares, Bach Ma National Park is a place with elegant and majestic beauty like a real-life wonderland. While trekking at Bach Ma national park, you can feel the weather of 4 seasons in one day, see the rich flora and fauna and encounter rare animals on the way. From Hai Vong Dai at an altitude of 1430m, you will be able to freely admire the view of Lang Co Bay, Truoi Lake, majestic mountains and trees.
9 - Cat Ba National Park - a great park in island for trekking in Vietnam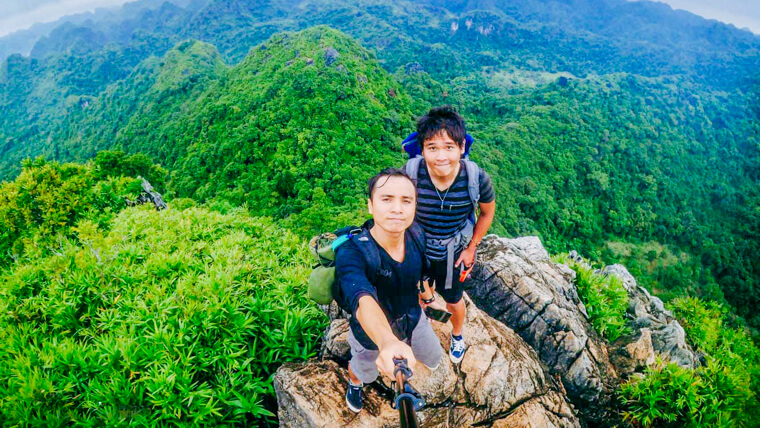 Trekking in Cat Ba national park - Source: sangdibui
Belonging to Cat Ba archipelago, the national park with the same name has a terrain that is not too rough, with limestone mountains interspersed with many narrow valleys running long. Because of the convergence of the forest and the sea, this is not only an attractive eco-tourism destination, but also a particularly attractive place for a Vietnam trekking tour. You can comfortably walk on the trails, the rocky beaches approaching the stream, or climb the high cliffs with many species of forest trees growing around. The ideal time to go trekking here is from April to August, when the air is cool and fresh, the road is dry and non-slip, convenient for discovering.
10 - Bu Gia Map National Park
Bu Gia Map National Park in Binh Phuoc province is one of the places where you must get permission from the Management Board and rangers to go trekking in Vietnam. In 2 days, you will conquer the forest road 15km - 20km long, from the flat road, to the slope, sometimes wading streams, going through waterfalls…
Because it is a national park, in general, the roads are well cared for, not too difficult, but still have wild and natural features. You will be able to see firsthand the diverse flora with many rare animals, along with beautiful mushrooms and forest orchids.
11 - Ba Den Mountain
With an altitude of about 986m, Ba Den mountain in Tay Ninh is known as the highest mountain in the Southeast region, always attracting a large number of people who love Vietnam trekking. In particular, there are many roads here, so everyone can freely choose different types of easy and difficult depending on their health and experience, even if you try trekking in Vietnam for the first time. Normally, it will take you half a day to conquer the top of the mountain, so the weather factor plays a very important role, with the dry season (December - April) being the most ideal time.
The higher you climb, the more you will see the change of trees, if at the foot of the mountain is a mango, the higher it goes, it will be bamboo, at the top,… From the top of the mountain, you will be delighted to experience the feeling of lying in the clouds, admiring the view of a wild but poetic land, breathing the cool air,...
12 - Lao Than Mountain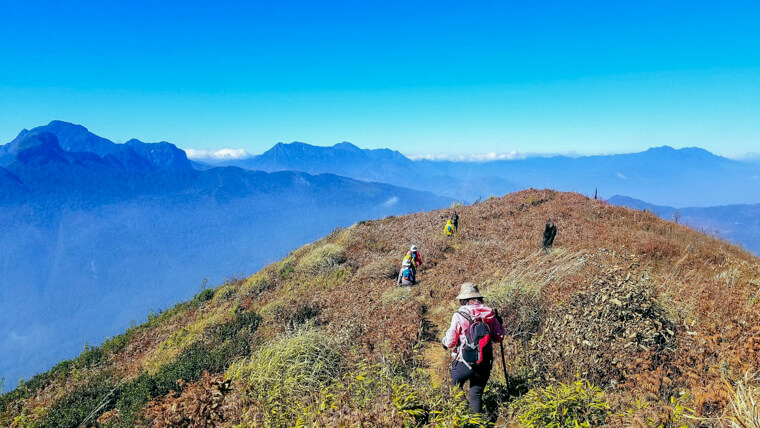 Trekking in Lao Than mountain - Source: trekking-camping.com
With a height of 2800m, Lao Than mountain (Y Ty commune, Bat Xat district, Lao Cai province) is an ideal place to combine cloud hunting and trekking in Vietnam The road is not too difficult, but it will still take 2 days passing many trails and turns, so you should hire local guide or porter to lead the way. Although it is a newly discovered place, the vast, airy space that hides many mysteries has made Lao Than Mountain a promised land for those who love to explore.
Taking a Vietnam trekking & hiking at Lao Than Mountain, you will be able to encounter countless beautiful scenes from forests, mountains, to all kinds of typical flowers of the mountains that are racing to bloom like medlar trees, rhododendrons, etc. In particular, reaching the top of the mountain, you will have the opportunity to sink into the sea of ​​clouds peeking in the morning light, admire the romantic sunset dyeing the sky pink or the unique night sky with a milky way.
13 - Top mountain for go trekking in Vietnam - Nhiu Co San mountain
Located in Bat Xat district, Lao Cai province, Nhiu Co San with a height of 2965m ranks 9th in the top 10 highest mountains in Vietnam. The climate here is cool all year round, but the best time to visit is from October to March next year. The 2 days of trekking here will give you the opportunity to admire the scenery of wild flowers racing to bloom. You also shouldn't miss the early trip in the morning, in order to admire the scenery of the first rays of the day crept through the floating clouds. The trekking journey to conquer Nhiu Co San usually goes from Ong Chua waterfall along the goat grazing road or vice versa, in which Ong Chua waterfall road will have many large trees to shade and make it easier to find a place to rest.
Choosing this as your place of trekking in Vietnam, you have a chance to go over the waterfall, there are many wooden bridges, beautiful scenery on continuous high slopes that you can stop to rest and take beautiful check-in photos. The changes of terrain on this unique trekking route in Vietnam is also one of the attractions, ranging from shrubs, grasslands, to primeval forests, large timber trees,…
14 - Cao Bang province
This is a favorite destination of Vietnam trekking tours, with many diverse routes, lasting from 3 - 4 days. Nature favorably bestows Cao Bang with an extremely diverse landscape system that is beautiful like a fairy scene, from majestic high mountains, mysterious stalactite caves to dangerous rapids with white foam. With its special charm, it is no wonder when this place was voted by travel site SkyScanner as one of the five most unique trekking destinations in Southeast Asia in 2018.
Cao Bang will be a great place for trekking in Vietnam with many tourist routes have been formed connecting community tourist attractions, such as Bao Lac - Thong Nong - Nguyen Binh, Quang Uyen - Trung Khanh… You can climb to the top of Ngoc Con mountain to watch the sunset, walk through the red-leaf forests, or discover natural masterpieces such as the scenic Ban Gioc waterfall, the poetic Ban Viet lake, etc. Because the weather is pleasant all year round, you can come anytime, but between July and December the above places will be the most beautiful.
15 - Pu Ta Leng mountain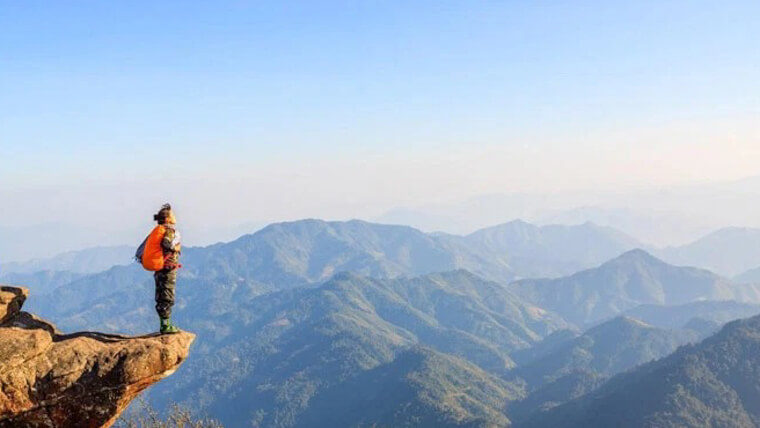 Trekking in Pu Ta Leng - Source: Kenh14
The Vietnam trekking route named Putaleng has become famous among adventure lovers because of its challenging nature. Located in Lai Chau province, this mountain has an altitude of 3,049m, ranking third in Vietnam after Fansipan and Pu Si Lung. Pu Ta Leng is one of the best places for trekking in Vietnam. This place is almost beautiful all year round, so you can come at any time but avoid the rainy season (June to August) for safety reasons. Meanwhile, March - May is the blooming season of azaleas, and November - December is the best time for "hunting clouds".
There are two main trekking routes, the first is from Tho village, and the second is from Ta Leng commune - which is easier and not as steep as option 1 but longer. According to the experience of many professionals, you should start at Pho village and then go back in the direction of Ta Leng to fully enjoy the beautiful scenery. This place is still a true primeval forest, bringing in a beauty that is majestic and unspoiled. You will easily encounter in Putaleng the stumps of ancient forest azaleas, blooming on the characteristic green background of moss and lichens.
III - Top-rated trekking in Vietnam tour operators
1 - To Ong Adventure (Honeycomb)
As one of the most famous Vietnam trekking tour companies, To Ong is especially loved and chosen by young people. You will be supported by a professional team with scheduling, organizing safe tours on a variety of routes from easy to difficult. A group will be up to 15 people to ensure control, and the guide goes with the ratio 1:3, sometimes 1:2 or 1:1 if the route is difficult.
- Some outstanding tours: Ky Quan San, Lao Than, Ta Nang - Phan Dung (2D1N), …
- Price: from 2,700,000 VND / person ($117.9)
- Address: No.60/07 National Highway 13, Ward 26, Binh Thanh District, HCMC
- Contact: 0964 307 557
- Website: https://toongadventure.vn/
2 - Viettrekking - among top Vietnam trekking tours
Viettrekking is one of the most professional trekking in Vietnam tour companies that organize trekking tours in Vietnam, diverse from 1 day, 2 days to 5 days, depending on the route and difficulty of the destination. A tour group usually has a maximum of 12 people, both for building a private space of entertainment and discovery to create connection, and for limiting the risks.
- Some outstanding tours: Ta Xua, Pu Ta Leng, Nhiu Co San,…
- Price: 1,200,000 - 6,350,000 VND / person ($52.4 - 277.3)
- Address: No.102 Thai Thinh Street, Thinh Quang Ward, Dong Da District, Hanoi
- Contact: 1900 2869
- Website: https://viettrekking.vn/
3 - Trekking Tours - Simple Backpackers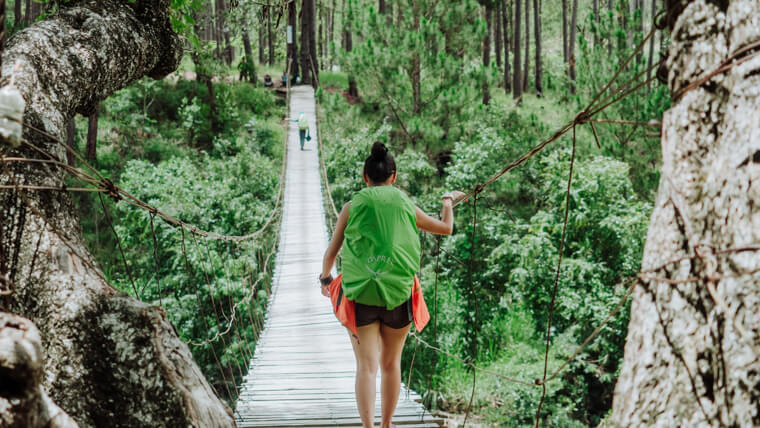 Jungle trekking - Source: Internet
This is one of the first choice units when you intend to go trekking in Vietnam, with enough high-quality equipment and a team of senior professionals. The tours all have specific schedules and times, ensuring that you can follow the group closely during the trip and still have new and exciting experiences.
- Some outstanding tours: Chu Nam Peak (Lao Cai), East Pole Khanh Hoa, …
- Price: 2,490,000 - 3,950,000 VND / person ($108.73 - 172.5)
- Address: No.64/18 Street 26, Hiep Binh Chanh Ward, Thu Duc District, HCMC
- Contact: 078 436 6396
- Website: https://trekkingtours.vn/
4 - Vietnam Tour Trekking and Travel
Also known as Vietrek Travel, this is a famous trekking in Vietnam tour company with a unique combination of tradition and experience, letting you feel a colorful life with many destinations and new forms of experience. During the trekking trip, you can challenge yourself and enhance your experience with exciting sports such as rowing, kayaking, and so on.
- Some outstanding tours: Fansipan, Ta Giang, Bu Gia Map National Park, …
- Price: 2,790,000 - 6,850,000 VND / person ($121.83 - 299.13)
- Address: No.49/5/4 Tan Chanh Hiep 16, Tan Chanh Hiep Ward, District 12, HCMC
- Contact: 0377 130 051
- Website: https://vietrektravel.com
5 - Mr.Linh Adventure - one of the best trekking in Vietnam tour oprators
Being recommended on this list as one of the top tour operators in Vietnam offering quite a lot of tours in Indochina for adventure seekers. If you are looking for some thrilling Vietnam trekking tours, you can find lots of good deals here.
- Some outstanding tours: Mai Chau - Pu Luong, Ba Be lake - Ban Gioc waterfall, Cat Ba national park, Sapa, Ha Giang, and lots of long-distance trails and tours.
- Price: $170 - 1220/pax
- Address: No.83 Ma May street, Hoan Kiem district, Hanoi
- Contact: (+84) 989587400
- Website: http://www.mrlinhadventure.com
If you are a nature lover and enjoy exploring, trekking in Vietnam is an activity not to be missed, giving many unforgettable memories. This will be an opportunity for you to challenge yourself while facing nature, and at the same time admire the beautiful, unique and unspoiled landscape of this S-shaped country. With the above information, what are you waiting for if you don't plan a Vietnam trekking trip here right away.