Hanoi is not only a political and cultural center of Vietnam in which there are a myriad of historical sites and valuable architecture but also a heaven for eateries. Pho, Bun Cha, Banh mi,... all the dishes that have been world-famous are specialties of this locale. However, not any restaurant on the streets of Hanoi can bring you the expected taste. The Hanoi food tours are therefore born to provide you with the greatest edible experiences.
I - Why are the food tours in Hanoi try-worthy?
There are dozens of streets in Hanoi named after foods such as Hang Mam Street (Fish sauce Shop), Hang Muoi Street (Salt Shop), Hang Khoai Street (Sweet potato Shop), Hang Duong Street (Sugar Shop), Hang Dau Street (Bean Shop), Cho Gao Street (Rice Market),... This thing can hardly be found anywhere else in Vietnam and in the world alike.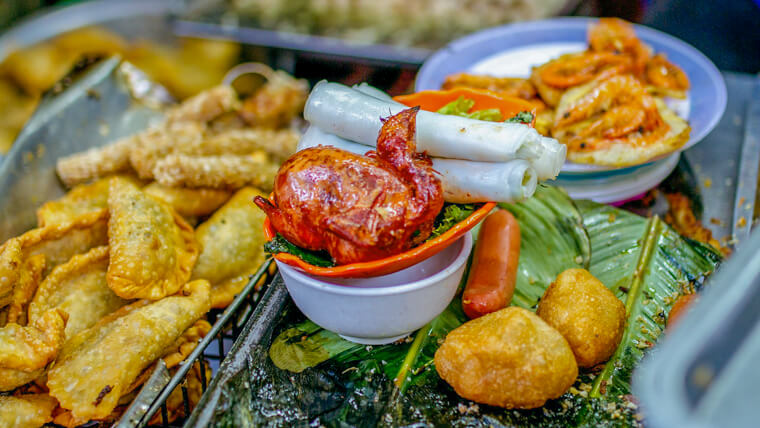 There are numerous food tours in Hanoi Vietnam - Source: vnstour
In fact, the cuisine of Hanoi mainly starts with folk dishes that people of other locales get used to. The elegance and delicacy of Hanoians have a great influence on Hanoi cuisine, making it special and iconic. The foods in Hanoi are processed complicatedly, and understatedly so that they can concentrate all typical flavors but still give out a particular subtlety. Through the skillful hands and the good taste of the cooks, the delicacies of Hanoi nowadays are not merely simple dishes but beautiful culture.
Amongst hundreds of Ha Noi delicacies, the most famous ones that should not be missed in your food tours in Hanoi are Pho, Vietnamese egg rolls, Banh cuon (Vietnamese steamed rice roll), Bun thang (Hanoi combo noodle soup), Bun cha, Shrimp cake, Cha ca La Vong (Turmeric fish with dill and noodles), O mai (Salted dry fruits), egg coffee,... Each dish has a distinctive taste but the common thing amongst them is the harmony in color, condiment and the balance between Yin and Yang according to the Oriental perspective.
Hanoians are particularly meticulous in choosing ingredients and subtle in the way to process the meal from the main course to dessert. Joining the food tours in Hanoi, you are served dishes according to each season. When cooking, the cook must follow a strict formula to make sure that the food can manifest a typical feature of that season and exude a touch of traditional Hanoi.
Currently, Hanoi food tours have become an interesting method of tourism liked by many visitors, especially the foreign ones. These tours often take you no more than 1 day to touch the beauty of the city via the stomach entrance. Taking part in the food tours in Hanoi, you will be brought to dozens of vendor stores where delicious dishes with original taste are provided. With only a small sum of money, (fluctuating from $20 to 60/person) you can enjoy helpful and professional services. Moreover, the provider takes all your eating problems into consideration to make sure you have perfect experiences and beautiful memories of this city.
II - Top 5 best food tours in Hanoi Vietnam
1 - Ha Food Tour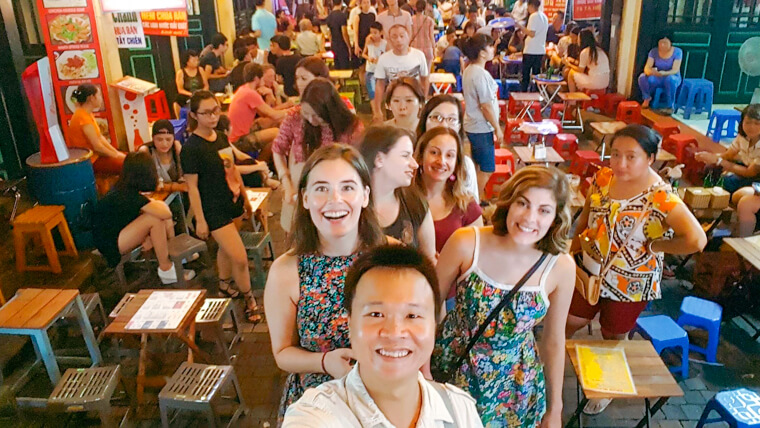 Ha Food Tour - Source: hafoodtours
The founder of this business, Mr.Ha is a food lover. He and his friend aim at bringing the most foodie service to those who share the same passion. Comprehensively understanding that the city has a variety of renowned restaurants located in narrow alleys that makes it difficult for strangers to be aware and approach, the team comes as a key to this matter.
There are a variety of options for you to choose such as a small group street food walking tours, private street food walking tours, Hanoi foot tours on motorbike, vegan food tour, good morning food tours in Hanoi,... As long as you are interested in the cuisine of Hanoi, you will always find a suitable place when coming to the Ha Food Tour.
- Phone: 0936 332 839
- Email: info@hafoodtours.com
- Duration: 3 - 4 hours
- Price: $25 - 45/person
- Website: https://hafoodtours.com
2 - Hanoi Street Food Tour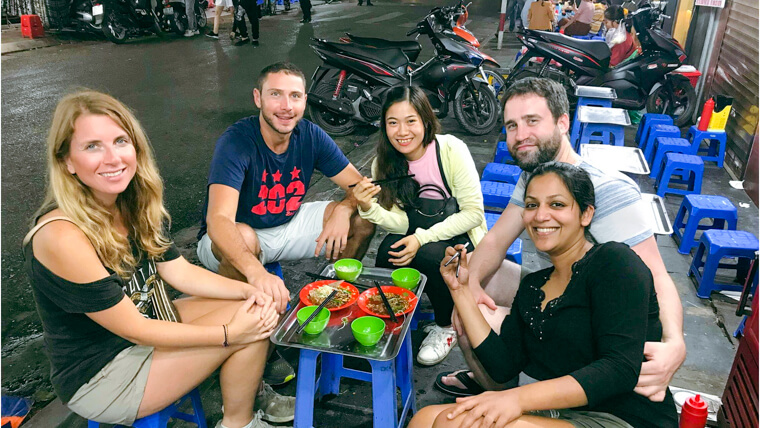 Hanoi Street Food Tour - Source: hanoistreetfoodtour
This business is launched by a foodie who has undergone professional training of a university major in tourism. Therefore, he deeply understands the problem of foreign visitors when coming to Vietnam. With a profound love of Hanoi, his homeland, he tries to become a bridge connecting the quintessence of Hanoi tourism and cuisine with exotic friends.
While experiencing the food tours in Hanoi and admiring the beauty of the city, you are lead to go to the most famous restaurants which have mouth-watering specialties at extremely reasonable prices. Moreover, if you travel alone, you will never have to worry about being in a daze in this crowded city because the team of Hanoi Street Food Tour are always good buddies waiting for you to make a date.
- Phone: 0966 960 188
- Email: hanoistreetfoodtour@gmail.com
- Duration: 3 hours
- Price: $30 - 40/person
- Website: https://www.hanoistreetfoodtour.com
3 - Azlocal Trip - one of the best food tours in Hanoi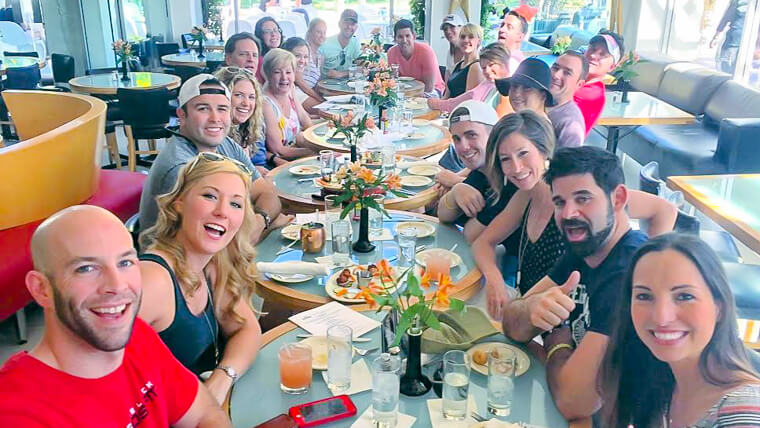 Azlocal Trip - Source: experiencescottsdale
As local experts, the company staff are good companions who can bring you to the smallest but most interesting corner of Hanoi. With their assistance, you will have your eyes wide open with a diversity of interesting things, especially food. Exploring Hanoi local food tours with Azlocal Trip is sure to be a good idea because they have rich knowledge about this city and they are excellent interpreters for the local people and you. The dishes that the tour introduces you to are a selected list of delicacies found in the Hanoi Old Quarter - the birthplace of Hanoi cuisine.
- Phone: 096 519-2251
- Email: support@azlocaltrip.com
- Duration: 3 - 4 hours
- Price: from $18/person
- Website: https://azlocaltrip.com
4 - A Taste Of Hanoi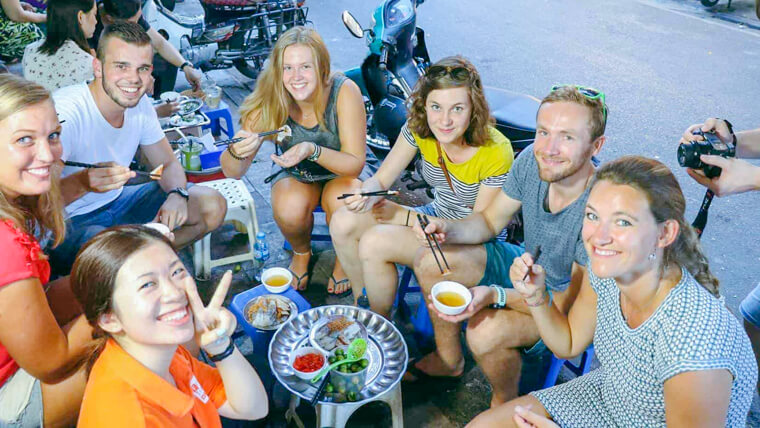 A Taste Of Hanoi has a lot of experiences in organizing food tours in Hanoi - Source: @A Taste Of Hanoi
With a passionate love for the millennial civilized capital of Vietnam, A Taste of Hanoi is eager to show off with you guys what they are supposed to be the most beautiful and exceptional of their homeland. The Hanoi food tours of the company are conducted by walking. The cute guide in uniform is supposed to meet you at Dong Xuan market. After a warm and intimate welcome, they will walk you around 36 streets of the Old Quarter, tell you untold stories about each stopover and at the same time taste delicious street foods.
- Phone: 0974 722 640
- Email: bookings@atasteofhanoi.com
- Duration: 4 hour or more
- Price: $25 - 45/person
- Website: https://atasteofhanoi.com
5 - Hanoi Urban Adventures - top best food tours in Hanoi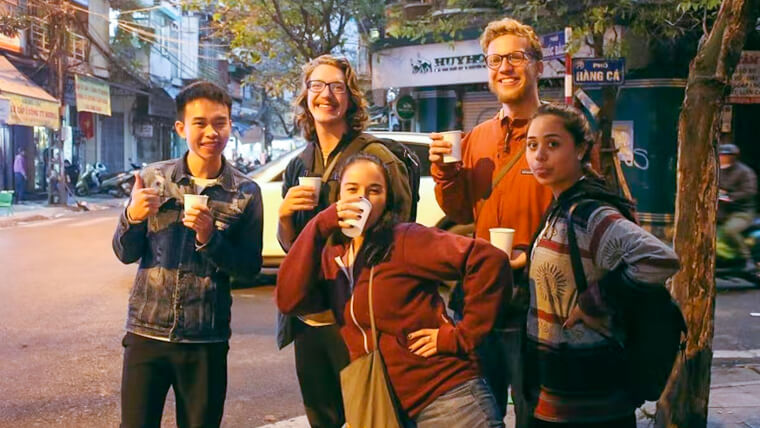 Hanoi Urban Adventures - Source: atasteofhanoi
The company's Hanoi local food tours offered you an opportunity to sight the city via a special lense made of edible things. Going on the tour is a way for you to go off the beaten track, getting away from famous, expensive restaurants that only aim at tourists but slithering into alleyways to serve food at vendor shops that only long-term locals know. That's the way you can truly penetrate into the exceptional cuisine of the city.
- Phone: 0904 193 308
- Email: info@urbanadventures.com
- Duration: 3 hours
- Price: $35/person
- Website: https://www.urbanadventures.com/en/hanoi
The food tours in Hanoi are such wonderful tourism products, aren't they? From the bottom of our hearts, we sincerely advise you to book a tour of this kind. Sampling the finest of the city cuisine while getting closer to its different aspects, it is called cutting two trees with one saw.