Ho Chi Minh city is not only the economic and commercial center of South Vietnam but also a wonderful destination for traveling because of the rich culture & history, extravagant culinary delights, mega-malls, entertainment complexes and fast-paced life. In addition, you can embark on one day trips from Ho Chi Minh city to famous tourist spots in the Mekong Delta or other stunning beach cities. Let's check out the 5 best places to visit near Ho Chi Minh city in the article below.
Best day trip from Ho Chi Minh city to a historic site - Cu Chi Tunnels
The tunnels of Cu Chi were constructed in the resistance against French colonialism around 1948. These tunnels are actually a unique military "art" showing the resilient and indomitable will of the heroic Vietnamese. The system of Cu Chi tunnels comprises Ben Duoc tunnels and Ben Dinh tunnels, which are located in two distinct places, 13km away from each other. To take a one day tour from Ho Chi Minh city, you can consider visiting one of them by taxi or tour.
Ben Dinh Tunnels
Located in Ben Dinh Hamlet, Pham Van Coi Commune, Cu Chi District, around 42km from Ho Chi Minh City center, Ben Dinh tunnels stretch 67,086.2m2, featuring the system of tunnels together with a cluster of constructions, namely secret tunnels, trenches, cinema hall, etc. and the exhibition of guerrilla's artificial weapons, etc. You can gain numerous experiences here such as exploring the system of tunnels, partaking in a shooting game, hitting the souvenir shop for picking up a couple of gifts like traditional items in the locality, lacquered high-grade handicrafts, etc.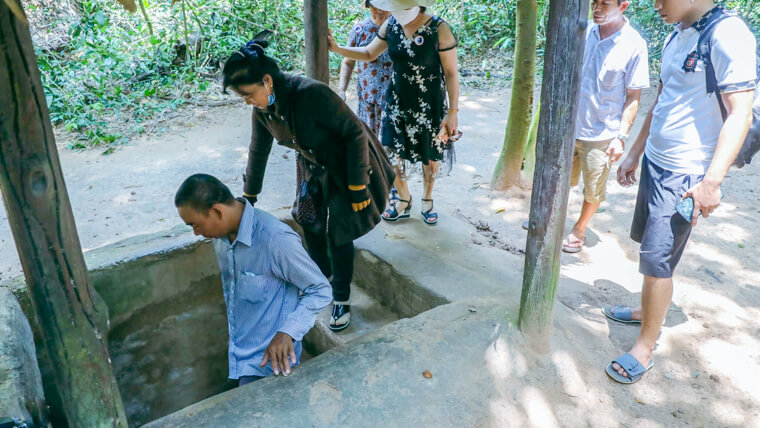 Top day trip from Ho Chi Minh city - Source: vnexpress
Ben Duoc Tunnels
Ben Duoc Tunnels are located in Phu Hiep Hamlet, Phu My Hung Commune, Cu Chi District, around 55km from Ho Chi Minh City center. With a huge area of 100,000m2, there are a myriad of activities you can join in Ben Duoc tunnels like visiting the exhibition of weapons of the US army, watching documentary films to gain more insight into Vietnam's history, enjoying local specialities that are used to be cooked during the war, and the list goes on.
Can Gio Biosphere Reserve - ideal day tour from Ho Chi Minh city for relaxing
Can Gio is a coastal suburban district of Ho Chi Minh city, around 50km from the city center. This place is appealing to tourists because of a long, stretching coastline, vast salt-marsh forests and a "heaven" of mouth-watering fresh seafood. The "green oasis" amidst the vibrant city of Ho Chi Minh is absolutely worth a visit. If you are planning a day trip from Ho Chi Minh city to this district, Vam Sat Ecopark is highly recommended for your amazing trip.
Source: laodong
Vam Sat Ecopark is one of two Sustainable Ecotourism Areas Of The World in Vietnam, recognized by the United Nations World Tourism Organization (UNWTO) in 2003. The forest covers more than 31,000ha, featuring a biodiversity with more than 150 species of fauna and over 130 species of fishes, reptiles, vertebrates, mammals, and birds. Vam Sat salt-marsh forest is the combination of terrestrial, aquatic and freshwater ecosystems whose highlight is swamps, of which the most outstanding is Bat Sanctuary Swamp.
Taking a day tour from Ho Chi Minh city, you have a chance to witness a flock of sleeping bats hanging upside down on tree branches or flying in the sky. In addition, the area also consists of The Bird Sanctuary, home to a number of rare, precious birds, many of which are recorded in the Red Book of Vietnam. You can climb up the tower amidst the verdant forest to immerse yourself into the grandeur of the spectacular nature and the amazing scene of bird flocks in the sunshine. On your day trip from Ho Chi Minh city to here, don't forget to get on a crocodile fishing boat in the crocodile farm or climb up a 26-meter-high Tang Bong tower consisting of 4 floors for observation. In addition, head to Monkey Island, home to more than 2,000 individuals of all kinds of monkeys.
- Location: Ly Nhon commune, Can Gio district
- Distance from Ho Chi Minh city: 47km
Vung Tau beach city - day tour from Ho Chi Minh city to the beach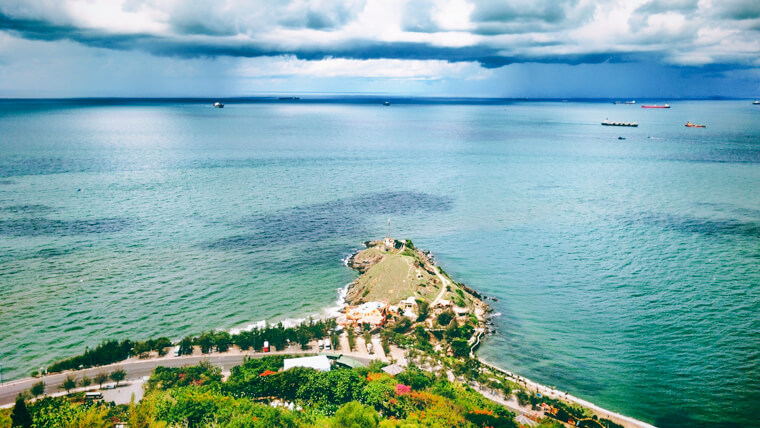 Source: @Joseph Phương
Vung Tau city is considered the "Vietnamese Riviera", which is famous for its limitless stretching shoreline, crystal clear turquoise water, soft, gentle white sand, and amazing entertainment areas. Top beaches for visiting are Bai Sau, Ho Tram, Long Hai, Bai Truoc, Loc An, Ho Coc, etc.
Most of these beaches are pristine with stretching, gentle sand, lined with coconut palms. Numerous activities you can join at these enchanting beaches such as boating for sightseeing, swimming, watching sunset or sunrise, etc.
Besides your best beach day trip from Ho Chi Minh city to Vung Tau, you should not miss visiting Tao Phung mountain, one of the two most spectacular mountains of the beach city. Continue to your day tour from Ho Chi Minh city in Vung Tau, Along the hillside in the South is the windy Nghinh Phong cape with breath-taking natural landscapes, featuring two prominent beaches of Vong Nguyet and Huong Phong. About 800 stone steps lead you to the foot of the 32-meter-high Jesus Christ statue with outstretched arms.
Another peak of Tao Phung mountain is a 18m lighthouse, painted in white, outstanding in the clear blue sky. This is one of the oldest lighthouses in Vietnam and Southeast Asia. From here, you have a wonderful vista of majestic mountains, immense sea and the broad view of Vung Tau city from a height.
- Location: Vung Tau city, Ba Ria - Vung Tau province
- Distance from Ho Chi Minh city: 95km
Tay Ninh - a great place for day trip from Ho Chi Minh city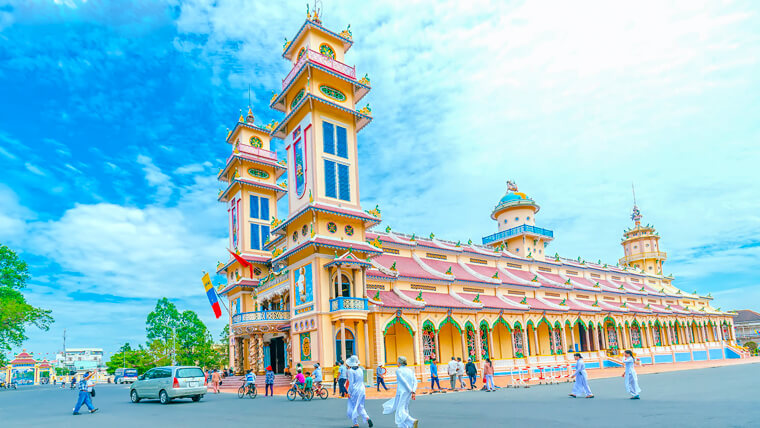 Source: vietgoing.com
Tay Ninh belongs to the Southeast region of Vietnam, located between Ho Chi Minh city and Cambodia. The province is like the bridge connecting the Mekong Delta and the South Central Highlands, therefore, its terrain is both plain and the plateau with poetic yet majestic mountains. Two most prominent spots in Tay Ninh Vietnam for your one day tour from Ho Chi Minh city are Ba Den mountain and Tay Ninh Holy See.
Ba Den mountain
Ba Den mountain is the highest peak in the South of Vietnam, located at an altitude of 986m. It belongs to the complex of Tay Ninh's cultural and historical relics. Apart from the experience of sitting on a cable car crossing vibrant flower gardens and magnificent natural landscapes, trekking is another exhilarating activity that gives people a lot of fun and memorable moments on the route conquering this peak.
Tay Ninh Holy See (Cao Dai Temple)
This is a must-visit spot on your day trip from Ho Chi Minh city to Tay Ninh province. The church is considered as one of the most magnificent religious architectural constructions of Caodaism. Located on an area of 12km2 with a surrounding fence, Tay Ninh Holy See consists of many constructions, Holy See, the temple of Cundi Bodhisattva and towers.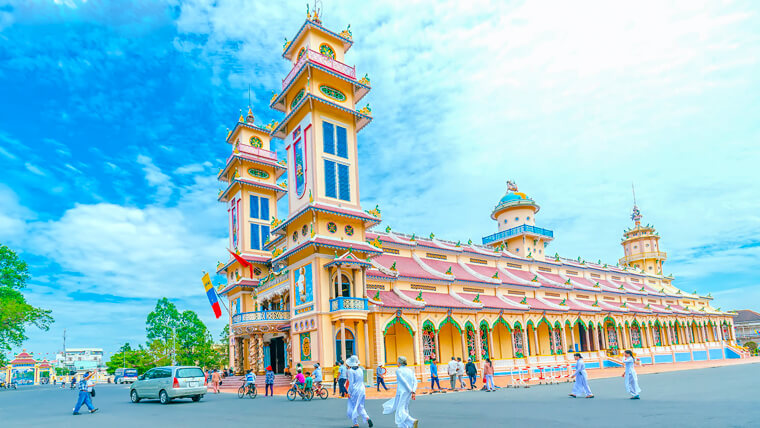 Top day tour from Ho Chi Minh city - Source: vietgoing
The interior architecture of the church is incredibly splendid and unique, featuring pillars meticulously carved with colorful phoenixes and dragons. It appears more outstanding when combined with the beautiful sky-like ceiling and the deep yellow walls, elaborately decorated with awe-inspiring windows embellished with the pink lotus with deep green leaves. The extraordinary architectural works and symbolic images in the Holy See awaken the curiosity of a number of tourists to come and discover.
- Location: 100km to the south of Ho Chi Minh city
Tan Lap floating village - best Mekong delta day trip from Ho Chi Minh city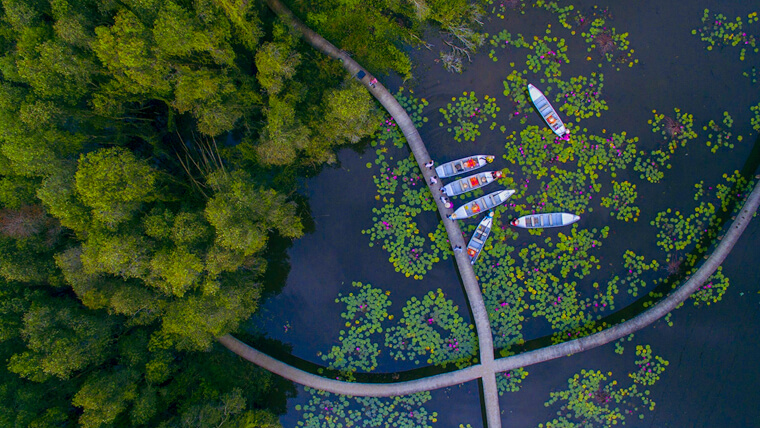 Source: langnoitanlap
The uninhibited floating village of Tan Lap is a popular tourist spot in Ho Chi Minh city with rich, diverse flora and fauna, which provides you a myriad of exciting experiences, typically embarking on a sampan boat amidst "overwhelming" canals and conquering the 5-km paved alley across the Melaleuca forest.
Picking up Tan Lap floating village in Long An province as your day tour from Ho Chi Minh city, you can immerse yourself in the vast space of Melaleuca trees lined on both sides of the canals, on its surface are dotted with clusters of mosquito ferns and purplish water hyacinth which attract many species of birds to come for nesting. The paved alley 5km long leads you to two observation towers offering a panoramic view of Melaleuca forest covered with the flocks of white storks flying above. The most appealing "spotlights" in the area must be the unique X-shaped bridge amongst the waterlily-lotus lagoons and the Y-shaped bridge amidst endless, wild grass fields.
On your best day trip from Ho Chi Minh city to Tan Lap village, do not forget Semicircular Lake. The lake stretches around 22,000m2, surrounded by pristine, untouched scenery, ideal for check-in. In addition, many other fascinating experiences in the floating village can be mentioned as discovering the Rach Rung river in a local boat, participating in Vietnamese folk games, or simply fishing in the village particularly in the flood season, etc. All of these experiences bring you closer to the attractive Tan Lap floating village to release stress and pressure of the hectic life.
- Location: Highway 62, Hamlet 3, Tan Lap Commune, Moc Hoa District, Long An Province
- Distance from Ho Chi Minh city: 100km
The hub of the Southern region, the cosmopolitan metropolis of Ho Chi Minh cityscape and the surrounding provinces are the attractions to a myriad of tourists over the years.
Apart from taking a day trip from Ho Chi Minh to Mekong delta & beach city, don't forget to pay a visit to the major spots such as the Notre Dame Cathedral, Tan Dinh church, the Central Post Office, or Ben Thanh market, etc.