Twice recognized by UNESCO as a World Natural Heritage in 1994 and 2000, Ha Long Bay has become one of the famous tourist destinations visited by many domestic and foreign tourists. Setting foot anywhere in the bay, you may be amazed by the beauty that the Creator has bestowed on this beautiful land. So besides the beautiful scenery, what activities will tourists be able to participate in Ha Long? Find out top things to do in Halong bay below.
I - Kayaking - the most interesting thing to do in Ha Long Bay
Kayaking in Ha Long Bay is so exciting. While paddling on the smooth blue stream passing through the foot of each rocky mountain, you can admire the unique miraculous beauty of nature. That is why Ha Long Bay was voted by National Geographic Adventures magazine as one of the top 25 Kayak tourist destinations in the world in 2000.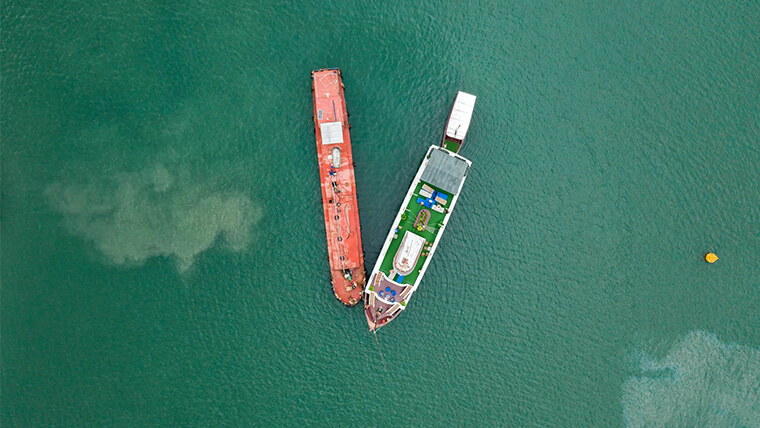 Kayaking - Source: Unsplash
Currently, there are 8 locations in 5 sightseeing routes on the bay that have been licensed to provide kayaking services, namely Luon cave, Ba Lang, Trinh Nu cave, Dong Tien lake, Cua Van, Tung Deep cave, Co cave, Vung Vieng and Cong Do. You can go directly to the above locations and rent a kayaking boat or book a Ha Long Bay kayak tour (most tours include all related costs).
In Ha Long, you can find many kayaking rental locations with different fees depending on the location and boat accommodation. Usually, the rental price will range from 100,000 VND - 200,000 VND/hour (about $4 - 8/hour) depending on the 1-seater, 2-seater or 3-seater boat.
For a memorable experience while kayaking in Ha Long, you should note the following points:
- As an outdoor sports activity, you should pay attention to canoeing only in favorable weather conditions, sunny and calm seas.
- Comply with safety regulations such as wearing life jackets and life jackets correctly
- Do not row when not awake, when drunk
- Children under 5 years old should not go kayaking
- Have a set of clothes ready in case it gets wet
II - Scuba diving activities in Ha Long Bay
So what to do in Ha Long Bay next? It must be scuba diving. The sea water of Ha Long is very clear, so you can rest assured to swim and dive freely. Experience Ha Long Bay diving, you have a chance to admire and explore the wonderful beauty of Ha Long Bay at a depth of 10m, where you can see a very different scenery from the mainland: colorful coral reefs with different fishes of all kinds swimming around, etc. This will definitely be a very memorable experience.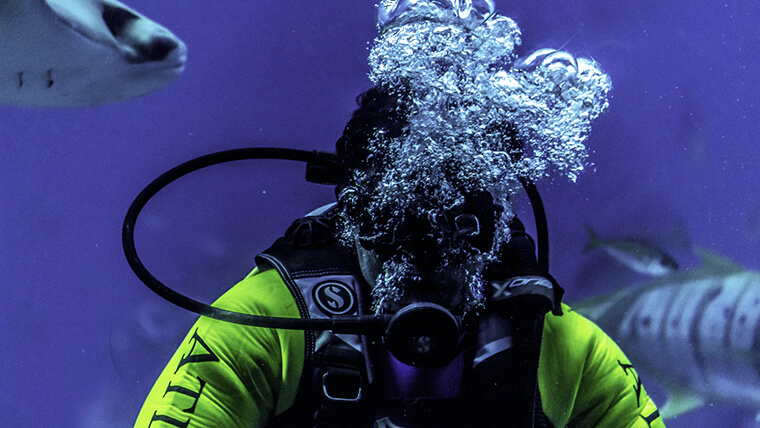 Scuba diving - Source: Nick Fewings
You can also visit Dong Tien Lake or Lan Ha Bay and surrounding areas for snorkeling. The best way to get into this activity is to book a special 2 day 1 night cruise tour that is almost always available. Snorkeling will usually be held around 17:30 when the boat is anchored into the bay for a one night rest. Note that the cost of the tour does not include diving.
If you want to join, it will cost you about 1,000,000 VND ($43) for 30 minutes of diving with a coach or 600,000 VND (~ $25.8) if you are confident in the ability to snorkel by yourself.
III - Swimming and sunbathing activities in Ha Long Bay
There are many ideal places to enjoy sunbathing and swimming in Ha Long Bay. You can refer to some famous destinations such as the pristine beach of Cat Ong Island, the clear blue beach with the enchanting beauty of Ti Top Island, Lan Ha Bay or the long stretches of white sand in Cat Ba island. Each beach in Ha Long Bay has its own unique scenery and unique beauty that will surely bring you memorable swimming or sunbathing moments.
IV - Activities for entertainment and sightseeing in Ha Long Bay
As one of the famous tourist destinations of Vietnam, Ha Long has many beautiful scenes and classy amusement parks to meet all the needs of tourists. Let's take a look at some of the famous addresses here: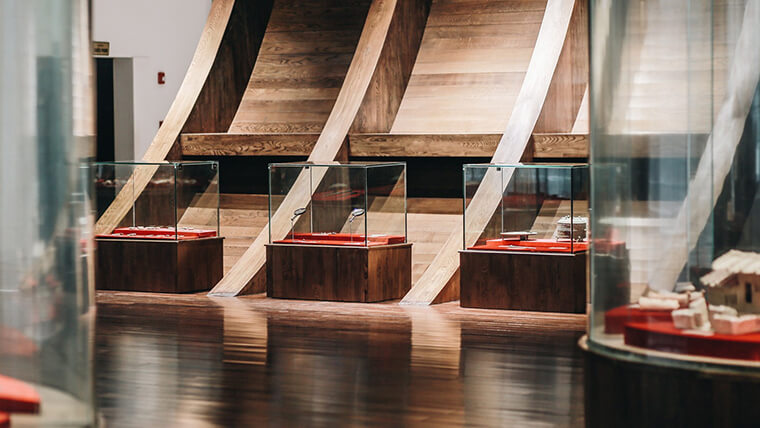 Quang Ninh Museum - Source: Kenh14
1 - In the city center
As a coastal tourist city, right in the heart of Ha Long city, you can find many interesting places to visit such as:
Quang Ninh Museum
The museum is located on Tran Quoc Nghien Street, Hong Hai ward and is likened to a mysterious precious black gem of the city. This place owns a square architecture, simple but full of novelty. The entire appearance of the museum is designed with black glass that glistens in the sun. The font for the name of the museum is also in a modern style, not following the classic pattern like other museums in Vietnam. Not only that, this place also preserves a lot of valuable documents and interesting historical and cultural values. Visiting this museum is one of the must-do activities in Ha Long City.
The first floor is a theme of the sea and nature - simulating images of rocky mountains and oceans in the Ha Long area. The second floor is like an ancient book telling about each historical period of Quang Ninh: prehistory-middle ages-modern day through historical artifacts. The third floor is where to recreate the vivid image of the mining and mineral industry of Quang Ninh. The museum is open from Tuesday to Sunday, opening hours from 8am to 5pm. Ticket price is about 30,000 VND/adult, 15,000 VND/student and 10,000 VND/child.
Sun World Park
The park was built in 2016 located on Ha Long Street in Bai Chay tourist area. It has the largest and most modern entertainment complex in Vietnam with many diverse types of games such as: the magic umbrella, the magic cup, the childhood ride, the magic ferris wheel or Sun Wheel. - The highest solar wheel in Vietnam, etc. Fares range from 200,000-750,000 VND/adult ($8.6 - 32.3) and 100,000 - 550,000 VND/child ($4.3 - 23.7)


Cai Bau Pagoda - Source: Internet
Cai Bau Pagoda
The pagoda is located about 65km from the center of Ha Long city, and was built with an area of ​​about 20ha in 2007, on the foundation of Phuc Linh Tu temple - a place to worship Tran generals during the invasion of Mongolian troops. With its back leaning on the mountain, facing the sea and located far away from the residential area, the pagoda will surely bring you moments of peace and tranquility.
Bai Chay Market
Bai Chay Night Market is one of the ideal places for tourists to explore the cuisine and to choose the ideal gifts for relatives and friends. The market is located on Hoang Quoc Viet Street, Hung Thang Ward, built in 2015, and has become the busiest and most vibrant market in Ha Long. The market has an area of ​​5,000 square meters with more than 335 stalls selling all kinds of items from clothes, shoes, souvenirs to famous snacks.
2 - Visiting the islands - top things to do in Ha Long Bay
Halong Bay is famous for its beautiful islands, each with its own characteristics. Here are some famous islands that attract a lot of tourists to visit such as:
Ti Top Island
It is located 8km southeast of Bai Chay tourist port. The island has a very special crescent-shaped four-season white sand beach. Not only that, the sea water here is very clean and clear. Up to now, the island has become one of the famous tourist destinations with many interesting activities such as sunbathing, swimming, parachuting, water motorbikes,…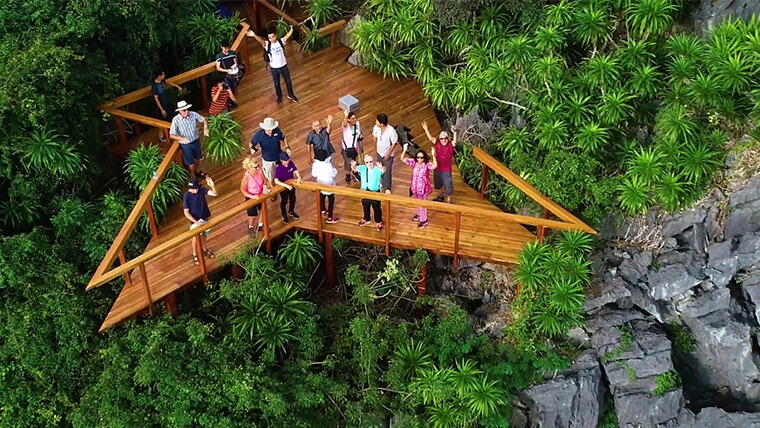 Soi Sim Island - Source: Review HaLong
Soi Sim Island
It is located about 700m from Ti Top Island. The island is famous for its primeval forests with extremely rich vegetation, including many endemic species of high biological value. In addition, the pristine scenery, blue beach, quiet space also attracts many tourists to experience the new feeling.
Quan Lan Island
The island belongs to Van Don island district, the first commercial port of Vietnam. The island owns a pristine but beautiful natural space, not less beautiful than any island of Ha Long. In addition, Quan Lan communal house, Quan Lan pagoda, Quan Lan temple are also famous spiritual places attracting many tourists.
Ngoc Vung Island
This is a famous beautiful island located between Hon Net and Phuong Hoang Island in Van Don district. Viewed from above, Ngoc Island looks like a beautiful velvet scarf. The east of the island is a long stretch of white sand, an ideal place for you to swim and sunbathe.
Cong Tay Island
The island is located in Bai Tu Long Bay, about 40km from Bai Chay tourist port. On the island there is a full range of resort facilities to meet all the needs of tourists coming here to visit
Cong Do Island
The island is located about 25km southeast of Bai Chay tourist port. The island has an extremely diverse system of marine flora, the roof of many rare marine creatures such as horn corals, red corals, etc. The island also owns primitive forests with many precious and perennial plants such as limbs, nails, chicks,... and many rare animals such as deer, deer, antelope,...
Bo Hon Island
This is one of the most beautiful islands in Ha Long with many famous caves such as Luon cave, Sung Sot cave, Trong cave, Trinh Nu cave,... The island is also home to many plants. Rare animals will surely surprise you.
3 - Exploring the locals's life in fishing villages
This is another fantastic thing to do in Ha Long Bay that you should not miss. Here are some typical fishing villages: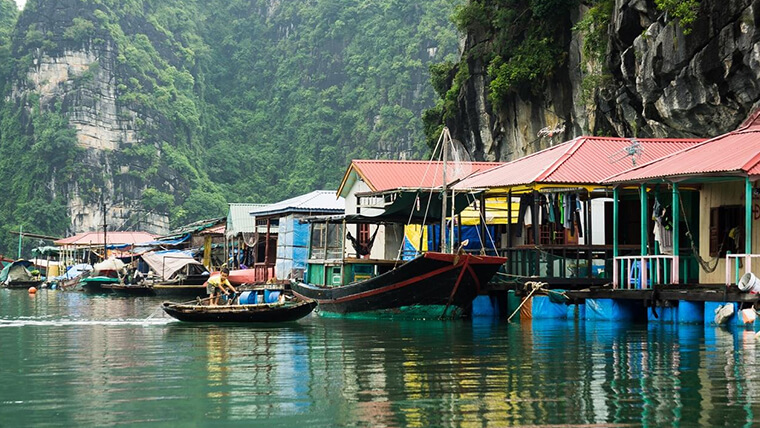 Fishing village - Source: Wyndhamhalong
Viet Hai fishing village
The fishing village is located almost separate from the outside, in Cat Hai island district, Hai Phong city. Coming here, you will be able to rent a terrain bike to admire the mountains and the fishing village from above. In addition, you also have the opportunity to explore the local cuisine prepared by indigenous people.
Cong Dam fishing village
This is the place where there are many coral reefs, groves or underwater caves. Therefore, you can experience extremely interesting diving activities. In addition, you can also participate in activities to explore the traditional cultural characteristics of the fishing village or chat about life with fishermen.
Cua Van fishing village
Cua Van fishing village is located in Hung Thang ward, Ha Long. Coming here, you will be attracted by the simple, unique landscape. Not only that, you will be sailing around the village, with fishermen pulling nets, squid fishing, and immersing in the life of fishermen.
Vung Vieng Village: The fishing village is located in the center of Bai Tu Long Bay. You can join the one-day experience of being a fisherman, catch fish and go back to enjoy the fresh seafood or relax on the pristine mountain beaches.
4 - Discovering top famous caves in Halong Bay
Halong Bay is not only famous for its beautiful sea scenery or magnificent limestone hills, but also for beautiful caves. Referring to the caves, you can't help but visit the following places:
- Sung Sot Cave
- Thien Cung Cave
- Dau Go cave
- Trinh Nu Cave and Trong Cave
- Me Cung Cave
5 - Admiring beautiful sceneries - top things to do in Halong Bay
Hon Ga Choi, also known as Fighting Cock Islet, is one of the beautiful scenes in Halong Bay. The island is located about 5km southwest of Bai Chay beach. Awarded the name Ga Choi is due to its shape like two giant cocks with a height of about 10m spreading their wings to fight on the sea. This is one of the iconic sights of Ha Long Bay, the writing inspiration of many Vietnamese artists.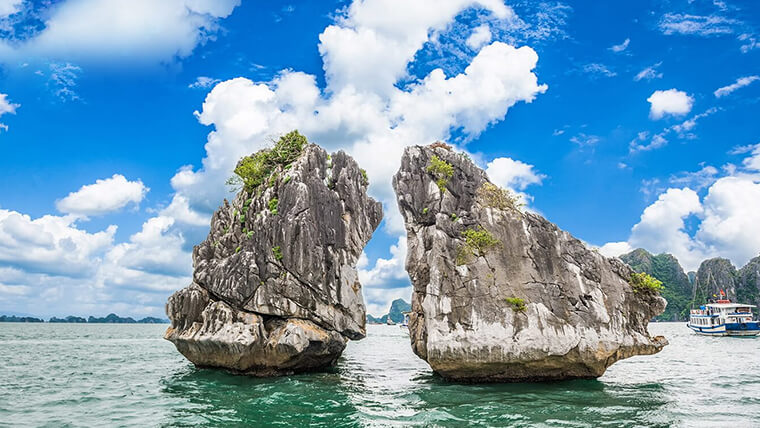 Hon Ga Choi - Source: Internet
In addition, if you have a chance to visit Ha Long Bay, you should remember to visit Con Coc Island - one of the wonderful works of the Creator. Located 12km southeast of Bai Chay tourist port, this rocky mountain looks like a toad waiting for the rain in the middle of the ocean. Coming here, you will not only be surprised by the magnificence of nature, but also see the ingenuity and magic of the Creator for such wonderful works.
V - Night squid fishing in Halong Bay
Night squid fishing is one of the very interesting activities that bring many memorable experiences, especially for international tourists. You can register by booking tours on a package cruise with costs ranging from 2.5 million to 5 million VND/night. Or you can also rent a boat at the wharf next to the Ha Long 1 market of fishermen to catch squid.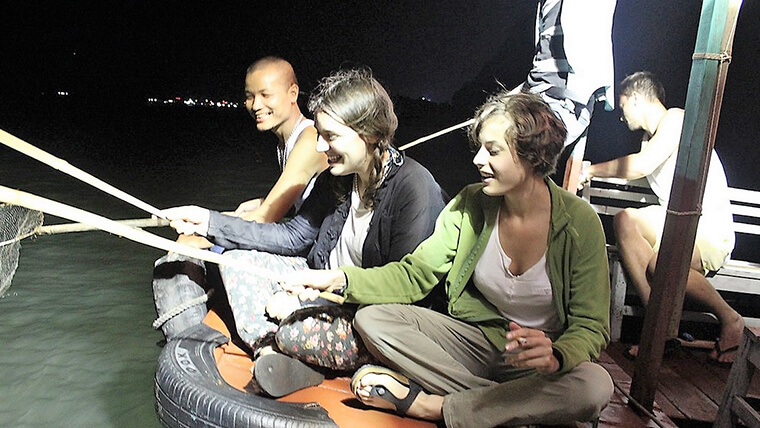 Squid fishing - Source: Viettrip
The price for a boat of 6 people per night for 3-4 hours is about 1 million VND. You will be fully equipped with squid fishing applications such as fishing rods, fake bait, etc. The excitement of fishing in Ha Long Bay is that after fishing for squid, you will be able to grill and enjoy the fresh squid that you have just caught.
VI - Mountain climbing activities in Halong Bay
Not only attractive by romantic beaches, Ha Long Bay is also famous for possessing many rugged terrain areas. The cliffs, skillful corners of nature or the thorny cliffs of this place will give you a great desire to conquer. Ha Long Bay has many beautiful caves and mountain peaks such as Sung Sot cave, Thien Cung cave, etc. especially Bai Tho mountain.
Bai Tho Mountain has an altitude of over 200m, very suitable for climbing in the early morning or late afternoon. The way up the mountain is made of stone or concrete steps which is quite easy to go, only the section near the top of the mountain is a bit steep. The scenery from the top of the mountain looking down is really impressive and memorable will definitely give you many beautiful memories and countless unique virtual live photos, which makes this is one of the top-rated things to do in Ha Long Bay.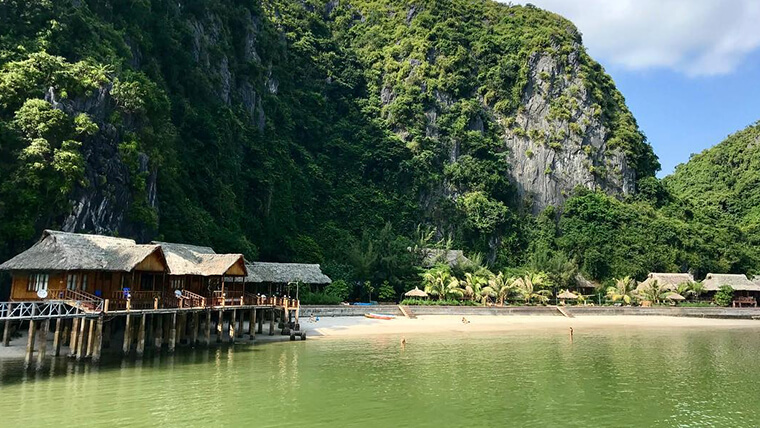 Nam Cat Island - Source: Internet
In addition, one of the interesting climbing activities that many people participate in is climbing on the sea in areas such as Nam Cat Island, Ba Trai Dao, Hang Ca, ... The cliffs stood upright in the sea and jumped into the water when finished. Climbers will not need ropes or seat belts, only a pair of climbing shoes. However, you should also pay attention to the altitude to avoid injury when falling into the water.
VII - Admiring the view of Halong Bay on the plane
If you want to experience the new feeling, see the panoramic beautiful scenery of Ha Long Bay, you should definitely experience the bay view activity on a seaplane. The aircraft has 12 seats for passengers with large spacious windows that help you enjoy the beautiful view of Halong Bay from 150m to 3,000m above sea level.
Currently, Hai Au Airlines is the only unit providing this service on the bay. It costs about 1.5 million/person (~ 65 USD) in summer and 2.9 million / person (~ 126 USD) in winter for 25 minutes of sightseeing. The plane will take off from Tuan Chau harbor and fly through the famous landmarks of Ha Long Bay: Dau Be Island, Cong Do Island and Bo Hon Island will finally land at the starting point. Guests can contact hotline: 0962 069 689 to book or advise more about the trip.
VIII - Trying Halong Bay cruise tours
Signing up for a cruise tour, you will be sitting on a sightseeing boat, swimming on the boat, dining with specialties and participating in night activities on the boat such as squid fishing, live music on the boat, etc.


Cruise in Ha Long - Source: Marcin Ciszewski
Most of the yachts on Ha Long Bay are modern and fully equipped. However, each cruise ship has different schedules and routes to suit the needs of each traveler. Tourists can refer to the following tours:
Class resort tour on 5-star Capella yacht 2 days 1 night for about over 3,000,000 VND/night/person depending on room class ($130). The tour will include a free 4-season swimming pool, free sea facilities such as a swimming pool on the sea, water slide, kayaking to visit caves, experience squid fishing at night, etc.
The Emotion Ha Long yacht tour 2 days 1 night for about 2,500,000 VND/night/person ($108). The itinerary will go through the most interesting places of Ha Long Bay: explore Sung Sot cave, swim and have fun at Ti Top Island, snorkel and spend the night at Dong Tien Lake, visit the fishing village and explore fisherman's life. Please remember to book a tour early to reserve seats and enjoy many incentives.

Above are all information related to the most interesting things to do in Halong Bay. Hope it will help you have fun and memorable memories in this beautiful and wonderful land.