For Asians in general and Vietnamese in particular, cultural and spiritual values are always respected. Therefore, many spiritual sites have been built, with the age of up to hundreds of years and impressive architecture. When take a trip to Vietnam, you can find lots of impressive-architectural landmarks and sacred temples.
Ngoc Son Temple - top 10 famous temples in Vietnam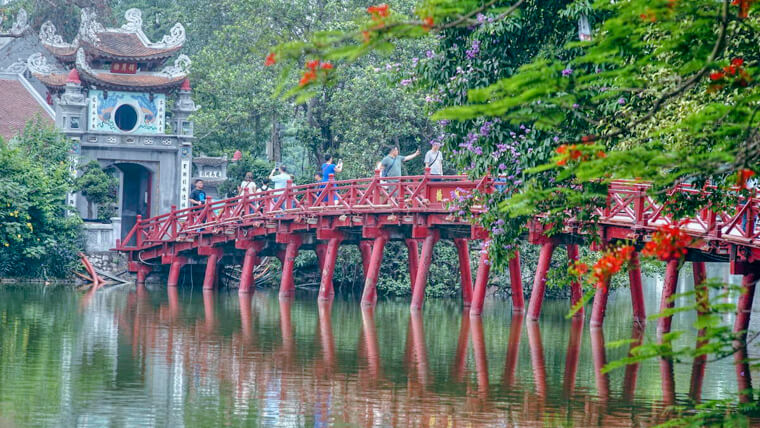 Ngoc Son Temple was built in the 18th century - Source: sggp
After being ruined by the war, Ngoc Son Temple (Jade Mountain Temple) was repaired by a famous Vietnamese poet (1865), who built more structures inside as today. This site has an area of ​​more than 12ha, located on the Jade islet northeast of Hoan Kiem Lake, connected to the shore by the bright red The Huc bridge. The temple is currently a place to worship Van Xuong De Quan - a god in charge of literature and examination, as well as Grand General Tran Hung Dao.
Like many other ancient temples in Vietnam, the current Ngoc Son Temple still retains the ancient scale and design, with works all built in the traditional Vietnamese temple architectural style. Pen Tower and Ink Slab are unique works on the campus of the temple that are symbols of the literary spirit. Passing The Huc Bridge and Dac Nguyet Gate, you will get to the main area currently keeping the worshiping statues, tablets, and stone stele,... with the Turtle room preserving the turtle specimen that used to live in Hoan Kiem Lake.
- Address: Dinh Tien Hoang Street, Hoan Kiem District, Hanoi
- Nearby attractions: Hoan Kiem Lake, Hanoi Old Quarter, Hoan Kiem Lake Walking Street,...
- Entrance fee: 30,000 VND / person ($1.3)
- Opening hours: 8am - 6pm
Thang Long Four Guardian Temples in Hanoi
In the list of the best temples in Vietnam, it fails not to mention Thang Long Four Guardian Temples in Hanoi - the four most sacred temples in Hanoi, located on all sides of the city to protect it. This group includes Bach Ma Temple, Voi Phuc Temple, Kim Lien Temple, and Quan Thanh Temple, each with its own architectural features, spiritual and historical meaning. They are not only monuments of the past but also symbols of the cultural life of the Vietnamese people, with different festivals held annually.
Bach Ma Temple
Built in 866, this more-than-500m2 temple is a sacred temple worshiping the god Long Do, guarding the east of the Thang Long Citadel. This is one of a few temples in Vietnam that possesses a unique sculptural architecture from the Ly - Tran Dynasties. Bach Ma Temple still preserves precious relics about the history of Thang Long, including 15 steles recording its origin, worshiping rituals, and restoration times. The temple's festival is held on the 12th - 13th of the second lunar month, with many activities such as incense offerings, lion dances, attractive art performances...
- Address: No.76 Hang Buom Street, Hoan Kiem District
- Opening hours: 9am - 5:30pm
Voi Phuc Temple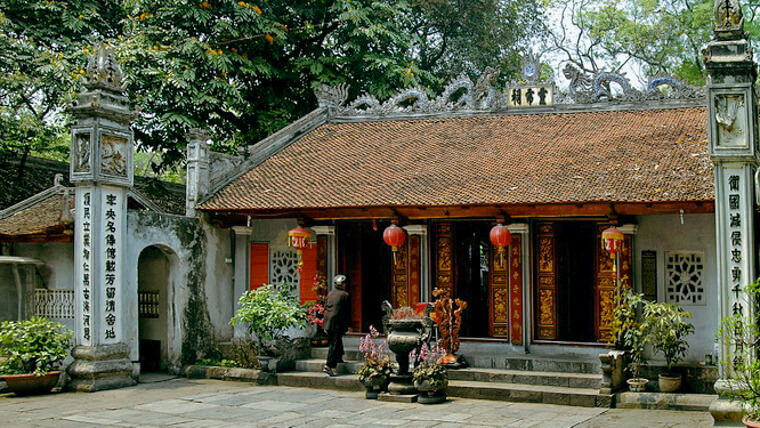 Voi Phuc Temple - Source: guidevietnam
Located on Thu Le Lake among the big green trees, this ancient temple was built in 1065 and guarded the west side of the citadel. It worships the god Linh Lang - the 4th prince of King Ly Thanh Tong who had the merit of fighting the enemy and defending the country. Like many other temples in Vietnam, Voi Phuc Temple experienced many events, wars, and destruction and has been restored and repaired numerous times, so there are many changes compared to the original. Going inside the temple is an extremely peaceful scene, you will see the unique architecture with many details of meticulous dragon carvings and floral decorations. The temple festival takes place on the 9th - 10th of February (Lunar calendar).
- Address: No.362 Kim Ma Street, Ba Dinh District
- Opening hours: 8am - 5pm
Kim Lien Temple
Built in the 16th - 17th centuries, this is a temple guarding the south, worshiping Lord Cao Son, and still preserving the stone steles with many historical values. Similar to Voi Phuc Temple, Kim Lien Temple, and many other temples in Vietnam, Kiem Lien Temple has been repaired and rebuilt many times, added with a three-way gate and new architecture. The works in the temple are decorated with vivid motifs and patterns bearing the style of the Nguyen Dynasty. The traditional temple festival on March 16 (Lunar Calendar), offers ceremonies and unique folk games.
- Address: No.148 Kim Hoa Street, Dong Da District
- Opening hours: 8am - 5pm
Quan Thanh Temple
The northern fortress is Quan Thanh Temple worshiping God Tran Vu. Built-in 1160 with high artistic value architecture and unique wood carvings, Quan Thanh Temple is one of the most ancient temples in Vietnam. The most prominent highlight here is the majestic black bronze statue of God Tran Vu, nearly 4m high and weighing about 4 tons, showing the art of bronze casting and statue carving, affirming the talent and ingenuity of local artisans. The temple festival takes place on the 3rd day of the 3rd lunar month.
- Address: Thanh Nien Street, Ba Dinh District
- Opening hours: 8am - 5pm
Cao Dai Temple
Cao Dai Temple was built from 1936 to 1947 - Source: vnexpress
Cao Dai Temple (Tay Ninh Holy See or Holy Temple) is considered one of the greatest religious architectural works of Cao Dai Religion in Tay Ninh Province in particular and Vietnam in general. This is one of the temples in Vietnam that converge the unique architectural styles of many religious civilizations in the world, converging the philosophy of East-West, harmoniously coordinating between nature and people.
With a total area of 12km2, Cao Dai Temple has an internal site surrounded by fences, protecting nearly 100 different large and small religious architectures. The most prominent here are the two Bell Drum towers, 12 unique entrance gates, along with halls and shrines connected by wide roads.
The ceremony of God the Father or the Jade Emperor held on the 9th of January is the biggest festival of the year held at this site. You have an opportunity to witness the joyful and unique dances, hear the ethnic orchestras performing, and experience 31 stalls displaying many historical models. Meanwhile, the Yen Dieu Tri Cung Festival on the full moon of August of the lunar calendar is famous for its dragon dance performance, collective fasting, and Buddha procession.
- Address: Pham Ho Phap Street, Long Hoa Ward, Hoa Thanh Town, Tay Ninh Province
Temple of Literature - top famous temples in Vietnam
As a special temple in Vietnam, the Temple of Literature or Văn Miếu Quốc Tử Giám is a complex of relics of the country's first university built in 1070. This work is now a place to worship many talents in feudal times, attracting students to pray for good luck in studies and exams. In the area of ​​54331m2 of this place are many different architectural works that are not massive, but the proportions are harmonious, embedded with traditional features and elaborately carved decorations.
Coming here, you can go to burn incense at worship areas and visit 82 time-covered stone steles, which are carved with the names of the passers-by from 1442 to 1779.
The Temple of Literature is also one of the temples in Vietnam that organize poetry festivals, as well as commend excellent and outstanding students. During the Tet holiday, this place will be filled with feudal teachers who give out letters and couplets, and interesting folk games, such as human chess.
- Address: No.58 Quoc Tu Giam Street, Dong Da District, Hanoi
- Entrance fee: 30,000 VND / person ($1.3)
- Opening hours: 8am - 5pm
Mariamman Temple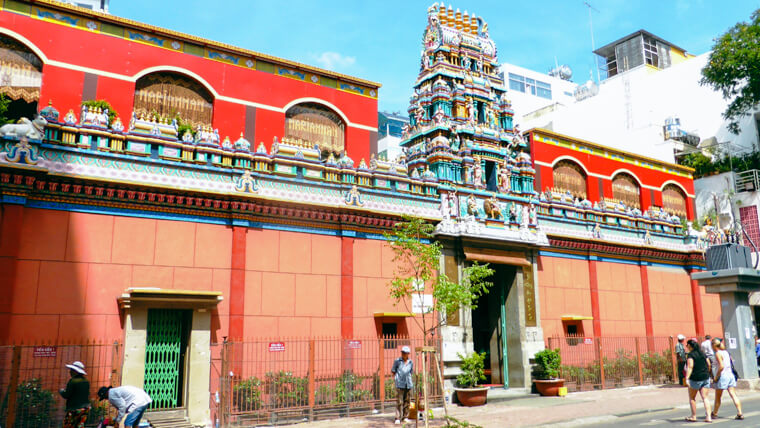 Mariamman Temple was built in 1885 in the Hindu style - Source: odinland
This temple worships the god Mariamman, who has the ability to cure diseases and is also considered the embodiment of the rain god. It is not too wide, designed in the typical U-shape, with the prominent build here is the spire of 228 statues of Hindu gods recreated by Indian sculptors.
Although this place is not as busy as other temples in Vietnam, there are still visitors to pray by pressing their faces against the wall where the gods are worshiped. Every day for 30 minutes at 10am and 7pm, the fire ceremony to worship the gods is performed, and those who attend will be blessed.
- Address: No.45 Truong Dinh Street, District 1, Ho Chi Minh City
- Opening hours: 7:30am - 00pm & 1:30pm - 8pm
Champa temples in My Son Holy Land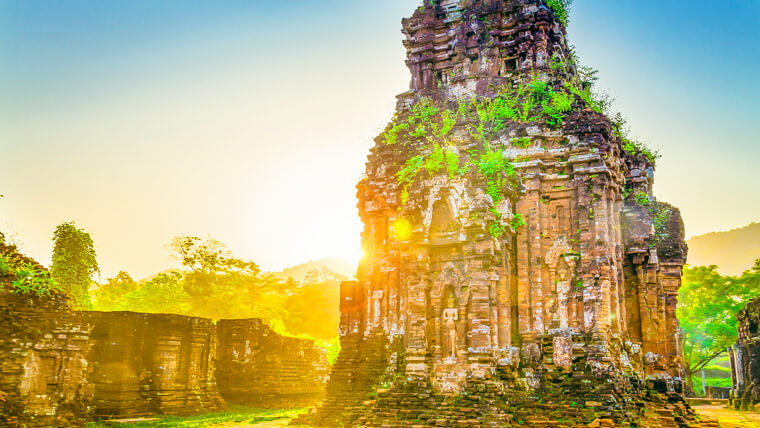 A corner of My Son Holy Land - Source: tuadulich
Surrounded by mountains and forests, My Son Sanctuary is an architectural cluster consisting of many Champa temples, recognized by UNESCO as a World Cultural Heritage in 1999. Dating back to about the 4th century, more than 70 temples and towers here are embedded with many architectural styles typical for each historical period of the Champa kingdom. In total, there are 6 main sculpture types, mostly influenced by Hinduism.
The highlight of the art of these Cham towers and temples in Vietnam is the ability to show the intense vitality of people with their inner spirit at the moment, from joyful, and calm to worried. The temples are all pyramidal, built with very sustainable materials, and still standing today. Coming to My Son Sanctuary, you can witness many unique artistic activities such as palanquin procession, fire-biting dance, and water team dance,... especially at the Kate festival.
- Address: Duy Phu Commune, Duy Xuyen District, Quang Nam Province
- Entrance fee: 150,000 VND / person ($6.45)
- Opening hours: 6am - 5pm
Cua Ong Temple
According to historical records, Cua Ong Temple has existed for more than 700 years and went through many major restorations, but still retaining the ancient features and numerous rare Buddha statues. This is one of the famous temples in Vietnam with the most beautiful architecture. Currently, this relic site has a total area of more than 18,000ha, including many later built works.
The most ideal time to visit this place is at the beginning of the new lunar year because the weather is pleasant, and it is also a time when many festivals are held. The Cua Ong Temple Festival has always been held on a large scale, taking place from the 2nd of the first to the end of the third lunar month. There are also intercessory prayers, incense offering to a procession to the Lord,... all occasions that give you the opportunity to participate in Vietnamese folk games such as blindfolded beating drums, tug of war, cooking rice...
- Address: Hill area 9A, Cua Ong Ward, Cam Pha City, Quang Ninh Province
Ba Chua Xu Temple - top biggest temples in Vietnam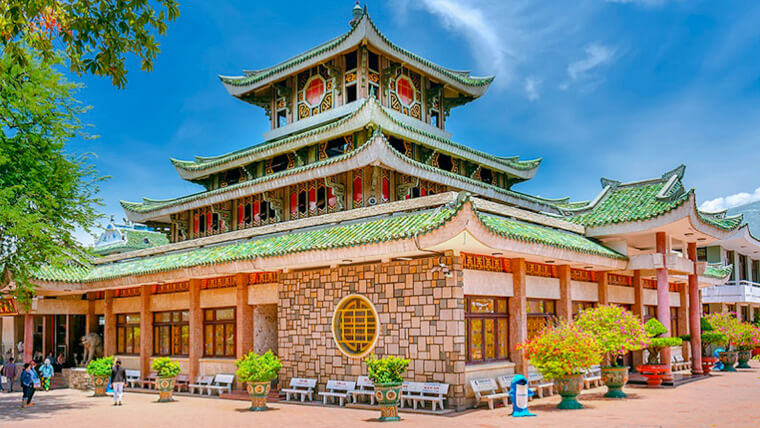 Ba Chua Xu Temple - Source: guidevietnam
Ba Chua Xu Temple or Lady God of Region Temple in An GIang province is said to have existed for more than 200 years, associated with many mysterious legends. From a simple temple made of bamboo and leaves, in 1870 it was rebuilt with bricks by locals, then in 4 years (1972 to 1976) was reconstructed as it is today.
The temple has a tower-shaped layout in the form of a blooming lotus, a three-storey roof covered with blue tiles, many sophisticated carved patterns, and brilliant gold-plated diaphragms. The statue of Lady God of Region is located in the middle of the main hall, with a noble figure made of vermilion stone. According to the research, it was carved in the late 6th century and is probably one of the remaining ancient artifacts of the ancient Oc Eo culture.
Like other temples in Vietnam, Ba Chua Xu Temple's fetival held annually from the 24th to the 27th of the fourth lunar month, attracts millions of people. People come here to attend the Lady God of Region statue bathing ceremony, the incense offering ceremony and participate in games such as boi singing, martial arts dance, five-syllable music, lion dance, chess playing… After lighting incense to pray for good things, you can climb up to the top floor of the temple and admire the whole city from above.
- Address: Nui Sam Ward, Chau Doc City, An Giang Province
Hung Kings Temple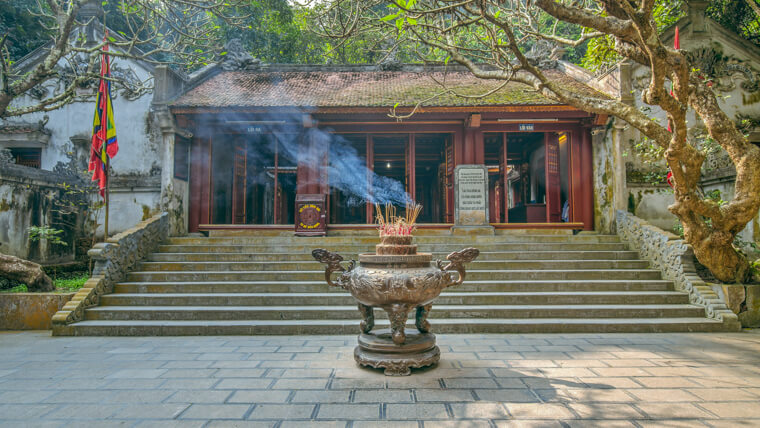 Hung Kings Temple - Source: savills
Long been famous as the gathering place of unique national cultural values, Hung Kings Temple is the name of the temple complex to worship Hung Kings and their family on Nghia Linh Mountain. As one of the best temples in Vietnam, all the works of the complex have traditional Vietnamese spiritual site architecture with ironwood, red brick walls, gilded motifs, and carvings, associated with many historical stories, and still preserve valuable ancient relics.
In the complex campus of this sacred temple in Vietnam, there is also Hung Vuong Museum, built in 1986 and opened in 1993. Especially if you come here on the occasion of the Hung King temple festival on the 10th of March Lunar Calendar, you can also participate in many attractive ceremonies, rituals, performances, and activities.
- Address: Co Tich Village, Hy Cuong Commune, Viet Tri City, Phu Tho Province
- Entrance fee: 10,000 VND / person ($0.43)
Do Temple - one of the most ancient temples in Vietnam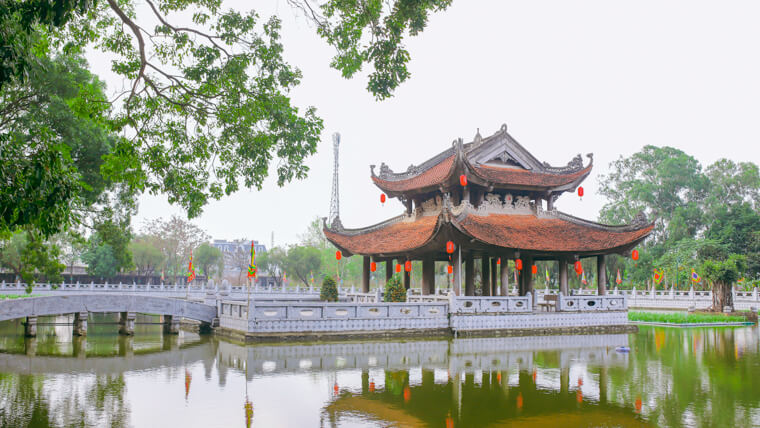 Do Temple in Bac Ninh Province - Source: thaibinh.gov
Also known as Ly Bat De Temple, this work is currently a place to worship 8 Kings of Ly Dynasty. Built in the 11th century, this temple features the inheritance of royal and folk styles that are harmoniously combined. In this open and close to nature campus of over 31,000m2, there are a total of 21 large and small unique buildings still standing. They are arranged into two distinct areas, the inner city and the outer fortress, both extremely elaborately built and carved. Do Temple festival is held every year on the 14th - 16th of the third lunar month.
- Address: Ly Thai To Street, Tan Hong Ward, Tu Son Town, Bac Ninh Province
- Opening hours: 7am - 5pm
With unique architecture with high artistic value, temples in Vietnam are also sacred places, converging the spirits of heaven and earth and attracting visitors from all over the world to the temple to pray for blessings. Bearing the historical and cultural values of the feudal dynasties in particular and the history of Vietnam in general, these are the places you cannot miss when you come to this S-shaped country.