Today, most people are no stranger to the term "LGBTQ+", gradually having a more positive view and giving their support to this community. However, members of this group still have to face discrimination, violence, and even death in many Asian countries, such as Arabia or Iraq. Therefore, many are curious about how gay life in Vietnam is, how Vietnam gays are treated, and will gay tourists be able to visit Vietnam comfortably? Then, let's find out through the information below.
Gay in Vietnam: Is Vietnam a gay-friendly country?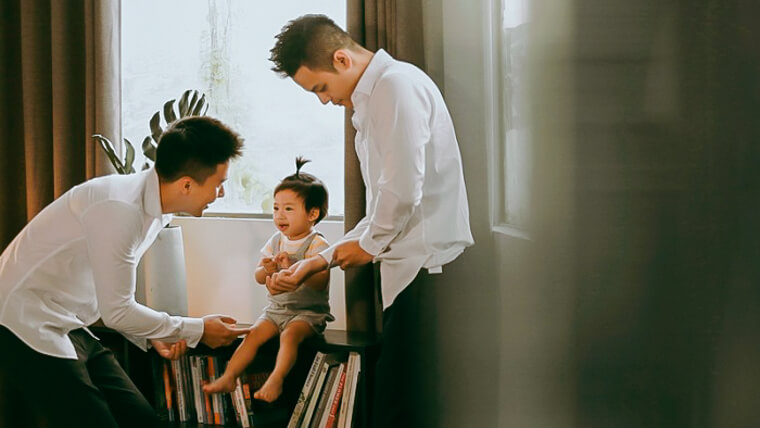 Source: saostar
Still under traditional Eastern thoughts, Confucianism, and Taoism, gender-related issues in Vietnam are generally considered taboo. However, unlike countries such as China or India, this S-shaped land is not too strict with people from the LGBTQ+ community. In feudal history, Vietnam also did not have any laws discriminating against gays, nor prohibited, torturing, or killing them. In the present time, although there are still many prejudices, especially among people of previous generations, locals' minds have gradually opened up as society has developed.
Southern Vietnam tends to be more relaxed on the topic "Gay in Vietnam" than the North and Central region, perhaps due to the influence of Western open-mindedness in colonial times. In general, society's attitude towards gays in Vietnam is indifferent or ignored, with the supportive part gradually expanding, especially among young people. There are many Vietnamese celebrities such as musician Thai Thinh, choreographer John Huy Tran, designers Adrian Anh Tuan, and Ly Giam Tran,... who have publicly come out as gay or married a husband, and still received a lot of support. They are successful on their career path with their talents, without being judged or seen only by their sexual orientation.
Today, with the aim of protecting the rights of gay in Vietnam, along with events for the LGBTQ+ community, many social organizations have been established. Typically, the event "Vietpride" is held around September every year across provinces and cities, attracting the participation of a large number of people. The attitude of the local community has also become more positive, especially in big cities such as Ho Chi Minh city, Danang city, and a few key tourist destinations of Nha Trang, Phu Quoc Island, Vung Tau city,...
Gay rights in Vietnam
Marriage right between gay in Vietnam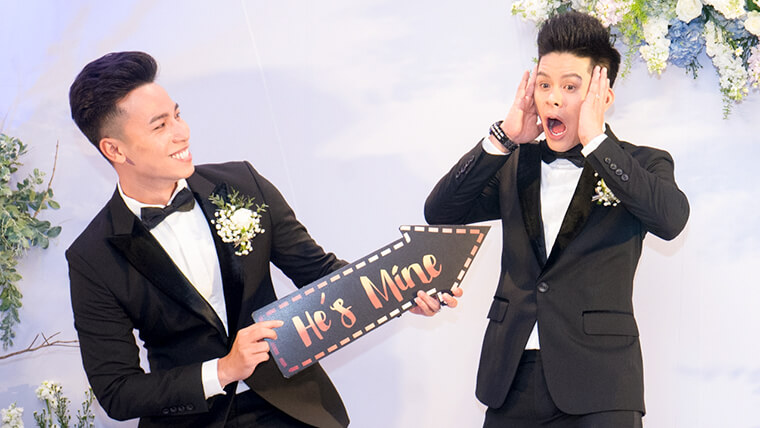 Gay marriage in Vietnam - Source: vgcloud
Currently, Vietnam gays are not banned from marrying but cannot register their marriages with the government, thus not recognizing their relationship as legal. This means that same-sex people can still live together, but when there is a dispute, the Law on Marriage and Family will not apply, but the Civil Code 2015 does instead. However, although male-male marriage has not been legalized, Vietnam is still currently a leader in Southeast Asia in supporting the rights of the LGBTQ+ community. That's because gays in Vietnam still have the other rights and obligations same as other men, including military service, demonstrating non-discrimination and equality.
Gay in Vietnam and the transgender right
In 2008, the Government of Vietnam issued a Decree stipulating the "gender reassignment" for people with defects or who have not been correctly redefined in terms of gender. On November 24, 2015, the National Assembly passed the Civil Code (amended), which contains regulations on gender change, and their related rights, and obligations. Thus, transgenders are entitled to register their marriage with someone of the opposite sex, and this marriage relationship is legal.
Gay in Vietnam: the best gay Vietnam tourism destinations
Disinterest, indifference or curiosity, and prying is the overall attitude of most Vietnamese people toward gay men in general, and gay tourists in particular. You will find youngsters more friendly and supportive, while older people are more prone to stigmatizing, avoiding, and discriminating against LGBTQ+ people. However, because of the friendly nature of the locals, they rarely show any of their displeasure, nor do they explicitly boycott and attack gays in Vietnam. Currently, there are not so many specific gay Vietnam tours, but instead, there are quite a lot of services for gay tourists, related to weddings & honeymoons in Vietnam, experiences at gay bars, pubs, and so on.
Honeymoon for gay in Vietnam
Nha Trang City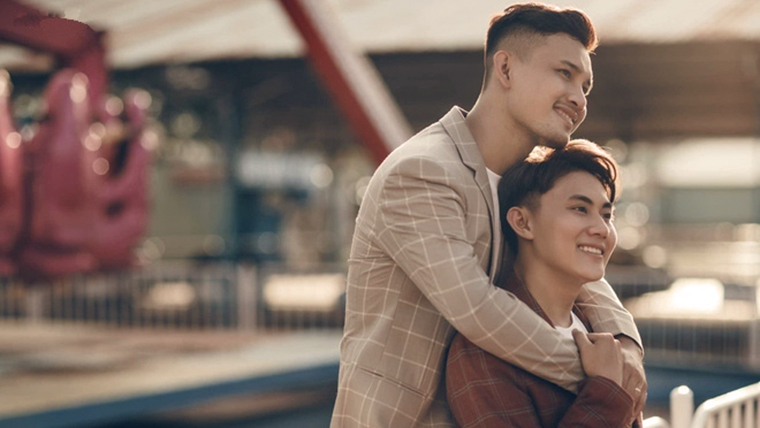 Source: vietnammoi
With its charming scenery bestowed by nature, Nha Trang is widely known as the sea paradise of Vietnam. This city is always the first choice for the married couple to enjoy their honeymoon, due to the variety and professionalism of the services. Pleasant weather is convenient for bathing and walking at Doc Let beach, Pham Van Dong beach, Mun island, Whale island,… According to our gay Vietnam travel experiences, the people here are quite open and familiar with all kinds of people, so it is rare for them to discriminate against when they see gay couples.
Phu Quoc Island - an ideal place for being gay in Vietnam
Similar to Nha Trang, Phu Quoc Island is one of the best sea honeymoon destinations in Vietnam, emerging in the past 10 years. There are countless splendid natural beaches such as Sao beach or Dai beach, allowing you to freely walk on the fine white sand to watch the beautiful sunrise and sunset. In addition to immersing in the cool, clear sea water, you can also enjoy the scenery on the cable car with a length of more than 8km, or have fun at VinWonders,…
Dalat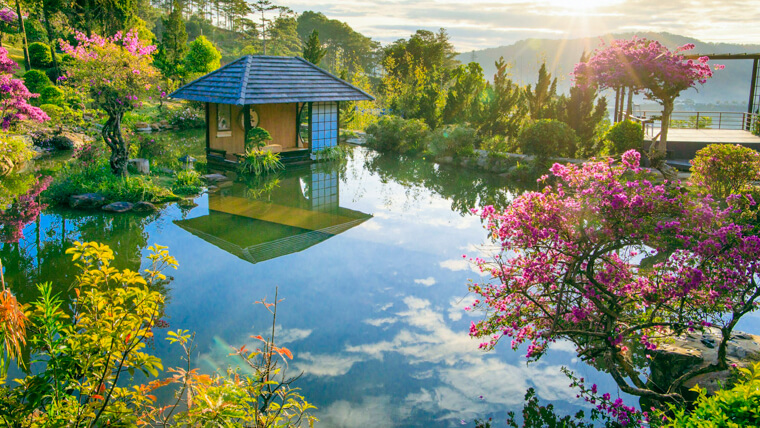 Source: amazingdalat
Talking about the top honeymoon destinations for gay in Vietnam, it's impossible not to mention the dreamy city of Dalat. It has many impressive natural landscapes with mountains, forests or waterfalls, and valleys, covered with thousands of colorful flowers emitting fragrant aromas. In particular, Dalat is also one of the most suitable places if you want to take impressive and romantic wedding photos.
Sapa
This misty town will be a perfect choice for gay Vietnam travel if you are a couple who loves to explore new lands, learn about new cultures,, and make friends with ethnic people. Sapa has a quite cool climate with snow in winter sometimes, which is a very romantic scene for being gay in Vietnam. You can drink hot cocoa, and snuggle tightly by the flickering fire with your lover. In particular, this place is also the home of the Silver Waterfall and Love Waterfall, associated with beautiful and magical love stories.
Hoi An
Having gone up the mountain and down to the sea, going through the bustling tourist areas of unspoiled lands, you can also head to this old town with its quiet beauty. Hoi An city in Quang Nam province features old mossy houses, colorful lanterns, and extremely attractive cuisine. There is nothing better than the feeling of sitting on a boat floating on the Hoai River, watching the ancient streets, and releasing the flower lanterns in the water.
Top-rated gay bars in Vietnam
This is one of the best bars for gay in Vietnam that you can refer to:
GC Bar Bao Khanh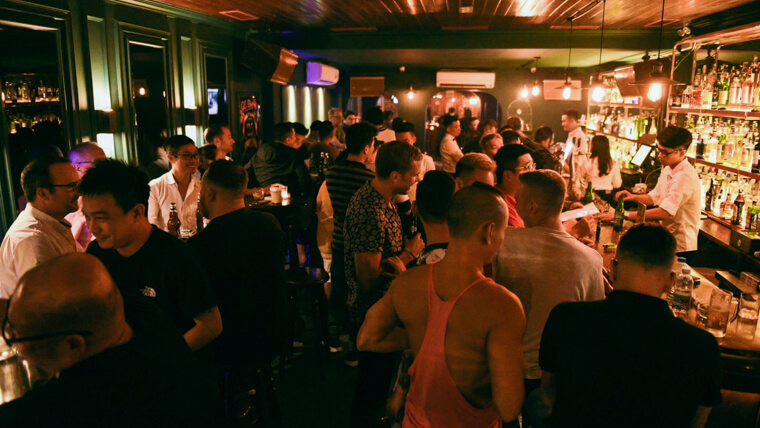 GC Bar Bao Khanh - Source: GC Bar
Possessing a generous layout, this is one of the most famous bars in Hanoi which has a spacious space with the main colors being black and red, creating a feeling of mystery and privacy. GC Bar is always sparkling with lights, bustling with music, and decorated with many ghostly paintings, attracting the Vietnam gay community in Hanoi. This bar is a civilized and cozy place, with the tables and chairs quite close, so it's easy for people to get acquainted and build feelings with each other.
- Address: No.5A Ngo Bao Khanh Street, Hoan Kiem District
- Opening hours: 5pm - 12am
- Contact: 033 268 8295
- Website: facebook.com/GC-Bar-280160162754026
The Tipsy Unicorn - an ideal bar for gay in Vietnam
As an LGBTQ+ bar that always has colorful parties, this is one of the best bars in Saigon where gays in Vietnam can proudly be themselves. Every Friday, there will be a Drag Bingo program, an opportunity for you to meet the Drag Queens with elaborate and sophisticated makeup. While they dance and sing along to vibrant Western music, you can play bingo and get free shots of wine or cocktails if you win.
- Address: No.37 De Tham Street, District 1, Ho Chi Minh City
- Opening hours: 5pm - 2am
- Contact: 079 835 8609
- Website: facebook.com/TipsyUnicornSaigon
SKY36 Bar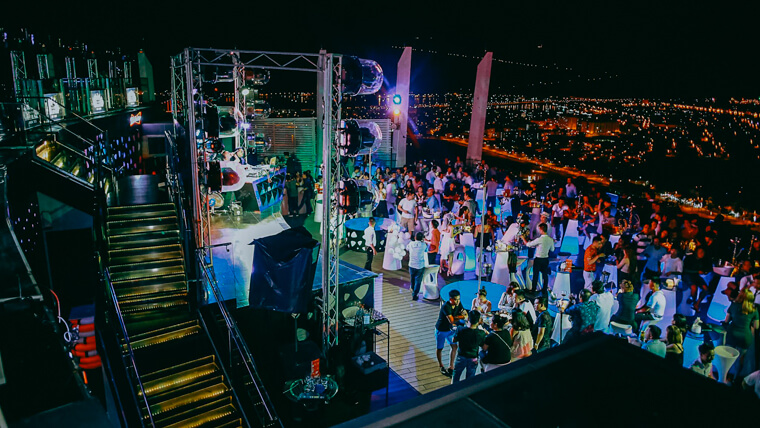 This is one of the best gay bars in Vietnam - Source: vietq
Although not a bar exclusively for gay in Vietnam, this is still one of the most prominent bars in Danang city, located on the rooftop of the Novotel hotel. There is no stigma or discrimination here, regardless of whether you are Vietnamese or foreign, your gender or sexual orientation, the most important thing is to have fun. There are also separate areas here, where gay people can have their private space to chat and have fun without being disturbed by others.
- Address: No.36 Bach Dang Street, Hai Chau District, Danang City
- Opening hours: 6pm - 2am
- Contact: 090 115 15 36
- Website: facebook.com/Sky36Bar
Note: You can refer to the gay Vietnam tours of:
- Hanoi gay tours: facebook.com/gayhanoitour
- Golden rice tours: http://goldenricetours.com/en/vietnam-gay-tours
- Out of office: https://www.outofoffice.com/vietnam
Is is all about the topic "Gay in Vietnam" that we would like to share with you. There are more and more openly gays in Vietnam, not only in the form of foreigners traveling here but also locals who aren't afraid to express themselves. This is proof that the society in Vietnam has gradually and positively changed, becoming more open to the LGBTQ+ community and making them feel safe. While same-sex relationships have not yet been legalized, Vietnam has no laws against this community, thriving to create a comfortable and welcoming space for anyone.