Also known as the Vietnamese rice farmer hat because the conical hat always goes well with the images of the farmers working hard on the rice fields. The Vietnamese non la have long been created by the farmers for thousands of years which are made of palm leaf and stabilized together by bamboo sticks with the aim to prevent rain and sunshine.
I - Vietnam conical hat history & meaning
Vietnam hats have existed for a very long time. The first image of this Vietnamese kind of conical hat was first engraved on Ngoc Lu bronze drum, Dao Thinh bronze drum, Dong Son bronze drum in 2500-3000 B.C. Then, over time, the conical hat Vietnam has many different shapes. According to Bui Xuan Phai (a famous Vietnamese painter living in the 20th century), when he was born, Chuong village's conical hat had appeared on 36 streets of Hanoi for 500 years. Over the years, his sort of hat has been attached to the daily life of Vietnamese people since ancient times.
The image of the traditional Vietnamese hat has connected closely with Vietnamese daily life. People in Vietnam not only use this hat to protect themselves from rain and intense sun rays but they also consider it as an artifact of history and a symbol of a graceful Vietnamese woman. On festival occasions, the conical hats enhance the charm of Vietnamese girls.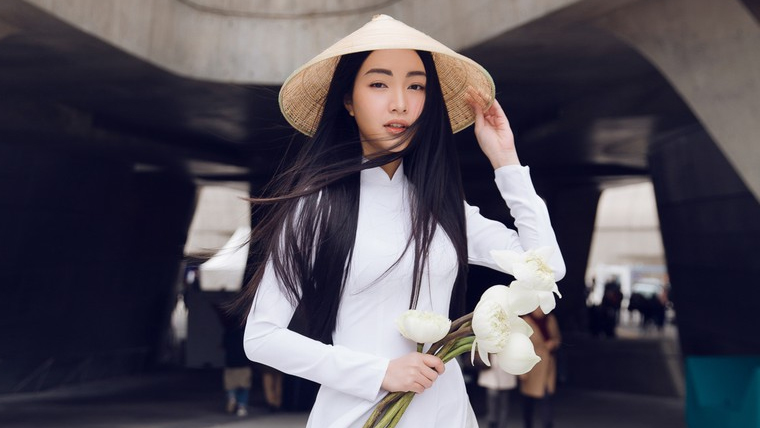 Non La Vietnam (Source: Thanh nien)
The combination of Ao Dai and Vietnamese Non La honors the priceless beauty of Vietnamese women. In addition, the image of traditional Vietnamese mothers and fathers going to work on paddy fields is always followed by the appearance of Vietnam rice hats, which keeps the spirit of the Vietnamese working and daily life. It is also the symbol of traditional values of Vietnamese culture because it often appeared at weddings in the past. Many centuries ago, the conical hat was an item that the mother-in-law gave to her daughter-in-law before returning to her husband's house as a blessing for a stable and happy married life
II - How many types of Vietnamese conical hats?
Currently, in Vietnam, hats are divided into many different types depending on different criteria. Pineapple-leaf hat is the first type mentioned. It is often made in Binh Dinh.
The second one is the straw hat which is usually made of pressed straw. Quai Thao hat is the kind that appears in many festivals in the North of Vietnam. Cời hat & Gõ hat are made of bamboo and used for soldiers in ancient times.
Lotus-leaf hat, also known as Liên Diệp hat, is made from lotus leaf.
Basket hat has the shape of a basket.
Other Vietnam traditional hats are Khua hat, Chảo hat, Cặp hat, Bài Thơ hat which are all originated in Hue and have an elegant beauty with poems written inside.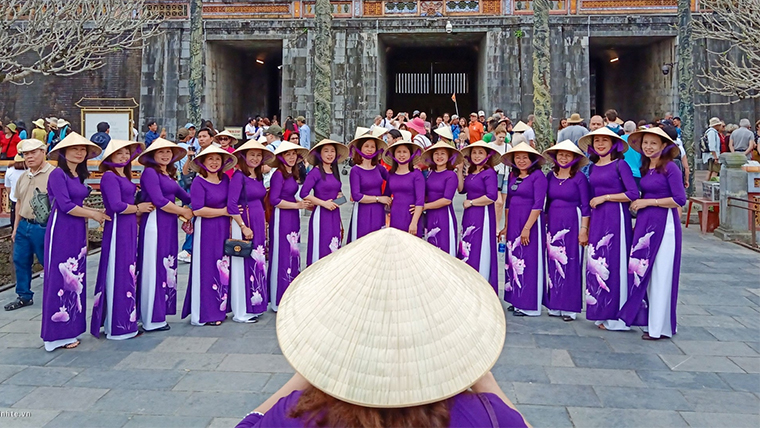 Non Bai Tho in Hue (Source: Internet)
In Vietnam, there are many traditional craft villages that make conical hats, such as Chuong village in Thanh Oai district, Hanoi city, Ba Don Hat Village in Quang Nam province, and Thua Thien- Hue province. In which, the production from Chuong village and the Non Bai Tho (poem hat) from Thua Thien - Hue are the two most characteristic sorts of Vietnam conical hats.
When you come to the Northern Delta region of Vietnam, you will hear about the fame of Chuong traditional village specialising in making Non La in Thanh Oai district, Hanoi. With the outstanding features of being firm, durable, and thin, Non La from Chuong village have been famous throughout history. To make it, the craftsman of Chuong village needs to spend a lot of effort and time on each meticulous stage of making hats. Vietnamese cone hats of Chuong village have 16 layers of rings, giving durability but softness to the hat. The inside of the hat will be decorated with floral patterns or simply added a soft silk ribbon as a strap.
Visiting Hue - the ancient capital of Vietnam, you will easily see the image of Non Bai Tho. To make the Vietnamese conical hats become special requires the meticulousness of the craftsmen. The paintings of Huong river and Ngu mountain are elaborately pressed into each hat, some artists even put poems between two layers of the hat to create a more special feature. The shape of the hat is very thin, light, every detail from the needle line to the brim of the hat is very elegant and delicate.
III - How to make a Vietnamese sun hat?
A conical hat has a cone shape. The bottom of the hat is usually about 60cm in diameter. Depending on the purpose of use, this measure can be flexibly changed. The outside of the conical hat is usually made from palm leaves or coconut leaves because they are tough and waterproof. To make a conical hat requires the craftsman to be extremely skillful and concentrated.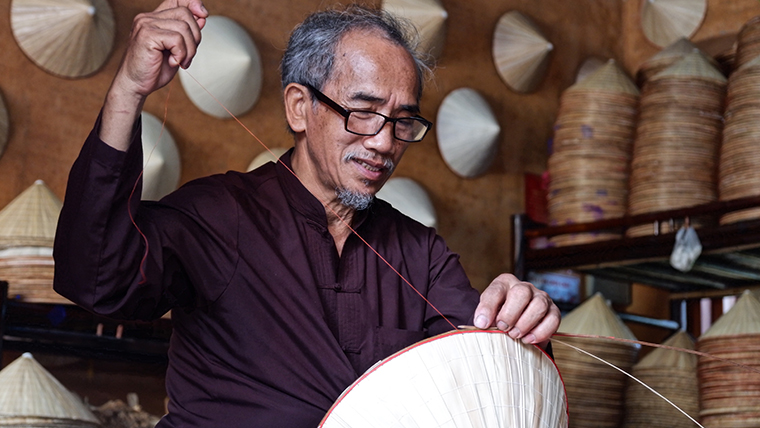 The artist makes conical hats (Source: VnExpress)
To make a traditional Vietnamese Non La, it is necessary to fully prepare the needed ingredients. The first is coconut or palm leaves for the hat which are carefully chosen with strict criteria such as green and shiny. After that, the craftsmen dry them in 2 to 4 hours to make the leaves softer. Next is to prepare bamboo sticks to make the body of the hat. Bamboo must be flexible, malleable, rounded about 1 to 2 cm in diameter. Finally, the artisan adds color thread, images, strap, oil paint to decorate and complete the hat.
There are 3 steps to make Vietnamese Non La
- Step 1: Make brim of the hat
This is a very important step because the strength and durability of the hat will depend on the brim. The hat makers have to skillfully bend the bamboo sticks into circles with different diameters from small to large to form a cone shape.
- Step 2: Sew the hat
Artisans use a typical thread made of special nylon which is tough and transparent colors to connect the brim circles to create the cone frame. Then, the hat maker carefully sews each layer of leaves according to that hat frame. A hat is nearly completed at this step.
- Step 3: Decorate and finish typical Vietnamese rice paddy hats
There are many ways to decorate conical hats depending on the creativity of each person. A typical decoration is to embroider pictures or letters on the surface of the hat or stitch them inside the hat. After that, the hat will be covered with oil paint to create shine for the outer appearance and keep the fastness and softness of colors. Finally, users just need to choose the strap for conical hats according to their individual preference. The strap can be silk or synthetic cloth having a length from 70 to 80cm. Besides being used to keep the hat firmly on the head or to hang it up, the strap also helps to highlight the tenderness of the Vietnamese women while wearing it.
IV - Vietnamese Non La in artwork and literature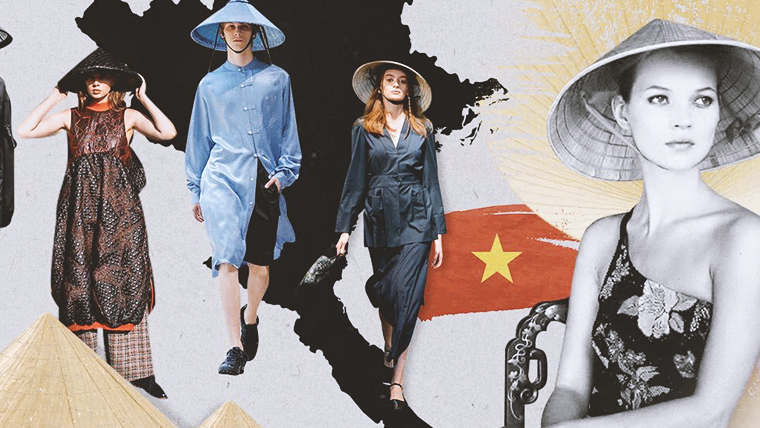 Non La in artworks (Source: Dosi-in)
It cannot be denied that they are an endless inspiration for art works. The conical hat appeared as a decorative idea, typically is the three conical hats models appearing at Cao Van Lau Theater (Bac Lieu province), at Serena Kim Boi restaurant (Hoa Binh province), or Giant Non La Restaurant. It is also an unlimited source for poetry and music. The conical hat has appeared in a number of famous songs.
The conical hat is present in all areas Vietnamese culture. It naturally entered into the world of photography and cinema.
Vietnamese conical hat dance: The group 218 Dance Crew has used Non La in their performance in Asia's Got Talent Semi Finals. Over many generations, Non La has still been a part of life, culture and art, representing the soul of Vietnam nation.
V - Prices & places to buy a conical hat
Coming to Vietnam, it will be an interesting idea to buy a conical hat as a meaningful souvenir gift to your relatives and friends. Conical hat Vietnam price ranges from 40,000 VND to 150,000 VND (~ $1.7 - 6.5).
Some places to buy:
In Hanoi:
- Chuong village - a famous Vietnam farmer hat making village, located in Lang Chuong Street, Phuong Trung Commune, Thanh Oai District, Hanoi
- Dong Xuan Market in the north of Hanoi old quarter
In Hue:
- Tay Ho village: located on the bank of Nhu Y river, Phu Ho commune, Phu Vang district, about 12 km from Hue city.
This is a famous place where you can find Vietnamese conical hat for sale.
In Ho Chi Minh city:
- Binh Tay market: No.57A Thap Muoi, Ward 2, District 6, Ho Chi Minh City.
Vietnamese Non La have deeply connected with both the physical and spiritual life of every Vietnamese. It represents both the primal, rustic, gentle but charming beauty of Vietnamese women and the cultural symbol of Vietnam.