The bamboo in Vietnam often grows in clusters. Its flowers have a pale yellow color, and a strong fragrance, and bloom only once every 60 years. Currently, there is no official document that mentions the origin of Vietnamese bamboo even though it appeared in Vietnamese fairy tales and folk stories thousands of years ago. According to statistics in 2000, Vietnam has more than 70 different types of bamboo scattered across the country. Until 2005, more than 190 types of 26 bamboo genera were added to this list.
I - Bamboo in Vietnam & the significant roles in culture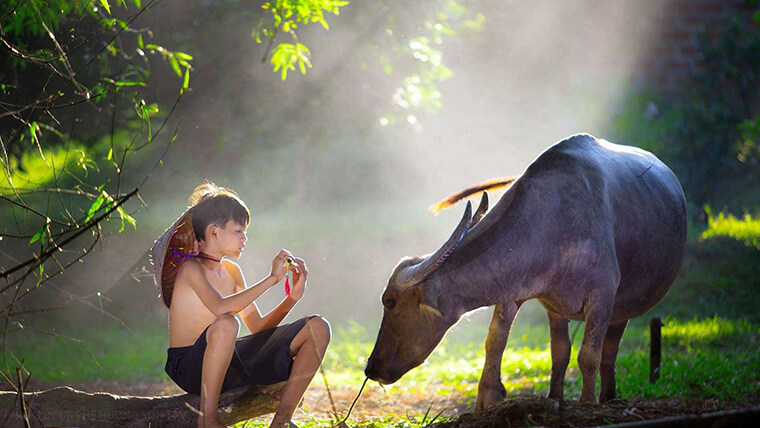 Bamboo trees are popular in almost villages in Vietnam - Source: Travelvietnam
Bamboo has been deeply associated with Vietnamese people since ancient times. For instance, bamboo tree in Vietnam has entered fairy tales, folk songs, and proverbs; as well as common materials to create essentials such as racks, crafts, baskets, or rattan. Moreover, for the locals, the bamboo tree is usually considered the symbol of several virtues of the Vietnamese people: diligence, eagerness to learn, unity, and adaptability.
Bamboo in Vietnam also represents the spirit and history of the nation's struggle for independence and freedom through the image of Saint Giong - one of the four immortals of Vietnam. Legend has it that he pulled a whole clump of bamboo and used it as a weapon against the enemy. Furthermore, locals also used bamboo to make prongs, crossbows, weapons, or even the infamous Vietnamese bamboo traps (also known as booby-trapped stakes) in the history of the Vietnam War. All of which have made bamboo trees become more and more essential to the life of the Vietnamese people.
II - How is Bamboo in Vietnam used in daily life?
The concept of a village bamboo rampart, banyan tree, water well, and communal yard has been stuck in Vietnamese people's minds for generations. Bamboo carries a great meaning not only in the spiritual life of the Vietnamese people but also in their material life:
- The stems are also often sliced up for making baskets, chopsticks, toothpicks, bamboo cages, Vietnamese bamboo dragonfly, bamboo pinwheels, handicrafts - bamboo, rattan… and especially Vietnamese bamboo straws, an environmental protection product designed to replace plastic straws.
- The stems of bamboo in Vietnam can be used to make traditional musical instruments (such as bamboo flute, T'rưng, khèn,...), or traditional folk games tools such as monkey bridges, swings…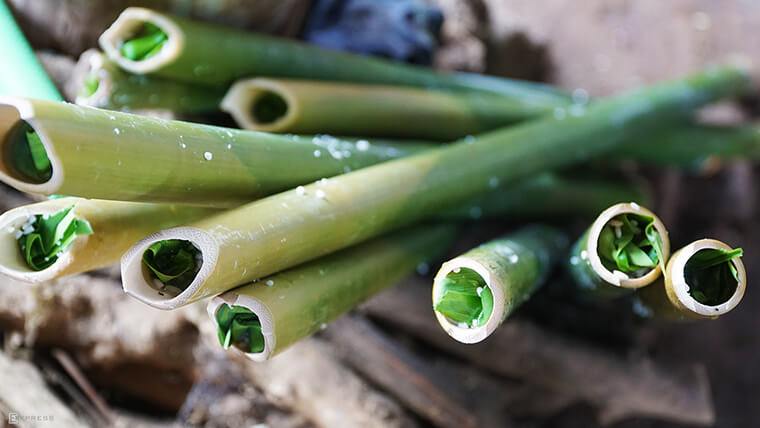 Com lam is an outstanding food of Vietnam's mountainous areas - Source: VnExpress
- Bamboo stems can also be used as a tool to cook typical dishes as 'com lam' - rice cooked in a bamboo tube
- Bamboo bud, also known as bamboo shoots can be used in several popular dishes such as bamboo shoots salad, fried bamboo shoots, sour bamboo shoots soup, ...
- Leaves of bamboo in Vietnam contain several medicinal properties, and they are used in traditional herbal remedies of ancient times.
- Monkey Bridge is an unmistakable cultural feature of the Mekong Delta in Vietnam, associated with the rivers and garden life. It is usually made from bamboo or cork, tied with rattan or forest rope to secure and create stronger handrails when passing. Today there are bridges built of wood or concrete that are stronger and safer, so the monkey bridges have gradually disappeared. However, you can still see them in garden resorts, used as an interesting experience challenge for tourists.
III - How is Bamboo in Vietnam used in art?
The bamboo tree in Vietnam is used commonly not only in everyday life but also in art creating unique species bearing Vietnamese cultural identity.
1 - Ca phe Gio va Nuoc - Wind and Water Café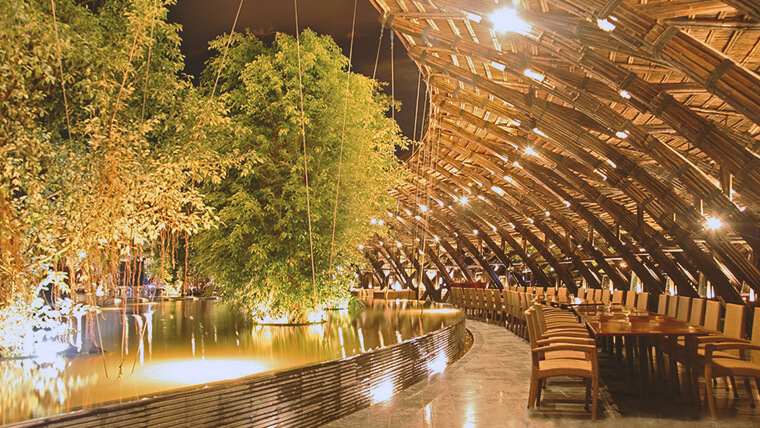 The impressive Wind and Water Café - Source: Internet
Vietnam bamboo architecture 'Ca phe Gio va Nuoc' is located at 6/28T Block 3, Phu Tho Ward, Thu Dau Mot City, Binh Duong Province. In this project, architect Vo Trong Nghia has combined thousands of bamboo travers, wind, and water, with minimal steel use, to create a link between people and nature. The main feature is a large pond that would give you the feel of floating on the water.
wNw Café demonstrates the aesthetics, durability, ecology, and cost-effectiveness of bamboo in Vietnam as a construction material. This project has won the International Architecture Awards 2008 (International Architecture Awards - IAA 2008).
2 - Vietnamese bamboo dance
Bamboo dancing is a prominent folk dance in northern Vietnam. The bamboo stalks about 2m long are arranged in parallel and controlled by people. The person who manipulates the Vietnamese bamboo sticks to the rhythm of the song to create ideal spaces that are flexible enough for the dancer to jump over. Bamboo dancing is often organized during important festivals such as Lunar New Year, Mid-Autumn Festival,...
3 - Bamboo Wing Restaurant
Inspired by nature, Architect Vo Trong Nghia designed the restaurant in the form of bird wings, floating over the site. This building is purely made of bamboo in Vietnam, with no steel or other artificial materials. According to Architecture Magazine of Vietnam Association of Architecture, Bamboo Wing has received many prestigious awards:
- In 2011: took the International Architecture Awards (IAA).
- In 2012: received the FuturArc Prize.
- In 2012: won the Green Architecture category - for green buildings of the Good Design Award.
- In 2014: received an award from the Architects Regional Council Asia (ARCASIA).
Location: It belongs to Dai Lai Flamingo Resort - Ngoc Thanh Commune, Phuc Yen Town, Vinh Phuc Province.
4 - Bamboo Circus Vietnam shows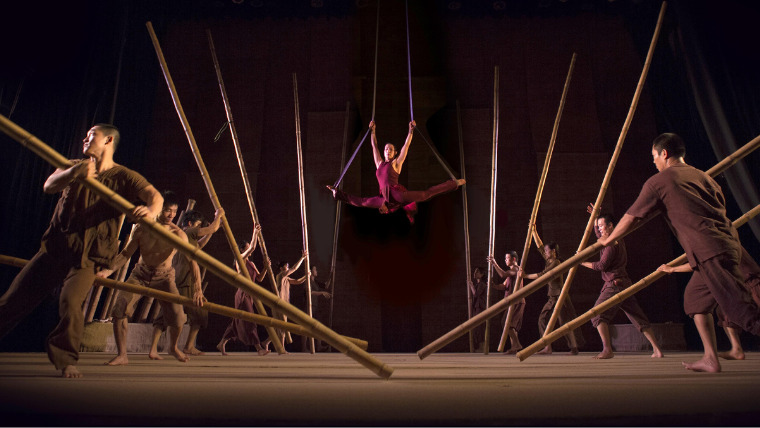 Source: excursionvietnam
Using main props designed from bamboo in Vietnam, Bamboo Circus shows by Lune Production surprised the audience with the delicate transformation of the Vietnam bamboo tree. The content of the performance is not only re-enacting scenes of everyday cultural activities but also conveying to viewers the soul of folk culture through light, sound, and stage arrangement. Lune Production currently has four main circus spectacles, named A O Show, Lang Toi - My Village, Teh Dar and Palao performing from North to South Vietnam.
Teh Dar
Using the main tool is the bamboo in Vietnam, this only bamboo circus about Vietnamese highland culture has been continuously on tour around Europe from 2018 to 2020 across 40 cities. Teh Dar often performed in Saigon Opera House and Hoi An Lune Center.
- Hoi An Lune Center: No. 1A Nguyen Phuc Chu Street, Hoi An City
- Saigon Opera House: No.07 Cong Truong Lam Son Street, District 1, Ho Chi Minh City.
Lang Toi - My Village show
Lang Toi - My Village show is one of the first Vietnamese bamboo circus shows that toured throughout Europe with 300 shows in 9 countries from 2009 to 2012. The show is performed regularly in:
- Hanoi Opera House: No 01 Trang Tien Street, Hoan Kiem District, Hanoi
- Vietnam Tuong Theatre: No.51A Duong Thanh Street, Hoan Kiem District, Hanoi.
À Ố Show
Inspired by the image of bamboo in Vietnam, À Ố Show is the most frequently toured show around the world since 2015, once performed at the Sydney Opera House in June 2019. Bringing Vietnamese artists and arts to a new level, À Ố Show is the signature cultural show in Ho Chi Minh City, often performed in Saigon Opera House.
This high-class performance art is a combination of bamboo circus and contemporary dance, using both natural props and modern light-sound technology. In 60 minutes, you will experience the varied emotions through the transformation of life, from a rustic village to a lavish city.
5 - A unique form of catwalk inspired by the bamboo in Vietnam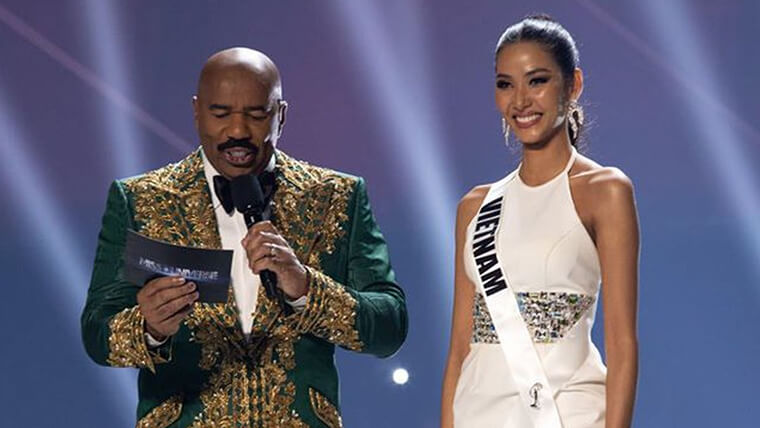 Hoang Thuy in Miss Universe 2019 - Source: Internet
The runner-up of Miss Universe Vietnam 2017 - "Hoang Thuy" took the idea from the image of a bamboo tree to create a unique catwalk performing at Miss Universe 2019. The "Bamboo walk" honored the virtues of the bamboo tree in Vietnam - a symbol of hardness, resilience, and indomitable but equally flexible and soft. Furthermore, the image of the Vietnamese bamboo tree is also associated closely with Hoang Thuy and many other people who grew up in rural Vietnamese villages.
Bamboo in Vietnam is obviously a familiar image in every countryside associated with the childhood of a number of generations. You can easily find the image of bamboo, as well as souvenir products from bamboo while traveling in Vietnam.