Among top places to stay in Hue, Lang Co beach resort Vietnam is highly recommended for leisure travelers. The resort is located at No.463 Lac Long Quan street, Lang Co town, Phu Loc district, Hue city, just about 30km from Danang International Airport and 50km away from the UNESCO site - Hue Imperial Citadel.
I - Suites and villas in Lang Co beach resort Hue
Source: booking
The high-class resort is strongly impressed by its pure traditional Vietnamese style with the main materials of native wood, bamboo and rattan, which is reminiscent of an old Vietnamese village and brings about a cool atmosphere, creating a sense of incredible relaxation and comfort. It features 124 rooms in which there are 97 villa rooms designed in Hue's traditional structures and 27 budget rooms. Here is detailed information about each type of room for reference:
Garden view
This is the standard room in the resort with an area of 28m2, featuring a private garden and offering great views of the stunning sea and garden. The room is equipped with all amenities, in which there are two choices for bed size: 2 single beds or 1 queen bed. The Lang Co beach resort's interior is decorated in a traditional Vietnamese style that is both simple and elegant.
- Rate: $56/ night/ 2 adults
Sea view
Similar to the garden view room, the sea view room offers you a full range of amenities and a comfortable resting space in an area of 32m2 with two options of bed sizes: 2 single beds or 1 queen bed. This kind of room can be served for one or two people with the price ranging from $48 - 68.9. From the window of the sea view room, you are able to admire the beautiful sunrise and glorious sunset or relax with the scenery of the long white sand beach embracing the whispering blue sea.
Poolside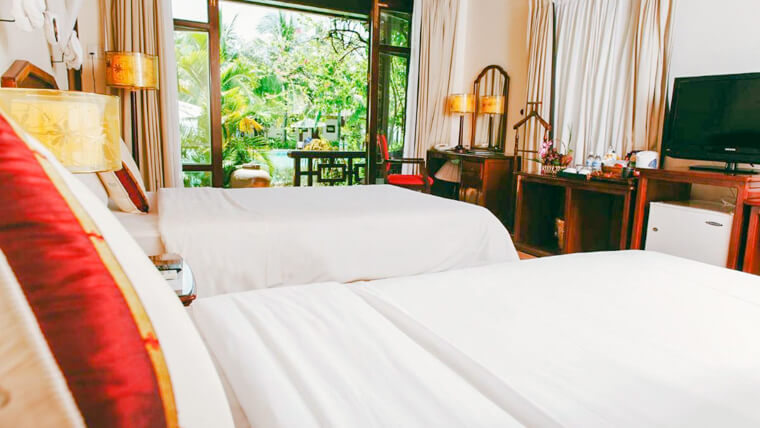 Lang Co beach resort - Source: booking
With an area of 32m2 and a stunning view of the large swimming pool, the poolside room is fully equipped with all modern amenities and two choices of 2 single beds and 1 queen bed. Just a few steps to the pool, you can enjoy the clear blue swimming pool from your window or relaxingly have a bath every early morning or stroll around the pool at night.
- Rate: $75.4/ night/ 2 adults
Beach room
Lang Co beach resort offers 32-square-meter beach rooms with wonderful views of the garden and sea, well-equipped with ungraded furniture, in which there is a queen bed for two people. There is nothing more awesome than having a rest right next to the gorgeous beach of Lang Co, hearing the waves crashing against the sand beach and taking a deep breath to inhale the cool, fresh air from the sea.
- Rate: $67 - 87/ night/ 2 adults
One-bedroom villa with beach view
With a large area of up to 55m2 and views of the sea and garden, this type of room is absolutely suitable for large families. This type of room provides you with both private space and comfortable accommodation.
- Rate: $130/ night/ 2 adults
One-bedroom beach front villa
The villa has an area of 52m2, offering views of the charming sea, which allows you to relax right next to the poetic beach. The rooms at Lang Co beach resort are elegantly decorated and well-equipped with all amenities.
- Rate: $143/ night
Two-bedroom front beach villa
With an extremely large area of 155m2, this type of villa has an extraordinary view of the sea, featuring 4 double beds and all amenities. This room is very suitable with big families and groups.
- Rate: $217/ night/ 4 adults
Green Hill
The 21m2 is only about a 5 minutes walk to Lang Co beach and the pool. There are two choices of bed including twin bed or queen bed.
- Rate: $34 - 44.2/ night/ 2 adults
II - Other services at Lang Co beach resort Vietnam
1 - Restaurants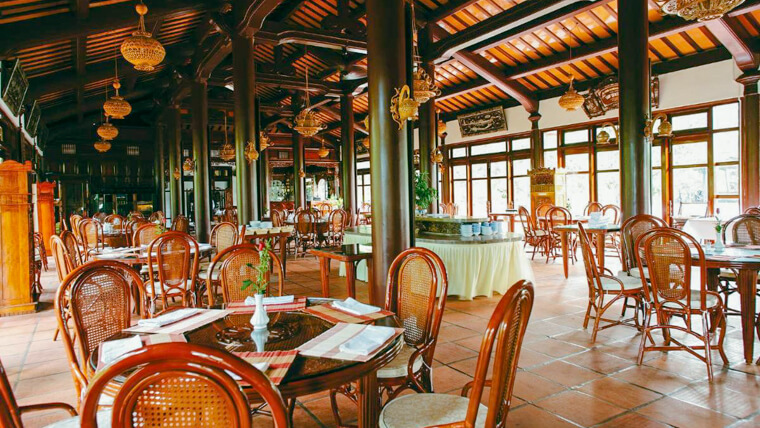 Source: booking
The resort offers two restaurants: Lang Co restaurant right next to the lobby and the Seaside restaurants. The former is designed in traditional old Vietnamese houses with a capacity of 180 seats, offering a wide array of European and Asian cuisines, especially local Hue cuisine. The latter has a capacity of up to 200 people with oceanfront seats under coconut trees, serving the freshest seafood.
2 - Banquet & Conferences at Lang Co beach resort
This large room is an ideal venue for a wide range of functions, equipped with a broad array of audio-visual equipment. Flexible settings can be arranged for meetings or parties with a size of 50 to 300 people.
3 - Swimming pool
As one of the greatest beach resorts in Vietnam, this luxury resort owns an outdoor swimming pool overlooking the gorgeous beach, therefore, you can both relax in the cool pool water and immerse in the breath-taking view of the sea, especially at dawn and at sunset.
4 - Other outdoor activities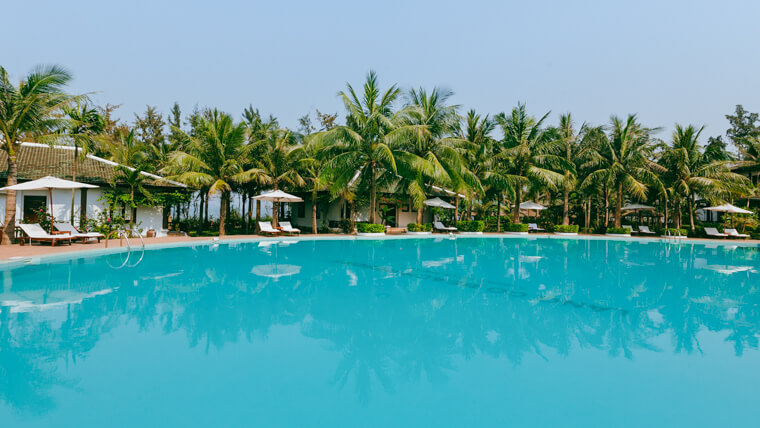 Source: booking
Lang Co beach resort offers you a myriad of exhilarating activities which are both free and paid right at the resort such as relaxing in the sauna, massage room, sunbathing terrace, or playing sports such as tennis, beach volleyball, badminton and swimming. You can also rest on the smooth golden sand, lie under the shade of coconut or simply meditate to "touch" the deepest part in your soul.
With the traditional ambience of the Vietnamese countryside and a wide variety of fully-equipped rooms with magnificent views of the poetic sea, a large swimming pool, and a lush garden, Lang Co beach resort Vietnam is an ideal option for your upcoming trip to Hue city.