Being wll-known as one of the most famous ancient pagodas, Tu Hieu pagoda Hue is imbued with the old architecture of the Hue imperial citadel. Besides sacred religious work, the pagoda is also an attractive destination thanks to its tranquil scenery. The pagoda of Tu Hieu is famous for its association with Thich Nhat Hanh zen master, a peace activist as well as the founder of Engaged Buddhism.
I - Where is Tu Hieu pagoda located?
The pagoda of Tu Hieu is located in Duong Xuan Thuong III village, Thuy Xuan ward, Hue city. Established in 1843 by Mr. Thich Nhat Dinh, a noble monk under the Nguyen Dynasty (1802 - 1945), the pagoda was first a small hut where he took care of his mother. At the time, his mother got so sick that even though the monk had tried as hard as he could to find medicine, her health didn't improve at all.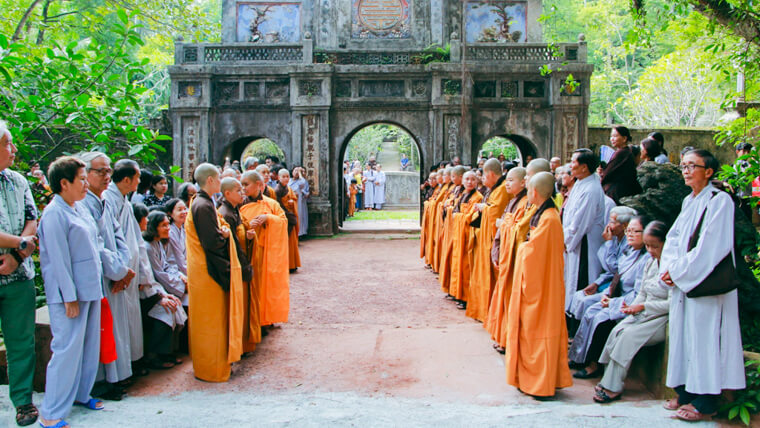 Tu Hieu pagoda Vietnam is a symbol of filial piety - Source: thanhnien
Therefore, he had to overcome several forests and mountains to fetch with fish and meat to invigorate his mother. People criticized him for eating animal meat without comprehending the whole story. The rumors found their way to the ear of King Tu Duc. After getting the hang of everything, he was touched by the monk's filial piety and named the pagoda "Tu Hieu" (Tu Hieu also means filial piety).
Notes:
- Opening hour: 6:30 am - 9h30 pm
- Tu Hieu pagoda entrance fee: fee
- You can visit this pagoda in Hue from March to August, during the dry season when the weather in Hue is quite nice without heavy rains and tropical storms. The pagoda is the most crowded in July of the lunar calendar because it coincides with the Vu Lan festival in Vietnam.
- The location of Tu Hieu temple is in proximity to many famous tourist spots for visiting in Hue city namely Vong Canh hill (2.7km), King Thieu Tri tomb (1.8 km), King Tu Duc tomb (1.6km), Nam Giao altar (1.9km). You should consider integrating them into an itinerary.
II - Architecture of Tu Hieu pagoda Hue
1 - Bo De tower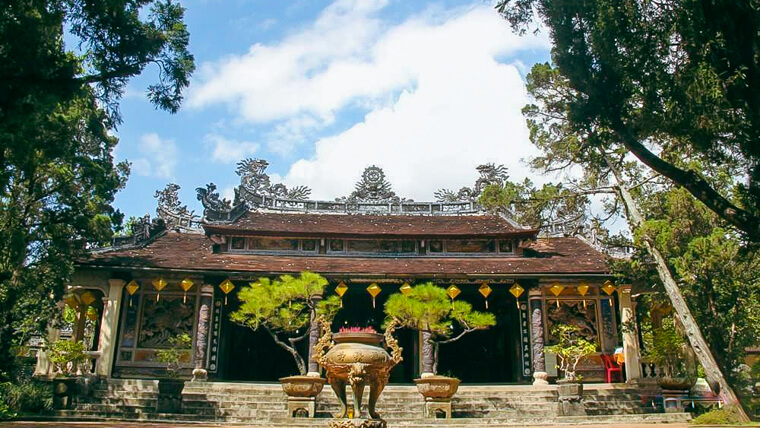 The pagoda features an impressive architecture - Source: giacngo
Because the whole structure of the pagoda is nestled on a vast pine hill of 8 acres, with a winding stream in front of it, the atmosphere is cool and fresh all year round. On the outside of the entrance is a 3-floor tower called Bo De, constructed in 1894. Its function is to collect, restore and maintain broken-down Buddhism scriptures and statues from temples, pagodas, and private houses near and far. In front of Bo De tower of Tu Hieu pagoda Vietnam stands a stone stele dated back to 130 years ago, writing the reason and the building process of the pagoda in ancient Vietnam.
2 - The main gate
The gate of the pagoda follows a 3-door style decorated with dragon patterns which are popular in Vietnamese religious works. It has 2 floors and 4 pillars all of which have couplets in ancient Vietnamese and 2 pictures of pine and apricot at either side. Due to the wear and tear over time, the gate once collapsed but has been restored to return to its former status.
3 - The main buildings in Tu Hieu pagoda Hue
Entering the gate, you get to see a crescent lake featuring emerald water where a bundle of green trees sends their gleam. Coming up next is a stele associated with the story about Thich Nhat Dinh monk. The entire pagoda resembles the shape of Kou "口" with the characteristic of 3 chambers 2 compartment house styles. The main hall where Buddha is worshiped is arranged at the forefront, flanked by 2 towers of stele. At the back is where Quang Hieu Duong house, Ta La Thien (monk house), and Huu Ai Nhat (guest house) are located.
4 - A special cemetery in Tu Hieu pagoda
A special thing about Tu Hieu temple is the existence of a cemetery to the right of it. This cemetery is where 24 eunuchs of the Nguyen Dynasty rest in peace. It is said that when Thich Nhat Dinh monk passed away, the small pagoda at the time was reconstructed and expanded with the support of a eunuch named Chau Phuoc Nang. He was the one who realized the misery of his colleague when the old came, there would be no child, no one to rely on.
With an aim to make a part of Tu Hieu pagoda a place where the eunuchs' souls would be remembered, Eunuch Chau Phuoc Nang called for donations from other eunuchs in Nguyen court to widen this pagoda. Therefore, after death, their bodies were buried on a small hill near the pagoda of Tu Hieu. The pagoda is therefore referred to as a pagoda of eunuchs. In November of the lunar calendar, a ceremony to commemorate the eunuchs is held here.
III - Thich Nhat Hanh zen master and Tu Hieu pagoda
Thich Nhat Hanh is a Vietnamese monk with global influence, considered the most influential Buddhist leader only after the Dalai Lama. For many decades of traveling and religious practice abroad throughout North America and Europe, he was the pioneer in spreading Buddhism to the West. During the time, the Zen Master initiated and promoted "engaged Buddhism" which focuses on the role of humans in facilitating change. As a poet and a peace activist, in 1967, he was honorably nominated by Martin Luther King, Jr. for the Nobel Peace Prize.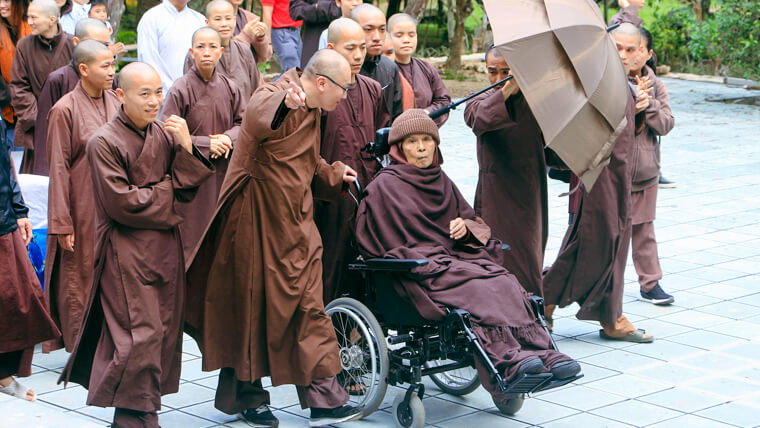 Thich Nhat Hanh zen master has lived in Tu Hieu pagoda - Source: vnexpress
In addition, Thich Nhat Hanh is the author of more than 100 books, of which the bestseller is "The Miracle of Mindfulness". Tu Hieu temple is where this great figure was first ordained at the age of 16, in 1942. In 2018, he came back to Vietnam and stayed at this pagoda. He spent his last days and passed away here on January 22, 2022, at the age of 96.
It is to say that Tu Hieu pagoda Vietnam is a really visit-worthy attractions in Hue, not only because of its beauty, both naturally and architecturally, but also for the anecdote behind it. The work is adjacent to quite a number of famous tourist attractions of the city such as Hue Imperial City, Tomb of Emperor Thieu Tri (1.8km), Vong Canh hill (2.7 km), Tomb of Emperor Dong Khanh (1,7km). You can combine them into your itinerary to have a wonderful and diverse trip.