As a notable tourist hub in Central Vietnam, Hue city leaves a deep mark in the heart of visitors with the poetic beauty which can be seen in emperors' tombs, ancient houses, and the gentle Perfume river. Another address with the appeal of the same line but has yet to be known popularly is Lap An lagoon Vietnam. If you want to be one of the first people to comprehend this destination, let's continue to read this article from top to bottom.
I - Where is Lap An lagoon?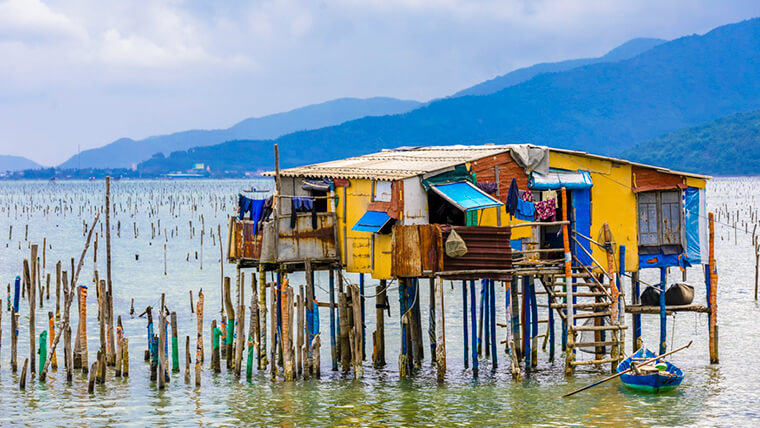 Source: vnexpress
This brackish lake is located by the National Highway 1A, the part crossing Lang Co town, Phu Loc district, Thua Thien - Hue province. With an area of 800 hectares, it is included in the top largest hybrid lakes in the area. This is the border between Hue and Da Nang city, away from Hue city center (65km), and still preserves its wild and mysterious attraction.
Surrounded by the majestic Bach Ma mountain range, facing the picturesque Lang Co bay, Lap An lagoon doubles its charm and dreaminess. Moreover, the landscape doesn't fix itself but keeps changing over time, from a misty scenery in the early morning to a bright and quiet picture in the late afternoon.
Not only beautiful, but the lagoon is also in proximity to a bundle of tourist spots in Hue and Da Nang, namely Lang Co beach, Lang co fishing village, Hai Van pass, and Bach Ma national park. It is an advantage because tourists can combine these stopovers into an itinerary to travel Hue within a day.
II - What does Lap An lagoon feature?
1 - Poetic scenery of Lap An lagoon Hue
Once set foot here, you will have your soul captured by the tranquil but spectacular appearance, a landscape picture with mountains and water harmoniously standing next to each other. All elements, high and blue sky dotted with floating clouds, deep blue and clear water with imposing mountain afar wrapped by blur fog like a giant landscape picture seem as if they are born to be with each other.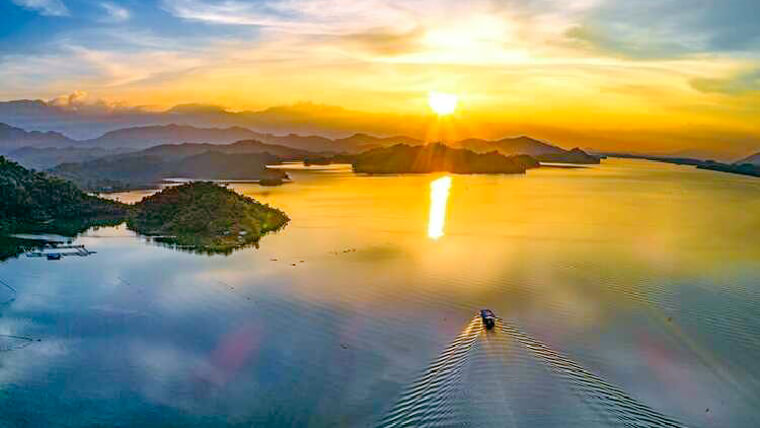 Charming beauty of the lagoon - Source: 123di.vn
The highlight of that picture only shows up when the tide is down exposing a sandy white path right at the center of the water. The smooth sand scattered with tiny snail shells is an extremely romantic position for photoholics. On both sides of the road are simple boats and rolling mountains, making the outlook of Lap An lagoon much more impressive.
The lagoon is mesmerizing at any time, but the most fabulous moment is sunset. When the sun falls, the shadows are longer, the light gradually turns off, the lagoon appears fanciful and enchanting. The sunshine with the pink color of the horizon is reflected on the calm water surface. Purple and pink bands of light interweave like multicolor silk, bewildering visitors.
In the moment of interference between heaven and earth, the whole lagoon astonishes visitors when they observe nature changing colors, from dim light to darkness. Thanks to this wonderful scene, Lap An lagoon was likened to heaven on earth. Because this place is most visit-worthy at twilight, your travel schedule should be watching dawn and walking around Lang Co fishing village first, then swimming at Lang Co beach and finally proceeding to the lagoon in the afternoon.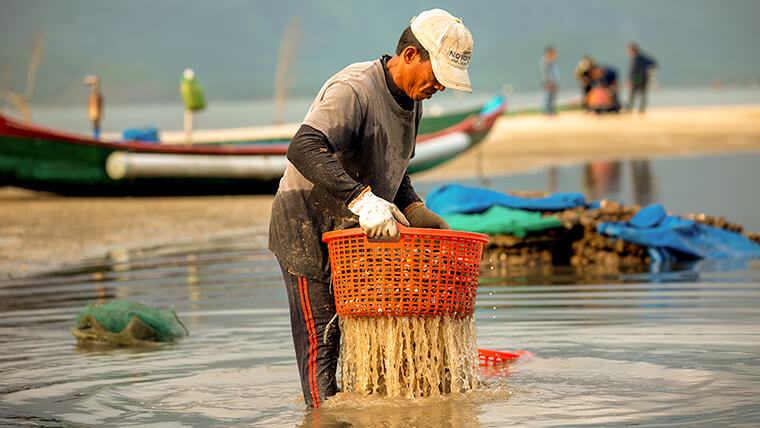 The locals working on the lagoon - Source: baothuathienhue
You are advised to have a rental motorbike and drive along the road surrounding the lake to enjoy the cool breeze and view the scenery from different dimensions. In the process, you will catch the sight of local people working on the Lap An lagoon. The presence of humans makes the picture lively and warm. Their beauty doesn't come from the outside but from hard work and resilience. That is called the beauty of labor.
Not only arduous, residents here are also very intelligent and informed. Since the lagoon started drawing the attention of tourists, they have created miniatures such as swings, bamboo rafts,.. to serve the need for selfies. Although these things are man-made, they fit nature pretty well. If you want to take pictures with these settings, you just need to pay 10,000 VND ($0.4)/person.
2 - Mouth-watering foods to try when visiting Lap An lagoon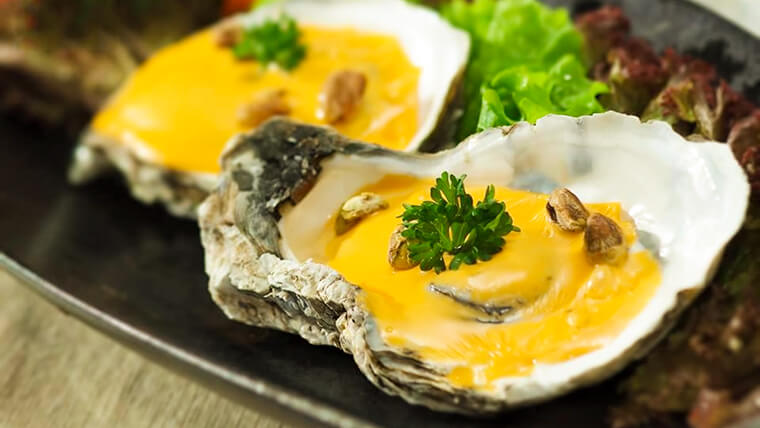 Famous grilled oysters - Source: Internet
The brackish water at the lagoon is also the optimal environment for the thriving of many aquatic animals, including fish, shrimp, snails, sea cucumbers, and particularly oysters. Fishermen here open a lot of oyster farms to supply seafood restaurants in the region. They take advantage of old ties and tighten them on bamboo stakes on the lake to farm. It is such a wonderful idea that is not only money-saving but also environmentally friendly.
Finding a restaurant to try these special dishes is not such a difficult thing. Along the roads lining this lagoon, there is a bundle of addresses, some of the best-reviewed are:
VietPearl Seafood restaurant
- Address: Nguyen Van street, Lap An lagoon, Lang Co town, Thua Thien - Hue province
- Opening time: 8:30 - 23:00
- Contact: 02343676767
- Reference price: 25,000 - 250,000 VND/dish
Be Than Seafood restaurant
- Address: Lang Co - Chan May, Phu Loc district, Thua Thien - Hue province
- Opening hour: all day
- Contact: 0974770000
- Reference price: 70,000 - 500,000 VND/dish ($
Lang Chai restaurant
- Address: No.9 An Cu Dong street, Lang Co town, Phu Loc district, Thua Thien - Hue province
- Opening time: 9:00 - 22:00
- Contact: 02346282888
- Reference price: 80,000 - 400,000 VND/dish ($3.5 - 17.2)
III - Other information about Lap An lagoon Hue
1 - The best time to visit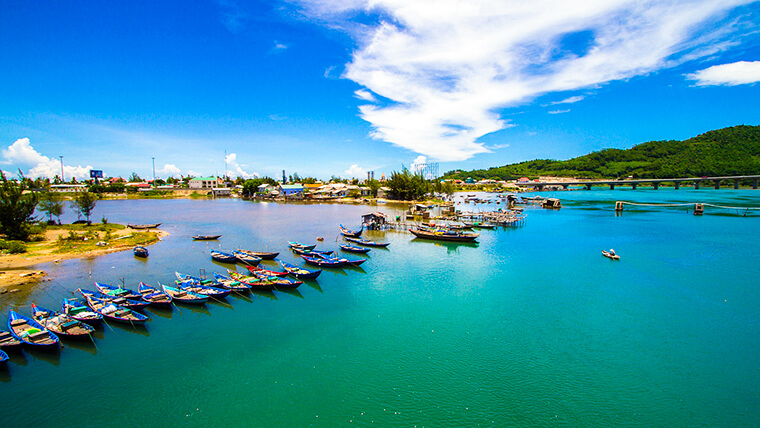 Source: vietnamtourism
The weather in the lagoon is characterized by the Hue climate. There are two distinct seasons in a year: hot season and cold season. The climatic features in hot season make it favorable for tourists to fully explore the attractiveness of this lake. At this time, it is hot and dry with little rain; the temperature maintains around 27°C to 29°C. Therefore, you should launch your journey in the period from March to August.
2 - Accommodation
Langco Beach Resort
With a prime location, Langco Beach Resort can take both views of the Lap An lagoon and Lang Co beach. Entering the resort is entering a green and ancient space formed by a lot of trees and traditional architecture. A plus point is each room has a lot of windows for customers to sightsee.
- Address: Lang Co town, Phu Loc district, Thua Thien - Hue province (near Lang Co dormitory of the Ministry of Public Security)
- Room rate: 1,330,000 VND/night ($57.3)
- Contact: 02343873555
Ha Phuong Homestay
Ha Phuong Homestay is located right by the Lap An lagoon. Therefore, amongst three suggestions, this is the most ideal position to capture the view of this place. The homestay is airy with a spacious garden. Taking everything into consideration, this room rate is very advantageous.
- Address: No.111 Nguyen Van, Lang Co town, Phu Loc district, Thua Thien - Hue province
- Room rate: 700,000 VND/night ($30)
- Contact: 0366666198
Thanh Tam Seaside Resort near Lap An lagoon
The resort is judged as a bit old but it can still satisfy the needs of many tourists who would like a retreat with secluded space. Resort has a swimming pool and cafe where clients can come and have some drinks, lie on a chair and listen to the sea waves while viewing Bach Ma mountain & Lang Co bay.
- Address: Lac Long Quan street, Lang Co town, Phu Loc district, Thua Thien - Hue province (near Lang Co dormitory of the Ministry of Public Security)
- Room rate: 4,625,000 VND/night ($199.4)
- Contact: 02343874456
3 - Map
The graceful Lap An lagoon Vietnam is like an integral piece in the whole tourism picture of Hue. Choosing it as the next stopover, you won't be let down. Thank you so much for reading until the end of this writing.