Hoa Lo Prison, Con Dao Prison, Phu Quoc Prison, Buon Ma Thuot House Of Exiles, Son La Prison, and Can Tho Grand Prison are the top 6 worth-visiting war prisons in Vietnam. For more details about these Vietnam historic relics, keep on reading the article below!
Hoa Lo Prison - top 6 Vietnam war prisons
This prison in Vietnam was constructed by the French in 1896 in a suburb of Hanoi, with a function of a Central Prison for both Tonkin in the North and Annam in the Central. The former building had an area of more than 12,000m2; however, nowadays, only 2,434m2 is preserved to become a historical site.
Dubbed as the "Hell on earth" and the most terrifying prison in Southeast Asia ever since its operation, Hoa Lo Prison is specially designed with malicious forms of torture, coercion in which the prime example is the guillotine, the thing that has brought this Vietnam prison camp to the list of top 10 notorious prisons in the world. These machines are still displayed in the relics as a witness of history.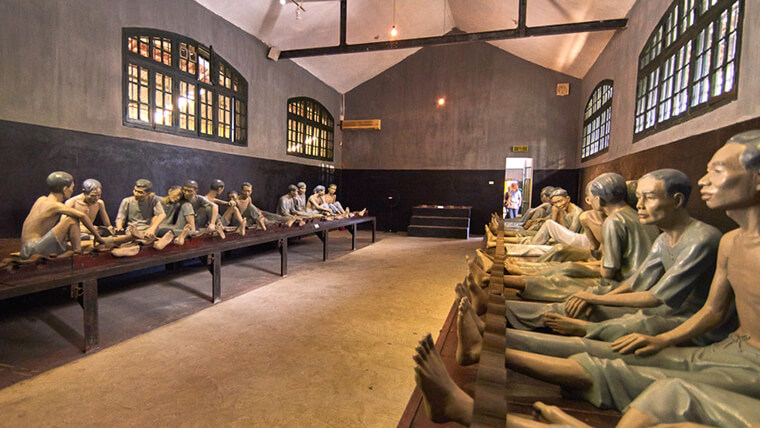 Hoa Lo is one of the most famous Vietnam war prisons - Source: Bestpricetravel
While the guillotine is the cruelest weapon, "Cachot" (dungeon) is the scariest place, also called "Hell of the hells". Chambers are designed so that prisoners can't lie down to sleep. The space is covered with phantom darkness making anyone captured here after a while is swollen, scabby and malnourished because of lacking hygiene and sun. Since the French really focused on architecture, every single item from doors and locks to shackles in the prison was customized and transported from France and was strictly monitored.
- Address: No.1 Hoa Lo Street, Hoan Kiem District, Hanoi
- Opening hour: 8am - 5pm
- Ticket price: 30,000 VND ($1.3)/person
Con Dao Prison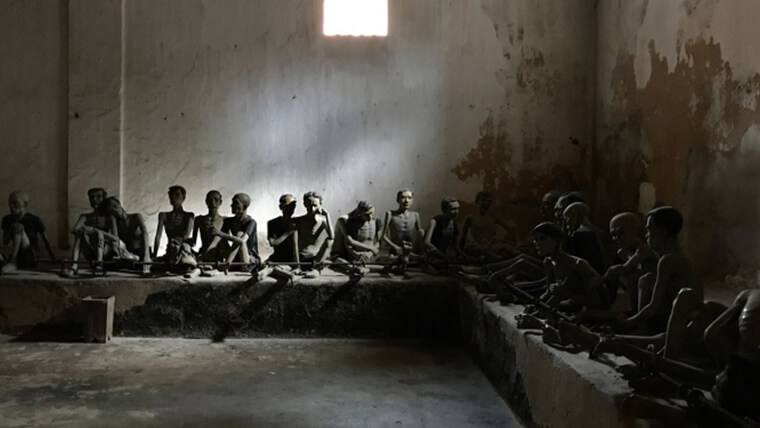 Con Dao Prison - Source: VnExpress
Established in 1862, Con Dao Prison used to be one of the main Vietnam war prisons where the French colonialists used to hold prisoners in the Vietnam war. The reason why the French colonialists built a prison on Con Dao Island was that the island was located far from the mainland and difficult for transportation, making it impossible for prisoners to escape. Within 100 years, more than 20,000 Vietnamese patriotic soldiers were tortured and sacrificed in this prison in Vietnam. Going through 2 periods of invasion, French colonists and American imperialists formed a total of 127 detention rooms, 42 cells, and 504 isolated cells (also called Tiger Cages).
Tiger Cages under French colonization, where prisoners were "more dead than alive" is an extremely savage place. Above are iron bars so that jailers could easily supervise prisoners. Tiger Cages really made Prison one of the darkest Vietnam war prisons. Anyone raised or who had the intention of rebellion would be hit by wood or tortured from the height. On the ceiling arranged water barrels and lime powder. When the prisoners thirsted, the guard poured water and lime powder down as a punishment for rioters.
Tiger Cages in this Vietnam prison also has a range of chambers with no roof which had a fancy name of "sunbathing room". The torture is that the prisoners were unwrapped and exposed to burning suns and heavy rains until death.
With roofed rooms, the area was super small, 1.45 m wide and 2.5m long. All the men in the rooms were chained, and all hygiene activities were performed in that narrow space. Apart from being assaulted, captive people were left starving. Almost everyone sent into Tiger Cages was positive to come closer to the Death.
When visiting one of the most frightening Vietnam war prisons - Con Dao prison, you are likely to hear the name "Cow Cages" with the evilest punishment which is to saturate the death sentence in underground sewage filled with cow crap and leave him dying. There were areas for a lecture, a hospital, a church, an eating house,... but they were just camouflaged to deal with international supervisors of human rights and to fool the public.
- Address: Nguyen Chi Thanh street. Con Dao island
- Opening hour: 7am - 11am & 1:30pm - 5:30pm
- Ticket price: 40,000 VND ($1.8)/person
Phu Quoc Prison
Phu Quoc Prison was built in 1953 after the French colonists took control of Phu Quoc. With an area of 40 hectares, the camp was located in Cay Dua (Coconut tree) village, hence it was named Coconut Tree Prison. The reason that the French chose this area is that it has a strategic position, far away from the mainland, out of the reach of press agencies, easier for them to oppress prisoners.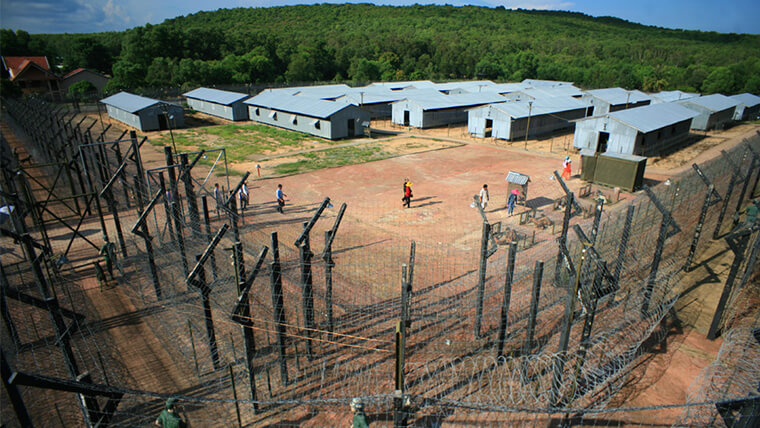 Phu Quoc Prison - top 6 Vietnam war prisons - Source: Internet
Until 1966, since the number of detainees significantly increased, another jail was established 2km from the old Cay Dua Prison. The new one was 10 times larger and became the biggest contemporary prison which was known as Phu Quoc Prisoners Of War Camp or Phu Quoc Communist Prisoners Camp.
Visiting this famous prison in Vietnam in Phu Quoc island, you have a chance to be directly exposed to the most brutal punishments and forms of torture recreated by models. Bar wire Tiger Cage is one of the most obsessive in which the prisoners were trapped in cages made entirely with bar wires and put outdoors. They were designed low so that the men inside had no alternatives but to lie down with their back pressed on the ground while their body was burned by the sun, a method which was quite similar to other Vietnam war prisons.
Different from the Barbed Wire Tiger Cages, the Catso Tiger Cages invented by the Americans were no less savage. The cage was shaped by iron sheets covering 4 fronts like a small container. Prisoners captured inside had no light to see, no air to breathe. It is freezing at night while burning in the day. When released, these people couldn't see anything because of poor eyesight. Both mental and physical health were remarkably damaged.
Besides, there are more than 45 other despicable punishments in various styles ranging from Medieval to Modern. The more you see in this Vietnam prison, the more respect you will show to the Vietnamese soldiers and martyrs in the war for their bravery and sacrifice. In 1995, Phu Quoc Prison was recognized as a national historic site by the Ministry of Culture and Information.
- Address: No.350 Nguyen Van Cu street, An Thoi Commune, Phu Quoc Island
- Opening hour: 8am - 11:30am & 1:30pm - 5pm
- Ticket price: free
Buon Ma Thuot House of exiles - top Vietnam war prisons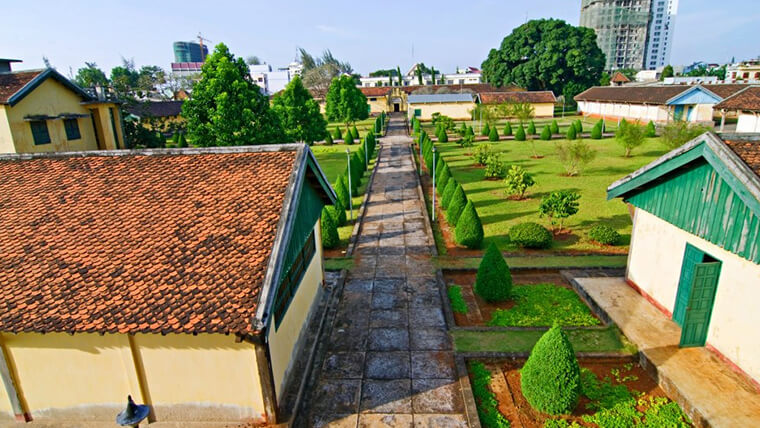 Buon Ma Thuot House of exiles - Source: Wikipedia
According to some documents, the Buon Ma Thuot house of exiles dated back to the 1900s during the French colonial period. Initially, the construction was quite simple with the framework made entirely of wood, the walls plastered with mud and straw whose core was bamboo and cover was a thin cement layer, and the leafed roof.
However, these plain materials resulted in the quick degradation of the camp, creating opportunities for prisoners to successfully escape. At the same time, the number of detainers increased quickly. Therefore, in 1930, it was reconstructed with a larger scale, more stable structure. The weirdest thing is that the prisoners had to build up the place which was used to keep them captive.
The project commenced on a plot of nearly 2 hectares with 4 surrounding walls of 4 m height, 40 cm thickness, and watchtowers at 4 corners. There were 6 rows of collective rooms. Next to the main gate in the South was a row of cells used as a place to incarcerate political criminals claimed as dangerous. Like some other Vietnam war prisons, this place also featured a factory, office, warehouse, and eating house,... which were the characteristics of traditional French prisons with a view to effectively supervising detainees.
After the Americans had been defeated and left, this prison in Vietnam was left uninhabited; thus the architecture that we see today has nothing changed as compared to the time the Americans occupied. The only thing that changes is there are pictures and artifacts about the time when Vietnamese people were oppressed. In 2019, the House of exiles in Buon Ma Thuot was ranked as the Special National Relics.
- Address: No.18 Tan Thuat street, Tu An ward, Buon Ma Thuot city
- Opening hour: 7:30am - 5pm
- Ticket price: 20,000 VND ($0.9)/adult & 10,000 VND ($0.45)/child
Son La Prison - top horrible Vietnam war prisons in the Northwest region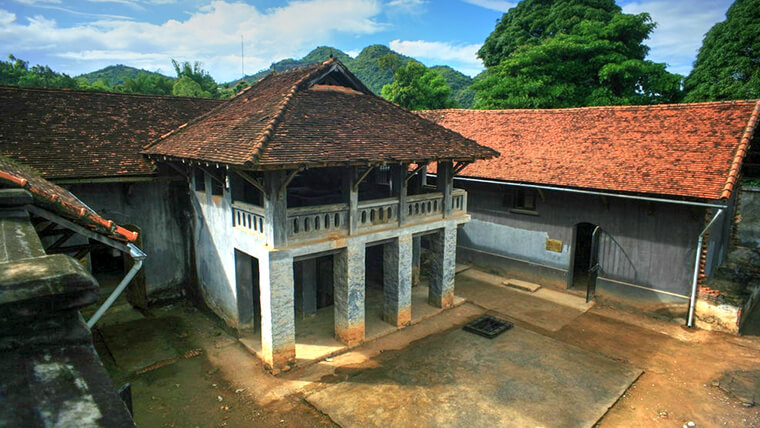 Son La Prison - Source: Internet
Created by the French authority in 1908, the Son La prison nestles on Khau Ca hill, by the bank of Nam La stream in Son La province. At first, this Vietnam prison was just a small jail with an area of 500 m2. After being expanded three times, the dungeon truly became a place of damnation and exile with an aim to destroy the will to fight of Vietnamese communist soldiers. With dark chambers made of brick and stone and corrugated iron roofs, it was like a heating oven in summer and a refrigerator in winter.
Son La prison was formed by the French in order to separate the bond between political prisoners and the people on one hand and to take advantage of severe weather and the strict regulation to make detainees easily catch fatal diseases, killing them day by day on the other. Like other Vietnam war prisons, what they didn't expect was that it was this very place that communist soldiers turned into a revolution school, where the red seeds of the revolutionary movements in this area bore fruits. In total, Son La prison captured 1,007 people, many of whom later held important positions in the Central Government of the Vietnamese Communist Party.
The prison is now just a ruin because it has been heavily bombarded in two battles with the enemy. The first time was in 1952. When withdrawing from Son La, the French colonialists had their planes drop bombs on the prison in order to erase the traces of their crimes. The second time was in 1965. The US imperialists raided Son La city and dropped bombs to destroy the remains of Son La prison... And after reunification, only two watchtowers and part of this prison in Vietnam could be restored, the rest is left in its original state because design documents and detailed drawings cannot be collected… Son La prison is one of the Vietnam war prisons that was ranked as a Special National Relics (on December 31st, 2014).
- Address: Khau Ca hill, Group 9, To Hieu ward, Son La city, Son La province
- Ticket price: 30,000 VND ($1.3)/adult and free for children
Can Tho Grand Prison
For the sake of ruling over Can Tho city, from 1876 to 1886, the French colonialists triggered the construction of many agencies and offices, including a prison named Prison Provinciale. The prison was built on an area of 3,762 m2, adjacent to the Governor's Palace, opposite the Administration Building, and isolated from the residential area, commonly known as Can Tho Great Prison.
Viewing from the front, the first impression of this Vietnam prison camp is an arched-shape gate. Surrounding the Great Chamber is a wall from 3.6m to 5m high, which is covered with pieces of glass and barbed wire. At each corner of the wall situates a 6m high watchtower with guards and floodlights to control prisoners.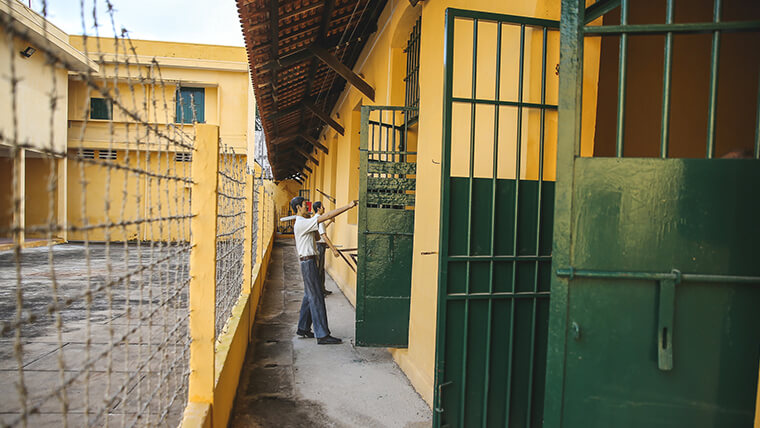 Top worth-visiting Vietnam war prisons - Source: Internet
Inside the prison, there are 21 collective cells and many solitary confinement rooms. Between rows of cells is a large yard for prisoners to sunbathe. In this courtyard, the colonialists and imperialists also integrated pagodas and churches to appear that they showed respect for the prisoners' beliefs and religions.
The capacity in each collective cell is only about 30-40 people, but sometimes the number of prisoners is up to 70-80 people or even up to 100 people. Many prisoners who could not endure the confinement, torture, and harsh eating regimes slowly died in this dungeon. The rest were infected with all kinds of diseases: scabies, malaria, typhoid, tuberculosis...
Currently, the Can Tho Grand Prison is still restoring images and models of imprisoned and tortured soldiers. The gallery also keeps a number of torture instruments, and memorabilia of the revolutionaries captured here, along with some precious pictures and documents.
- Address: No.8 Ngo Gia Tu street, Tan An ward, Ninh Kieu district, Can Tho city
- Opening hour: 8am - 11am & 2pm - 5pm from Monday to Friday
- Ticket price: Free
Taking a look around these Vietnam war prisons, you will see why Vietnamese people always have a profound respect for the past generation. Had it not been for their extraordinary bravery and sacrifice to overcome ruthless torturements in these prisons, there is no peaceful and developing Vietnam today. If you have a chance to visit Vietnam, don't forget to drop by one of the above relics.