Hoi An - the hub of culture & heritage is a must-visit destination in Central Vietnam at which you can spend days for a nice beach vacation, unique cultural exploration & amazing cuisine experience. This post is the list of the best places to visit in Hoi An city.
1 - The charming beaches - top places to visit in Hoi An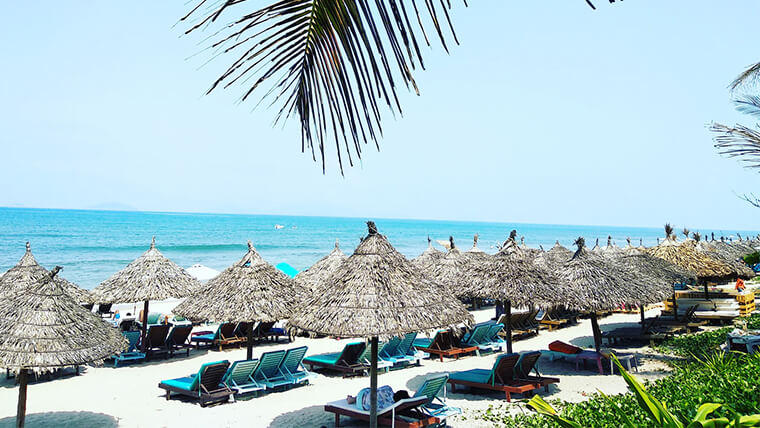 Source: Vu Nguyen
The lovely beaches in Hoi An are top places that you should not miss when coming to Hoi An. The most outstanding beaches are:
An Bang beach
An Bang beach is about 7km to the East of Hoi An City Center. The An Bang beach attracts tourists by its unspoiled beauty with an unending white sand shore and clear water.
Cua Dai beach
Different from the calmness of An Bang beach, Cua Dai beach - the top 10 places to visit in Hoi An is extremely vibrant and bustling. Coming to Cua Dai Beach, you have the chance to immerse yourselves in the cold water, have sunbathing, and join a night squid fishing tour,...
2 - Top cultural and historical places with unique architecture
Some famous tourist sites with impressive architecture in Hoi An can be mentioned as:
Phung Hung Old House
This Hoi An attraction has existed for more than 100 years. The architecture of the house is very unique, which is the intersection of the ancient Asian cultures: the "Four Seas' rooftop style of Japan, the balcony and stair structure of China, and the system of wooden beams and ribs of Vietnam.
- Address: No.4 Nguyen Thi Minh Khai Street, Minh An Ward, Hoi An City
- It takes 15 - 20 mins to explore Phung Hung Old House
- Opening hours: 8am - 6pm
Hoi An Ancient Town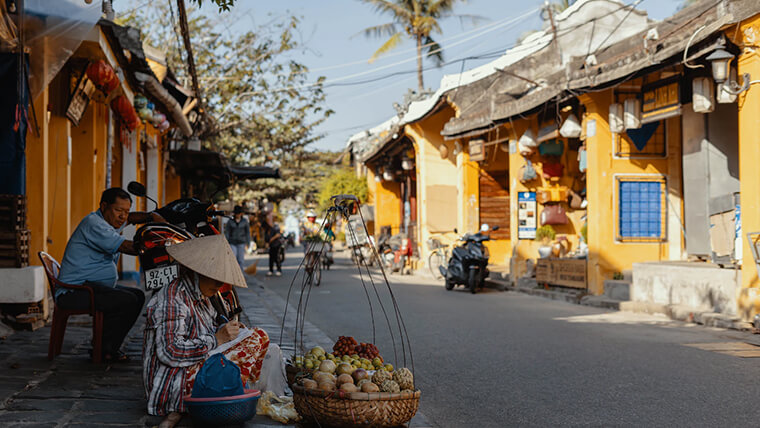 Source: Chinh Le Duc
Hoi An ancient town or Hoi An old quarter is one of the top things to see in Hoi An. Over the years, this neighborhood still retains traditional architectural features such as tubular rows of houses, golden walls, or winding roads along the quiet Thu Bon River.
Hoi An Museum
Hoi An museum is one of the top tourist attractions in Hoi An which displays artifacts and antiques bearing historical and cultural vestiges of Hoi An throughout the pre - Early history, Champa, and Dai Viet-Dai Nam periods.
- Address: No.10B Tran Hung Dao Street, Minh An Ward, Hoi An City
- Opening hours: 7am - 5pm from Monday to Saturday
Gems Museum
Gems Museum is home to the largest collection of gemstones in Vietnam. Featuring a sophisticated, luxurious display space, this museum includes more than 600 gemstones in the form of original natural crystals, sculptures, or sparkling jewelry sets. Gem museum is a must-visit place in Hoi An.
- Address: No.130 Nguyen Thai Hoc Street, Minh An Ward, Hoi An City
- Opening hours: 7am - 10pm
Pottery museum
Museum of Ceramics - Trade is located at No.80 Tran Phu street. This is a museum with the overall style of ancient Hoi An houses' signature architecture. You can admire nearly 400 samples of ceramic artifacts from the IX-X centuries to the present. The museum vividly shows the image of the ancient trade route of trade ceramics, when Hoi An was an important Euro - Asian trade hub.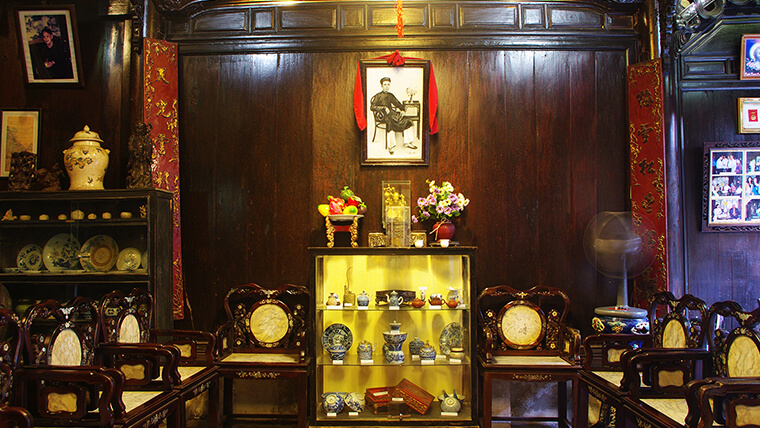 Duc An Old House - Source: VnExpress
Duc An Old House
Located at No.129 Tran Phu street, Duc An old house is another best place to visit in Hoi An for tourists who are passionate about architecture which has a life of more than 180 years. Duc An Ancient House attracts visitors with its quiet, ancient appearance and calm space with bold Asian architecture. Not only that, but this is also a place of historical significance, associated with revolutionary soldier Cao Hong Lanh.
Tan Ky Old House
Tan Ky Old House is the oldest ancient house in Hoi An with more than 200 years old. This Hoi An tourist attraction has kept many valuable artifacts intact to this day. Tan Ky Old House is located at 101 Nguyen Thai Hoc Street, attracting hundreds of visitors every day.
Fujian (Phuc Kien) Assembly Hall
Fujian Assembly Hall is a religious relic dwelling at 46 Tran Phu street, downtown Hoi An. Built-in the 17th century, the Assembly Hall of Fujian has many Chinese characteristics. This is a sacred place to welcome a number of visitors to visit and pray for a good life.
Quan Cong Temple
Quan Cong Temple, also known as Quan Cong Monument or Ong Temple, was built in the 17th century. This Hoi An attraction is the place to worship the eminent general of the Three Kingdoms period - Quan Van Truong - a historical figure considered a symbol of chivalrousness and trust. Quan Cong Temple has a unique architecture consisting of four buildings, a vestibule, two left-wing properties, and a large hall with sophisticated carvings, dragon and phoenix patterns.
- Address: No.24 Tran Phu Street, Cam Chau Ward, Hoi An City
Cantonese (Quang Trieu) Assembly Hall
This attraction in Hoi An was built around the 19th century as a place of belief activities of the Cantonese people in Hoi An. Nowadays, this is the place to worship Quan Cong and Tien Hien of Guangdong. The Assembly Hall has a strange architecture on a large area, bearing typical marks of Cantonese people, attracting many visitors.
- Address: No.39 Dao Duy Tu Street, Hoi An City
3 - Local villages - top best places to visit in Hoi An
Those amazing places can enrich your experience about how the locals live and meet their life.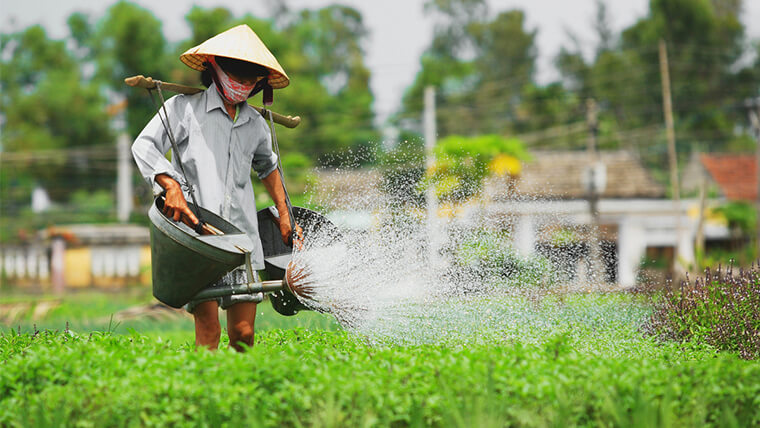 Tra Que Vegetable Village - Source: Vneconomy
Tra Que Vegetable Village
Tra Que Vegetable Village is located next to Co Co river. The people here have over 500 years of famous vegetable farming. Every year, Tra Que villagers organize a Cau Bong festival to express their gratitude to their ancestors and pray for a new year with wealth and health to come.
Thanh Ha Pottery Village
This Hoi An attraction is a long-standing traditional craft village in Thanh Ha Ward, Hoi An City. With skillful hands and the passionate spirit of artisans, Thanh Ha pottery is considered one of the best pottery in Vietnam.
Kim Bong Carpentry Village
Kim Bong carpentry village is a traditional trade village in Hoi An located across the Hoai River. Today, Kim Bong carpentry village has left many imprints on the relics and heritages of Hoi An with sophisticated and intricate carvings.
4 - Japanese Covered Bridge - the unique bride in Hoi An
Being recommended as a Hoi An must-see spot, the bridge with its special architecture and history is the highlight of the town. Located in the heart of Hoi An City, the Japanese Bridge or Japanese Covered Bridge was built by the Japanese more than 400 years ago. It has a unique house upper-bridge lower architecture with a length of 18m spanning a creek that separates the streets of Tran Phu and Nguyen Thi Minh Khai.
5 - Night market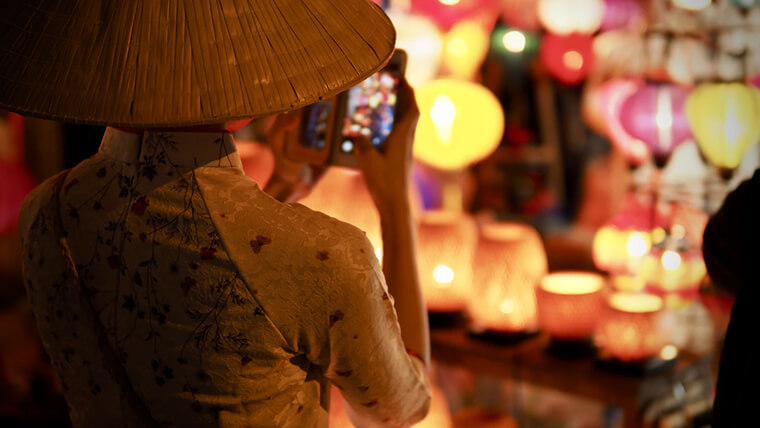 Source: Hanoigoldencharmhotel
Whereas in the daytime, Hoi An wears a quiet and ancient appearance, when the night falls, the night markets make this city more lively. The most distinctive feature of this night market is the streets covered by the light of red lanterns. Coming here, you have the opportunity to drop the flower lights in the Hoai River, enjoy many local foods,...
6 - Other places to visit near Hoi An
Da Nang city
Da Nang city is just 30 km from Hoi An. In Da Nang, there are many attractive tourist destinations such as Ba Na Hills, Dragon Bridge, Son Tra Peninsula, Golden Bridge...with delicious diverse cuisine. Along with Hoi An, Da Nang is the ideal place for a beach vacation. The top beaches in Da Nang are Non Nuoc beach, My Khe beach,...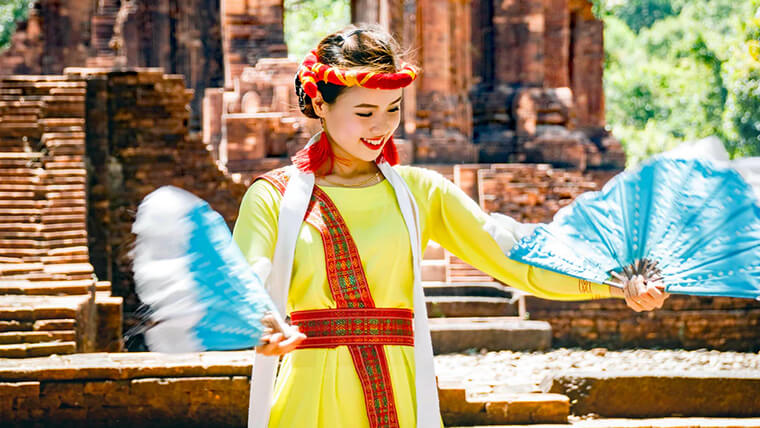 My Son Sanctuary - Source: Lynda Hinton
My Son Sanctuary
My Son Sanctuary is a relic site that preserves the remains of ancient Champa culture. This Hoi An attraction is also the burial place of kings, as well as the mysterious sacrifice place of Champa people.
Cu Lao Cham
Cu Lao Cham consists of 8 small islands, which are so famous and attractive for their pristine beauty and rich marine biodiversity. You have the opportunity to experience interesting things in Cu Lao Cham islands such as snorkeling, canoeing, fishing, camping, star-watching, and diving.
Hopefully, the above suggested top tourist attractions are useful for those who are wondering where to go in Hoi An.
It can be seen that there are abundant attractions in Hoi An waiting to be explored. The list above covers almost all the best places to visit in Hoi An Vietnam from the inner city to the sea.