The breath-taking cluster of the Cham islands Vietnam is around 15km offshore from Hoi An city, Quang Nam Province. With a total area of 15.49km2, Cu Lao Cham consist of many islands in various sizes such as Hon Lao (the Lao island), Hon Dai (the Long island), Hon Mo (the Mo island), Hon Ong (the Ong island), Hon Tai (the Tai island), Hon La (the La island), Hon Kho (the Kho island including Kho Me and Kho Con), and Hon Nom (the Nom island), all of which gather in a bow facing the sea like a screen to protect the mainland. Among those, Hon Lao is the largest one and the only island in which people live. Cu Lao Cham Vietnam was recognized by UNESCO as a World Biosphere Reserve on May 26, 2009 because of its biodiversity.
I - Cham islands weather & best time to visit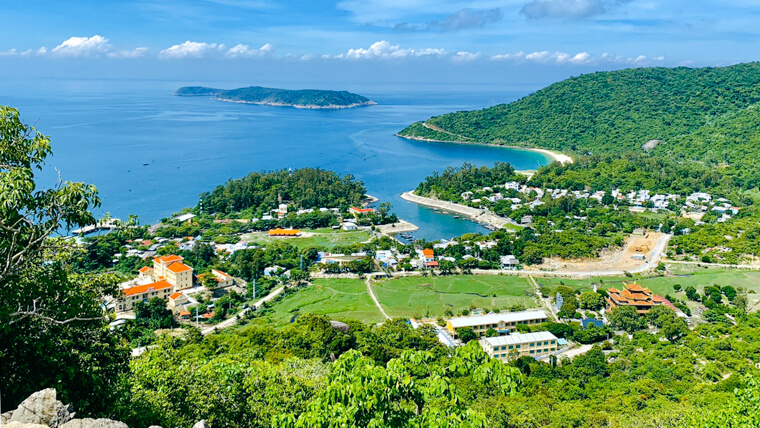 Cu Lao Cham island - Source: vinwonders
Cu Lao Cham is influenced by a humid tropical monsoon climate. The average temperature in winter varies from 21°C to 22°C, in summer around 28°C and 29°C with an average rainfall of 2,000 to 2,400mm per year. The cluster of islands are heavily influenced by tropical depression in the East Sea.
The best time to travel to the islands is from March to August when it is warm and sunny with the transparent and calm sea, suitable for sightseeing and outdoor activities on the islands. The crystal clear turquoise water is appropriate for swimming and snorkeling to admire colorful coral reefs.
You should avoid traveling to Cham islands Vietnam in the period from October to February because the weather during this time is very bad with high frequency of rain and rough sea; therefore, the islands become isolated areas at this period.
II - How to get to cham island?
- Entrance ticket to enter the islands: 70,000 VND/ person ($3.1)
- Eco fee: 30.000 VND/ person ($1.32)
The entrance fee and ecological fee are included in the fare of the speedboat from Cua Dai wharf to Cu Lao Cham wharf. You can book the ticket online in advance via the phone numbers: 0898 080 715 or book a group joining tour to save more cost.
1 - From Hoi An to the Cham islands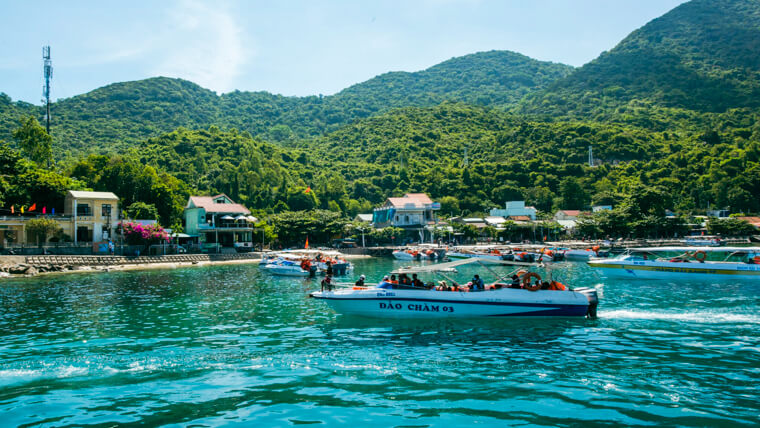 Cu Lao Cham speed ferry - Source: mia
From Hoi An, you can take a canoe or boat from Cua Dai wharf to get to Cu Lao Cham wharf:
- Departure time:
+ Canoe: 09:00; 14:00
+ Boat: 08:30; 13:00
- Travel time:
+ Canoe: 20 minutes
+ Boat: 2 hours
- Ticket price:
+ Canoe: 350,000 - 400,000 VND/round-trip/person
+ Boat: 150,000 VND/round-trip/person
- Location: Au Co street, Cua Dai ward, Hoi An city - about 5km from Hoi An old quarter.
2 - From Danang to the Cham islands
To get from Danang city, you have to reach the Cua Dai boat wharf first, from which you embark on a canoe or boat to get to the islands (mentioned in the previous part).
Besides, you can get to the islands by helicopter of Central Vietnam Helicopter Company with the meeting point in Danang International Airport. The traveling duration is about 10 - 20 minutes.
III - What do you do on the Cham islands Vietnam?
The islands are well-known for pristine natural landscapes featuring majestic green forests and mountains, stretching smooth sand, transparent water, and rich biodiversity. Accordingly, there are a myriad of captivating activities you can join on "the pearl" of Quang An Province.
1 - Swimming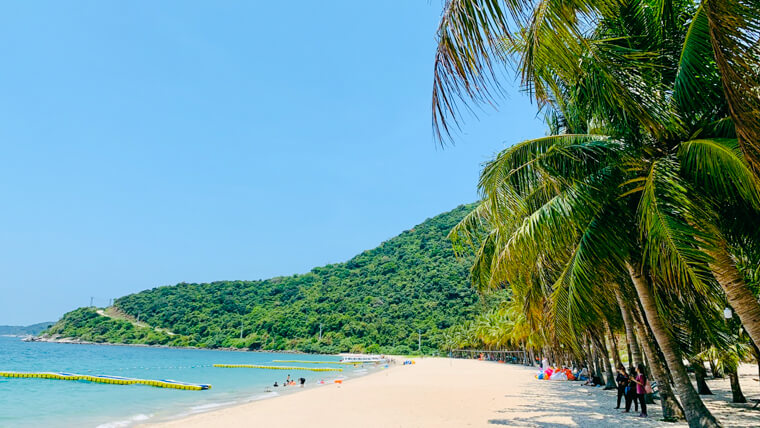 Bai Ong beach - Source: culaochamtour
One of the most impressive features of the Cu Lao Cham island is many gentle sandy beaches and the rows of green coconut trees. The most famous ones can be named as Bai Ong and Bai Chong.
Bai Ong is the most gorgeous beach on Cham islands, characterized by crystal clear emerald water that can be seen to the bottom; long smooth white sand that softly curses like a crescent moon; and the coconut rows whispering in the wind. Therefore, this is the best place for tourists to have a bath in the cool clear water as well as other beach activities such as parachuting, jet skiing, windsurfing, or boating, etc.
Bai Chong is stunning with smooth stretching sand embraced by the lush and verdant vegetation with natural streams pouring down from the high mountains and unique rock formations representing Yin-Yang (meaning wife-husband), which makes the natural landscape here incredibly poetic. Visiting Bai Chong, you can enjoy several facilities and services here such as restaurants, fresh water bathing service, or tent, hammock rental, etc.
Besides, you can swim at other beaches in Cham islands like Bai Lang (Lang Beach), Bai Xep (Xep Beach), Bai Chong (Chong Beach), Bai Thom (Perfume Beach) with unspoiled landscapes, especially you can have a BBQ party overnight on Bai Thom, Bai Chong or Bai Ong and enjoy the upgrading services on the islands.
Another interesting activity is setting an overnight campsite, especially for a group of friends or families. Bai Ong and Bai Chong are two locations that are licensed to operate this service, however the most popular one is Bai Ong because there are many restaurants and floating houses for fun.
You can refer to these contacts for camping tent rental:
- Mr. Khoa camping tent:
Address: No.84 Phan Chau Trinh Street, Cam Pho Ward, Hoi An City
Contact: 0935 439 306
- Tent for rent Mr. Hoang:
Address: righton the Cham islands
Contact: 0973 528 884
Fare for tent rental: 350,000VND/ tent 1.4m*1.8m including blanket and pillows. The tent has a capacity of 2 people.
Notes:
- Time to receive and give the tent back: 4pm of the previous day and 7am the following day.
- In case you damage or lose the tent, you must compensate it according to the regulations of the camping tent rental agencies.
- Contact to book in advance to be sure to have a camping tent and not miss the plan and schedule.
2 - Cham islands diving and snorkeling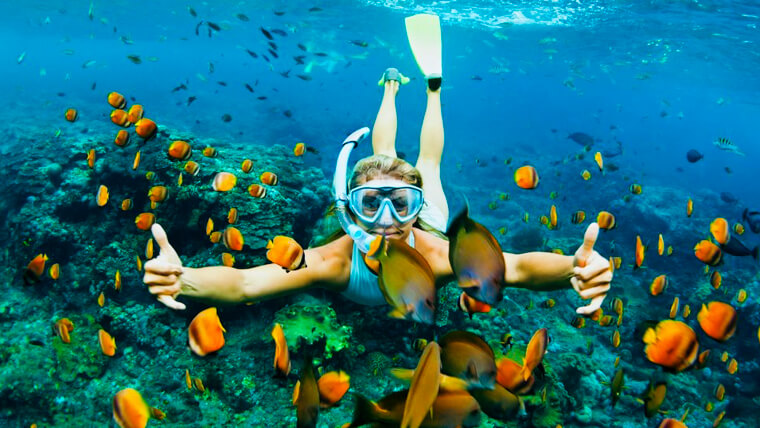 Cham island diving - Source: evivatour
Cu Lao Cham features a diverse ecosystem with more than 130 species of corals, 500 species of seaweed, 202 species of fishes, and home to numerous species of birds, especially salangane. In addition, the forests on the islands produce many precious products. Surrounding the cluster of islands are many types of marine species such as lobster, sea cucumber, stone crab, tortoise, snail, and pearl, etc. The valuable terrestrial flora and fauna here are incredibly diverse with a hundred of precious trees and animals, of which two species are listed in the Red Book including swiftlets and long-tailed macaques.
With the transparent water and marine biodiversity, Cham islands Hoi An are perfect for snorkeling and diving to watch colorful coral reefs. Cham Island Diving Tour is one of the tour operators providing this service:
- Duration: 7 hours
- Departure time: 7:30am
- Pick-up point: Danang city
- Drop-off point (after tour): your hotel
- Experiences: going to the islands on a high speed canoe and admiring coral reefs and stunning scenery, visiting Cu Lao Cham' Aquamarine Museum and Hai Tang Pagoda, and scuba diving with experts.
- Group size: 24 people
- Rate: Under 4 years old: 100,000VND ($5)/ children (only snorkeling), $16 for children from 4-9 years old (only snorkeling), and $63 for those more than 10 years old.
- Contact: 0914 136 151 or email: info@dacotours.com
- Website: https://en.dacotours.com
3 - Night squid fishing - top thing to do in Cham islands
Night squid fishing tour in Cham island - Source: dulichkhampha24
Squid fishing is a very fascinating experience for those participating in a 2-day 1-night tour. The beaches here are very famous for many species of high-quality squids. Therefore, discovering the cluster of islands combined with squid fishing with the locals is absolutely an amazing experience to become a "real" fisherman, enjoy the overwhelming feelings of catching squid among the vast ocean.
You can book night squid fishing tour of Cu Lao Cham tour with the brief information below:
- Departure time: 5pm
- Duration: 4 hours
- Pick-up point: Bai Lang boat wharf
- Activities: watching splendid sunset at the Cham islands, fishing squids by yourself (under the instruction of the guide), enjoying fresh squids that have been caught by yourself.
- Inclusion: squid fishing boat with local fisherman, life jacket, fishing rods and baits, fast dinner on board, experienced guides, a bottle of mineral water/ guest.
- Exclusion: expenses not mentioned in the schedule/ program, 10% VAT
- Price: 700,000VND/ adult ($30.8); 350,000VND/ kid ($15.4) (children from 1-5 years old: surcharge 100,000VND/ kid (collected at Cua Dai boat wharf)
- Contact: +84 235 625 83 83 or email: business.culaochamtour@gmail.com
- Website: www.culaochamtour.com
4 - Cu Lao Cham marine park
Cu Lao Cham Biosphere Reserve or Cu Lao Cham Marine Park belongs to the eight islets of the islands, which is situated in the South China Sea, under the management of Tan Hiep Commune, Hoi An City, Quang Nam Province.
The park is located near the Cu Lao Cham boat wharf, so it is very convenient for you to get here in order to enjoy the interesting tourist services, particularly inflatable pool floats.
5 - Hai Tang pagoda
The more-than-250-year-old pagoda is characterized by Buddhist architecture, ranked as a National Historical - Cultural relic in 2006. Hai Tang pagoda in Cham islands is located right at the foot of the west of Hon Lao, facing Ba Moc mountain, tranquil valleys with vast green paddy fields, and the residential areas, which is considered as the ideal feng-shui position. Tourists will be surprised by the ancient mossy three-way gate, characterized by 4 pillars which are 5m high, the top has a lotus shape with a width of 1.5m.
The three-way gate is designed in the style of a dome, embossed with many flexible curves and roofed with yin-yang tiles. In the yard of the pagoda is the statue of Avalokitesvara Bodhisattva standing on a lotus pedestal in the middle of a small lotus pond, facing the sea, representing the peaceful life of the fishermen in the locality.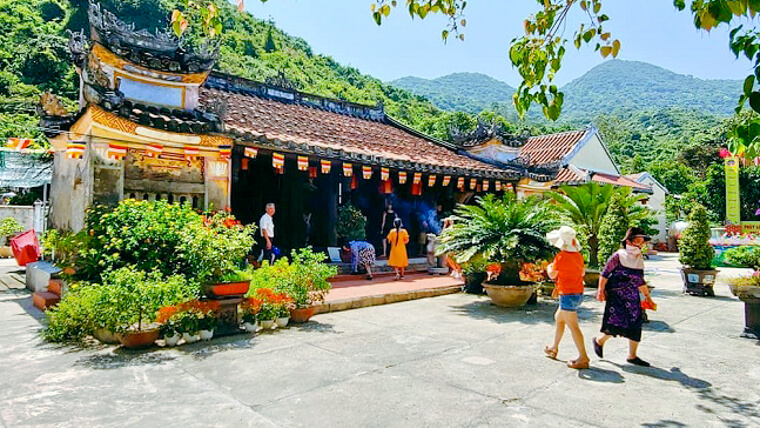 Hai Tang pagoda in Cham islands - Source: vinpearl
The main hall features tall ironwood columns, with the truss system, divided into three parts, making the space inside the pagoda more airy and specious. Most of the wooden trusses are carved with many sophisticated patterns, contributing to the aesthetic value and to reduce the heavy weight of the frame.
The interior of the main hall is glorious with the system of diaphragms and the gilded couplets, and decorated with the collection of worshiping statues on the altar. Inside the main hall are many statues made of wood, painted with gilded vermilion, and dated back to the construction time of the pagoda. The most impressive feature of the pagoda is the great ancient one-of-a-kind bell, carved with a flexible and sophisticatedly decorated dragon at the foot of the bell.
6 - The Champa ancient well
Located in Cam Hamlet, Tien Sa Huynh relic at Bai Ong, and 300m to the Southwest of Bai Lang, the more-than-200-year-old Champa ancient well, also known as Xom Cam well, is the oldest historical relic at the Cham islands, attracting a large number of tourists to come. The well is the only source providing fresh water for the entire area, making it the "soul" of the village. The locals in Cu Lao Cham usually take water to their home for the ceremony during festivals. The well plays an important role in not only the spiritual life of the locals but also has positive effects on health. According to the local people, water in Xom Giang Cam is very effective to treat seasickness.
If someone travels here and gets seasick, taking the water here and boiling it with forest leaves on the islands will ease the sickness. More specially, it is believed that people who drink the water will find their "soulmate". Men drink 7 sips, girls 9 sips of water, then they will find a future lover. In addition, drinking the water in the well helps women give birth at their will. Although these are just the beliefs, anyone traveling to this place tries to drink the water and pray for good luck and happiness.
7 - The Cham islands windy strait
Located in the East of the island, the Cu Lao Cham windy strait belongs to Hon Lao, about 3km away from the locality of Bai Lang. The windy Strait is the best place on the island to admire the splendid and romantic beauty of the islands at sunrise and sunset. This is absolutely ideal for couples to immerse in the charming scenery at dawn, and simultaneously enjoy a cup of hot coffee or tea. It is advisable for you to come here at 4:30am, so you should wear warm clothes to keep warm. On the way to the strait, you can admire the picturesque landscape of majestic mountains and enchanting beaches, dotted with colorful flowers on the mountainside, which is a wonderful background for you to take the most beautiful photos.
8 - Discovering local cuisine in Cham islands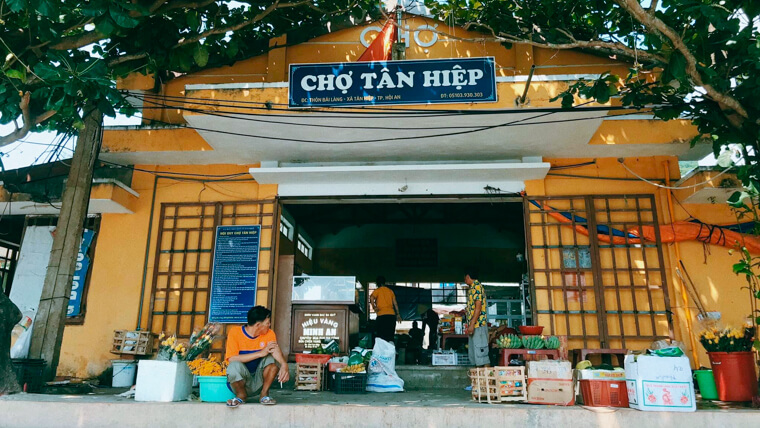 Tan Hiep market in Cu Lao Cham - Source: culaochamtour
The cuisine here is incredibly impressive thanks to its unique flavors, so it is a must-try experience to sample the local specialities, especially fresh seafood on this gorgeous cluster of islands. One of the most favorite dishes is stone crab, loved by many tourists. This species mainly live in the rocky caves at a high altitude and eat grass growing on the cliffs and drink water from the morning dew; therefore, its meat is very fragrant, sweet, and soft. Stone crab is often made into dishes like beer-steamed stone crabs or salt-roasted crab. The price of the crab is around 150,000 - 200,000 VND/ kg ($6.6 - 8.8).
Semi-dried squid on the Cham islands has unique flavors, totally different from that in other places thanks to the special process. The squid here is less fishy but still keeps the soft and flexible texture and fresh, sweet meat. Semi-dried is processed into various dishes such as squid with onion, grilled squid, etc. Its cost varies from 400,00 - 500,000VND/ kg ($17.6 - 22).
Besides, you should try the nutritious dishes made from fresh abalones - a kind of very rare marine snail primarily living in coral cliffs such as abalone porridge, or grilled abalone with spring onion and oil, etc.
Apart from these dishes from seafood, the Cham islands are also renowned for a kind of cake named Banh Gai, which is a "glutinous rice cake dyed black in a concoction of leaves, sweet round cake baked with flour and sprinkled with sesame".
The process to make a delicious Banh Gai requires meticulousness and sophistication. The cake needs to be covered in the fresh green leaves of Gai, which grow in the deep island. The fillings of this treat are made from pureed cooked green bean paste mixed with a little sugar, a little grated coconut, and pomelo flower essential oil in order to make the cake less greasy as well as add the scented flavor.
The end product has a pyramid shape, covered in fresh bright green leaves wrapping the black cake inside, which looks really attractive and scrumptious.
Here are some places to enjoy the cuisine of the Cham islands such as:
Tan Hiep Seafood market
The market is located right at the foot of Cu Lao Cham wharf, close to the center of Bai edLang (Lang beach). As its name suggests, you can find a wide array of seafood (both dri and fresh ones) as well as eye-catching souvenirs in this market. Besides, there are many local specialities selling in the packed stalls here, some of which serve processed seafood on-site.
Tran Khue restaurant
The restaurant is spacious and has a beautiful seaview. It has three floors, of which the first and second floor is used for serving food and beverages, the last one is the lounge for relaxation. It serves fresh seafood at a reasonable price.
- Address: Bai Lang Village
- Opening hours: at noon - 0am
Dan Tri Restaurant
Dan Tri is known as a stopover after exploring the Cham islands. With its convenient location, facing the sea, you can easily find it.
- Address: in the center of Bai Lang
- Signature dishes: fresh seafood dishes, local cuisine
- Opening hours: 6am - 2pm, 5pm - 10pm
Chàm's Corner Lookout
The restaurant is located next to the Bai Lang wharf, serving fresh and very tasty seafood and international specials such as fish, chips and vegetarian dishes. You can both enjoy a delicious coffee, juice or cocktail, and watch the people walking on the harbor road.
- Address: Bai Lang Village
- Opening hours: 24 hours
IV - Cham islands hotels & homestays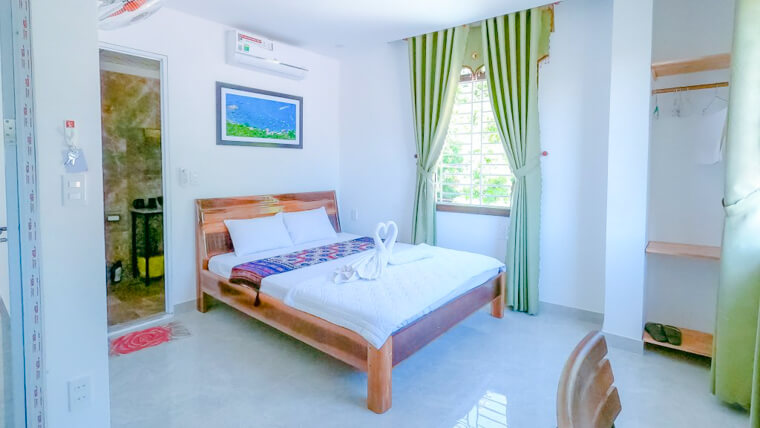 Homestay in Cu Lao Cham - Source: culaochamtour
Sunbay homestay
- Address: Bai Lang market
- Contact: 0898 982 509
- Feature: This is the most beautiful seaview homestay, serving coffee, sets of BBQ near the beach, even the service of snorkeling to watch coral reefs and sightseeing around the islands by wooden boat.
Lau Thu homestay
- Address: Bai Huong town
- Contact: 0906 110 601
- Feature: All rooms here are well-equipped to make you most comfortable. The homestay consists of a playground for kids, suitable for families with children. You can enjoy delectable dishes for breakfast by yourself. Besides, thanks to its favorable location near Bai Huong, it is very easy to travel around Cham islands.
Homestay Bai Huong - Ngo Khanh
- Address: Bai Huong, Tan Hiep Commune, Hoi An City
- Feature: This homestay is a perfect choice for both business and leisure guests with 24- hour room service and well-equipped amenity. More specially, you can take advantage of the hotel's recreational facilities for fishing, diving, and boating, etc.
Tuan Thanh homestay
- Address: Bai Lang Hamlet, Tan Hiep Commune, Hoi An City
- Contact: 0906 444 450
- Feature: The homestay is very close to Tan Hiep market, and just about 3minutes walk from the boat wharf of the island. Some of the bedrooms here feature a balcony, terrace, or seating area for guests' convenience.
V - More information about tourism in Cham islands Vietnam
1 - Transportations on the islands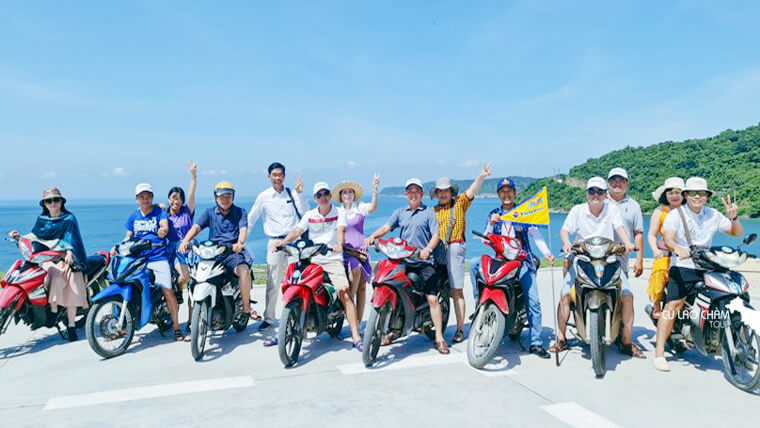 Getting around by motorbike - Source: culaochamtour
Renting a motorbike or bicycle is an ideal choice to discover the whole island of Cham. Motorbike and bike rental services are almost available at homestays or hotels in the island with a cheap price of about 150,000 VND for one day of rental.
2 - Top Cham islands tours & service providers
For more convenience, you can book a tour to explore Cu Lao Cham island. Some recommendations:
Danang Open Tour:
- Tour type: 1 day tour
- Duration: 7:30 - 14:00
- Price: $50/person
- Address: No.39 Cao Lo street, Man Thai ward, Son Tra district, Da Nang city
- Hotline: 0898080715 - 0904 426 495
- Email: sales.danangopentour@gmail.com
- Activities: visit famous spots: Ong temple, Hai Tang pagoda; snorkeling & swimming at Huong beach; strolling around and enjoying local seafood.
Viator:
- Tour type: 1 day tour
- Duration: 7 hours
- Departure time: 8am
- Price: $64.5
- Website: https://www.viator.com/ (you can search for more related tours to the Cham islands via this link).
- Activities: participating in the "Walking underwater", swimming and snorkeling at Hon Nhon beach, having lunch at the Unique Ecological area at Bai Chong, and swimming, relaxing in the hammocks here.
Paradise IndoChina Travel Company
- Duration: 6.5 hours
- Departure time: 8am
- Price: $35 - 245/tour
- Website: http://paradiseindochina.com/index.php
- Contact: 0982 804 399 - 0961 671 168
- Activities: visiting Cu Lao Cham museum, showroom where the history, map, and objects are displayed; going to the Cham's ancient well and Seafood market; snorkeling & swimming at Bai Xep (Xep beach); relaxing and having lunch at Bai Bac (Bac beach).
3 - Environmental protection in Cham islands Hoi An
As a tourist destination and the core area of the World Biosphere Reserve, the environment protection and landscape improvement are of great importance for the development of the Cham island in particular and Hoi An City in general. Recent years, the local authorities have focused significantly on natural resources and flexibly taken measures to implement the construction of new rural areas in association with the protection and improvement of the environmental landscape. More importantly, under no circumstances, are tourists not allowed to take any nylon to the islands.
Being the World's Biosphere Reserve, the Cham islands Vietnam are extremely impressive with a diversity of fauna and flora, pristine landscapes, and intact hundreds-of-year-old religious architectures as well as rustic, poetic fishing villages. In addition, the gentleness and simplicity of the local people in the peaceful space make the cluster of islands an ideal place for relaxation to contemporarily stay away from the hustle and bustle of hectic life outside.