Hoi An is not only well-known for the quaint narrow street with golden walls decorated with colorful bougainvillea as well as beautiful beaches, one of which must be mentioned is An Bang beach. The beach of An Bang "stole" the heart of both domestic and international visitors by its untouched, gentle, and calm beauty with emerald seawater slapping into the stretching shore and the long rows of lush old pineapple bushes, making people really excited. If you are an ocean lover, this is absolutely an ideal place for your upcoming trip to Vietnam.
I - The charming beauty of An Bang beach Hoi An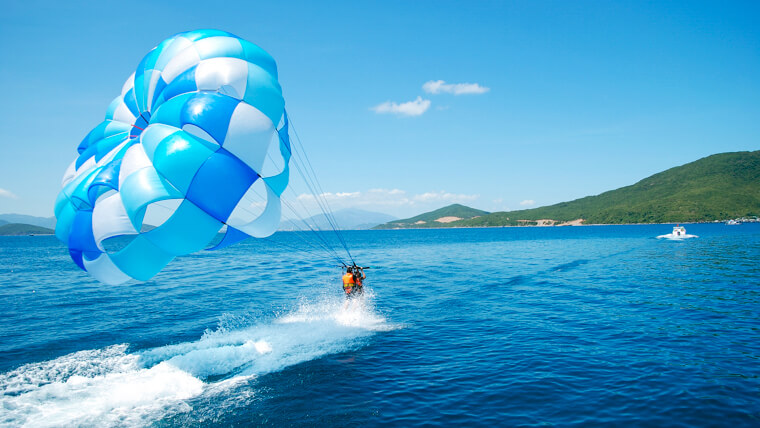 Source: Vinpearl
There are two distinct seasons in the area of An Bang: the dry season (February - August) & the rainy season (September - January). The best time to visit the beach is from February to August when the weather is nice and cool with warm rays of sunshine, suitable for beach activities. From September to January, it rains more frequently and storms sometimes happen, which has negative effects on your trip.
Because the tourism industry has not been strongly developed, An Bang beach Vietnam still keeps its pristine and unspoiled beauty, which is a perfect destination for those who are looking for an off-the-beaten path to keep away from the hustle and bustle of hectic life. The crystal clear blue seawater mirroring the blue sky with seas of white clouds, creating a picturesque scene that lingers visitors' minds for such a long time. At dawn, the beach boasts its gentle beauty like a damsel with the light sunlight shining to the sea surface, creating the sparkling waves gently patting the shore. The smooth stretching sand along An Bang Vietnam is an ideal place for strolling around and immersing in the immense space and cool wind from the sea. At sunset, the entire space is dyed in the yellow and orange of the splendid sun, mixed with the wavering waves, which is incredibly miraculous and magical. The best time to watch this magnificent scenery is from 5pm - 6pm. On the shore are a couple of small, rustic basket boats, which are the main means of transport of fishermen in Hoi An.
Along the coast are numerous charming cafes, restaurants and bars to meet the needs of visitors, of which the most prominent ones are The Deck House, The Shore Club, and the Soul Kitchen - Beach Bar & Restaurant. Besides, there are bamboo huts on An Bang beach Hoi An for you to let your hair down amongst the vast space, breathing the cool air from sea and reading books so that your mind can wander in the absolute quiet and tranquil moments. You can also join yoga classes in the afternoon to strengthen your physical health and meditate your mind.
With the clear water and favorable weather, this is really the best place for swimming and partaking in interesting games such as paragliding, windsurfing, boating, canoeing, water motorbike riding, or simply strolling on the smooth sand and enjoying the beautiful landscape.
II - Things to know when visiting An Bang Beach
1 - Top An Bang beach hotels & resorts
Lea Garden Villa
Lea Garden Villa, situated behind the charming beach and in a tropical garden, features 3 ensuite bedrooms with a spacious open terrace equipped with a coffee table, armchairs and dining table. It also offers private sun beds and towels for beach goers. Besides, there is an outdoor swimming pool compounding with a sun deck and bar for those who do not want to take a stroll to the beach.
- Address: Group 3, Khoi An Tan Street, Cam An Ward
- Website: https://leagardenhoian.com
Life Beach Villa
Life Beach Villa is the best An Bang beach accommodation with pool that consists of 8 bedrooms with shared kitchens. All rooms feature guesthouses and private balconies. There is an outdoor swimming pool and a lush garden inside the campus. You are served a free breakfast right in the restaurant near the pool. You will be enjoying the tranquil space with the whispering waves and the chirping birds as well as immersing yourself in the unspoiled nature.
- Address: No.125 Nguyen Phan Vinh Street, Hoi An City
- Contact: +84 945 879 292
- Website: http://www.lifebeachvilla.com
AIRA Boutique Hoi An Hotel & Villa
As one of the best hotels near An Bang beach, AIRA Boutique Hoi An Hotel & Villa nestled in lush tropical gardens includes two blocks with 40 high-class rooms and suites, featuring a Vietnamese style restaurant, a spa, and two outdoor swimming pools. The hotel provides 4-star facilities served by an enthusiastic and dedicated English speaking staff.
- Address: Cam An Ward, Hoi An City - about 300m to the beach
- Contact: +84 235 3926 969
- Website: https://www.airaboutiquehoian.com
2 - Top 3 An Bang beach restaurants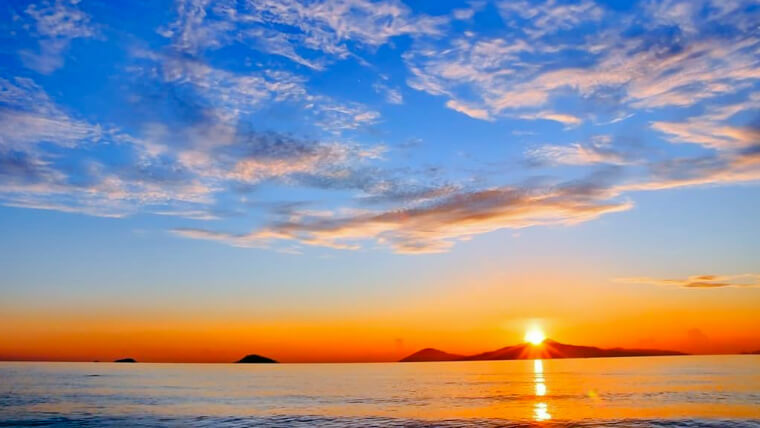 Source: vndoc.com
The bars and restaurants near the beach also bear the typical features of Hoi An ancient town with a nostalgic vibe combined with modern architecture. The shimmering lights and lanterns surrounding the restaurants in the melodious music make them more lively and attractive at night.
The Deck House An Bang
The Deck House is one of the most famous restaurants in An Bang beach Hoi An, appealing to many foreigners by its open spacious space, nice decor and cool background with the main colors of white and blue combined with leaf roof, very suitable with the location. Foods and beverages here are diverse and delicious, the staff are enthusiastic and dedicated.
- Location: about 190m to the beach
- Contact: +84 905 658 106
- Fanpage: https://www.facebook.com/thedeckhouseanbang
Aira Garden Restaurant & Bar
The restaurant is hidden underneath the shade of the green trees with the beautiful garden views and pool views. This An Bang beach restaurant offers an exceptional dining experience with a wide range of wine, superior service so that diners can discover Hoi An fusion and culinary art in the Central style dishes as well as cuisine from the North to the South of Vietnam.
- Location: 240m to the beach
- Contact: +84 235 392 6969
- Website: https://airaboutiquehoian.com/dining
Madame Nga Restaurant
Located right at An Bang beach Vietnam, Madame Nga restaurant possesses the spacious beach view that you can both enjoy the scrumptious dishes and enjoy the amazing atmosphere here. It serves diverse Vietnamese cuisine as well as wonderful Asian dishes. Besides, you can enroll in a cooking class here to gain more exciting experiences.
- Location: about 100m to the beach
- Contact: +84 905 990 300
- Website: https://madame-nga.de
III - How to travel from Hoi An to An Bang Beach?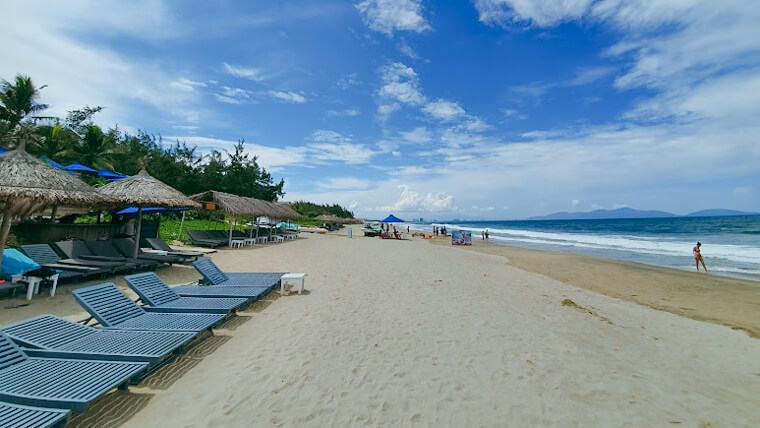 Source: googlemap
The beach is located in Cam An ward, Hoi An city - about 3km to the East of Hoi An ancient town. It is likened to a jade of Hoi An with transparent blue water, long stretching white sand, and gentle waves crashing on the shore, making it an ideal destination for relaxation. Thanks to its stunning beauty and the critical role in tourism development, An Bang beach Vietnam is in the list of the 50 most gorgeous beaches in the world by CNNGo in 2011 and the 100 best beaches on the planet by CNN in 2013. The most convenient means of transport to get to the beach from Hoi An ancient town are taxis and motorbikes.
1 - Traveling by taxi
Here are some taxi brands you can refer to:
Mai Linh taxi: +84 2353 92 92 92
Vinasun taxi: +84 2353 68 68 68
Faifoo taxi: +84 23 59 59 59
Sun taxi: +84 2352 79 79 79
2 - Traveling by motorbike from Hoi An to An Bang beach
You can hire the motorbike at your hotel with the fare of 80.000 to 150.000VND/ motorbike/ day ($3.5 - 6.6). You can also refer to the following shops in Hoi An ancient town:
Hoi An motorbike tours & rental - MotorVina
- Address: No.441 Cua Dai Street, Cam Chau Ward
- Contact: +84 848 005 599
Hoi An motorbike rental
- Address: No.111 Ly Thai To Street, Son Phong Ward
- Contact: +84 785 854 252
Hoi An Bike Rental
- Address: No.14 Cua Dai Street
- Contact: +84 961 172 420
The parking lots are located right at the entrance of An Bang beach; however, it is advisable for you to not park but go inside the cafes or bars to not only park the motorbike but also have fun in these entertainment places.
The route to get to the beach is very straightforward. You just go along Lac Long Quan Street in the direction of Cua Dai beach. When reaching Hai Ba Trung Street, turn left and run for 2km to get An Bang beach Hoi An. It is advisable for you to book a resort or hotel near the beach to facilitate the transportation.
Notes:
Information about pharmacy near the beach: Nguyen Phuoc Pharmacy - located right at the beach, opening 24 hours
Information about banks near the beach: Sacombank ATM:
- Address: An Tan Group, Cam An Ward, Hoi An City, 130m to the beach
- Contact: +84 235 382 1821
- Working hours: 24 hours
Useful telephone numbers
- Public security of Cam An Ward: +84 235 392 7360
- Hoi An Medical Center: +84 235 3864 288
An Bang beach map
Coming to An Bang beach Hoi An, tourists appear to discover a completely new Hoi An, different from its ancient and gentle look. It is the combination of wild beauty and peaceful but still vibrant atmosphere, which promises to give you memorable moments.