Hoi An has a long-standing history, famous as a busy commercial port of Southeast Asia in the 16 and 17 centuries, making it the place that accumulates the cultural and historical quintessence of many areas and regions in the country and over the world, which is profoundly reflected through a wealth of unique architecture, typically special museums. The museums in Hoi An below are considered the "bridge" to connect the past with modern life today as well as the precious "storage" to reflect the cultural diversity, rich tradition and aesthetic values of Hoi An people now and then.
1 - Top 5 museums in Hoi An: Museum of Trade Ceramics
Trade ceramic museum - Source: vntrip.vn
The museum is actually an ancient two-storey wooden house located in the center of Hoi An ancient town. The architectural design of the museum is incredibly rustic and simple, which creates a tranquil and soothing ambience. This museum in Hoi An was constructed in 1920 and restored in 1994 to make it officially the Hoi An historical museum specializing in ceramics.
As one of the best museums in Hoi An, here you can find hundreds of ancient ceramic artifacts dating from the VIII - XVIII in the course of Vietnam's history as well as ancient Chinese, Japanese, and Thai ceramics, etc such as vases, teapots, bowls, plates, cups, etc. All of these collections here are very simple but have eye-catching, delicate designs. Especially, there are several artifacts dating from the Ming and Qing dynasties which have still been kept untouched.
In addition, you can admire pictures and models recreating the process of formation and commercial activities reflecting the stages of Hoi An's formation. This Hoi An museum also preserves artifacts excavated from ships that were wrecked on Cham's island.
- Address: No.80 Tran Phu street, Minh An ward, Hoi An
- Opening hours: 7am - 9pm (close on the 15th every month)
2 - Top 5 Hoi An museums: Museum of Sa Huynh Culture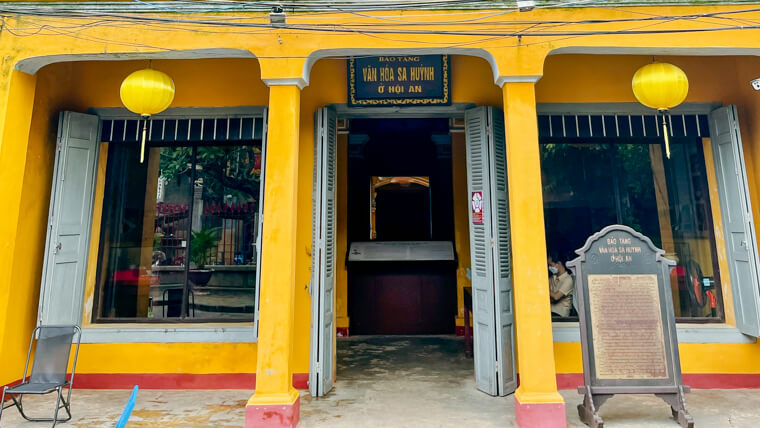 Sa Huynh culture museum is one of the most famous museums in Hoi An - Source: @Greg Sharpe
As one of the greatest attractions in Hoi An, this French architectural museum was founded in 1994, home to a complete and unique collection of 971 artifacts related to the ancient inhabitants in the Sa Huynh culture dating back 2000 years ago. The inhabitants here are considered the "owners" of the used-to-be-commercial port of Hoi An in Southeast Asia, South India and China.
Coming to this museum in Hoi An, along with reliable artifacts, you have the chance to see the system of documents and photos representing their past underground location. These documents also reflect much interesting information about burial customs, conceptions of life and death, aesthetic perception, etc of the locals in the past.
Particularly, this Hoi An museum also displays artifacts discovered at Bai Ong beach at Cham's island, which is the proof of the existence of prehistoric inhabitants dating back around 3000 years ago. The museum of Sa Huynh culture is regarded as the most diverse and unique one in Vietnam by scientists.
- Address: No.149 Tran Phu street, Minh An ward, Hoi An
- Opening hours: 7am - 9pm (closed on the 10th every month for preservation work)
3 - Top best museums in Hoi An: Museum of Folklore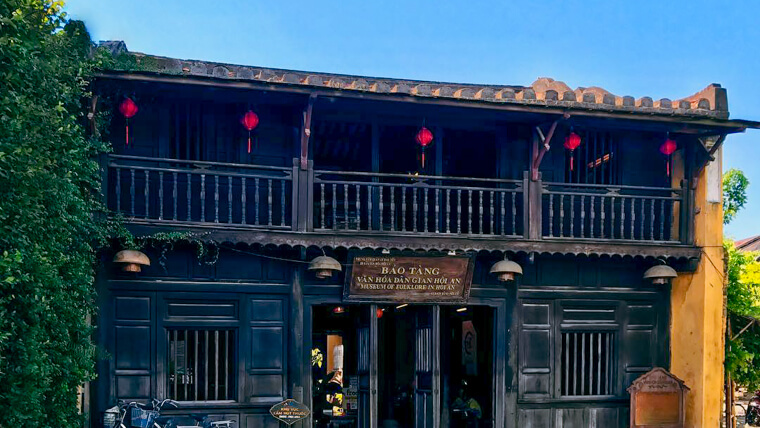 Hoi An folklore museum - Source: slaveikosavov
The museum was opened on March 24th, 2005, with architecture typical of ancient houses of Hoi An ancient town. It is 57m long and 9m wide, featuring two storeys with wooden floors. The two facades face two streets of Nguyen Thai Hoc and Bach Dang, near the Thu Bon river. With a total area of nearly 1,000m2, this museum in Hoi An preserves more than 800 original artifacts over the years which introduce the traditional cultural values, spiritual life, and the creativity as well as the contribution of many generations of the locals in the long-standing course of the history of Hoi An.
The artifacts at this Hoi An museum are divided into 4 main themes: visual folk arts, folk performing arts, traditional craft villages and folk culture activities. The first floor features an exhibition of diverse products of craft villages in Hoi An such as lanterns, silk products, meat weaving, and "do" painting, etc. Unlike other museums in Hoi An, it also preserves more than 346 artifacts at the warehouse, which is a collection of Chinese and Vietnamese costumes, tools, etc. The visual folk arts are demonstrated through sculptures, wood carvings, crockery reliefs, worshiping statues, decorative bronze statues, various watercolor paintings, etc. in this museum in Hoi An. These works adorn the beauty of Hoi An town and demonstrate the sophistication and talent of local artisans.
- Address: No.33 Nguyen Thai Hoc street, Minh An ward, Hoi An
- Opening hours: 7am - 9pm (closed on the 20th every month)
4 - Top museums in Hoi An: Precious Heritage By Rehahn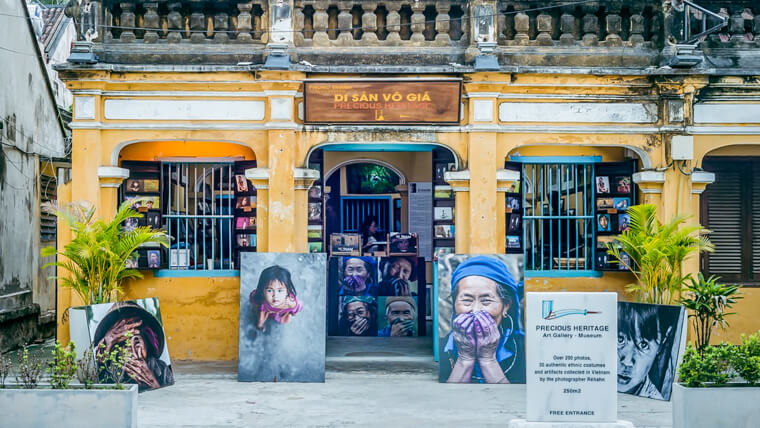 Precious Heritage By Rehahn - Source: matca.vn
This Hoi An museum is actually an ancient house with two floors, of which the first one exhibits 200 special pictures about the beauty of local peoples along the S-shaped country of Vietnam, majority of which is about Vietnamese women in the ethnic minorities, and the second floor displays a valuable collection of 35 traditional costumes, stories and artifacts related to daily life and unique culture of diverse peoples in the country.
The documents, stories or information in this museum in Hoi An are written in three languages, namely English, French and Vietnamese to facilitate visitors to discover the museum. The museum is the result of a 5-year journey of discovering 54 Vietnamese ethnic groups that the French owner of the Precious Heritage By Rehahn had to conquer craggy terrains of forests and streams in the remote areas. He himself witnessed the daily lives of ethnic peoples and had conversations with them, which made him wow in terms of the cultures, customs and lifestyles of the localities. The impressive stories told by the elders of the villages became the huge inspiration for him to continue to explore the uniqueness of many other ethnic peoples in Vietnam.
- Address: No.26 Phan Boi Chau street, Hoi An
- Ticket: free
- Website: https://www.rehahnphotographer.com
5 - Top 5 museums in Hoi An: Museum of Traditional Medicine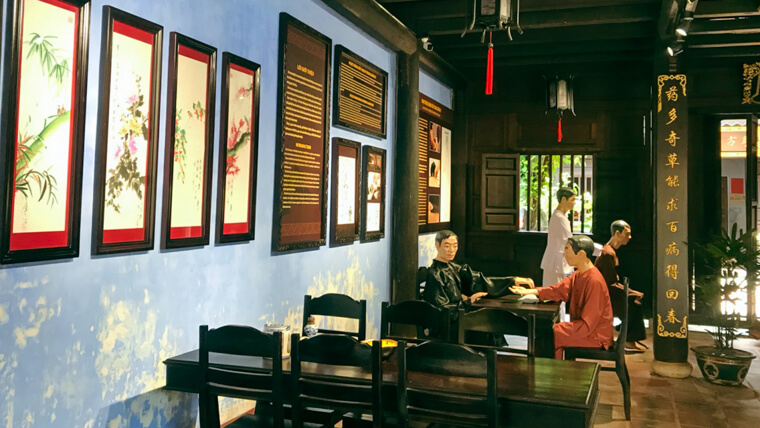 Traditional Medicine museum - Source: hoianmuseum.com
The museum of Traditional Medicine exhibits more than 200 artifacts and documents related to the traditional medical profession in general, and the medical profession in Hoi An in particular. The first floor of this Hoi An museum features three compartments. The front compartment recreates the traditional herbal medicine store in Hoi An with medicine cabinets, space for diagnosis, and waiting space for patients.
The courtyard reenacts the scene of herbal medicine preservation and the rest compartment recreates the procedure to process the herbal medicines. The second floor of this museum in Hoi An is also divided into three compartments, which are the exhibition spaces to introduce the medical profession in Vietnam generally and in Hoi An city, Quang Nam province particularly. Besides, there is a room for containing facilities and other tools as well as documents about the medical profession.
- Address: No.46 Nguyen Thai Hoc street, Minh Anh ward, Hoi An
- Opening hours: 7am - 9pm
Note:
Each ticket with a price of 120,000 VND ($5.3) includes a fee for sightseeing Hoi An Old town and 4 out of 21 random sites in the old town, of which consists of 4 Hoi An museums: Museum of Trade Ceramics in Hoi An, Museum of Sa Huynh Culture, Museum of Folklore, and Museum of Traditional Medicine. Visit https://hoianmuseum.com for more details.
If you are interested in discovering the history, tradition and culture of Vietnamese people in general and Hoi An people in particular, these museums in Hoi An mentioned above are ideal destinations to which you should pay a visit. Hopefully, after reading this article, you have a deeper understanding of very precious sites that are of great significance not only to the locals but to Vietnamese people as well.