Hoi An is a charming city in Vietnam known for its rich culture, ancient architecture, and stunning beaches. But did you know that it's also a hub for relaxation and rejuvenation? Yes, you heard that right! Hoi An city is home to some of the best massage therapists in the world, offering a wide range of traditional and modern techniques to help you unwind and destress. Whether you're a tourist or a local, a massage session is an experience you won't forget. Let's check out our top 10 best massages in Hoi An that offer you a wide range of services from foot to full body massage at good prices.
1 - Top 1 best massages in Hoi An: Ozone Spa
This massage in Hoi An is a facility in the luxurious Little Riverside Hoi An resort. The spa offers specialized treatment for each customer at one in four private massage rooms with standard saunas. The spa therapies vary from traditional style to Thai style, remarkably the Riverside Signature, the original style of Ozone Spa.
Besides, body treatments and facial skin care such as body scrubbing, face skin softening, and brightening is really worth trying. Like other massages in Hoi An, at Ozone Spa, all employees are guaranteed skills while the ingredients applied to clients' skin are organic and safe for health.
- Address: No.9 Phan Boi Chau street, Cam Chau ward, Hoi An city
- Contact: 0235 3 575 555
- Website: http://www.littleriversidehoian.com/
2 - La Spa
Among the best massages in Hoi An Vietnam La Spa started as an in-house spa of La Siesta Hotel & Resort. However, after more than a dozen years of operation, this massage in Hoi An now can stand out as an independent chain of businesses in massage service. The name La Spa somehow expresses its mission and guiding aspiration. In Vietnamese, "La" means leaf, the main ingredient of extract oils, the essential component in healing therapies, those are attached to the massage.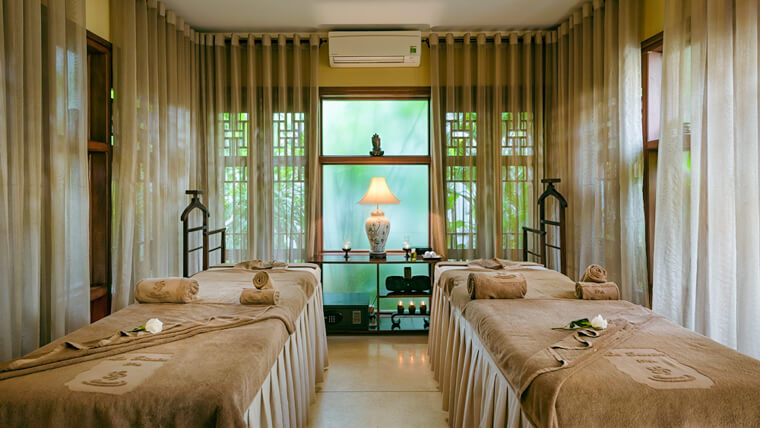 One of the best massages in Hoi An Vietnam - Source: laspas
With this meaningful name, the founder of the brand would like to show customers their willingness to help customers refresh their bodies after long days of intensive work. Wanting to change the misconception of people about massage, La Spa promises to provide customers with professional services such as body massage, facial massage, body massage, body skin care, foot treatment, and Himalayan Salt Stone Massage.
- Address: No.132 Hung Vuong street, Thanh Ha ward, Hoi An city
- Contact: 0235 3915915
- Service price: 180,000 - 3,200,000 VND/time ($7.8 - 138)
- Website: https://laspas.vn/hoi-an/
3 - Blue Gift Spa - top greatest massages in Hoi An
Not only does it offer a wide range of massage services but its customer service is also extremely good. There are Vietnamese massage, Thai massage, Swedish massage, and a style of massage invented by the spa itself. Besides, you can choose from aroma massage, massage with hot stone to the combo of the back, head, and shoulder.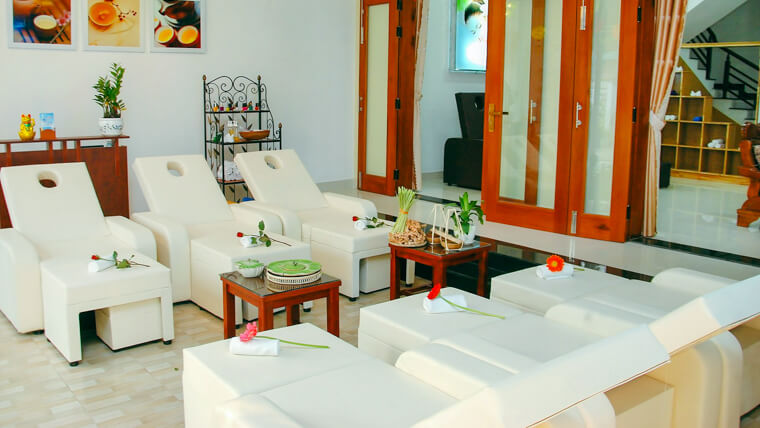 Top spa in Hoi An - Source: tripadvisor
Blue Gift is aimed at many customers, as long as they feel the tension in their muscles or have a need to rejuvenate their body, the spa is always wide opening door to welcome. This place even has a special treatment for pregnant women which is amazingly a plus point, compared to other best massages in Hoi An. Apart from the profession, the staff at this cheap massage in Hoi An are always spoken highly of because of their considerateness.
While you are waiting at the lounge, you will be served fruit and drink without extra charge. During the massage, therapists frequently ask for pressure to make sure clients are always comfortable. One more thing that shows the good service is that they offer free pick-up and drop-off for clients in all places within Hoi An if the bill is $65 or more.
- Address: No.52 Mac Dinh Chi street, Cam Son ward, Hoi An city
- Contact: 0905 706 790
- Hoi an massage price: 280,000 - 735,000 VND/time ($12.1 - 31.7)
- Website: https://hoianbluegiftspa.com/
4 - Top 4 massages in Hoi An: Golden Rose Spa
Golden Rose deserves to have a position in the list of the best spas in Hoi An city. It is to say that services here are so diverse. You have body treatment, facial treatment, body scrub & wrap, nail services, and waxing services to choose from. Not only providing therapies for pregnant people but the spa also has specific treats for the kids which are so amazing.
Amongst the best spas in Hoi An, the Golden Rose style of massage seems to be the most potential because it is a combination of Thai, aroma, and hot stone massage which can totally fade away all your tiredness, giving you a refresh from the body to soul. As one of the best massages in Hoi An Vietnam, Golden Rose offers rhyming pieces of music while you are having treatment with pleasant natural oils. After finishing, tea and biscuits are brought to you. This spa also has a policy of free pickup and drop-off in addition to a 10% discount if you go in pairs or groups and use the service for at least 90 minutes.
- Address: No.03 Phan Dinh Phung street, Hoi An city
- Contact: 0935 664 022
- Service price: 110,000 - 875,000 VND/time ($4.7 - 37.7)
- Website: https://goldenrosespahoian.com/
5 - Citrus Health Spa Hoi An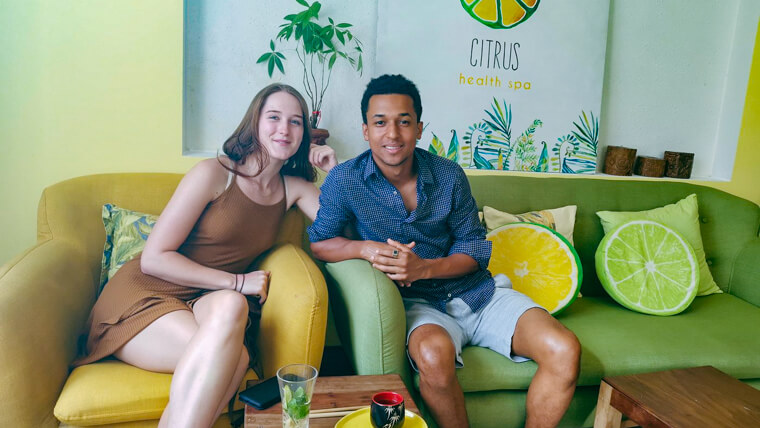 Top foot massage in Hoi An - Source: tripadvisor
Citrus Health spa will make you leave with a smile of satisfaction for sure. What makes Citrus different from other massages in Hoi An Vietnam is its outer space: the whole outer space of the spa is covered with features of citrus fruits such as the paint is yellow, the logo is the image of a piece of lemon, and even the name is decorated with a leaf underlined. Without the word "spa", people may mistake it for a coffee shop. Once entering this massage in Hoi An, you continue your surprise seeing gardens growing aloe vera, lemongrass, and mint,... which are all used to make tea and relaxing oil for the customers.
Nail making, waxing, foot massage, and healing therapies are the strength of Citrus Health Spa. Besides, candle wax massage and Himalayan hot rock massage are new experiences for customers. You should make a reservation in advance to enjoy a 30% discount.
- Address: No.180 Ly Thai To street, Hoi An city, Quang Nam province
- Contact: 0916076066
- Service price: 390,000 - 580,000 VND/time ($16.8 - 25)
- Website: https://www.facebook.com/Citrusspahoian/
6 - White Rose Spa - top massages in Hoi An Vietnam for couples
Asides from popular services that common spas always have, White Rose also boasts unique massage styles that you can hardly find anywhere else such as Asian Blend style, Indian Head Massage, and bespoke massage,... White Rose Signatures are try-worthy, too. An impressive thing is that there is an offering for newly-wed couples called romantic honeymoon which helps them have sweet moments together.
With an infrastructure decently invested, this Hoi An Spa features 4 types of rooms with different healing colors for different types of guests. What's more, the masseuses here are considered very professional and skillful. They can get to know which kind of treatment is suitable for your condition right from the first glance. A special thing that makes White Rose Spa one of the worth-trying massages in Hoi An is that the staff is really sensible. If you arrive here on your birthday, they will prepare a birthday cake and candles to sing and greet you. So touching, isn't it?
- Address: No.529 Hai Ba Trung street, Hoi An city
- Contact: 0235 392 9279
- Service price: 100,000 - 2,130,000 VND/time ($4.3 - 91.8)
- Website: https://whiterose.vn/spa-menu/
7 - Aaron Spa Hoi An - one of the best spas in Hoi An
Aaron Spa has 20 years of experience in beauty and massage services. It is a favorite and familiar spa for foreigners in Hoi An. The outstanding feature of this good massage in Hoi An is the up-to-date technology and technique. The products used for customers are all high-quality and come from famous brands.
Besides, the space of the massage room is always filled with light herbal fragrance which helps calm your mind very well. Moreover, the staff here are said to be very professional and friendly, they can speak English fluently.
Top most reliable massages in Hoi An Vietnam - Source: @Hang Pham
The founder of the spa is especially an expert in this field. She was trained by gurus from France, China, Canada, and Thailand. She has taken almost her life to sharpen her skills and then train her employees. Therefore there is no doubt why this place is crowded with guests most of the time. Even though they are very hectic, the facilities are kept good hygiene, a sign of professionalism and high quality.
- Address: No.2/16 Le Loi street, Minh An ward, Hoi An city
- Contact: 0903 06 08 74
- Service price: 690,000 - 990,000 VND/time ($29.7 - 42.7)
- Website: https://www.facebook.com/AaronSpaVuongHang
8 - Coral Spa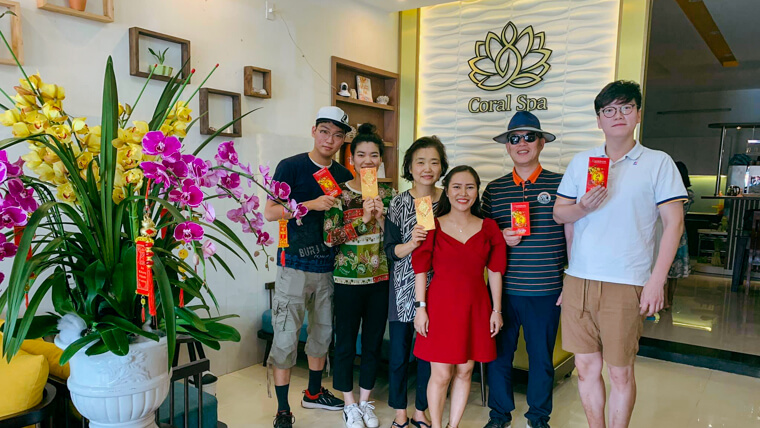 Coral Spa Hoi An - Source: coralspa
Inspired by the image of a coral reef, this spa is decorated with coral patterns and a system of colorful lights and paints to make the guests feel like they are entering a relaxing place under the sea bed. With the motto "A smile is the best makeup any girl can wear" and "a place for you to relax and unwind from the bustle and hustle world", Coral spa offers one of the best beauty services and massages in Hoi An such as body care, foot care, and beauty service using natural ingredients such as coconut, avocado, aloe vera, red bean, honey, and black sesame.
While massaging, the masseuse is going to constantly ask you about the pressure of the hand force in order to modify it for your preference. After each therapy, you will be served yogurt, pudding, and floral tea. Amidst services, foot care and manicure are the most highly judged at this massage in Hoi An.
- Address: No.69 Nguyen Phuc Tan street, Hoi An city
- Contact: 0235 3910 172
- Service price: 170,000 - 550,000 VND ($7.3 - 23.7)/time
- Website: https://www.facebook.com/pg/coralspa.vn/shop
9 - Maison Spa - Top 10 massages in Hoi An Vietnam
As a part of the 4-star Belle Maison, Maison Spa is sure to be extremely opulent and modern in terms of facility and architecture. The highlight of the service is the combination of a steam bath, sauna, and jacuzzi, which are the draw of a high-class spa. This place can give you the chance to experience a wide range of styles of massage such as sports massage, Maison Spa Signature, hot stone therapy, four hands massage, traditional Thai yoga, and strong pressure,...
The considerateness and meticulousness of this Hoi An spa are manifested in the category of facial treatment in which therapies are formulated based on different types of skin. Therefore, almost every customer is blissfully happy with their experience here and ranks it one of the most worth-trying massages in Hoi An. Aside from that, special subjects like pregnant women and small kids are given specific treatments.
- Address: No.538 Cua Dai street, Hoi An city
- Contact: 0235 3757 666
- Service price: 500,000 - 3,800,000 VND ($21.6 - 163.8)/time
- Website: https://bellemaisonhadana.com/vi
10 - Pure Beauty Spa
Pure Beauty Spa is newly established, therefore it is packed with the most cutting-edge equipment. Coming here, you will be overwhelmed by the existence of a contraption that looks like a tanning machine but offers to whiten instead. Apart from 9 types of massage, the spa also has eyelash extensions, tattoo removal, reflexology, detox package, laser hair removal, and eyelash tattooing.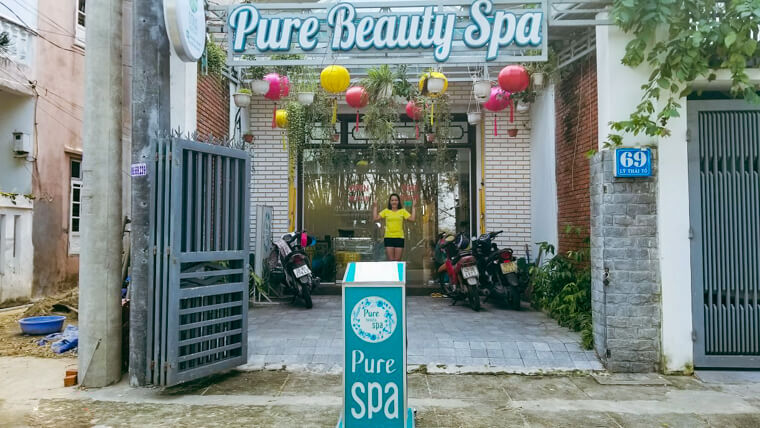 One of the best massages in Hoi An Vietnam - Source: Tripadvisor
However, the forte of Pure Beauty is winkle, pimple, and blemish reduction, which coincides with the desire of every woman. After only a time treated at this place, you can see a sharp enhancement in your skin texture. It looks much smoother and glower. If you are consistent in meeting the therapists of the spa regularly, the result is eventually a triumph for sure. Although the price of the service is not cheap, what it brings back completely deserves what you have to pay for.
- Address: No.69 Ly Thai To street, Hoi An city
- Contact: 0235 3992 369
- Website: https://www.facebook.com/PureLifeViet/

Here they are the bright faces in the community of massages in Hoi An Vietnam. Massage by its definition is a wonderful method to rejuvenate your mental and physical wellbeing. Let's come and enjoy the relaxation the pure and real massage brings to you.