Coming to the ancient Hoi An city, you should not miss the chance to visit Thanh Ha Pottery Village with an age of more than half a century. You will be immersed in the ancient space with small houses, decorated with many ceramic items such as reliefs, statues, vases,… Tile roofs or walls, ceramic kilns are all covered with moss, highlighting sophisticated products with diverse colors from white, brown to yellow or red. Let's discover more about this interesting craft village through the post below,
I - A brief look at Thanh Ha Pottery Village Hoi An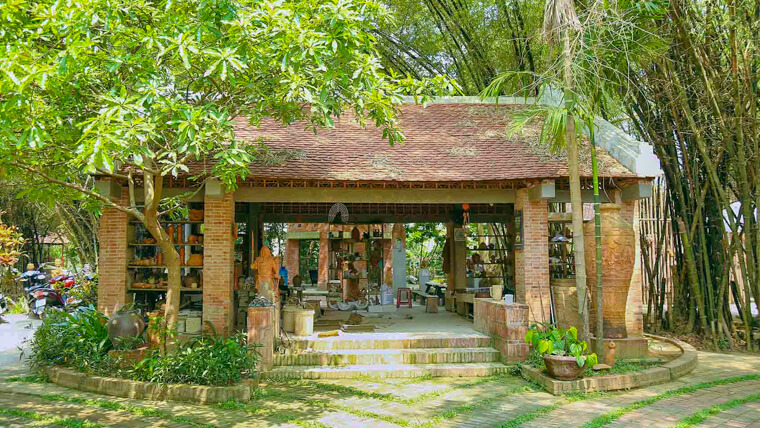 Source: sgtiepthi
Located near the poetic Thu Bon river, Thanh Ha village is in the west of Hoi An city, about 3km from the center. According to the elders here, the villagers were not originally from Quang Nam province but migrated from the north in the 15th century. The 17th - 18th centuries were the heyday of Thanh Ha ceramic products, partly thanks to the prosperous development of the Hoi An trading port. At that time, pottery was not only used as a royal donation for the King, but also sold to foreign merchants.
The results of archaeological excavations in Japan have found numerous ceramic vessels, with long body designs and decorative wavy patterns typical of Thanh Ha Pottery Village Hoi An. As described in many records of foreign traders, Hoi An city at that time was filled with houses built with brick walls, tiled roofs and decorated with ceramics. Thanh Ha products have contributed to the formation of the architecture of Hoi An Ancient Town, and many cities in the Central region. During the Nguyen Dynasty, it was recorded as a "specialty" of Quang Nam in Dai Nam Comprehensive Encyclopedia.
Currently, the Thanh Ha village Hoi An has 33 craft households with 80 employees, in which there are 5 elite artisans who are all 70 - 80 years old, creating 2 main product lines: brown ceramic and red ceramic. With its typical value, Thanh Ha Pottery Village was included in the List of National Intangible Cultural Heritage in 2019, announced by the Ministry of Culture, Sports and Tourism.
- Opening hours: 8am - 5:30pm
- Ticket price (Includes: 1 ceramic product, exploring the relics of Nam Dieu Temple and Dinh Xuan My, watching artisans making pottery and trying to make it yourself)
+ Adults: 35,000 VND / person ($1.52)
+ Children: 15,000 VND / person ($0.65)
II - Interesting experiences in Thanh Ha Pottery Village
1 - Observe the ceramic making process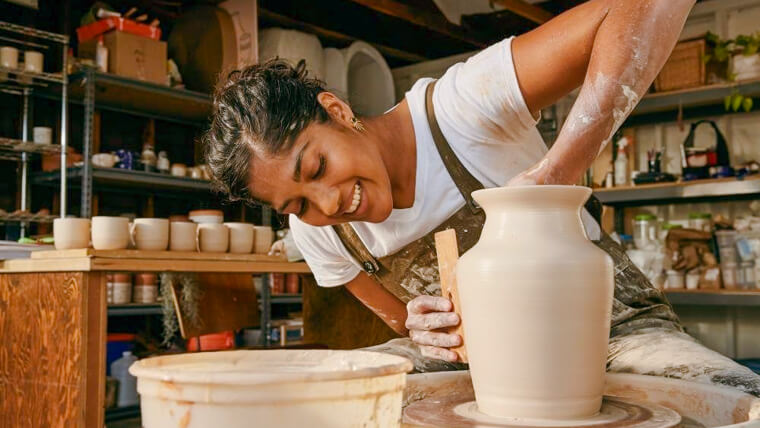 Source: @Pascal Leytens
Coming to Thanh Ha village, you will have a chance to observe the whole process of crafting beautiful ceramic products, from shaping, painting to firing. From the rudimentary clay blocks, many sophisticated works of art have been created by the hands of experienced artisans, with their extreme meticulousness. That shows from the selection of raw materials - the clay used to make must be transported by river from Dien Ban District, which is about 15km from this village. After that, it is processed through many stages to get a thin, clean and smooth final clay mixture.
The uniqueness of Thanh Ha Pottery Village is that the artisans create the shape fully by hand without a mold, requiring the rhythmic combination of two people. One person stands kneading the clay and pedaling the turntable, while the other sits to shape, with rotation speed varying depending on the stages. The finished product is sun-dried 2 to 3 times, then polished, left unglazed, and fired with a traditional wood stove to create different colors. The firing of pottery takes place every 5 to 10 days, lasting for about 1 - 2 days depending on the type of kiln.
The craftsmen of Thanh Ha Pottery Village do not need a thermometer during the firing, but only their senses and experience. This is one of the most special things about the Thanh Ha village and the pottery products here compared to other famous pottery making villages in Vietnam.
They can all set the temperature at an accurate level by hearing the sound of fire crackling, looking at the shape of the flame, and feeling the heat coming out of the furnace. From there, the artisans adjust the fire to ensure enough heat for all products, without causing the outer ones to be distorted due to overheating.
2 - Visit the terracotta museum at Thanh Ha Pottery Village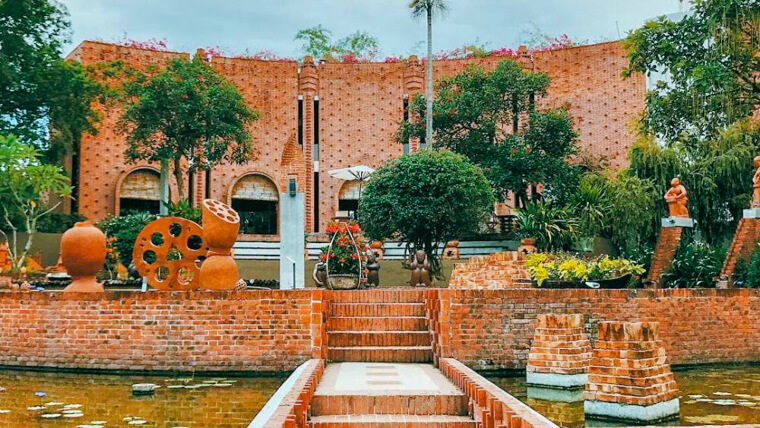 Source: quangnam
Visiting the village, you shouldn't forget to visit the Terracotta Museum - the largest ceramic park in Vietnam with an area of ​​​​nearly 6000m2. It has many market and exhibition areas, which is a place to preserve, store and display unique ceramic products, introducing to those who love to explore. The Thanh Ha terracotta park is divided into two main buildings with unique shapes, modeled after the shape of a traditional ceramic kiln. In which, one building currently stores ceramic artifacts from ancient times, and the other is used to hold trade fairs, introducing new ceramic products,…
The terracotta museum of Thanh Ha Pottery Village is divided into 9 separate areas including pottery kilns, village conservation, terracotta market, installation garden, ruins, and so on. In which, one of the most special features is the miniature world area, which vividly recreates in ceramic the architectural works of Vietnam, the wonders of the world, and traditional local features. At Thanh Ha terracotta park, you will definitely feel as if you were lost in a different country with hundreds of works from One Pillar Pagoda, Turtle Tower, Uncle Ho's mausoleum, to the leaning tower of Pisa, the White House, the Pyramid, …
There is also a ceramic garden, which displays Vietnamese pottery products from the last century, of famous pottery villages such as Sa Huynh, Thanh Ha, Bau Truc… Visiting Thanh Ha Pottery Village's terracotta museum, you also should remember to take lots of check-in photos in this vintage space, filled with sophisticated works, ancient feels and rustic atmosphere - a perfect background.
3 - Experience of learning to make pottery with artisans
When coming to Thanh Ha village, the most interesting activity for many people is probably learning how to make pottery, especially for youngsters or children. Under the guidance of the artisans, you can take part in creating a unique ceramic product, starting from kneading clay, creating mold to shaping on the turntable. After that, you can decorate it with the color according to your preference, and then ask the craftsmen to bake it for you.
4 - Buy souvenirs & products from Thanh Ha Pottery Village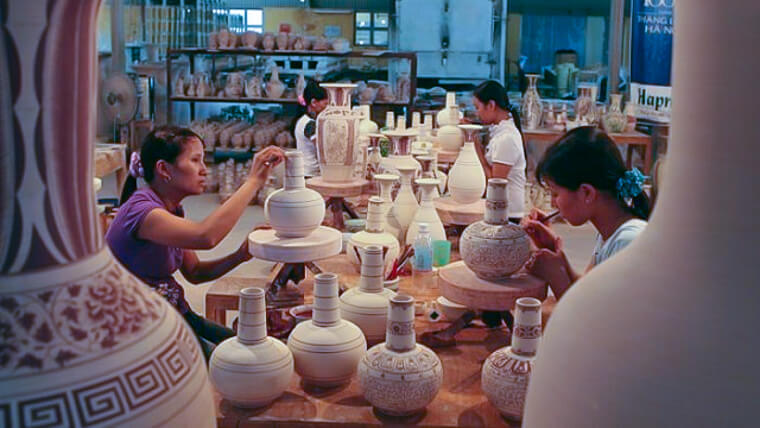 Source: Internet
There is a special thing that in each ticket to visit Thanh Ha village, a ceramic souvenir is included, representing thanks of the households here. However, it would be a pity to travel without some souvenirs to bring back to relatives or friends, right? There are many areas selling ceramic souvenirs, each stall has a different kind of beautiful product. Depending on your preferences or purpose of the gifts, you can choose from eating utensils, kitchenware, to vases and decorations of all sizes. All of the products are made and sold directly in the village, so the price is very reasonable.
Thanh Ha Pottery Village is not only a tourist destination, but also a museum storing valuable artifacts of the traditional beauty of Hoi An. Coming here, you will have the opportunity to see the delicate ceramic products and closely observe the process of creating them. Not only that, the peaceful countryside space, the architecture and decoration here also turn this place into a great spot for taking check-in pictures.