Dong Tao chicken or dragon chicken is a rare and high value chicken breed of Vietnam, originating from the commune of the same name in Khoai Chau District, Hung Yen Province. In the past, they were only used on special important occasions such as advancing the King, local traditional festivals, worshiping,… So what makes this species so sought after, let's find out more through the detailed information below:
I - What is dragon chicken breed?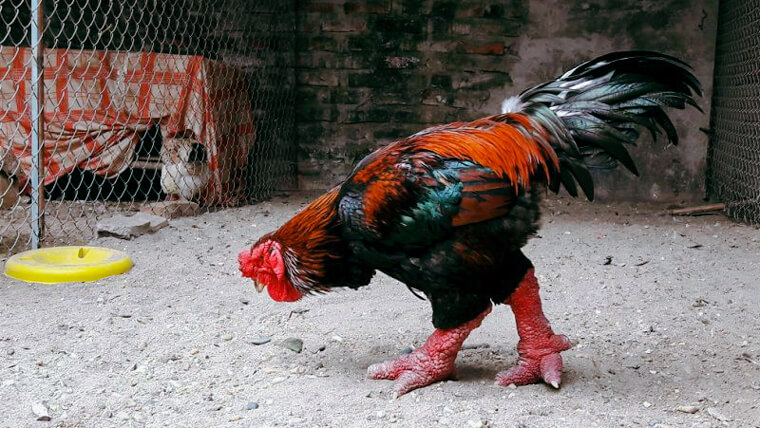 Source: farmvina
Dragon feet chicken is a large breed with a dignified shape, a majestic head and the red hairless skin, on both the cock and the hen. The rooster has purple-black or plum-red feathers, with a short and retracted crest, underdeveloped, compact and strong looking burgundy earlobes. Hens also have a crest similar to that of a rooster, but only 1/3 the size, and are usually light yellow, light brown or milky white. The neck and wing of Dong Tao chicken areas are mixed with yellow, white, reddish brown, and black feathers. Meanwhile, newly hatched chickens have milky white feathers and weigh about 38 - 40g.
Grown dragon chickens usually weigh 5.5 - 6kg/rooster, and 4kg/hen, sometimes those over 2 years old can be up to 6 - 7kg. The highlight and recognition of the dragon leg chicken is its large legs with four spread and clearly divided toes, thick and well-balanced feet. The legs are like the skin of Dragons which is surrounded by a layer of skin scales arranged in rows, rough like a toad or a mulberry fruit, extremely solid to the touch. The chickens have thigh muscles with bundles rolling over each other, providing the delicious meat, not too tough and without tendons.
II - Why is giant dragon chicken so expensive?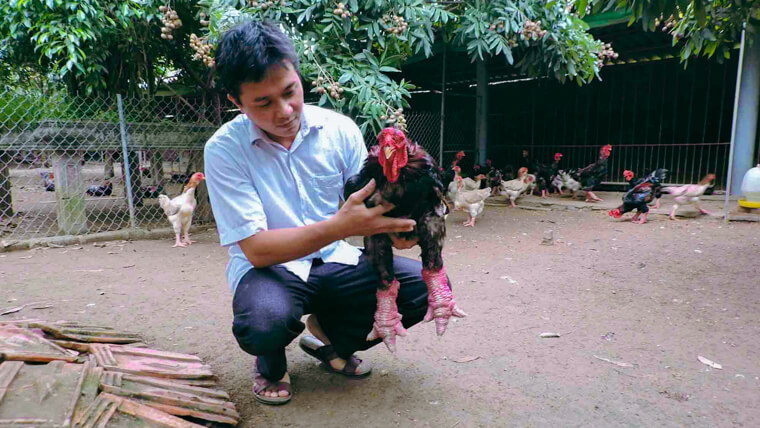 Source: nld
In addition to possessing a unique shape and delicious meat, the high value of this big feet chicken also comes from the rarity of breeding and the hassle of raising. A chicken for gifting has to go through a rigorous selection process from the parents' generation, being under special care since a few months old. In particular, only 1/100 chickens can meet the criteria to be a "gift", and those that do not meet the standards, such as having clubfoot or sick, will be removed from the time of hatching.
To buy quality dragon chicken, you should go to the farms that specialize in buying and selling. Normally, adult Dong Tao chicken costs 400,000 - 1,000,000 VND/kg ($17.4 - 43.5).
The costs of chicken for breeding:
- Newly hatched (1 - 3 days): 100,000 - 150,000 VND/chicken ($4.4 - 6.5)
- 1-month-old (about 300g): 250,000 - 300,000 VND/chicken ($10.9 - 13.1)
- 3-month-old (about 800g): 400,000 - 600,000 VND/chicken ($17.4 - 26.1)
- 6-month-old (about 3.5kg): 1,300,000 - 1,500,000 VND/chicken ($56.6 - 65.3)
- Grown up: 1,500,000 - 3,000,000 VND/chicken ($65.3 - 130.6)
- With big & strong legs: 5,000,000 - 8,000,000 VND/chicken ($217.6 - 348.2)
Dragon chickens also give quite low egg production, so the selling price is very high, often 5 - 6 or even 10 - 20 times the price of normal chicken eggs. For example, dragon leg chicken eggs sold at the hatchery, guaranteed to be produced by purebred chickens, will cost from 100,000 - 120,000 VND/egg ($4.35 - 5.22). Those often sold at farms with lower purity will cost from 50,000 - 60,000 VND/egg ($2.18 - 2.6), while hybrid chicken eggs are even cheaper, ranging from 20,000 - 30,000 VND/egg ($0.87 - 1.3).
III - More information about Vietnamese dragon chicken breed
1 - How to cook dragon leg chicken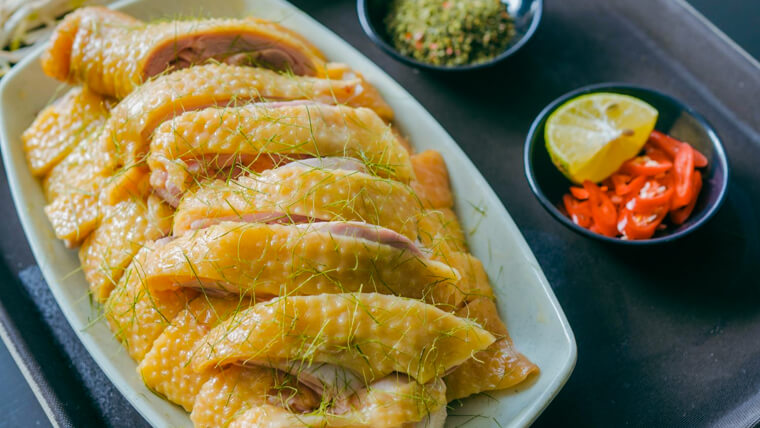 Source: tinnhanhtaynguyen
Chicken's meat is considered very delicious and sweet, which can be processed into many different dishes:
Steamed dragon feet chicken with lemon leaves
It can be said that this is a dish for chicken connoisseurs, especially those who like drinking. Chicken after being cleaned will be sliced, marinated for about 1 hour with spices such as pepper, minced garlic, sugar, sesame oil, and steamed. The attractive aroma of chicken blends with lemon leaves, highlighting the cut pieces of meat with beautifully golden color, thick flesh and sweet taste. When eating Vietnamese dragon chicken, you can use your hands to tear the chicken, dipping it with lemon and chili powder broth, having a time with an extremely attractive sour and mild spicy taste.
Stewed chicken with herbal traditional medicine
Dong Tao chicken stewed with medicinal herbs is a delicious and nutritious dish in Vietnames cuisine. The main ingredients of this dish is chicken feet, which is stewed with traditional medicines and herbs, lotus seeds, fenugreek leaves and spices. The meat is tender and melts in your mouth, mixed with the rich aroma and flavor of herbs, sure to warm your stomach and good for your health. You must try this dragon chicken dish to feel all the delicious, precious and nutritious parts of the chickens used to advance to the Kings.
Chicken skin mixed with crushed roasted rice
This is a fairly simple dish, most of the deliciousness comes from the ingredients, because the processing is quite quick and convenient. Unlike normal chicken skin, Vietnamese Dong Tao chicken skin is especially thick, chewy, delicious, and contains little fat. Meanwhile, the good kind of crusted rice needs to be roasted just right, mixed well with the chicken so that there are no lumps. This dish can be wrapped in rice papers, salads or fig leaves, added vermicelli and dipped with special dipping sauce.
Dragon chicken stir-fried with lemongrass and chili
This dish is an especially great choice on a chilly day, with an irresistible aroma and taste, perfect to be eaten with rice or vermicelli. Chicken is cut into bite-sized pieces and marinated with spices, then stir-fried with minced chili, lemongrass, and a little curry powder until golden. The chicken is both chewy and soft, in harmony with the spicy taste of chili peppers, covered with the aroma of lemongrass and chili.
2 - How to raise Vietnamese Dong Tao chickens?
Dong Tao chick is a precious breed of chicken because it is difficult to breed, and requires a lot of raising time to get good quality dragon chicken meat. In addition to the basic things such as making suitable accommodation and ensuring hygiene, farmers also have to take care of their food and water. Each growth stage of chickens also requires a different way of care, from their parents, newborn chicks to ages such as 1 month, 3 months, 6 months and adult or older.
Dragon leg chickens get to bask in the sun for 2 hours everyday, while on cold ones, they will sleep near the fireplace and burnt locusts, in a 20 - 35°C barn. They are fed corn kernels, soaked rice, with boiled tilapia meat, lightly roasted and pureed peanuts, mixed with bran to increase the amount of dragon chicken fat, making the feathers shiny, the meat firm, fragrant and greasy. Within 3 months before reaching the buyer, the chicken feet will be regularly washed with salt water. Within 2 months, it will be eating a high diet menu 2 - 3 times a week, with pork, beef, or even egg yolks.
Raising Dong Tao chickens also requires many other things, for example, they should be raised in the garden because they are very active, which will make the meat more firm and tender. The barn also should be sprayed with disinfectant once every 2 weeks, adding lights and specialized heaters, evenly divided feeders to avoid uneven growth of chickens, and so on.
3 - Dragon chicken capitals in Vietnam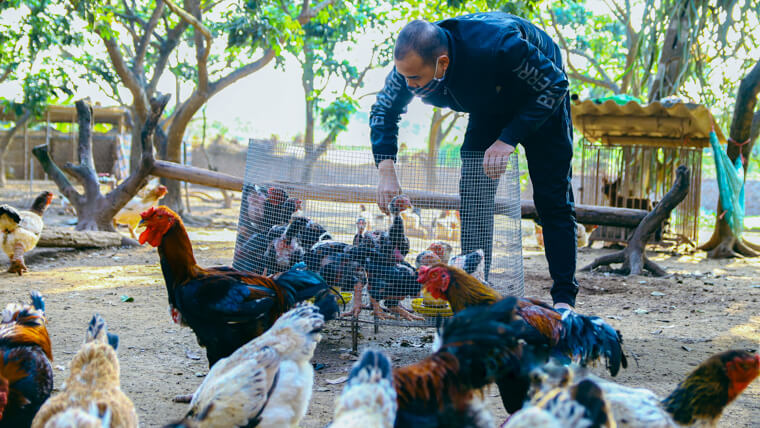 Source: danviet
One of the largest purebred dragon feet chicken farms in Vietnam is currently located in Dong Tao Commune, Khoai Chau District, Hung Yen Province - about 40km from Hanoi city center. There are more than a hundred households, each of them having an average of 14 roosters and 42 hens, possibly up to 150 roosters and 700 hens for big households. The whole Khoai Chau District is raising more than 500,000 Dong Tao chickens and hybrids, in many models of farms, cooperatives, and large-scale production enterprises.
Another large dragon chicken farm in Vietnam belongs to Mr.Vu Ngoc Tuan, located in Hoa Binh Hamlet, Dong Hoa Commune, Trang Bom District, Dong Nai Province (southern Vietnam). With a warmer weather than the northern Vietnam, this place is more convenient to raise this breed of chicken - they are less likely to die because of cold weather or changing seasons. The farm is currently raising hundreds of thousands of chickens, supplying to many southern provinces and cities, each sale can be up to 200 - 500 chickens, especially during Tet holiday in Vietnam.
Purebred dragon chicken is known as an extremely precious specialty of Hung Yen, which used to be brought to the King or offered on holidays and Tet. The complicated raising process, and the special delicious taste, make up the high value of this type of chicken. In addition, their meat can also be processed into countless delicious dishes, which are also good for health. Traveling to Vietnam, you must definitely enjoy dragon leg chicken once if you have the opportunity, preferably at large chicken farms.