Vietnam has a prime position, on the way of migration of many animal species, together with a tropical climate, which is a perfect condition for a great biodiversity. However, due to complex developments of poaching and endangered animals trafficking that threatens the existence of many species. Let's take a look at the situation of the Vietnamese fauna and some places where you can view them with your own eyes. And, if you are looking for some places - where to see wildlife in Vietnam, you should not miss this article.
I - Biodiversity of wildlife in Vietnam
According to scientific research, Vietnam is located at the transfer of many biological flows: the east has the biogeographic features of the Himalayas; the south has similar ecosystem types to the marine and mainland ecosystems of Southeast Asia; the Truong Son range at the West is a transitional zone between tropical and subtropical climate. Along with the mountain ranges, Vietnam also has 16 main river systems, of which more than 10 systems have basins of ​​over 10,000 square kilometers, such as the Red River, Mekong River, and Dong Nai River systems.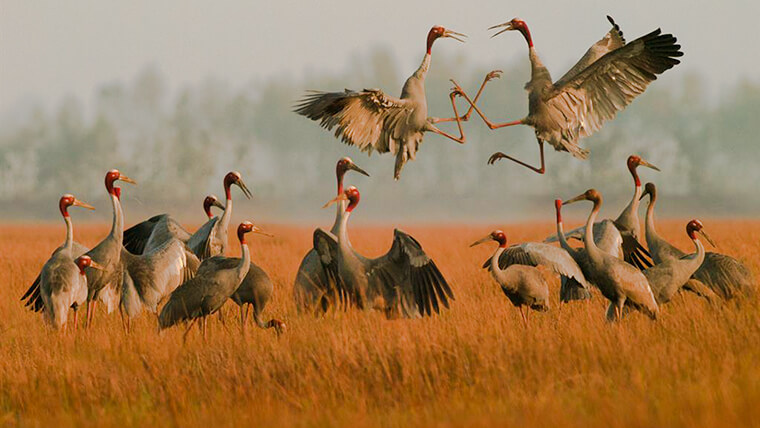 Biodiversity in Vietnam - Source: yesvietnam
Besides, Vietnam features many other types of ecosystems such as grasslands, inland wetlands, sand dunes, coastal alluvial plains, estuaries, seagrass beds, coral reefs and deep seas. In parallel, there are artificial ecosystems such as dams, agricultural land, and urban areas. These factors make wildlife in Vietnam so rich and ideal for exploring.
Vietnam ranks 16th in the world in biodiversity. Although Vietnam's area is only 65th, there are many animal species that are in the top of the world in terms of quantity. Vietnam is said to be home to 13,766 plant species, 10,300 terrestrial animal species (312 mammals, 840 birds 167 amphibians, and 317 reptiles, more than 7,700 insects, and many other species of invertebrates). The number of known freshwater species is more than 1,438 species of microalgae, 800 species of invertebrates, 1,028 species of freshwater fish. The number of known marine species is more than 11,000 species including 6,300 benthic faunas, 2,500 marine fishes, 653 seaweeds, 657 zooplanktons, 537 phytoplanktons, 94 mangroves, and 225 sea ​​shrimps, 14 seagrasses, 15 sea snakes, 25 species of marine mammals and 5 species of sea turtles). The above statistics do not fully reflect the biodiversity of Vietnam, as the number of newly discovered species has increased rapidly in recent years.
II - Wildlife in Vietnam preservation and conservation
Despite its rich biodiversity, many wildlife species in Vietnam have disappeared and are disappearing, typically two-horned rhinoceroses, kouprey, tapirs, otter civets, Sika deer. The demand for wildlife and their products has pushed Vietnam to become a hotspot for wildlife hunting and consumption in the region, pushing wildlife species to the brink of extinction.
In the past decade, Vietnam has recorded an increasing number of organizations working in the field of environment and conservation. The interesting thing is that these organizations were established by Vietnamese people themselves. This is a welcome sign of a change in society's concern for wildlife in Vietnam reservation.
These include the People and Nature Reconciliation (PanNature), Education for Nature - Vietnam (ENV); Save Vietnam's Wildlife (SVW); Sustainable Construction and Green Building (GreenViet), Vietnam Action Center for Wildlife (WildAct Vietnam); Center for Action and Partnership for Environment and Development (CHANGE)…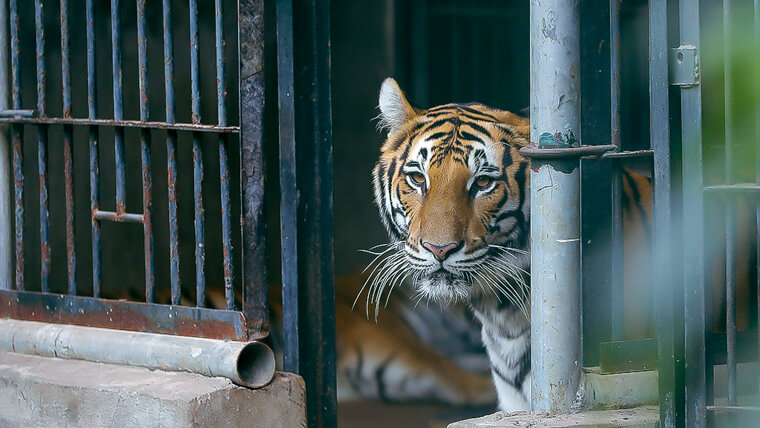 A conservation center of wildlife animals in Vietnam - Source: thanhnien
Among the above organizations, the Save Vietnam's Wildlife located in Cuc Phuong commune, Nho Quan district, Ninh Binh province is an effective conservation unit. Established in 2014, the SVW has cooperated with the management boards of National Parks such as Cuc Phuong, Pu Mat, Nam Cat Tien, and the police across the country to rescue them. More than 2,000 different species of animals, in which the number of pangolins alone is 1,540 individuals, the highest in the world.
The center of conserving wildlife in Vietnam always recruits volunteers to take care of animals, whether Vietnamese or foreign. This is a precious opportunity for you to interact and work with rare animals in Vietnam, participate in most of the SVW team's activities, learn basic captive breeding skills to care for pangolins and small carnivores, have an insight into conservation issues in Vietnam, and what needs to be done to save Vietnam wildlife.
There are 2 programs which are paid volunteer and professional volunteer. For the paid volunteer program, candidates must ensure the following conditions: to be 16 years of age or older, fully vaccinated, able to communicate in basic English, commit to working at least one week, and ensure health during work of saving wildlife in Vietnam. Depending on the duration of the partnership, the fee you have to pay, ranges from $300 - $400/week. For professional volunteer recruitment, the organization searches for experts having skills and experiences in a particular domain to support them in launching specific projects. The professional volunteers are not required to pay for engagement but only for living cost, transportation which are often low in Vietnam). If you are interested in any program, you can contact SVW via the following information:
Save Vietnam's Wildlife (SVW)
Contact: 0229 3848 053
Email: info@svw.vn
III - Destinations to discover wildlife in Vietnam
1 - Cuc Phuong National Park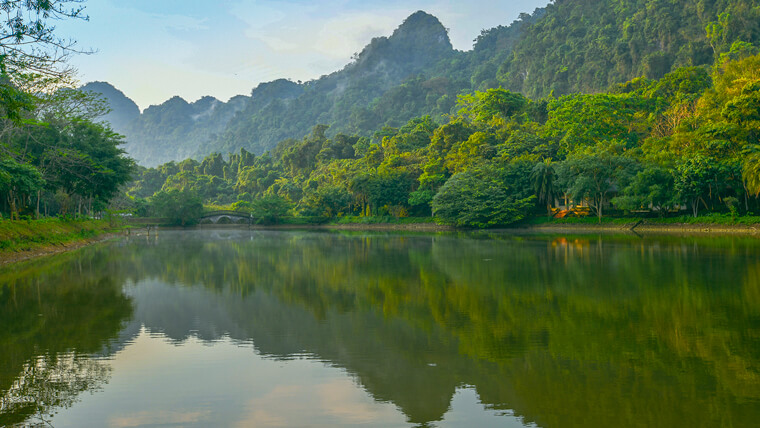 Cuc Phuong national park - Source: vnexpress
The fauna of Cuc Phuong national park is also extremely rich and diverse. Only the vertebrate species, Cuc Phuong has 659 species including: 66 fish species, 76 reptile species, 46 amphibian species, 336 bird species and 135 mammal species. Regarding invertebrates, 1899 species and species forms have been recorded, belonging to 169 families, 33 orders, 6 classes and 3 phyla. Among them, there are 81 rare species listed in the Vietnam Red Book and the IUCN Red Book.
If you want to admire the wild animals of Cuc Phuong National Park, you should join a tour to release animals into the wildlife in Vietnam. With the tour, visitors will directly release wild animals into the wild in the primeval forest route of the national park. These wild animals can be birds, monkeys, reptiles, wildcats, civets... in an indefinite quantity. These are some Vietnamese dangerous animals that have been collected and rescued from many cases of illegal trade and transportation. permission. When joining the Vietnam wildlife tour, visitors will cross the forest roads, admire the pristine scenery and visit some points of the national park.
- "Release animal to nature" tour
- Booking: http://www.cucphuongtourism.com.vn/
- Location: Cuc Phuong commune, Nho Quan district, Ninh Binh province
2 - Phong Nha - Ke Bang national park - one of the top spots to see wildlife in Vietnam
Phong Nha - Ke Bang National Park has long been known for its biodiversity. In this place, you will find 154 mammals belonging to 90 genera, 32 families, 11 orders. In terms of feathers, there are 303 species belonging to 166 genera, 55 families, 15 orders, of which 11 species are inscribed in the Red List of Vietnam, 11 species are present on the Red List of IUCN. Besides, this place has 215 species of fishes within 108 genera, 38 families, 10 orders, of which, there are 05 species recorded in the Vietnam Red Book, 01 critically endangered species, 01 endangered species, 03 endangered species; 33 endemic species of Phong Nha - Ke Bang National Park. The biodiversity of the wildlife in Vietnam of the reserve is manifested in 100 species of reptiles and 51 species of amphibians.
Currently, an ecosystem reservation tour in Phong Nha - Ke Bang national park (Hai's Eco Conservation tour) has been available. Participating in the tour, you are given the opportunity to observe the endangered animals in the park, enjoy the tired but interesting moment of jungle trekking in such a unique rainforest and understand more about the conservation efforts of the locals.
- Hai's wildlife eco tour
- Price: $65/person
- Booking: https://phongnhalakehouse.com/tour/hais-eco-tour
- Location: Provincial highway 20, Son Trach commune, Quang Binh province
3 - Tam Dao National Park - a great place to see wildlife in Vietnam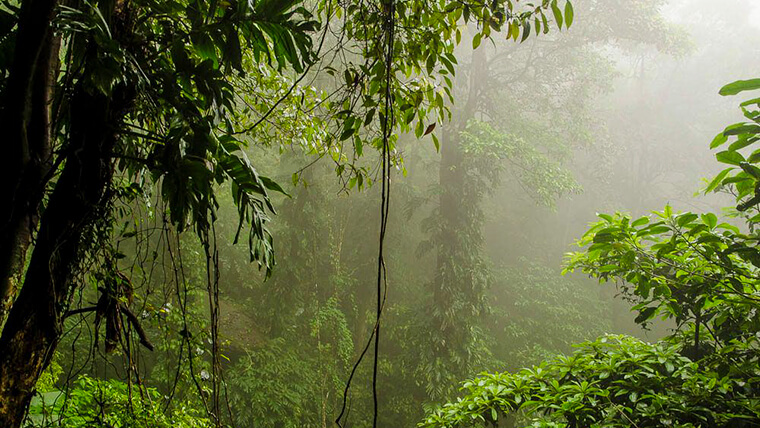 Tam Dao national park - Source: mytour
The research done by a group of French and Vietnamese scientists along with the statistics of universities and institutes, Tam Dao national park is reported to have 1,141 animal species within 516 genera, 156 families, 39 orders. The specific number is as following: mammals (70 species, 48 genera, 25 families, 8 orders), birds (239 species, 140 genera, 50 families, 17 orders), reptiles (124 species, 46 genera, 16 families, 2 orders), insects (651 species, 271 genera, 57 families, 9 orders). Amongst the total species of animals in the Tam Dao national park, 64 species having scientific value needing protecting, 16 endemic species, 18 inscribed in the World Red List and 8 ones inhibited from trading in the CITES appendix.
Those who love wildlife in Vietnam should take part in the Route 1 tour starting from Tam Dao national park, passing by the bear rescue center. On the way, you are going to follow small tracks full of the sound of birds and scent of flowers. Moreover, the tour guides will comprehensively inform you of the value of the precious creatures here, especially the 2 species of giant bear in Vietnam which are tibetan bear and sun bear.
- Entrance fee: 20,000 VND ($0.9)/person
- Location: Ho Son commune, Tam Dao district, Vinh Phuc province
4 - Cat Tien National Park
Another ideal spot for watching wildlife in Vietnam is Cat Tien National Park, which has a rich fauna in terms of species composition. There are some rare and precious species significant for the conservation of genetic resources around the world. In total, there are 1,529 animal species belonging to 222 families and 55 orders. Specifically, mammals have 113 species within 38 families and 12 orders; birds have 352 species belonging to 64 families, 18 orders; reptiles feature 41 species under 6 families and 4 orders; insects have 756 species, 68 families and 10 orders; fishes include 159 species, 29 families, 9 orders. The park creates ample opportunities for visitors to watch wild animals by providing a number of tours. For booking, please visit cattiennationalpark.com.vn
Explore wildlife in Vietnam with 2 days 1 night tours
- Schedule: Checking in - having lunch and visiting some tourist destinations nearby - game drive at 7 pm - sleeping overnight on the forest - dropping by other places and checking out
- Inclusion: accommodation, entrance fee, ticket price for destinations in the schedule and tour guide
- Price: 660,000 - 2,700,000 VND ($28.3 - 115.9)/person (base on the number of people)
Explore wildlife in Vietnam with 3 days 2 nights tours
- Schedule:
+ Day 1: Having lunch - checking in - visiting bear rescue center and some tourist destinations - game drive at 7pm and sleeping overnight in the forest
+ Day 2: Having breakfast - visiting other attractions - having lunch - checking out - arriving at Crocodile swamp (Bau Sau) - having dinner and sleeping overnight here
+ Day 3: Having breakfast at Bau Sau - eating lunch at the center of the park - leaving
- Inclusion: accommodation, entrance fee, ticket price for destinations in the schedule and tour guide
- Price: 2,000,000 VND ($8.6)/person
- Location: Nam Cat Tien commune, Tan Phu district, Dong Nai province
5 - Yok Don National Park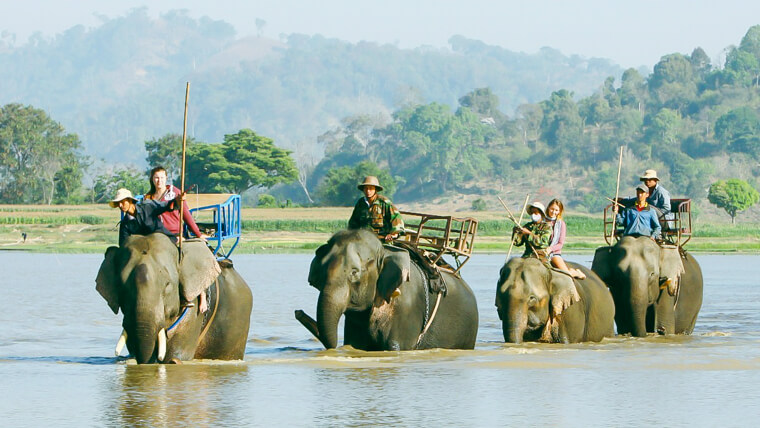 Elephant in Vietnam - Source: Yok Don National Park
Yok Don National Park is one of the largest special use forests & famous national parks in Vietnam. This place is a great park for discovering wildlife in Vietnam: 89 mammals, 305 birds, 48 reptiles, 16 amphibians, hundreds of species of fresh-water fishes and thousands of species of insects. Some species is considered globally endangered such as kouprey (bos sauveli), giant muntjac (Megamuntiacus vuquangensis), Eld's deer (Cervus eldi), Javan Banteng (Bos javanicus), Asiatic Elephant (Elephas maximus), Sumatran tiger (Panthera tigris), Dhole (Cuon alpinus) and Black-shanked douc (Pygathris nigripes). Some research reveals that Yok Don National Park is one of the places with the most diverse avifauna.
Coming to Yok Don, you are recommended to join the Elephant experience tour. This animal used to be the means of transport and a friend of the Central Highland of Vietnam. During the tour of exploring wildlife in Vietnam, you will be told by your tour guide about each individual elephant's personality, their profile and the story before being a part of this place.
- Elephant experience tour
- Duration: Full day (8 hours) and half day (2 - 2.5 hours)
- Tour price: 1,400,000 VND ($60.1)/person (Full day tour) and 800,000 VND ($34.3)/person (Half day tour)
- Location: Krong Na, Buon Don district, Dak Lak province
Wildlife in Vietnam with a rich biodiversity of both fauna and flora is among the top things to see for nature lovers. Due to the change in environment as well as the human activities, there are a handful species that used to be so abundant in number, became endangered ones. To protect the animals and preserve the fauna of Vietnam's nature, the central government has established an array of national parks and wildlife reserves where they are provided with a safe and ideal habitat. Tourists who have a special affection for zoology should pay them a visit to have more rewarding knowledge and experiences.