I - What exactly is Vietnamese Coconut Coffee?
Coconut coffee, also known as coconut milk coffee, is an interesting variation of the typical Vietnamese filter coffee. The rich bitterness and strong aroma of the coffee blend with the sweetness and fatness of the coconut milk, making this drink neither too bitter nor too sweet. Coconut coffee is cleverly combined to create a mild and pleasant taste, which many foreign tourists also enjoy.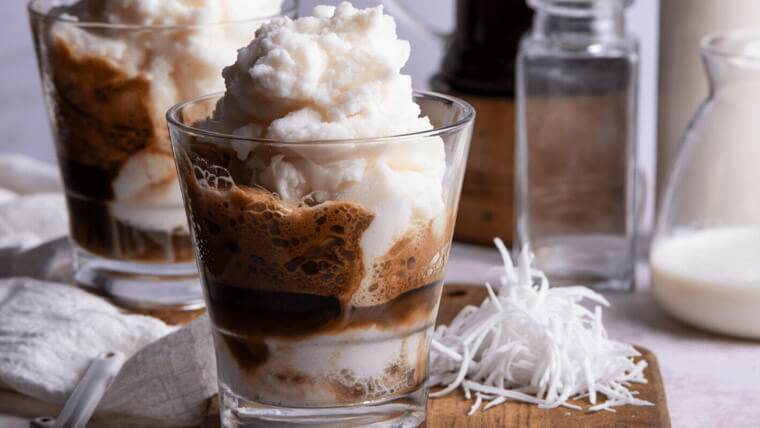 A cup of Vietnamese coconut coffee - Source: lacdavang
Can easily be found in all big and small cities in Vietnam, coconut milk coffee is a drink that can be enjoyed hot or cold depending on the preferences of each person. In any form, the greasy and delicious taste, the irresistible passionate flavor, and the aroma of this drink will captivate you, making you unable to refuse.
II - How to make Vietnamese Coconut Coffee?
You can make this attractive drink yourself with the following fairly simple way and ingredients:
1 - Ingredients
- 25g coffee powder
- Boiling water 90 degrees C
- 60ml condensed milk
- 80ml coconut milk or 300g grated coconut
- 20ml whipping cream (with or without)
- Ice
- Tools: coffee filter or coffee maker, blender, glass
- Toppings: Dried coconut or fruits, sugar-coated fruits…
2 - Stages of processing Vietnamese Coconut Coffee
Step 1: Making coffee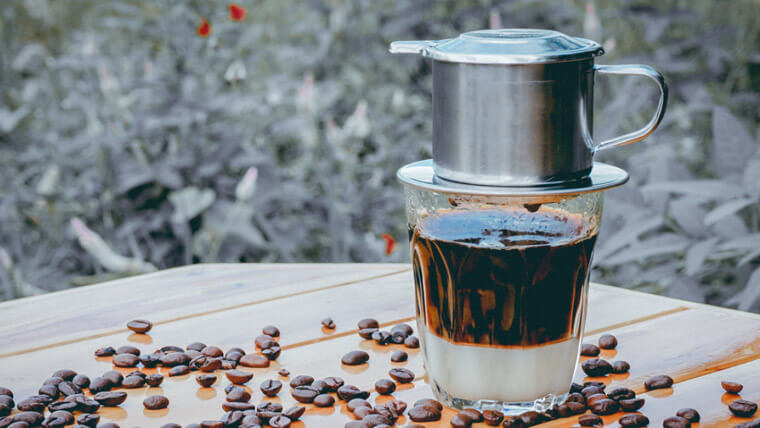 Making drip coffee - Source: Ranggiacongcaphe.vn
If you have a coffee machine, just simply put in the mixture of 25g coffee powder to about 40ml of hot water and press the button. However, if you don't have this tool, you can make it with a coffee filter in the traditional way.
To make a perfect cup of Vietnamese coffee with coconut milk, you should heat the filter with boiling water at first. After that you add the coffee powder and about 30ml of hot water in, spreading the surface evenly. You leave it for about 5 minutes to let the coffee soak in the water and expand evenly, helping to awaken the flavor and nutrients inside, extracting more delicious coffee. In the next part of the authentic Vietnamese coconut coffee recipe, you add 40ml of hot water and close the lid, put it on a glass, and wait for the coffee to extract the product that can be used for making coconut milk coffee.
Step 2: Making coconut milk mixture
You can use 80ml of canned coconut milk, or make your own at home by pureeing 300g of grated coconut with warm water, and then putting it in a filter cloth bag to get coconut milk. To make a quality coconut milk mixture, combine the prepared coconut milk, 25g condensed milk, some ice cubes, and 20ml whipping cream (if desired) and puree all in a blender. When making the milk mixture for the Vietnamese coconut coffee, you can stop when the mixture is fluffy like snow, creating a smooth finished product that is not too liquid or too thick.
Step 3: Combining the products of two previous steps together
Pour the brewed coffee into the pot, shake vigorously and evenly until the coffee is thick, smooth and light brown in color. When finished, pour the coffee into a glass and you can use a plastic bottle to replace the shaker.
Slowly pour the coconut milk mixture on top, doing it gently and evenly to retain the foam.
Step 4: Decorating the cup of coconut milk coffee
You can decorate your cup of Vietnam coconut coffee with some dried coconut, dried fruits, or sugar-coated fruits. In addition, you can also add fresh cream or chocolate depending on your preference and start enjoying it.
3 - Notes when making Vietnamese Coconut Coffee
To ensure the quality of a cup of coffee as well as for the right taste and attractiveness, you should use pure coffee. Fresh coconut milk is the most ideal choice for the natural aroma and fatness. You can also adjust the amount of ingredients in the coconut coffee Vietnam recipe, such as adding more coffee if you like a bitter taste or adding more coconut milk if you like a rich, greasy taste. You can also change the amount of condensed milk to adjust the sweetness to your preference.
III - Top famous Vietnamese coconut coffee shops
1 - In Hanoi
Xofa Café & Bistro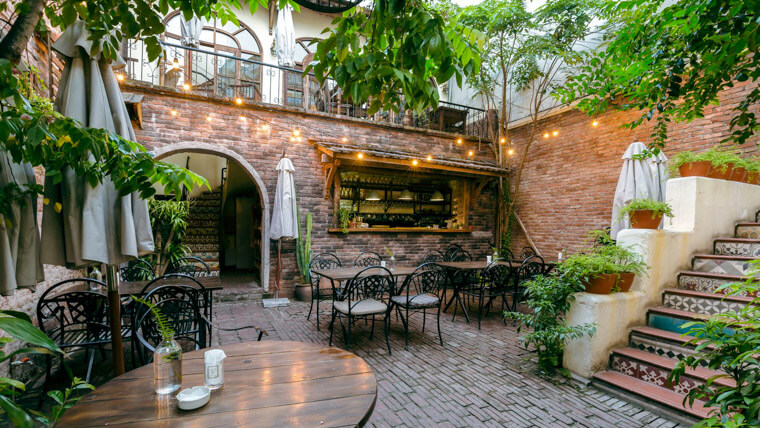 Xofa Café & Bistro - Source: Amoarchitect.com
Offering specially formulated drinks at reasonable prices, Xofa Café & Bistro is one of the must-visit places to enjoy delicious coconut milk coffee. The bitterness and aroma of coffee are combined with coconut milk in a harmonious ratio, creating a unique flavor, not too bitter but not too greasy or fatty. This Vietnamese coconut coffee shop has a small courtyard corner for guests who love to drink coffee in the atmosphere of Hanoi.
- Address: No.14 Tong Duy Tan Street, Hang Bong Ward, Hoan Kiem District
- Price: 85,000 VND / cup ($3.72)
- Opening hours: 7am - 5am the next day
- Contact: 024 3717 1555
Cong Coffee
As one of the famous coffee shops in Vietnam with its coconut coffee, Cong Coffee offers a unique and distinct coffee flavor from the ingredients produced in-house. Besides, the space of this Vietnamese coconut coffee shop is very private with the breath of Vietnam in the subsidy period from the rustic and simple decorations, tables, chairs, and objects. The main colors in Cong Coffee are army green and the red of the mattresses and blankets are associated with many people's memories of a past Vietnam.
- Address: No.116 Cau Go Street, Hang Bac Ward, Hoan Kiem District
- Website: https://congcaphe.com
- Opening hours: 7:30am - 11:30pm
- Contact: 024 3733 9966
Gemini Coffee
Gemini Coffee is one of the most ideal places to enjoy Vietnamese coconut coffee. It has a variety of drinks from tea to fruit juice, especially the coffees prepared with traditional flavors. Coming here, you cannot ignore the delicious, greasy coconut coffee, which is one of the most popular drinks at the shop. Gemini Coffee also has a delicate, airy space combined with green trees, bringing a feeling of closeness and relaxation.
- Address: No.2C Quang Trung Street, Hang Trong Ward, Hoan Kiem District
- Fanpage: https://www.facebook.com/GeminiCoffeeVietNam
- Opening hours: 8am - 11pm
- Contact: 093 687 88 86
2 - Vietnamese coconut coffee shops in Ho Chi Minh City
Cong Coffee
You can enjoy the famous coconut milk coffee flavor of Cong Coffee not only in Hanoi but also in Ho Chi Minh City. However, the taste of coffee here is usually a bit denser than in Hanoi, sometimes making you feel a bit lightheaded when enjoying this drink.
- Address: No.26 Ly Tu Trong Street, Ben Nghe Ward, District 1 Ho Chi Minh City
+ Other addresses: https://congcaphe.com/
- Price: 45,000 - 65,000 VND/cup ($1.97 - 2.85)
- Opening hours: 7:30am - 11:30pm
The Workshop Coffee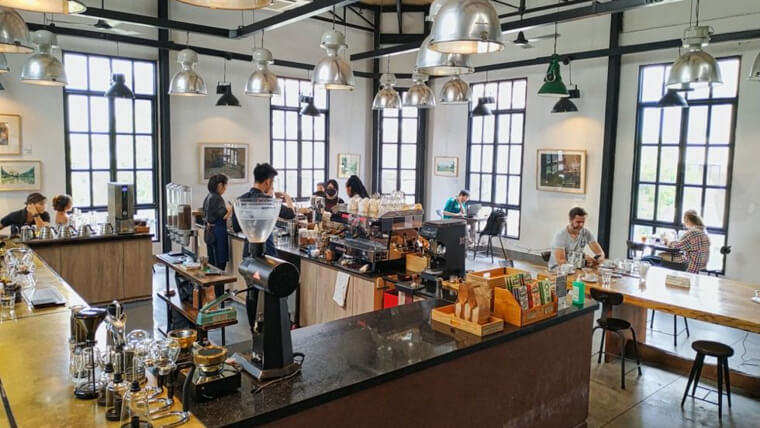 The Workshop Coffee is a great Vietnamese coconut coffee shop - Source: Cafescene.vn
With a sophisticated and luxurious design, this cafe has spacious and airy space, suitable for chatting with friends and also a quiet place to work for you. The Workshop Coffee also offers many special drinks, especially the fragrant coconut coffee smoothie Vietnam, attracting many guests who love this coffee-enjoying space.
- Address: No.27 Ngo Duc Ke Street, Ben Nghe Ward, District 1
- Price: 55,000 - 65,000 VND ($2.4 - 2.85)
- Opening hours: 8am - 9pm
- Contact: 028 3824 6801
For Vietnamese people, coffee is not only a popular drink but also a way of life. In particular, Vietnamese coconut coffee is an extremely delicate and unique combination of bitterness from the coffee and fatty sweetness from coconut milk. You can make this drink at home through a few simple steps, or easily find it in the menus of many famous coffee shops from Hanoi to Ho Chi Minh City. Vietnamese coffee with coconut milk is definitely a drink not to be missed if you are a coffee fanatic.