It is not a surprise that snakes are one of the most popular reptiles in Vietnam today thanks to the tropical climate. Snakes of Vietnam are made into many different scrumptious cuisines, even there are "snake villages", which specialize in raising snakes for different purposes.
I - Are there snakes in Vietnam?
Vietnam is home to nearly 200 different species of snakes, including about 53 species of venomous ones, principally belonging to two families of vipers and cobras. Some of the most common poisonous snakes of Vietnam can be mentioned as horned vipers, red-tailed vipers, rattled indigo snakes, von-gen vipers, silver-headed vipers, monocled cobras, sea snakes, kraits, small-spotted coral snakes, Indochinese spitting cobra, etc.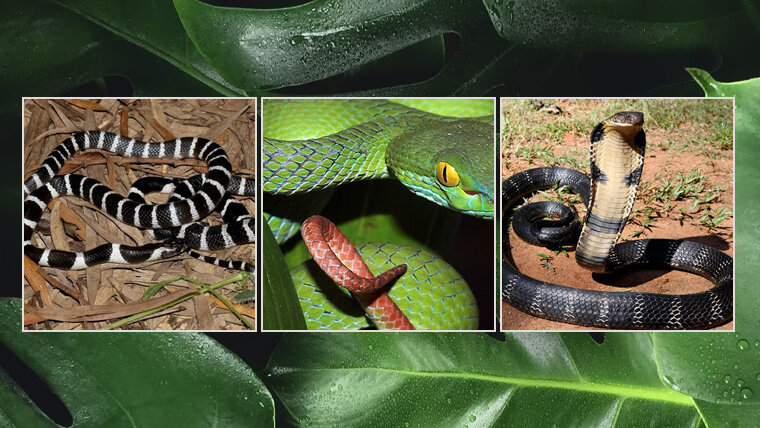 The most popular types of snakes in Vietnam - Source: Internet
In Vietnam, the breeding seasons of snakes last from April to November every year. If being bitten by a snake, the victim may have some symptoms such as severe burning pain at the wound, swelling, bruising, sometimes bruising can be spread to the hands and feet, even causing skin necrosis. Other possible symptoms of being bitten by Vietnamese poisonous snakes are nausea, shortness of breath, fatigue, and having a strange taste in the mouth. More seriously, the victim may experience blood clotting disorders, bleeding, tingling skin, voice disorder, weakness in limbs, paralysis, respiratory failure, even apnea, and finally death.
II - Snakes in Vietnam in terms of culture
Snakes play an essential role in the Vietnamese's beliefs. It is not only the sixth animal in the Vietnamese zodiac but also has many meanings in Vietnamese folklore, closely connected with the worshiping custom associated with primitive beliefs, representing Water Deity and Totem. Remnants of snake worshiping are still found along rivers in the northern provinces such as the Red River, Duong River, and Cau River.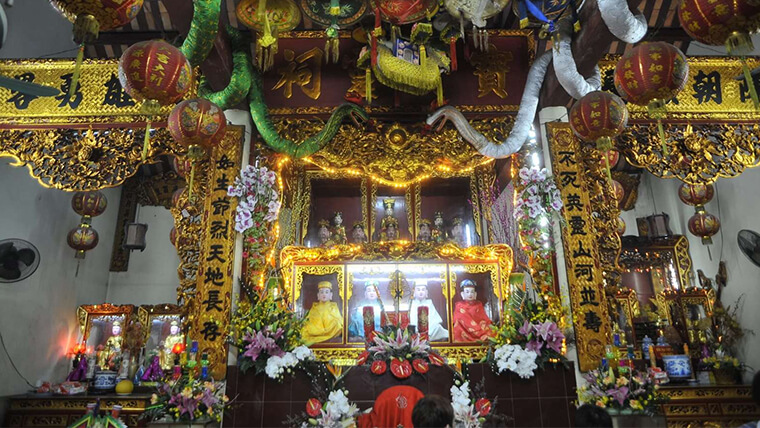 Snake-worshiping custom in Vietnam - Source: Internet
In the local beliefs, snakes in Vietnam have both positive and negative meanings. In terms of the good side, the snake is considered the Water Deity, praying for favorable weather, good luck, on the contrary, it is also regarded as quintessential objects destroying crops and people's lives. However, regardless of their attributes, Vietnam snakes are sacred animals, playing an important role in the spiritual life of the Vietnamese for centuries. In Buddhist culture, the god of Naga is portrayed in a form of a dragon which has one or many heads and is able to turn into the form of a human being. The image of the snake raising its head to cover the Buddha also usually appears in the paintings and statues of the meditating Buddha.
III - Tasty food made from snakes in Vietnam
1 - Snake meatloaf
Well-known as the specialty of the western region of Vietnam, in the flooding season from July to October of the lunar year, locals often catch snakes and bring them home for processing into many different dishes, the most outstanding is definitely snake meatloaf made from minced snake meat, mixed with spices such as salt, seasoning powder, sugar, monosodium glutamate, making it the eye-catching color of yellow.
This Vietnamese snake food is usually served with herbs, fish sauce, garlic and chilly, chili sauce, ketchup, soy sauce, or seafood sauce. The dish is also eaten with vermicelli. However, it is advisable that people suffering from high blood pressure should not eat snake meat in general, and snake meatloaf in particular.
2 - Snake wine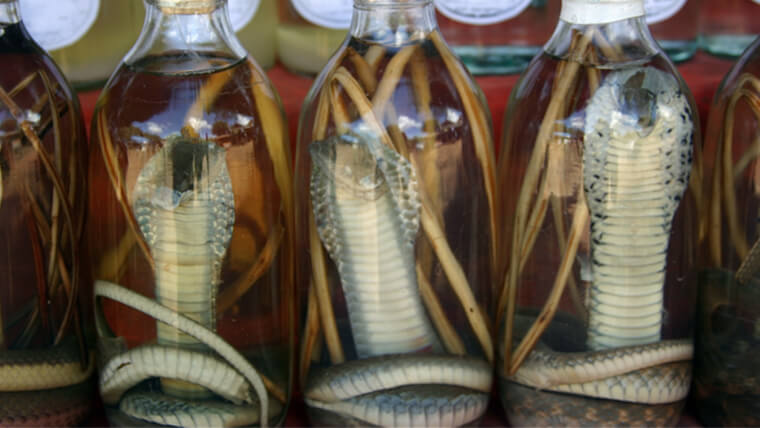 Snake wine from Vietnam - Source: Bumhills
Snake wine appeared early in the Western Zhou and is currently one of the most special drinks in Vietnam. Venomous snakes in Vietnam such as rattled indigo snakes, von-gen vipers, small-spotted coral snakes, etc together with high ethanol concentration rice wine, are often soaked in odd numbers.
As a very popular and valuable medicinal wine, snake wine is considered an ideal remedy for men suffering from symptoms such as Yang Deficiency, bone and joint pain, peripheral neuralgia, physiological weakness, premature ejaculation, mental and neurological decline, etc.
Although there are many benefits from Vietnamese snake wine, not everyone can drink this kind of wine due to some unexpected side effects such as allergy, and some problems related to the digestive tract, high blood pressure, maple, etc.
3 - Eggs of snakes in Vietnam
Containing plenty of nutrients like chicken eggs and duck eggs, snake eggs are also a favorite dish of many people. There is no yolk inside the eggs, but they are almost egg white. Protein in snake eggs is even higher than snake meat, but it has an unpleasant fishy smell. It is widely believed that snake eggs can stimulate libido, beautify skin and improve the immune system. Nevertheless, eggs are not a favorite choice for those who are allergic to the fishy smell.
4 - Vietnamese snake bone glue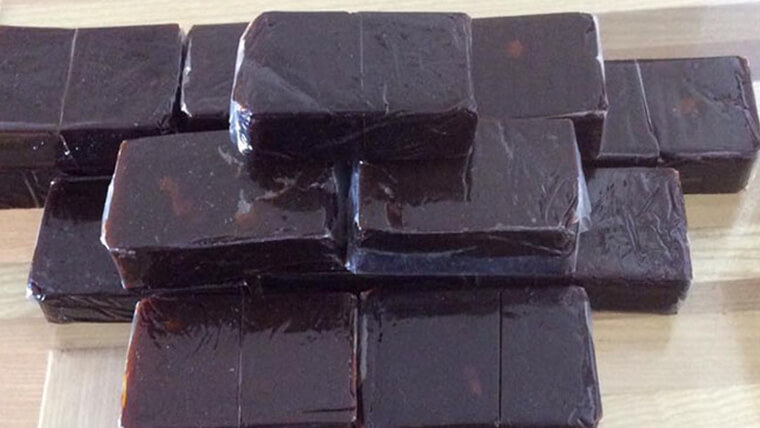 Snake bone glue - Source: Internet
Some types of snakes in Vietnam are used to make bone glue which is rich in amino acids, proteins, vitamins, and minerals such as potassium, calcium, iron, magnesium, and zinc, etc., making it a precious medicine for those suffering from chronic shoulder, neck, spine, and joint pain and degeneration. The bone glue helps people struggling with arthritis be more flexible and smoother. You should combine a reasonable diet with regular exercise to achieve the best results.
5 - Gallbladder from snakes of Vietnam
The snake gallbladder contains a high amount of cholesterol, acid palmitic, and stearic, which is sweet, spicy, not bitter, which can help improve cough, back pain, chronic headache, and better sleep. This is also an effective remedy in the treatment of chronic bronchitis, phlegm, and joint pain. Snake bile is easy to process but brings about incredible effects. In Vietnam, the types of snakes used to make bile for medicine are cobras, kraits, and Ptyas korros.
IV - The most ideal places to see snakes in Vietnam
Le Mat village, Dong Tam village, and Vinh Son village are 3 most famous snakes villages in Vietnam:
1 - Le Mat snake village
Le Mat village was formed in the 9th century, famous for catching, raising, and processing snakes. Currently, Le Mat is the snake trading center of the North, and also a famous snake village in Vietnam. There are hundreds of snake-raising households and dozens of restaurants specializing in processing specialties from Vietnamese snakes. This is also the place where many cultural and artistic events related to snakes are taken place every year.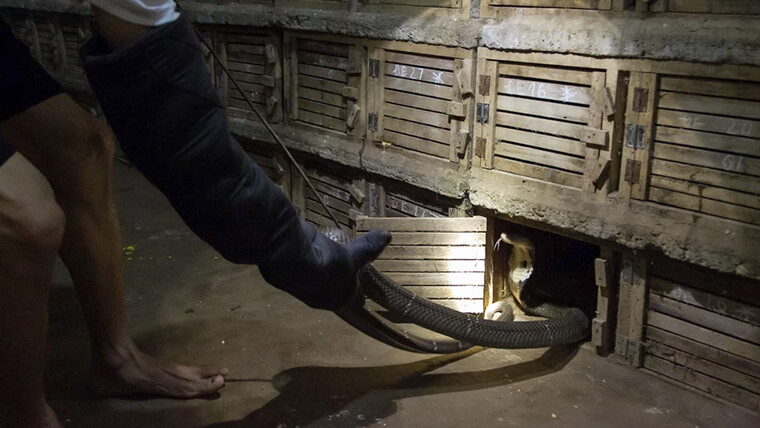 Le Mat village is an ideal place to see snakes in Vietnam - Source: Zing
From the 20th to the 24th of the third lunar month, the traditional festival in the village is held with many activities such as water procession, and Da Ngu festival (fishing at the village well), the performance of exterminating dragon-like animals recreating the legend of the Saint Thanh Hoang Le Mat with unique dance in the communal yard and a giant snake made of bamboo slats which are thatched with cloth, etc.
Visiting Le Me village, you have a chance to enjoy specialties from snakes of Vietnam or purchase snake wine, snake gallbladder.
Location: Viet Hung Ward, Long Bien District, Hanoi
2 - Snakes in Vietnam at Vinh Son village
About 50km to the Northwest of Hanoi city center, Vinh Son was formed many years ago, featuring nearly 850 families. Cobra and tiger snake are two main species reared here. Local people usually raise the snakes in a box-shaped "cave" lined with rows of bricks, which is about 30cm wide, 60cm deep, 30cm high, and each cave can only rear one snake.
The village provides not only ordinary products from Vietnamese snakes such as snake meat and snake eggs but also others like snake wine, snake venoms, and peeled snake carcasses, and snakeskin which is used for making fine items such as belts, leather wallets, and snake bile to treat asthma and digestive diseases.
Once paying a visit to Vinh Son snake village, you will get to experience various unique services like visiting the breeding area, directly observing rare animals, sampling cuisines from snakes of Vietnam, and going shopping.
Location: Vinh Son commune, Vinh Tuong district, Vinh Phuc province
3 - Dong Tam snake farm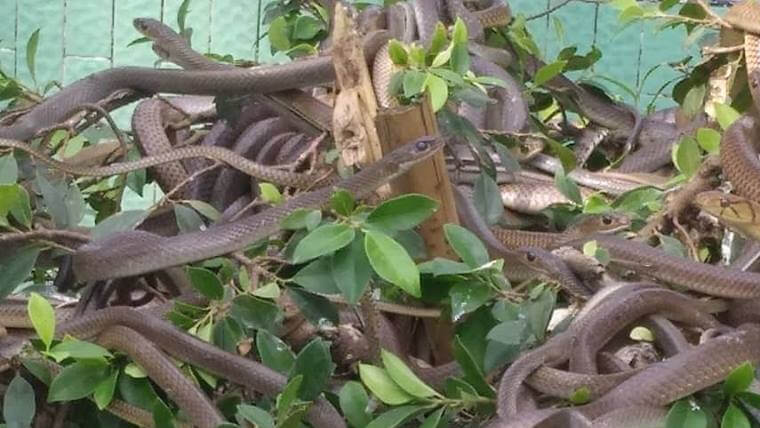 Dong Tam snake farm - Source: Internet
Situated about 9km to the West of My Tho City, Dong Tam snake farm is one of the largest ones in Vietnam, specializing in snake rearing and snakebite treatment. The farm is not only home to various varieties of snakes but also some other animals such as bears, crocodiles, ostriches, turtles, and sheep. Visiting the farm, you can see different types of snakes in Vietnam as well as discover more about the precious medical plants stored and bred on the farm. If lucky, you can also witness the complete reproduction in the natural environment of snakes. More specially, there is also the only one snake museum in Vietnam with more than 50 snake samples of many precious ones, which has set a Vietnamese Guinness record.
- Address: Binh Duc Commune, Chau Thanh Ward, Tien Giang Province
- Opening hours: 7am - 5pm weekdays
- Entrance ticket: $1.2/ adult; $0.8/ kid from 6-12 years old; free for kids under 6 years old.
It can be seen that snakes in Vietnam are not only of great importance in trading, daily life but also in the beliefs of the Vietnamese people. Hopefully, you will get more insight into this reptile species in Vietnam.