Vietnam has no shortage of magnificent and long-standing architectural works, bearing many particularly important historical and cultural values. Despite years of destruction, various places are still preserved and repaired into attractive tourist attractions. In particular, many of the Vietnamese palaces all possess particularly impressive styles, which you cannot ignore when taking a trip to Vietnam.
An Dinh Palace - top 10 palaces in Vietnam
An Dinh Palace in Hue is a typical work of traditional Asian architecture combined with Western modernity, associated with many important figures in the Nguyen royal family. Built in the 19th century, it still retains its impressive features, currently a part of the Complex of Hue Monuments which was recognized by UNESCO as a world cultural heritage on December 11, 1993.
This palace in Vietnam looks like an ancient European castle with Gothic style reflected in decoration and items such as arches and pillars, featuring sophisticated patterns bearing the characteristics of Hue's royal court. In particular, Khai Tuong Pavilion is the most important work in terms of aesthetics, also keeping many antiques such as crystal vases, chandeliers, artistic masterpieces from the early 20th century...
- Address: No.179 Phan Dinh Phung Street, Phu Nhuan Ward, Hue City
- Ticket: 50,000 VND / adult ($2.2) & free for kids under 12 years old
- Opening hours: 6:30am - 5:30pm (summer) & 7am - 5pm (winter)
Long An Palace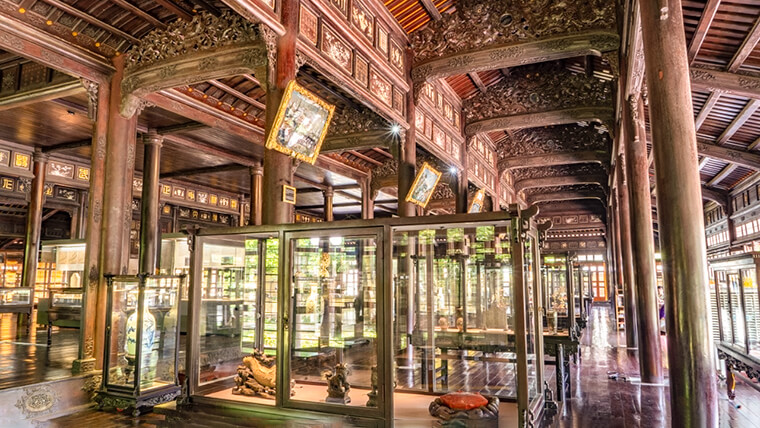 Long An Palace is one of the most majestic palaces in Vietnam - Source: visithue
Built in 1845, the splendid Long An Palace was ranked as a national monument on May 12, 1997. This building has been relocated once to its present location, but still retains the original distinctive features, harmoniously combined delicate architecture, and fine art decoration, using rare and valuable materials such as ivory, mother-of-pearl,…
Currently, Long An Palace is the main part of the Museum of Royal Antiquities of Hue that stores more than 9,000 antiques, most of which are utensils for daily life, rituals, beliefs, and national defense. Along with that are Champa artifacts, gifts, and products from diplomatic and trade relations between Vietnam and other countries. There are also extremely valuable works of art, including two unique poems by Emperor Thieu Tri (1807 - 1847) that many researchers have not yet been able to fully decipher.
- Address: Le Truc Street, Thuan Thanh Ward, Hue City
Dien Tho Palace - top royal palaces in Vietnam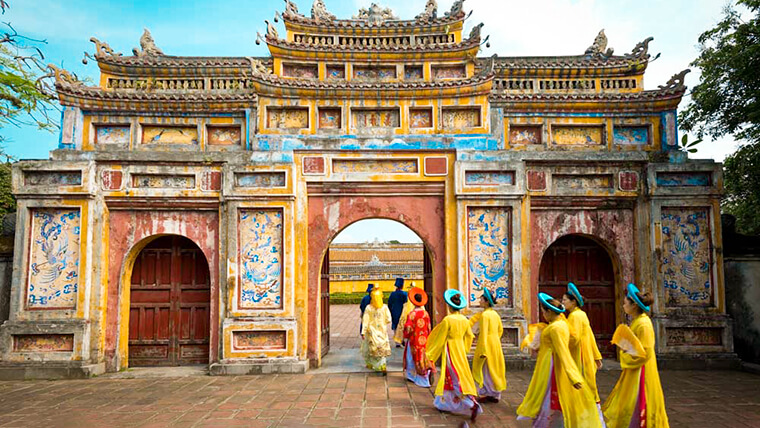 Dien Tho Palace - Source: cloudfront
As the largest remaining palace system in Hue Imperial City, Dien Tho Palace is the living area of the king's mother and grandmother. That is why the decoration here mostly takes the image of the phoenix as the theme because this magical animal symbolizes women in Oriental traditions. The main building was built in 1804, consisting of seven compartments with many meticulous and elegant carvings.
On the campus of this palace in Vietnam, there are also Tho Ninh Palace, Truong Du Water House, Phuoc Tho Templer, and Tinh Minh Tower. Dien Tho Palace has many other auxiliary works with ancient and majestic architecture, including high brick walls surrounding the campus, long brick screens, square wells, corridors connecting architectural works, etc. However, over time, some of them have been destroyed and only the foundation remains.
Thai Hoa Palace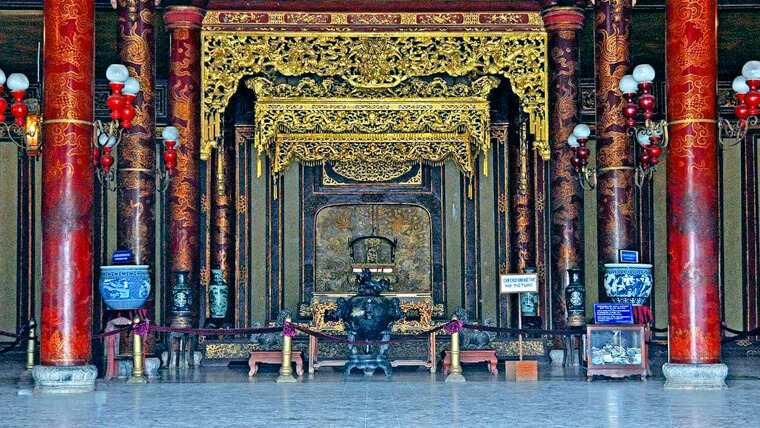 Thai Hoa Palace - Source: laque
Built from February to October in 1805, Thai Hoa Palace is one of the most majestic and magnificent remaining palaces in Vietnam in general and in Hue in particular. This is the most important architecture in the Nguyen Dynasty Royal Palace, which used to be the place for great ceremonies and dynastic meetings with the participation of the King, the royal prince, and the great ministers. Thai Hoa Palace was built in a typical traditional double house style, with ironwood columns and meticulously decorated carvings, in front of which was a large old courtyard for mandarins to meet the king.
King Meo Palace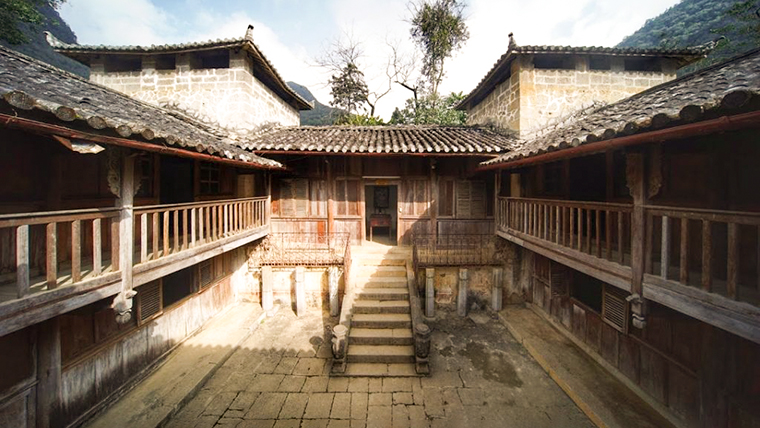 The Vuong family in Ha Giang is famous for their mysterious anecdotes - Source: vivu
Also known as the palace of the Vuong family, King Meo palace in Ha Giang Province was built from 1898 to 1907, fortified like a fortress capable of defending during fierce wartime. Covering over 1200m2, this palace features unique architecture combining 3 different cultures including Hmong, French and Chinese. Like other ancient palaces in Vietnam, the items of the Palace have been tinged with time but still firmly stand, keeping a lot of cultural and spiritual values, ranked as a national monument by the Ministry of Culture, Sports and Tourism in 1993.
This palace in Vietnam was built with green stone to increase the certainty and solidity, combined with wooden roofs and pillars to exalt majesty and flexibility. In general, most of the antique furniture and items are well kept and preserved, such as doors, carved decorations, vases, marble goat milk bath,…
- Address: Xa Phin Valley, Lung Phin Commune, Dong Van District, Ha Giang Province
- Ticket: 25,000 VND / person ($1.07)
- Opening hours: 7:30am - 5pm
Reunification Palace
Reunification Palace also known as Independent Palace - Source: Internet
Honored as one of the 10 special national monuments in 2009, the Reunification Palace is one of the most famous attractions in Ho Chi Minh City, not only for its historical but also for architectural values. This is one of the palaces in Vietnam that was built during French colonization and used to be the residence and workplace of many heads of Saigon at that time. It also witnessed the historic victory in 1975 reunifying the two regions of Vietnam.
The 120,000m2 Independent Palace Saigon is a unique architecture, designed in a combination of French - Asian style and Feng Shui principle. Around the main building is a large garden filled with old trees and ornamental plants, in the middle is a lake filled with lotuses and water lilies. Inside it is more than 100 rooms with different styles and purposes, with the ballroom being the most prominent in terms of style and area. You can also visit the exhibition areas displaying historical artifacts and documents, weapons, helicopters, jeep cars, tanks...
- Address: No.135 Nam Ky Khoi Nghia Street, District 1, Ho Chi Minh City
- Ticket: 40,000 VND / adult ($1.7) & 10,000 VND / child ($0.4)
- Opening hours:
+ Main building: 8am - 3:30pm
+ Exhibition house: 9am - 1pm
Hanoi Presidential Palace - top most impressive palaces in Vietnam
Designed by a German architect and built from 1900 - 1906 in the Renaissance style, Hanoi Presidential Palace with an eye-catching yellow color is where President Ho Chi Minh used to live and work until he passed away. This palace in Vietnam is still used as a workplace for the Vietnam Government, so you won't be able to go inside. You can also visit other works in the nearby Ho Chi Minh Complex, including Ho Chi Minh Mausoleum, Ho Chi Minh Museum, Uncle Ho's stilt house, Ba Dinh Square, and House No.54. These are all works associated with the life of the world cultural celebrity Ho Chi Minh, especially the museum and the stilt house which still preserve many important artifacts. This place is also quite close to Hanoi One Pillar Pagoda - an extremely unique and impressive ancient architecture.
- Address: Hung Vuong Street, Ba Dinh District, Hanoi
Viet Phu Thanh Chuong Palace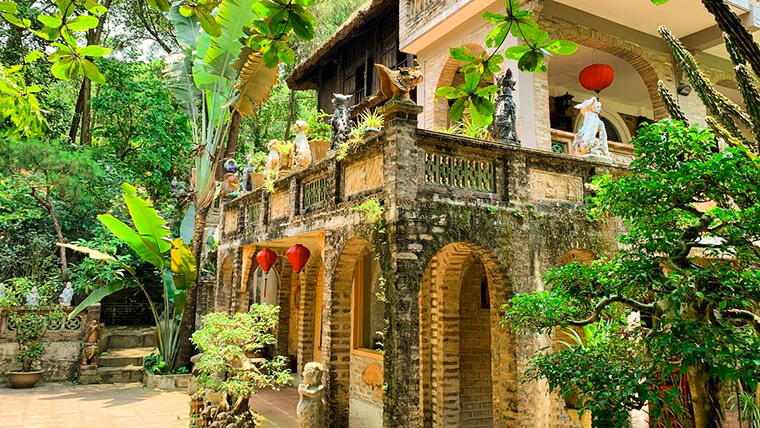 This is one of the most beautiful palaces in Vietnam - Source: mia
Built in 2001 from the idea of ​​painter Thanh Chuong, this unique palace is a monumental work imbued with the traditions of Vietnam. Covering ​​more than 8000ha, Viet Phu Thanh Chuong is dense with green trees, including 30 architectures connected by dark red brick roads. Coming here, you can visit ancient houses with special names, cottages, ironwood houses, a 200-year-old sedge-roofed house of the Muong ethnic group, a 300-year-old Hue royal house... They are interspersed with miniatures such as towers, chess boards, lotus ponds, theaters, galleries...
When your legs are tired and want to rest, you can freely lie back on the bamboo cots, or visit the restaurant area with an attractive menu of dishes imbued with the Vietnamese culture. You can take check-in photos, but be sure to check first if it's an authorized area, and also don't use the pictures for profit. Among the above-mentioned palaces in Vietnam, Viet Phu Thanh Chuong is the only one that offers the unique water puppet shows. You can enjoy the show at Long Dinh Theater and then set your foot to the 5-storey waterfall with white foam, the Buddha worshiping area, and the majestic Thien Huong Stupa built on the rocky ground right in front of the said waterfall.
- Address: Hien Linh Commune, Soc Son District, Hanoi - 40km from Hanoi city center
- Ticket: 150,000 VND / adult ($6.5) & 120,000 VND / child ($5.2)
- Opening time: 9am to 5pm
Bao Dai Palace 1
Built by the French in 1929, the Bao Dai palace in Vietnam has a total area of about 60ha, bearing typical European architectural features. The mansion is associated with the name of King Bao Dai - the last head of feudalism in Vietnam. In 2014, Bao Dai Palace 1 was restored and refurbished to put into operation, serving tourism and sightseeing.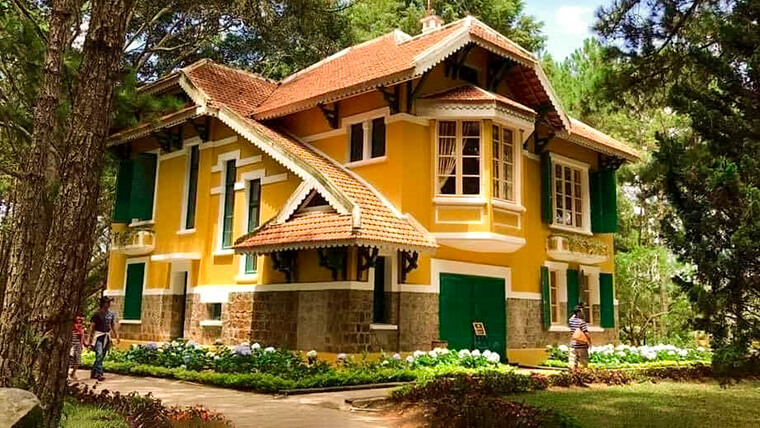 Bao Dai Palace 1 is one of the most attractive palaces in Vietnam - Source: dulichdalat
The paved road leading to the palace is covered with 2 rows of tall white melaleuca trees, creating a peaceful and romantic scene like in France. In the midst of the vast green space is the golden mansion with unique and beautiful architecture, giving an elegant and majestic appearance. There are also many beautiful corners including hundreds of brilliant lanterns, chess boards, colorful bird cages... You shouldn't miss participating in exciting services such as taking wedding photos, dressing up as kings, walking in the pine forests…
- Address: No.1 Tran Quang Dieu Street, Ward 10, Dalat City
- Ticket: 30,000VND / adult ($1.3) & 20,000VND / child under 1.2m ($0.9)
- Opening hours: 7am - 5pm
Visiting Dalat city, you can also visit other palaces of King Bao Dai in Dalat, namely Palace 2 and Palace 3. Connected to Palace 1 through an underground tunnel, Palace 2 is covered with a particularly durable stone that makes this place look new even though it was built nearly 100 years ago. Bao Dai Palace 3 is one of the most intact palaces in Vietnam and is the most beautiful of the three Bao Dai Palaces in Dalat. It has an attractive outdoor space with Thuong Uyen Garden and Ai An Forest. Inside the building is a luxurious interior with a typical aristocratic style.
Neptune Palace In VinWonders Phu Quoc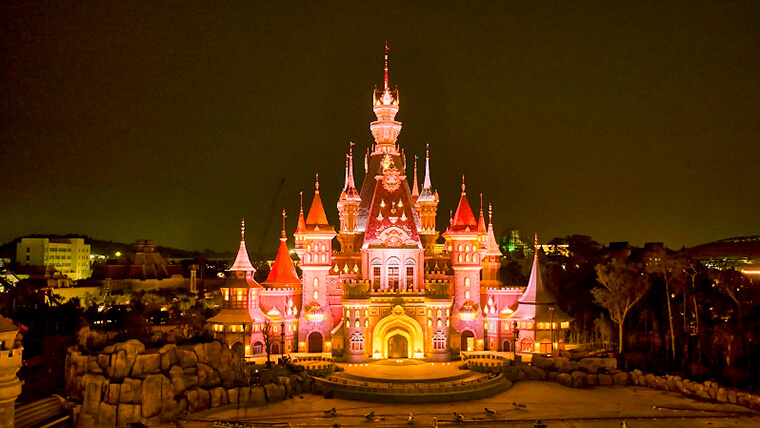 Neptune Palace in Phu Quoc Island - Source: vinpearl
Opened only in April 2022 with a total area of ​​​​up to 15,000m2, this palace in Vietnam is a very modern and majestic new entertainment venue in VinWonders Phu Quoc, recreating life in the deep sea with ​​hundreds of thousands of sea creatures. This largest turtle-shaped aquarium in Vietnam has also entered the top 5 largest aquariums in the world, divided into 3 spacious floors with 5 main "worlds'' for giant fishes, penguins, sharks, colorful fish, and jellyfish.
As one of the youngest palaces in Vietnam, Neptune Palace in Phu Quoc island offers you the chance to interact with more than 200 penguins from all over the world, and admire colorful coral reefs and 12,000 aquatic creatures, including rare fish in the Red List. You can also take check-in pictures on the cable-stayed bridge over the super unique shark tank, or with the magical, shimmering, impressive swarms of colorful glowing jellyfish. Watching shows and taking pictures with the mermaids, or sleeping overnight next to the huge aquariums here are also extremely new and exciting experiences you should not miss.
- Address: Long Beach, Phu Quoc Island
- VinWonders ticket: 880,000 VND/adult ($37.8) & 660,000 VND/child (1m - 1.4m) & elders (over 60 years old) ($28.4)
- Opening hours: 10am - 6pm
Each of the above-mentioned palaces in Vietnam has its own unique features of architecture, meaning, and historical value. If you have the opportunity to visit Vietnam, then you should not miss visiting these impressive works.