In the beliefs of local people, Dambri waterfall symbolizes faithfulness in love. Dambri in the local language means "waiting", which originated from a sad love story of a young couple. The woman waited for her lover to come back from the forest but he did not return, so she died of sadness, her body turned into rock and her endless tears are the waterfall today. In addition to the charming and poetic scenery, the waterfall appeals to a large number of visitors thanks to the cool, fresh atmosphere, which is absolutely suitable for trekking and sightseeing.
I - Where is Dambri waterfall Dalat located?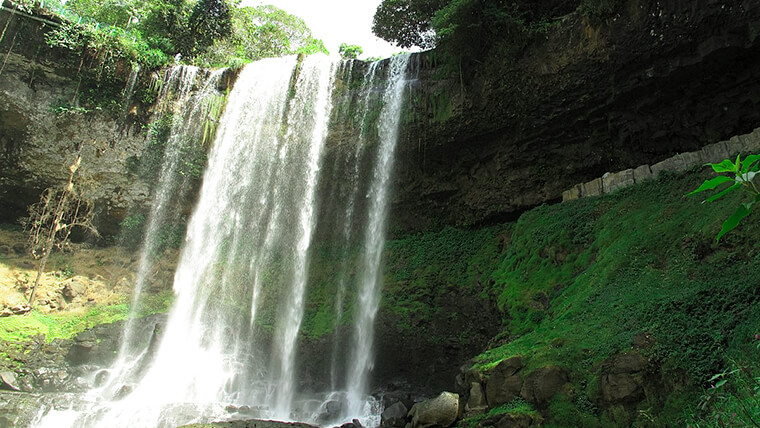 Source: wikimedia
Dambri falls is located at Village 4, Dambri commune, Bao Loc city, Lam Dong province - about 18km to the Northeast of Bao Loc city center, about 114km from Datanla waterfall and about 100km from Dalat city center. The waterfall is a part of Dambri ecotourism, which features full of function zones, including medical stores, shaped pedalos, restaurants, bars, recreational zone, camping site, trinket shops, etc., which meet all demands of visitors, especially families and couples.
Note:
- Dambri waterfall entrance fee in 2022: 200,000 VND/ adult ($8.6); 100,000 VND/ kid ($4.3) (including entrance fee, two-way ticket of escalator, ferris wheels, two-way ticket of Alpine Coaster and all games in the Dambri tourism site).
- Opening hours: 6am - 5pm
- Tel: +84 2633 751 517
- Website: dambri.com.vn
II - Why is Dambri waterfall so appealing?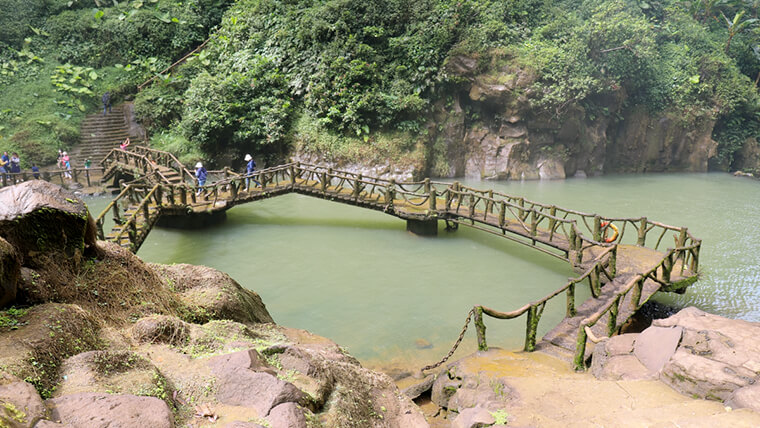 Breathtaking view of waterfall - Source: VnExpress
Dambri falls is one of the best waterfalls in Dalat and also the largest one in Lam Dong province with a height of 60m and possesses an incredibly majestic natural landscape. Water falling from this height forms tiny white foams and bubbles and creates a miraculous veil of mist. On sunny days, you can have a chance to admire the shimmering rainbow bands on the water, which is absolutely amazing and awe-inspiring.
Surrounding the charming Dambri waterfall Dalat is majestic forests with lush giant green trees which stretch around 1,000ha, featuring diverse and abundant flora and fauna. The primeval forest here possesses hundreds of precious species of wood and countless colorful flowers blooming all year round. At the foot of the waterfall is a wooden bridge helping you to immerse yourself in the immense space and waterfall itself from various angles.
There are two popular ways to "conquer" Dambri waterfall Vietnam including by walking and by getting on an elevator.
- By walking: Hiking through 138 stone steps along the mountain hill, you have a chance to admire the entire natural landscape of the grand waterfall, pay a visit to the Buddha' cave, rest in wooden huts and breathe in the cool fresh air with the "scent" of plants and wildflowers.
- By choosing an elevator also gives you an opportunity to "stand in awe" in front of the magnificent and majestic Dambri falls.
Note: If you want to hire costumes to check in, you should hire from local people in the stores in the campus of the ecotourism area.
III - What to experience in the Dambri waterfall ecotourism?
The Dambri ecotourism area consists of a myriad of zones for entertainment, so you and your travelmate can enjoy the most exhilarating moments here. Below are a couple of the most outstanding and impressive experiences you can partake in this amazing tourist spot:
1 - Interesting outdoor activities in the Dambri falls ecotourism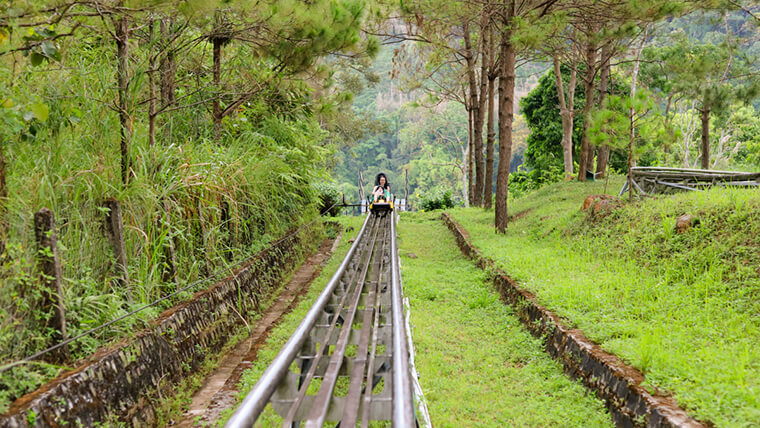 Alpine Coaster - Source: vnexpress
Alpine Coaster
This is a highlight of the Dambri waterfall tourism area, well-known as the longest alpine coaster in Southeast Asia with a length of 1,650m, a capacity of 500 passengers every hour and the speed of 50-80km/hour. The coaster features double seats and is equipped with handbrakes, allowing passengers to adjust the speed of the coaster. On the way, you can admire the poetic beauty of forests and have a panoramic view of the charming and majestic Dambri waterfall Dalat.
Amusement park
Dambri lake is about 2ha wide with the deepest place can be up to 5m. There are a myriad of fascinating games and activities offering you, namely a water slide in the swimming pool, swan-shaped pelados, roller skating rink, ferris wheels, merry-go-round, and miniature roller coaster, etc.
The village of Chau Ma people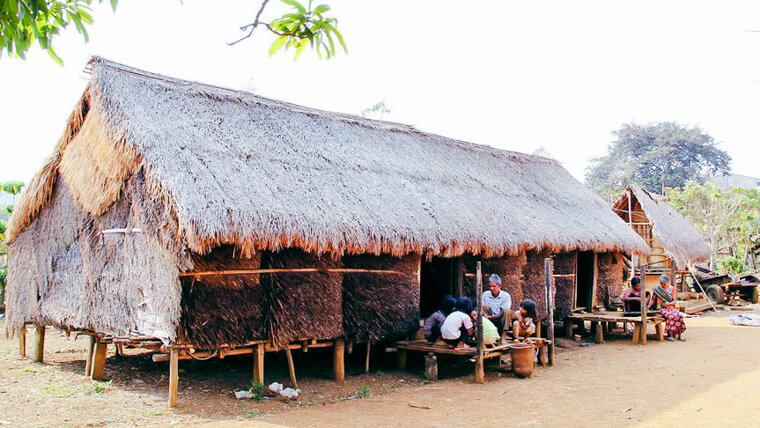 Stilt house - Source: tienphong.vn
Located in the campus of the Dambri waterfall ecotourism area, the village of Chau Ma people, one of the most famous ethnic minority groups in the Central Highlands, will give you an enjoyable experience with unique Gong's performances - a typical traditional music show of ethnic people in the Central Highlands Vietnam, brocade weaving profession and a wealth of amusing outdoor picnic.
Monkey island
There is also a Monkey island here with hundreds of reindeers freely raised, so sometimes you can accidentally encounter them wandering in the area. In addition, there are also areas to raise bears, tortoises, and turtles. In particular, there are elephants that have been tamed and obediently follow the instructions of the mahouts. You can ask to sit on the elephants' back to take amazing photos.
2 - "Environmentally friendly" accommodation in Dambri waterfall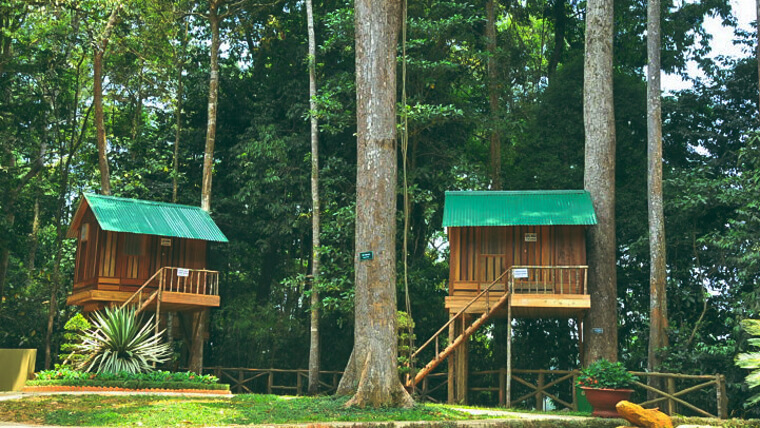 Tree houses - Source: dambri.com.vn
Guesthouses on trees
There are 5 tree houses in the campus with a capacity of 10 people. These special houses are designed about 3m above the ground with full essential facilities inside for up to two people. They lean against the trunk of an old tree, under the large canopies, creating a cool, fresh atmosphere and comfortable feelings.
Bungalow Dambri
This is a system of isolated bungalows with 26 rooms which are located in a tranquil space near the Dambri waterfall with a poetic natural scenery, making it ideal for relaxation with family and friends. This two-star bungalow is well-equipped with modern amenities and free wifi.
Outdoor camping site
With a total area of around 10ha, the camping site in Dambri falls tourism area features a system of 52 tents with a capacity of 12 people for each tent, a dining area, recreational zone, mini sport space, etc. The system of tents is located on a large hill, covering an area of 3ha. The roofs of these tents in Dambri waterfall are made from coconut leaves, which creates a cool atmosphere and keeps you safe from rain. The tent floor is more than 50cm above the ground, the balcony is used to rest or hold cultural performances. Inside the tent is well equipped with 10 personal drawers, electric fan, light bulb, blanket, pillow, mattress, etc. The sports area features a soccer field, volleyball court, table tennis court, basketball court, and billiard table, etc.
3 - Enjoy indigenous cuisine in Dambri waterfall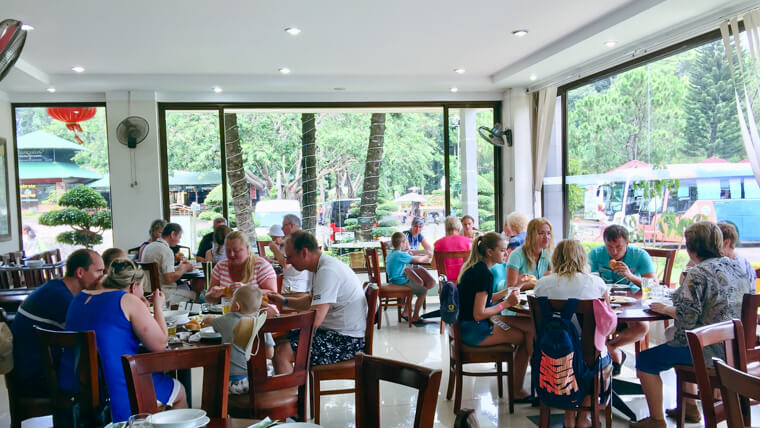 Dambri restaurant - Source: dambri.com.vn
Below is some of the restaurants in the campus of the tourism area, which offer you a wide range of delicious food and drink:
Dambri restaurant
Located near the Dambri lake, Dambri restaurant "conquers" diners thanks to its rustic, simple and familiar space with unique-flavored dishes. The restaurant features two airy floors with typical architecture of the Central Highlands with the highlight of some pictures of the majestic Dambri waterfall Vietnam. The dishes here are like the quintessence of traditional Vietnamese cuisine with "wild and bold flavor of the Central Highlands. The ingredients for dishes here are very fresh and processed and cooked by skillful chefs, creating outstanding flavor and taste.
Three Monkey restaurant
The restaurant has an open space with a unique design, serving wine, breakfast, tea, coffee and various scrumptious dishes. Dinners can enjoy food and beverages, and participate in musical performances. Particularly, in the evening, a Gala Dinner is held vibrantly and you can freely sing karaoke here.
Dambri supermarket
Dambri supermarket in the campus of Dambri waterfall tourism area is very large with three floors, selling a wide array of goods and items such as souvenirs, local clothes, toys, artwork pictures, local food and fruits, wine, etc. There is an airy space for selling various types of tea and coffee, especially famous Oolong tea and Tam Chau coffee - specialities of the Lam Dong province.
Outdoor BBQ
Preparing for an outdoor BBQ amidst the vast space of the Dambri ecotourism area would be an incredible experience. You and your travel mates can cook by yourselves the most delectable but still simplest dishes to enjoy with each other, simultaneously admiring the breathtaking surrounding natural landscape.
Dambri waterfall Dalat is a worth-visit destination, ideal for any nature lover who would like to immerse in the spectacular beauty of nature, and lovely weather and join in relaxing activities, which will "chase away" stress or pressure of hectic life.